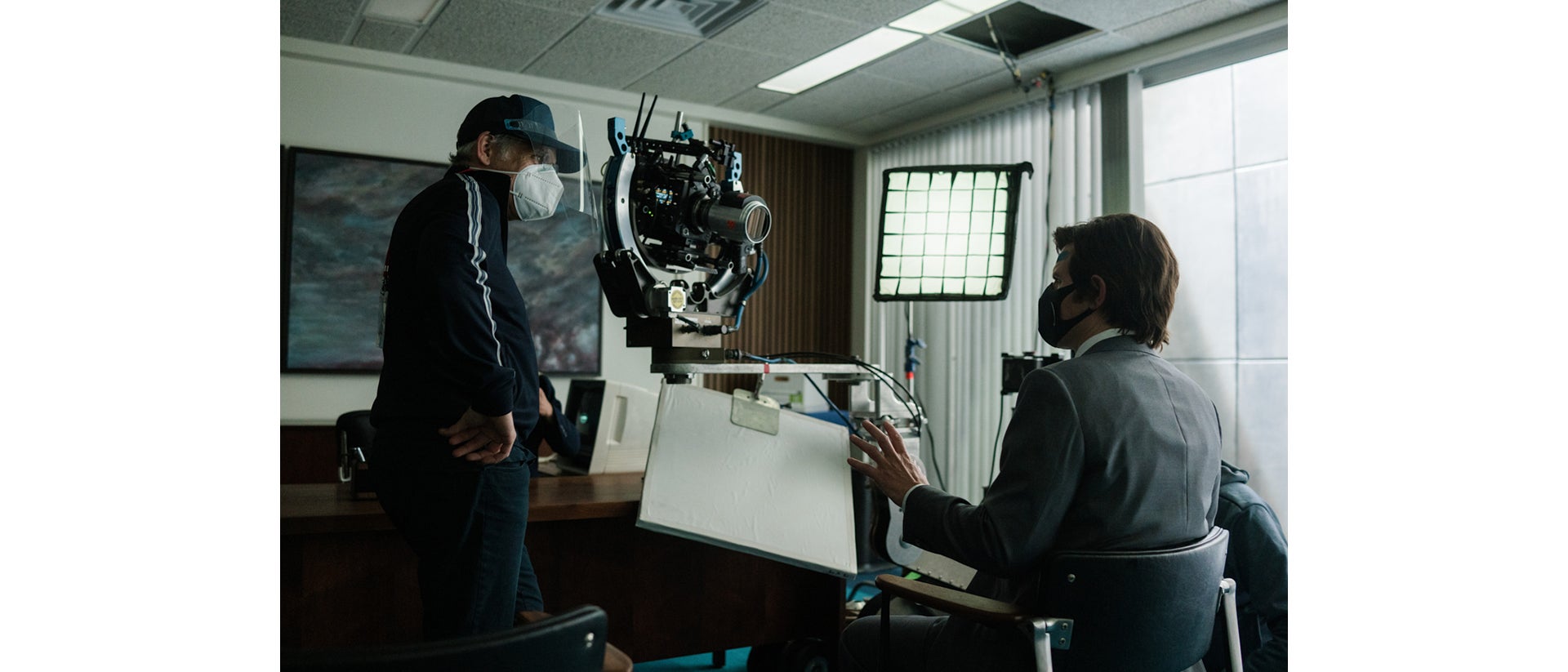 https://77snszqv.media.zestyio.com/Sev-Banner-1920.jpg
09.14.2022
09-14-2022 - Case Study, Gear, Technology
Shot on VENICE – How DP Jessica Lee Gagné Pulls Us Into the Odd World of Severance
By: Jeff Berlin
At the 2022 Emmys, Severance, on Apple TV+, was nominated for 14 awards including Outstanding Drama Series, and won two. Executive Produced by Ben Stiller, Severance is a dystopian tale of extreme work-life balance. In it, we follow Mark, an employee of Lumon Industries, who agrees to a "Severance" program where the memories of office workers are surgically divided between their work and personal lives. Mark and his colleagues then begin a journey to discover the truth about their jobs after a mysterious colleague appears outside of work. We recently caught up with DP Jessica Lee Gagné to chat about her work on the show, shot on VENICE.
Jeff Berlin:
I know that this isn't your first go round with the VENICE. You used it on Mrs. America
as well.
Jessica Lee Gagné:
Yes. I bought one when it came out. I was a really early fan. I used it for a movie and thought, "Wow, this camera's really amazing."
JB:
Before we get into Severance, what was it that attracted you to the camera that made you an early adopter?
JLG:
I always test cameras and lenses before getting onto something. I'm not the most technical DP. I'm very intuitive and I feel things out. I was at Camtec, a rental house in LA, and was looking for a camera for this other movie and they said, "Oh, this camera just came out." Every new project is an opportunity to try new cameras. And on that movie, I lined it up next to an ALEXA and was just floored by it and what was possible, the richness of it, the contrast of it, the dynamic range that it had.
And then, when we got to the grade, which we were viewing on a big screen, I was like, "Wow, this is the camera where outside daylight actually looks beautiful and rich and contrasty." The colors are really beautiful and really come through and have a lot of pop to them. And when doing Mrs. America, it was the most natural choice because you're in the seventies, you want color, there's all of these ranges and yellows, browns, pastels, reds. And the VENICE just really brought things to life.
JB:
Talking about color and about how poppy it is, the color in Severance is muted, desaturated, almost monochromatic.
JLG:
The thing with Severance is that it's a very controlled palette. And also Ben [Stiller] really likes things that are slightly desaturated and a cooler tone. So I think that comes from him. Whereas, Mrs. America was a world of a lot more color and vibrancy, just because of the nature of that project as well. The showrunner on that project really wanted things to be warm and poppy, whereas Ben wants things to be colder and a little more muted and contained.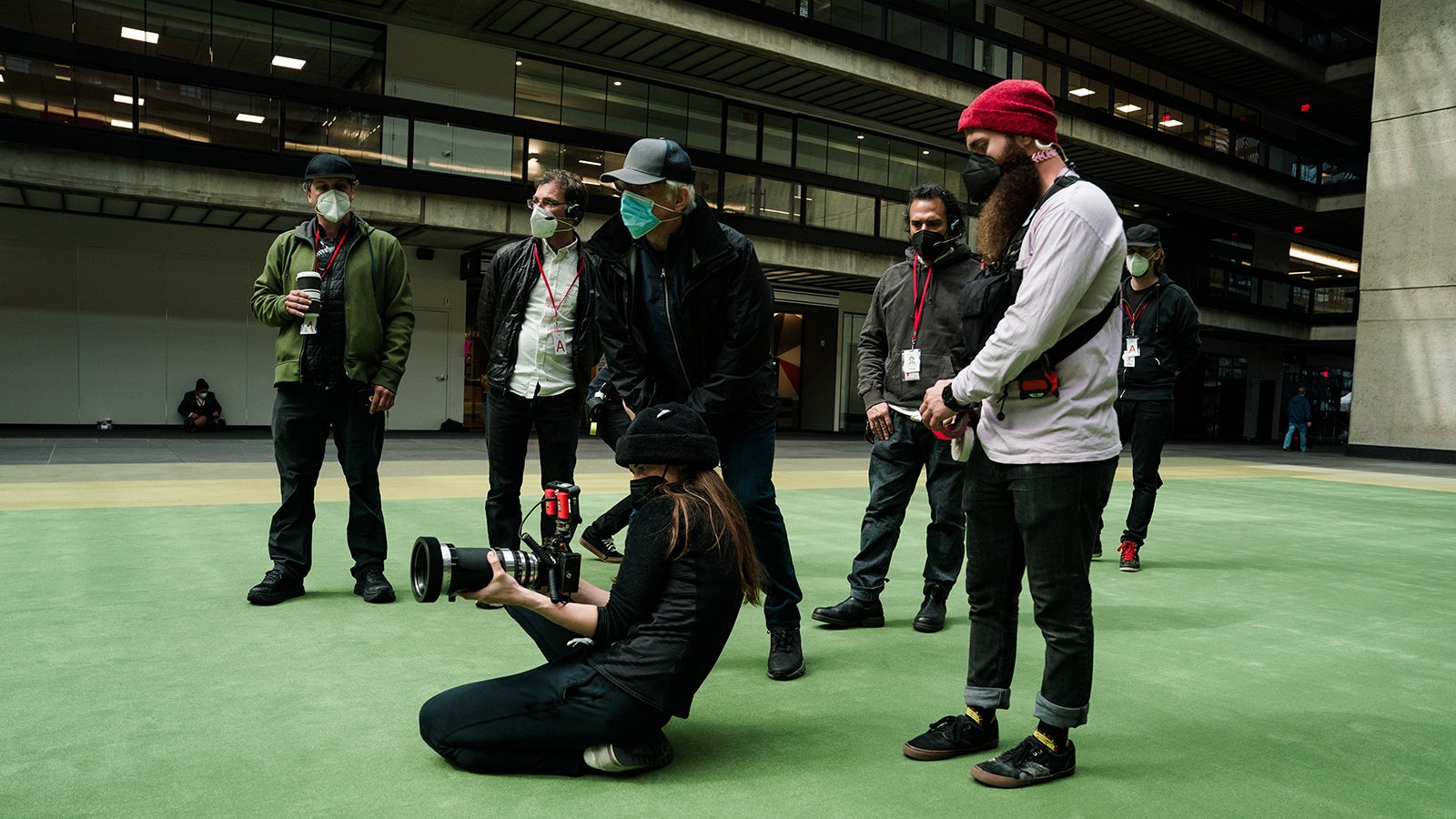 JB:
Which lenses did you use for Severance ?
JLG:
Severance was shot with [Panavision] C Series, mainly the C Series Prime package. Then we had a couple zooms that I absolutely adore. They're anamorphized zooms, but they are super, super straight. So if you compare a 50 prime anamorphic to the 50 mil on the zoom, the zoom is super straight, which for us works great. We actually did a lot of medium shots and longer-lens wide shots for Severance with it. And then, we had also two spherical lenses that we used for the wide shots of the spaces in the underground, where we would go actually into 6K and do Full-Frame with them. Those were the 20 mil H Series and 24 mil Primo 70 from Panavision.
JB:
You mentioned you're very intuitive. Being a DP is creative, but there's a technical aspect to it as well. So what are your thoughts on the balance between creative and technical?
JLG:
It's a constant dance. I think there's also another part that sometimes people forget about and that's your practical production side as well. I think that's probably one of my biggest skills, understanding a schedule, understanding how to organize things within a schedule, working with an AD to really make it work, to bring out the best for light. Scheduling location scenes was a big thing I did on Severance. I worked with the ADs and they gave me a lot of freedom to make it work for light. I was on this project forever. I worked on it for two years and Ben and I had really decided what we wanted each episode to look like.
It was my job as a DP to maintain continuity. So knowing the weather and knowing what we had to work with, I had to organize all the order. And I was working with both directors, with Aoife and with Ben. So I had to be conscious of both of their episodes and that I was shooting both of them made that a lot easier because I knew, "Oh, yeah, Aoife's scene, we shot that interior and it was sunny. So I have to make sure that this exterior is also sunny or whatever."
And being able to understand that big picture of how a production works is a skill that has enabled me to have continuity and to maximize aesthetics as well. For the technical part, I think that comes from hiring the right people. And you have to be able to know when someone's concerns are valid for you, or not. The creative is something that's just in you and if you're working with the right director, the work turns out in the best way possible.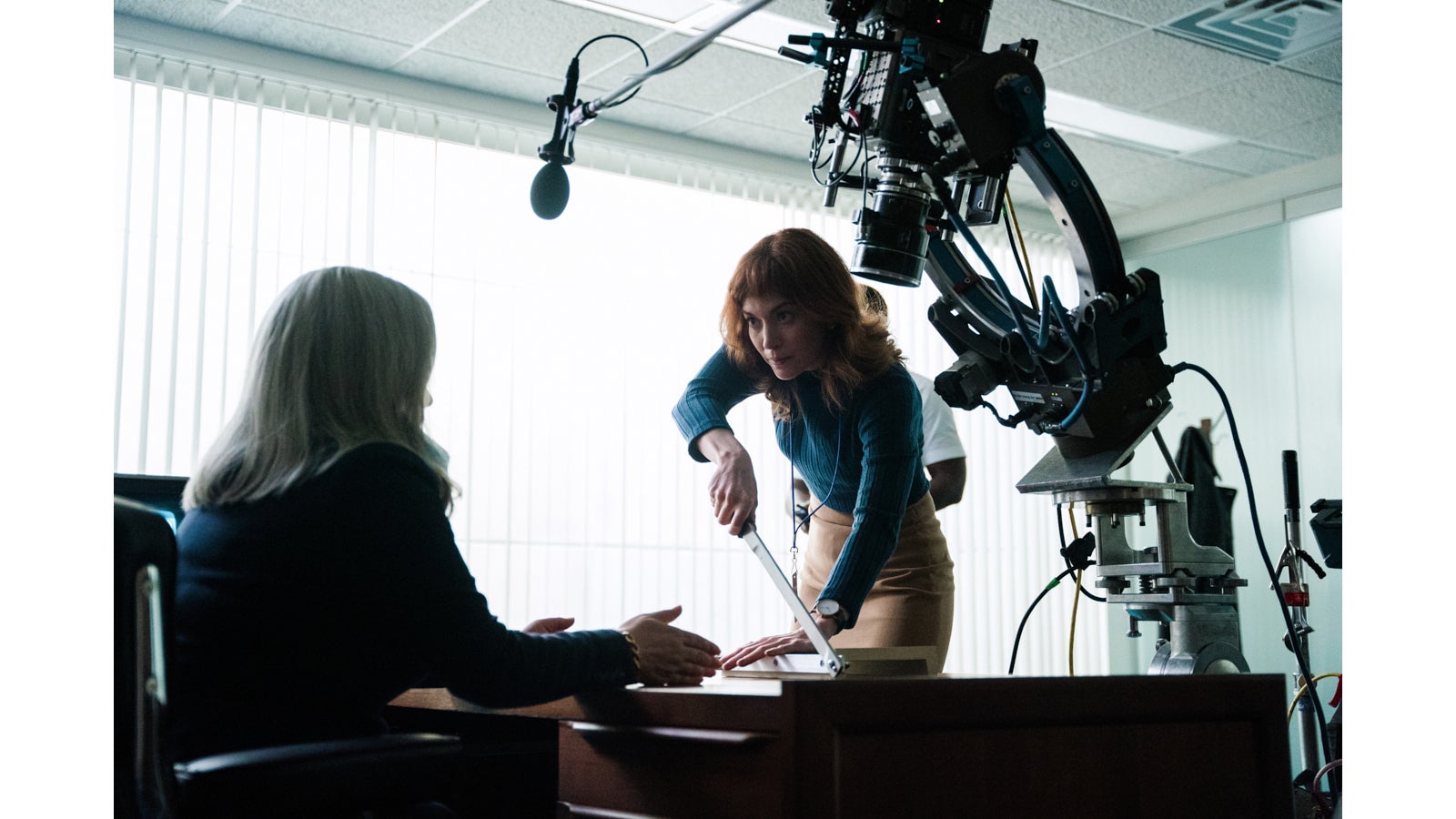 JB:
So let's talk about some influences because, the look, the symmetry and the locations, and the framing is so special, as is the use of negative space. What were some of your influences for the look of this film? And I'd like to touch on how this all translated into the choreography of some of the scenes, where the blocking of the actors was perfectly symmetrical to the frame, and everything seems so calculated and just so.
JLG:
Well, there's a lot to unpack there.
JB:
I know.
JLG:
I think everything starts with locations for me. I really want to be involved in the scout and make sure that, wherever we end up going, there is potential. It took a hot minute to get the production designer on Severance, but once we did, with Jeremy [Hindle], we really had wings. We really were a bit of a trifecta, Ben, he and I, finding spaces that would give us a huge potential for frames. If I walk into a space and I'm not excited, there's something wrong.
Sometimes in TV, you have to settle for some locations because of schedule. But the hero locations, we were never going to compromise. And we were super lucky to find Bell Labs and Mark's residence quite fast. And I remember I was looking for abandoned malls with the location manager. For the Lumon space, we were trying to think outside the box. We had had some images of office spaces and nothing was really, really cool. And I ended up on this website seeing the inside of Bell Labs and it was insane. There were so many ways to make it beautiful. It wasn't even difficult. And I think the MBR set in the underground world really channeled that as well, adding so many options to make it interesting and use negative space. That whole building is built on negative space. If you go inside of it, there's this ginormous atrium with nothing. It's an Eero Saarinen building from the late fifties. The weird circularness, the weird perfectness, and also around it... here's where visual effects comes into play. There's these wide spots where you see how perfect it is. The cars are perfect. The mountains are perfect. Everything's weird. And that's all subtle. They really took a long time to find the balance of making it look natural.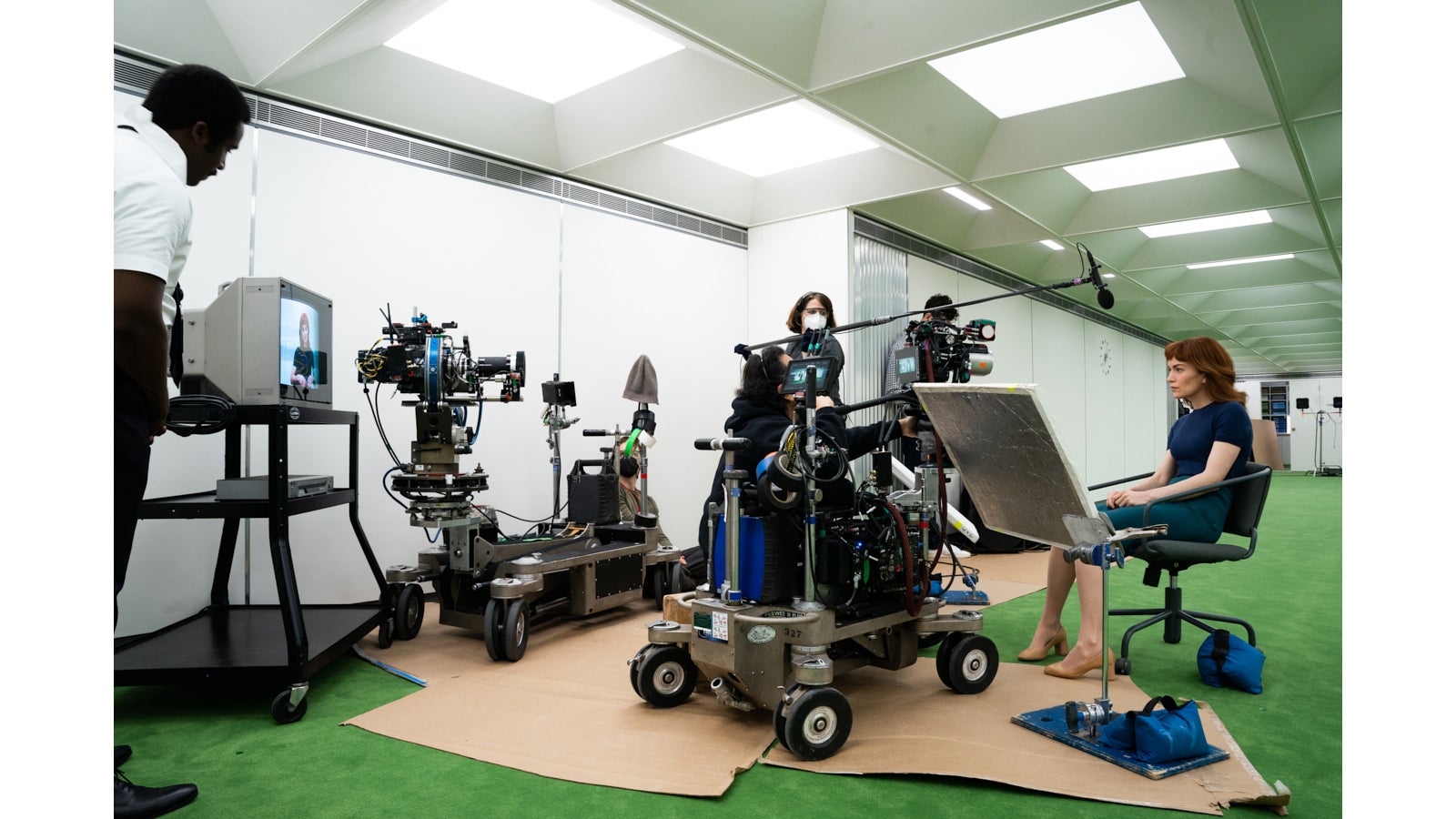 JB:
It seems the camera movement also was perhaps more fluid in the outside world than in the inside world, where it seemed a bit more mechanical.
JLG:
Yeah. It's more natural in the outside world. We're doing a more studio-based style, more traditional, more anchored in the seventies aesthetic, which is natural for Ben and I. And then, the underground world was all remote heads, everything. Originally, we wanted to do very robotic moves, and not necessarily driven by the character. So you kind of feel the surveillance behind it. We had two remote heads full time, so that the camera people don't have to be close to the actors due to COVID. And that really served us because it just was like a surveillance camera. And the way a pan is when a remote head's doing it is very different than when a human is doing it. So that was kind of interesting and it really reinforced the surveillance feeling of it.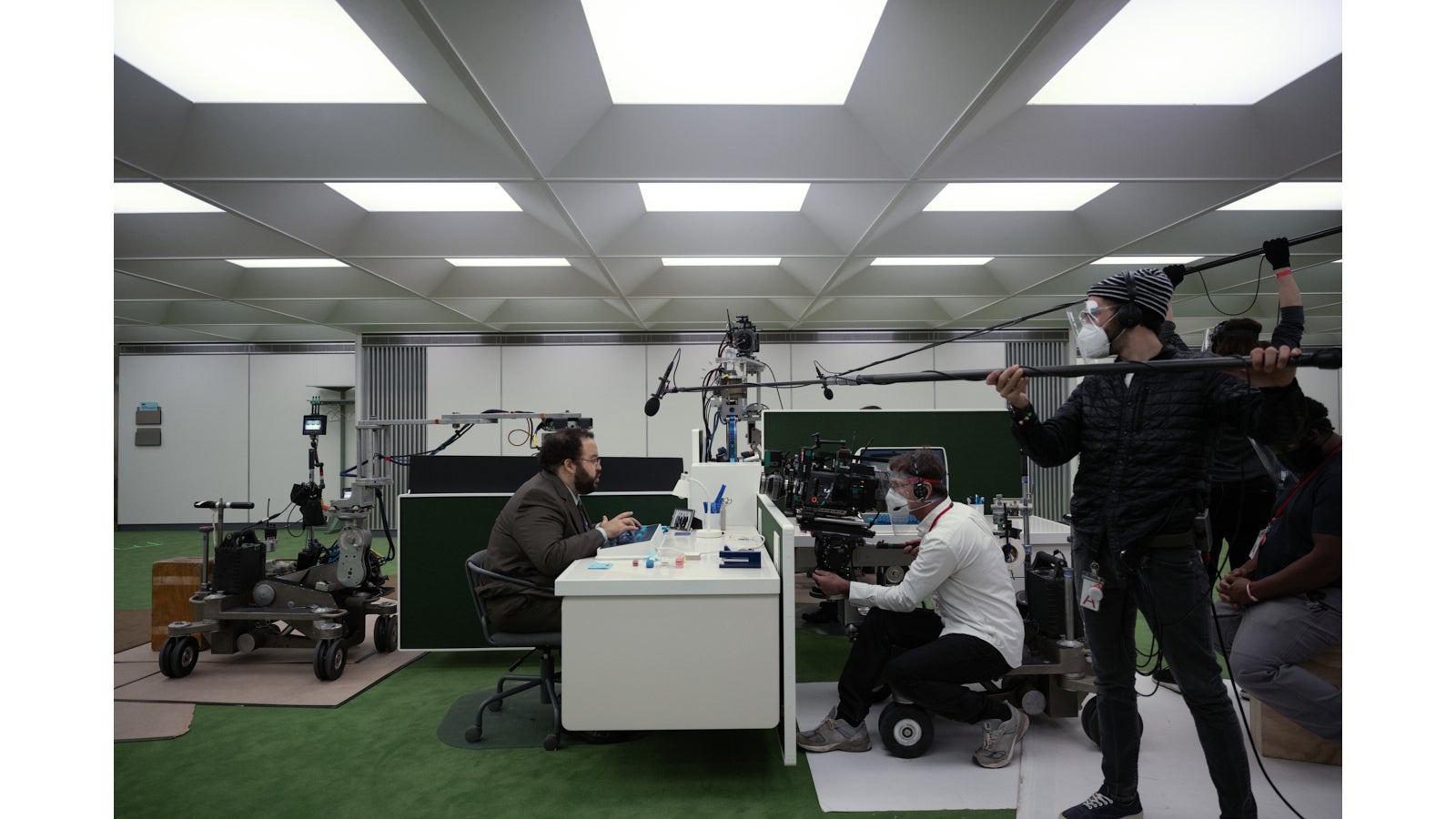 JB:
So I take it that you prefer the high base on the camera – 2,500? Did you shoot the show at 2500?
JLG:
Yes, all of it. I never shot 500 on the Sony. Well, I can't say never, because I think visual effects asked me to do it once or twice, for a shot we knew we were going to zoom in like 40%.
JB:
Did you shoot the show with HDR in mind?
JLG:
Totally. I think we nailed the HDR. It turns out it's one of the shows that really puts HDR to the test. And grading it in an HDR space was amazing. The HDR for Severance really brings it to life. The problem is, many people don't have the setup or access to a way to properly watch HDR. So it's very rough, in that sense. You don't know how everyone's watching it.
JB:
I watched it on Sony's top-of-the-line HDR OLED TV. I think how good it looked on my display is part of why this project has resonated with me so strongly. How did you monitor on set?
JLG:
We had Sony OLED monitors. I always worked with OLED and my DIT knows what I like. I fight for very good monitors. If the monitors aren't good I can't color grade live with him. I talk to him about every single image while we're shooting, and Ben sees everything live graded.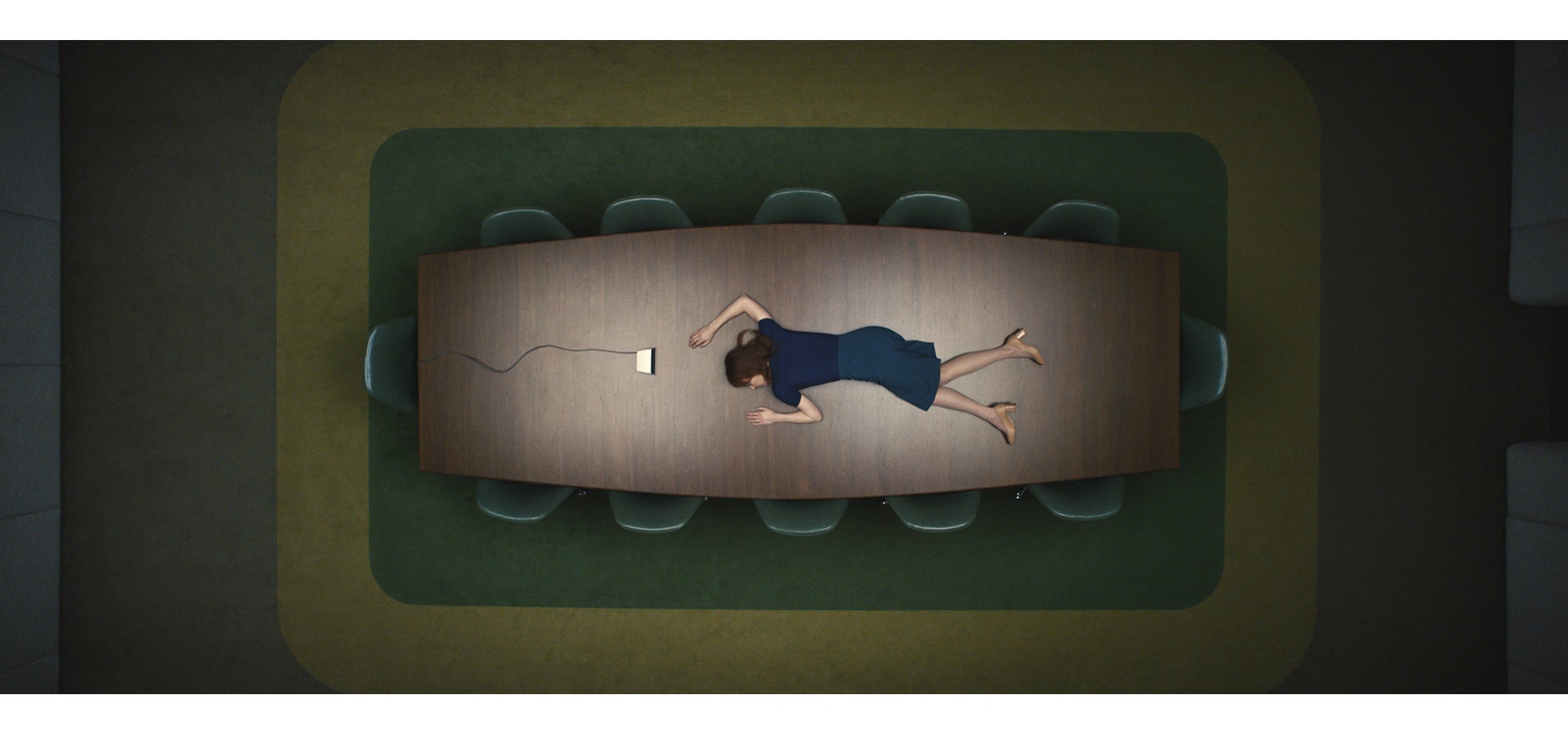 JB:
Did you adjust anything you did on set for HDR considerations?
JLG:
I really go off of what I'm seeing on the monitor and speak to my DIT about it. And if anything catches my eye, I bring it up and ask, "Wait, am I seeing this accurately?" And then we'll check. And it's all part of that testing process. So my eye gets used to seeing things a certain way. And if it correlates with what I saw in the test at Company3 with [colorist] Tom Poole, I know it's okay because I can remember what it looked like when we were grading the test.
JB:
How was it to color grade the show?
JLG:
The work of the color grade, for me, really comes from setting the lookup table before, with the colorists. So once that is set in the beginning, then we're all on the same page. Then we enhance it in the grade, but I don't think we reinvented anything at the grade stage. It was a hard grading experience though for Andrew Geary, our second colorist. He had to match all those white walls. Almost all of them are vintage and they all have a color cast. And we're underexposing two to three stops sometimes as well, so there are also color shifts. Color separation's not easy. And cutting from a white wall to a white wall to a white wall helped make it a very difficult show to grade.
JB:
Why underexposing?
JLG:
For me, it's how I like the VENICE. When I have the right colors and the right DIT with me, I feel like I can make something that has more texture to it, when I'm riding the line of where the camera falls apart, which is kind of where I like it to land. This is case by case, but so far, it's how I like to expose Sony.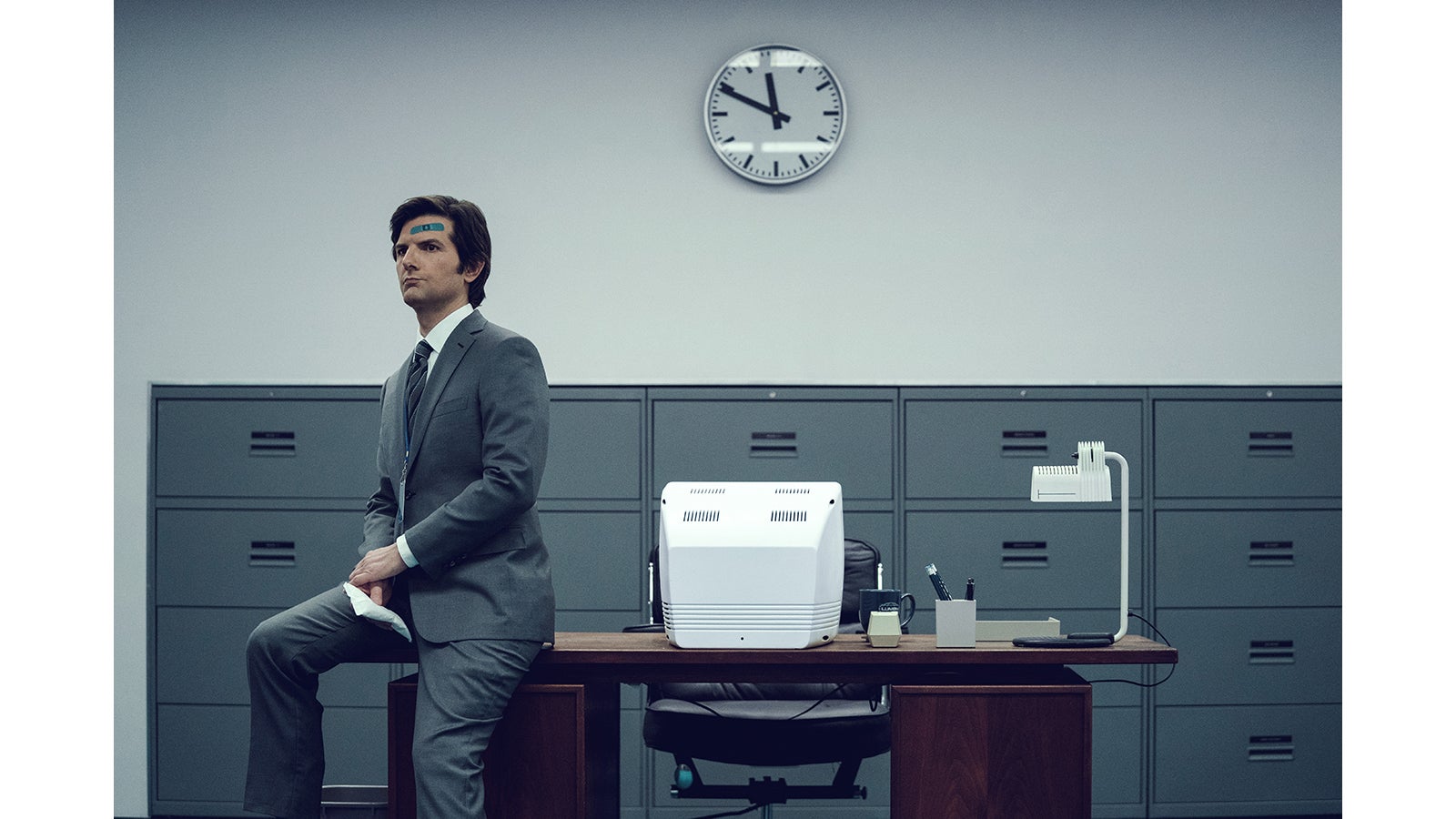 JB:
Did you use any specific filters besides ND? And since you've been shooting VENICE for a while, do you look at the ND filter system as another creative tool, to control depth of field and the look that you want?
JLG:
None besides ND, but [the ND system] is like the best thing that's ever happened to any camera. The NDs saved my life. We shoot three cameras. I'm changing NDs every two seconds. For me, the stop is so important because that's how you're deciding the aesthetic of the shot. And the major quality of the lens will come out by what stop you're using, especially in vintage lenses. Whether it's too wide open or not wide open enough or whatever it is, you need to be able to hit a specific stop to give it the personality that you want. And it's almost impossible to always be consistent with that. I'm always riding a line, so sometimes, we mess it up. Sometimes, someone's head comes up in the bending or the fringing of their lens and it just falls apart. And you're like, "Whoops, okay, on that take we went a little too far. Hey, can we just take an ND out real quick?" And we do that. And then, you're not ruining the flow of the actors. And when you have so many cameras, it's so important to be efficient and fast with that, and even the operators can do it. That was also one of the big driving forces for my getting this camera. When I was operating, I was able to just switch them and not bother anyone. And it's like, "Yep, shoot, go, go, go." That is amazing.
JB:
Any thoughts on the camera's latitude? When you get into the grading suite, how much you can push them around and manipulate them in the grade, what are your thoughts on that?
JLG:
It's super impressive. I really feel like there's something about the VENICE that brings you closer to film than ever, in terms of how you can process it in the grade. I think that you can really manipulate the image and the highlights and get stuff back.
JB:
So just real quick before we wrap, have you shot with VENICE 2 yet? Any thoughts on that camera?
JLG:
Haven't shot with it yet but I want it. We really want it for season two.