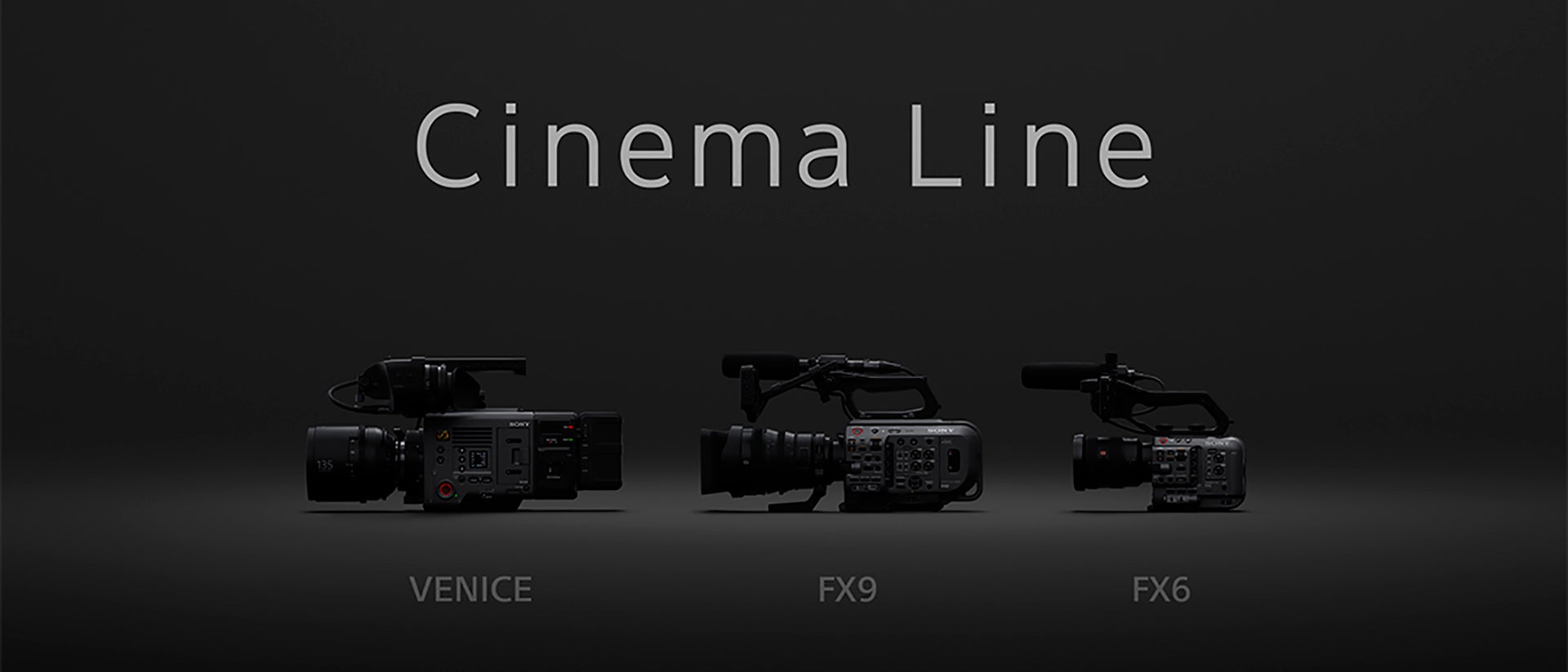 https://77snszqv.media.zestyio.com/CinemaLine_1920.jpg
09.02.2020
09-02-2020 - Events, Gear, Technology, News
Sony Introduces the New Cinema Line of Digital Cameras
By: SonyCine Team
Today, Sony launches Cinema Line, a series of camera products created for, and dedicated to, a wide range of content creators. Cinema Line brings forth innovations and features from Sony's current VENICE and FX9 cameras to new products with varying form factors, feature sets, and price points. And all of these new cameras will share the Sony DNA of expertise in:
Full-frame image sensors – high sensitivity and resolution, wide dynamic range
Color science – delivering a rich filmic, cinematic look, with flexibility to customize creative expression
Auto Focus
Small and lightweight bodies
Professional and intuitive interfaces with improved ergonomics
Cinema Line is a natural progression for Sony, who began their long, two-decade history of pushing the boundaries of digital cinema technology with the F900, the world's first 24p digital cinema camera. Indeed, from sensor to sofa, Sony has made great contributions to digital cinema. For example, Sony set the industry standard for reference monitors with their BVM-X300. Movie theaters play your favorite titles with Sony 4K digital cinema projectors. Television image quality has never been better than with Sony's Master Series OLED HDR displays with features like Netflix Calibrated Mode. And now, with the recent launch of the Sony a7S III and Xperia 1 II, the DNA of the Cinema Line is now accessible to so many more content creators, filmmakers and photographers.
Also detailed below in the full press release are details for upcoming firmware updates for the VENICE, Version 6.0, and for the FX9, Version 3.0 including the introduction of a Center Scan mode for Super 16mm lens support.
___
Introducing Sony Cinema Line: Expanding the camera line-up for content creators with the technology cultivated for digital cinema production
SAN DIEGO — September 2, 2020 — Sony Electronics Inc. today announced the launch of Cinema Line, a series of camera products for a wide range of content creators, which will bring together Sony's expertise in image quality, attention to detail, technology and passion in digital cinema.
Cinema Line will deliver not only the coveted cinematographic look cultivated through extensive experience in digital cinema production, but also the enhanced operability and reliability that meet discerning creators' various needs. The new series will extend beyond traditional cinema camera and professional camcorder form factors.
In 2000, Sony released the ground-breaking HDW-F900. The HDW-F900 marked the beginning of digital cinema history as the world's first 24p digital cinema camera. Many Sony cameras followed in response to countless dialogues with cinematographers and image creators – including VENICE, which was released in 2018.
Existing cameras that will form part of the Sony Cinema Line include VENICE and FX9. VENICE has become a first choice for digital movie production, and FX9 has an outstanding track record in documentary production. The next camera will appeal to a wider spectrum of visual creators. Sony will be releasing and shipping this next addition to the Cinema Line, FX6, by the end of 2020.
Each of the Cinema Line cameras will evolve with user feedback: The FX9 Version 3.0 firmware upgrade, available in 2021, will see the addition of the S700PTP* to enable remote control, and a Center Scan mode for Super 16mm lens and B4 lens support with its adaptor, as well as other features. In parallel, in November 2020, VENICE will see additional features in Version 6.0 firmware, which will improve its operability in broadcast and live environments.
"The voice of our customer is critical to everything we do," said Neal Manowitz, Deputy President of Imaging Products and Solutions Americas at Sony Electronics Inc. "We have the deepest respect for filmmakers, cinematographers and storytellers, and will continue to evolve our product line to meet and exceed their demands. Just as our VENICE camera was designed to capture the emotion in every frame, our new Cinema Line expands that vision to allow a broader range of creators to push their boundaries further, and capture and create like they've never been able to before."
* S700PTP is a protocol that realizes S700P over TCP/IP
About Sony Electronics Inc.
Sony Electronics is a subsidiary of Sony Corporation of America and an affiliate of Sony Corporation (Japan), one of the most comprehensive entertainment companies in the world, with a portfolio that encompasses electronics, music, motion pictures, mobile, gaming, robotics and financial services. Headquartered in San Diego, California, Sony Electronics is a leader in electronics for the consumer and professional markets. Operations include research and development, engineering, sales, marketing, distribution and customer service. Sony Electronics creates products that innovate and inspire generations, such as the award-winning Alpha Interchangeable Lens Cameras and revolutionary high-resolution audio products. Sony is also a leading manufacturer of end-to-end solutions from 4K professional broadcast and A/V equipment to industry leading 4K and 8K Ultra HD TVs. Visit http://www.sony.com/news for more information.
# # #