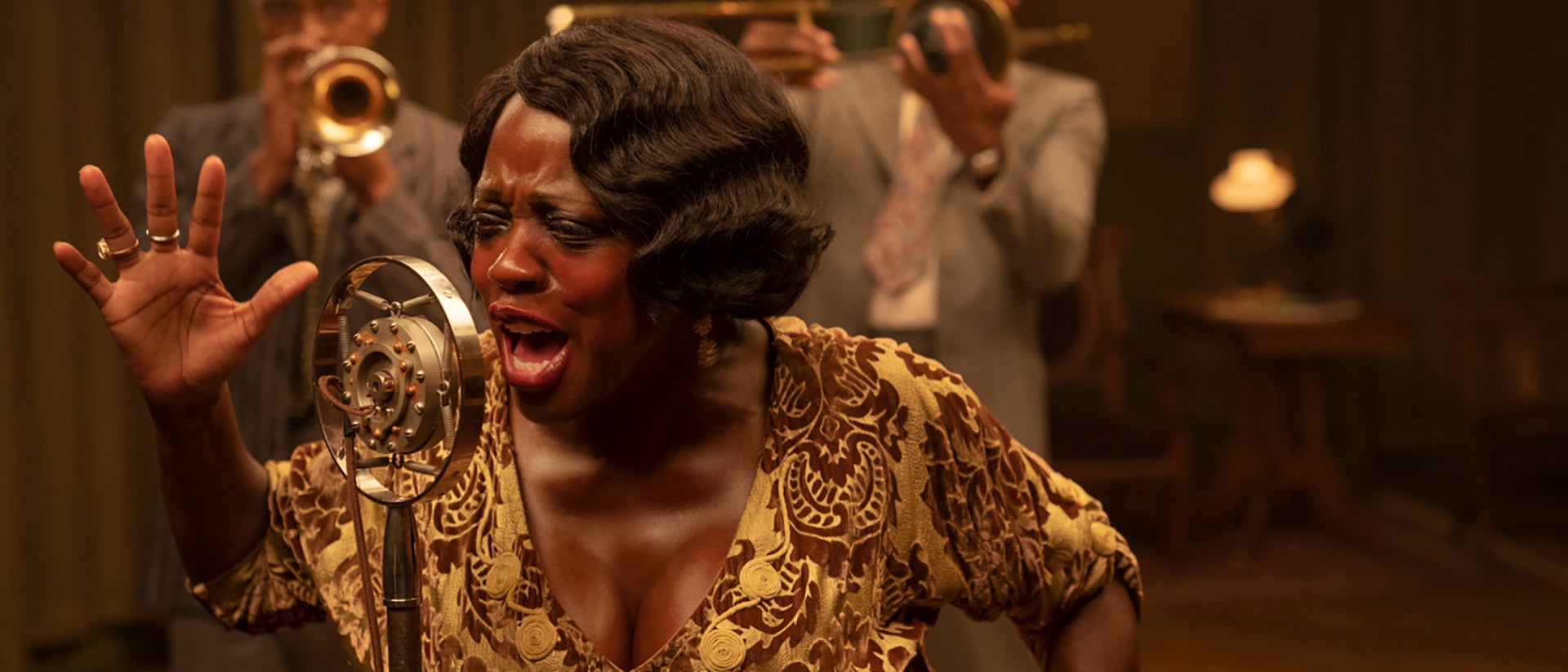 https://77snszqv.media.zestyio.com/MRBB_Unit_09303_R-1920.jpg
12.17.2020
12-17-2020 - Case Study, Gear, Technology
The Sound of Music -- Tobias Schliessler, ASC, Riffs Through the Filmic Adaptation of August Wilson's Tony-winning Play, Ma Rainey's Black Bottom
By:
Reprint courtesy of ICG Magazine December 2020 issue.
Photos by David Lee, SMPSP
Ma Rainey's Black Bottom, was adapted from the Pulitzer Prize-winning August Wilson play, part of his acclaimed American Century Cycle chronicling the 20th Century African-American Experience. It was produced by Todd Black and Denzel Washington, the latter of whom also produced and directed another Wilson film adaptation, Fences, shot by Local 600 Director of Photography Charlotte Bruus Christensen, ASC (ICG Magazine December 2016).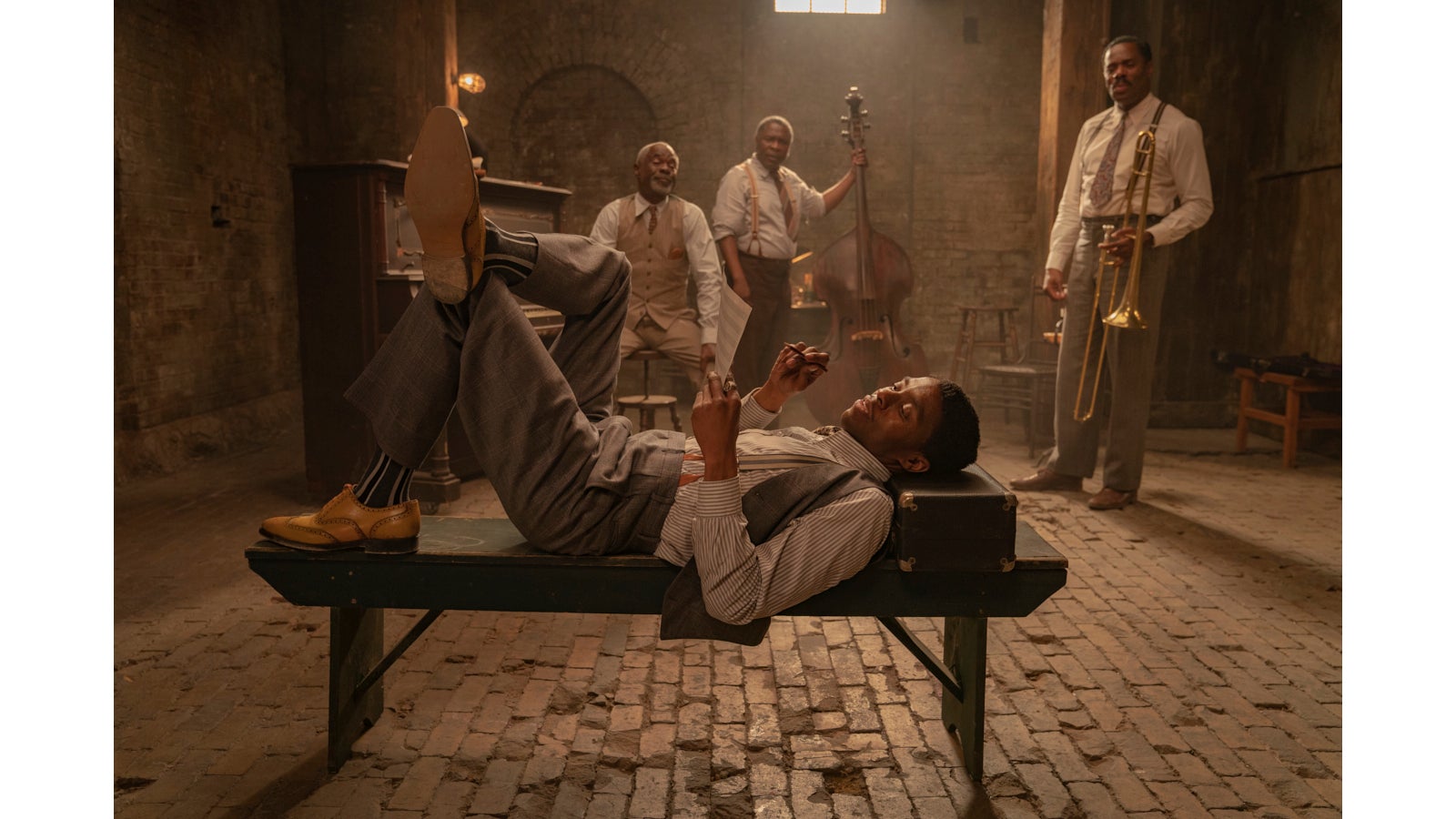 The story centers on Ma Rainey (Viola Davis, who also starred in Fences), a blues singer, who comes to Chicago to record when tensions arise with her ambitious trumpet player (Chadwick Boseman's masterful final performance) and the white management team, determined to control the "Mother of the Blues." The film features a score from Grammy-winning composer Branford Marsalis, who was also present for the entire production to advise the cast. Washington chose Tony-winning theater director George C. Wolfe (Exposure, page 38) to helm the film. Wolfe had directed Washington on Broadway in a revival of Eugene O'Neill's The Iceman Cometh. For his Director of Photography, Wolfe turned to Tobias Schliessler, ASC (Dreamgirls, Lone Survivor, Beauty and the Beast), who had worked with Black and Washington on Tony Scott's remake of The Taking of Pelham 123 (ICG Magazine June 2009).
Schliessler says he was nervous about the project when he first met with Wolfe. "I think most DP's would feel the same," he recounts. "Literally over half of the story plays out in a 23-by-18-foot windowless rehearsal room in the basement of a recording studio. The room was described in the script as: 'INT. BANDROOM. BASEMENT. IT IS A WINDOWLESS SUBTERRANEAN ROOM. ONCE A STORAGE ROOM. NO AIR. NO LIGHT.' I questioned, 'How could I make this contained room with no motivated light from the outside visually interesting?'" Schliessler continues. "I knew there would be practicals, but for half the movie it would be one look in the same space, which felt daunting, to say the least."
Schliessler talked to Production Designer Mark Ricker to determine just how intent his director was on not having any outside light coming in through a window. "We didn't have a DP yet, and Tobias and I have the same agent," Ricker remembers. "She said I should give Tobias a call and our fears were confirmed. Some 40 pages of script is in a windowless basement, and George was adamant he didn't want a window."
"George wanted the four musicians to feel 'trapped in the room,' as if it were the underbelly of a slave ship with no connection to the outside world," Schliessler adds. "Of course, this made complete sense for the story and was impossible to argue with. When I first met with George, I confessed I didn't yet have any ideas on how to make the basement scenes visually compelling, and his response was: 'If you already knew how to do it, where would be the challenge? So, why even do it?' I loved that answer and knew I was in great hands."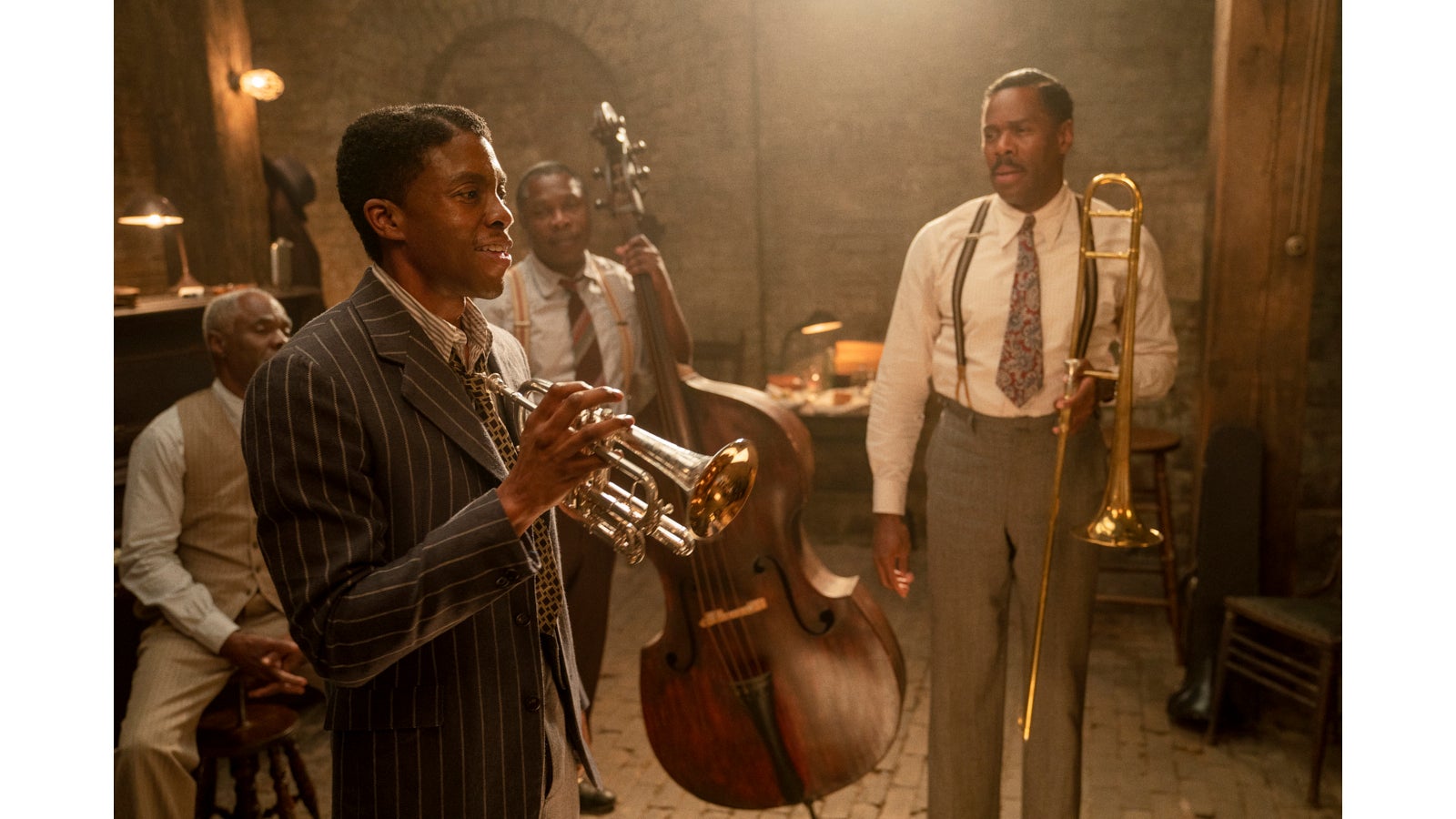 Ricker and Schliessler began scouting locations, including a room that had a small window up high. Ricker remembers saying, "Come on, let's show this to George. Tobias had sort of given up, and just said, 'No, I'll figure it out. But when we showed George the space, we didn't even have to point up at [the window]. He said, 'That's extraordinary.' Tobias was behind him and his eyes just lit up! So, we got a little window in our set."
Schliessler adds that he was "able to play sunlight through the window, which fulfilled one of Wolfe's main visual choices, which was to show the sweltering heat in the basement." Wolfe justified the addition of the window by placing it up high in the set – a portal to an unreachable outside world for the characters.
Without much prep time, Schliessler still managed to test lenses and filters. "I wanted to shoot large format or anamorphic on the Sony VENICE," he describes, "so I had Keslow Camera send us a set of Hawk V-Lites, Canon K-35s, Zeiss Supreme primes and Leica M primes. With the help of [Costume Designer] Ann Roth, we dressed stand-ins with the correct color tones for wardrobe and did proper lighting tests for interior and exterior setups. "Mark [Ricker] got me four-by-eight panels of paint samples and textures, and Set Decorator Karen O'Hara supplied a variety of practicals. I wanted George to see the pros and cons of each lens set, so I made sure to do extreme focus racks, with lens flares from the practicals. I also shot wide open to see how the different lenses perform in low light."
Schliessler also tested his "go-to filters" – Hollywood Black Magic, SFX, and Pro-Mist. "But at the last minute, I remembered using the Bronze Glimmerglass filter by Tiffen in combination with an antique suede filter on a commercial I did that was flattering on darker skin tones," he recounts. "I had Keslow add it to the test package, and it ended up being the perfect filter combination for the exterior scenes. For the interiors, I lost the antique suede and only used the Bronze Glimmerglass. The Bronze Glimmerglass gives a beautiful warmth to skin highlights with a slight blooming effect."
Schliessler and DIT Curtis Abbott took the footage to CO3 in New York to see the lens test on a big screen, as well as to create a show LUT with Founder and Company President Stefan Sonnenfeld. Abbott remembers that "Tobias and Stefan sat at length to discuss the look of the film. We had two show LUT's – an interior and an exterior, even though we were only outside three to four days total. The interior LUT was also used in the tent sequence where Ma is performing, because that was at night. The only time we used the exterior was outside during the day."
For the choice of lenses, Schliessler ultimately decided to go with the Zeiss Supreme Primes. "We had planned a lot of focus pulls between actors, especially for the long dialogue scenes in the band room," he explains, "and the Supremes had the least amount of lens breathing. Additionally, we wanted to use wide lenses for close-ups, and the Supremes had the least amount of distortion on the wider end. For these reasons, along with George not wanting to distract the audience from the performance with strong lens characteristics, the Supreme Primes felt like the right choice."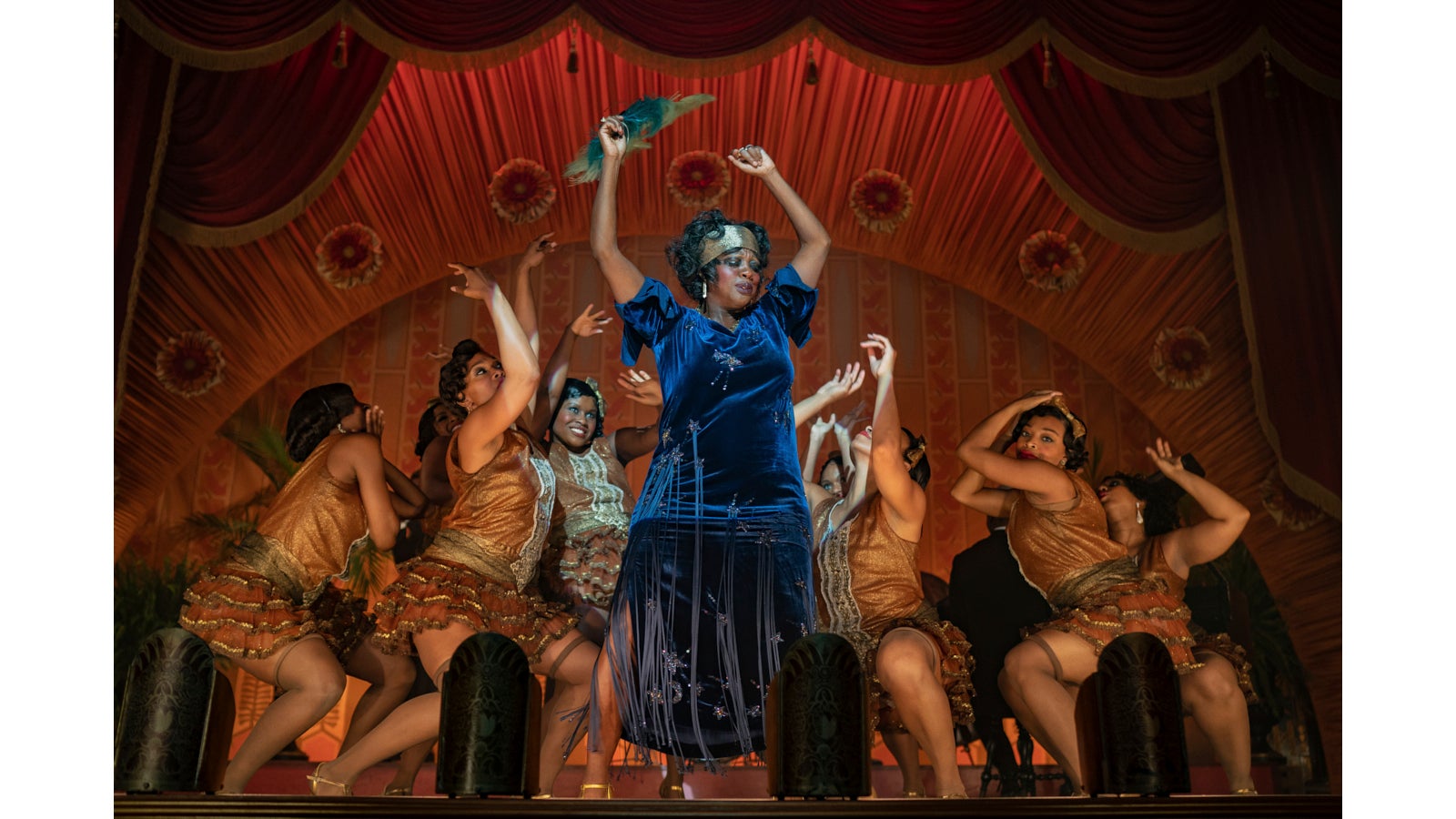 With eighty percent of the movie set in just two locations, sets were built on a stage at 31st Street Studios in Pittsburgh, PA. The facility was converted from a 19th-century steel mill, which, according to Schliessler, meant the stages didn't have any existing green beds or lighting grids, and all the lighting trusses had to be hung from Condors.
With the decision being made to keep the 100-plus-year-old brick floor of the former mill, laying-down dolly track on the chipped, uneven surface was difficult and time-consuming. To solve this problem, Schliessler mostly used a combination of Steadicam, a 15-foot Chapman telescopic arm with a remote head, and camera sliders.
Wolfe also wanted four columns in the room, exemplifying the four corners of a ring in a boxing match, where the musicians hurled words like punches. Ricker and his construction crew found period timber with authentic cracks and weathering and hollowed them out so they'd be less heavy and more maneuverable. As Schliessler also wanted to be able to pull walls quickly for camera movement (using an M7 EVO head from Chapman-Leonard on a crane), the walls were hinged and slid. "The whole set was like a Chinese box, where walls were easily moved," Ricker remembers.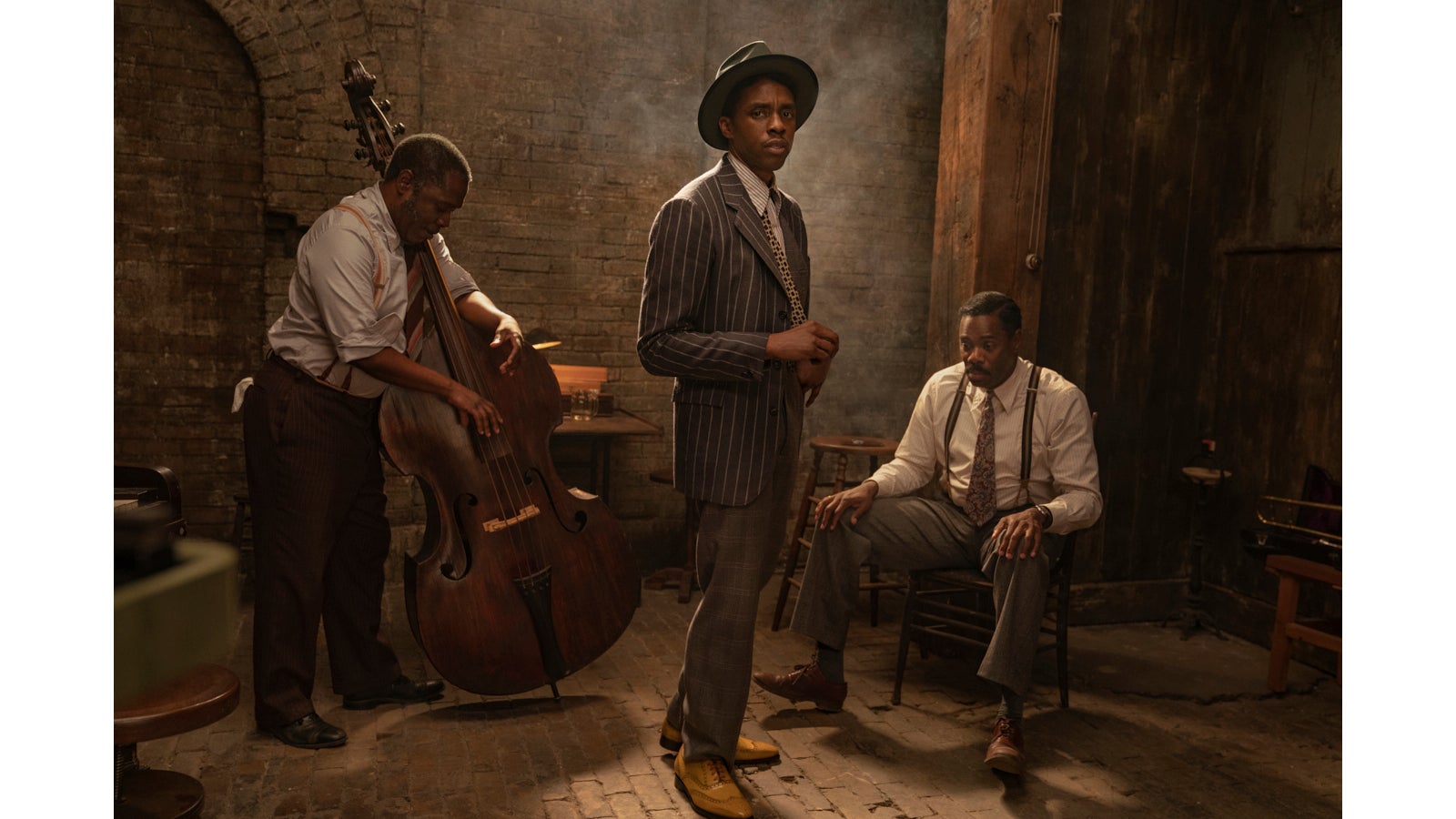 Chief Lighting Technician Robert Krattiger, who has worked with Schliessler on several projects, said the thirteen days spent shooting in the band room meant not much of a time change. "The majority of the movie takes place throughout one day," Krattiger shares. "It's always a challenge to mix up the look with so much time spent in one space and to look great in all different directions.
"There were practicals, but only one true source, and that was the window," he continues. "We built a softbox overhead using ARRI SkyPanels, to keep it on the cooler side. But everything else was tungsten. In the outer hallways we used LiteMat 8s, which were new at the time. Through the tiny window we had to jam a lot of lights to simulate sunlight coming in. Using the angles was fun, because multiple lights coming through a window acts as a cutter, so you don't have multiple shadows on the wall."
Schliessler designed the entire look around the window using 20K, 10K and 5K tungsten Fresnel lights and narrow Par cans. "If the light was too hard for close-ups on the actors, I'd cover the window with different diffusion frames," he states. "It varied from Hampshire, Opal, and 250. For eye lights I used a combination of LiteMat 4s, 8s and Chimera Pancake lights right on the floor wherever was out of the way of the actors or camera. In some cases, the old-school Chinese lanterns with 250-watt photofloods came in handy."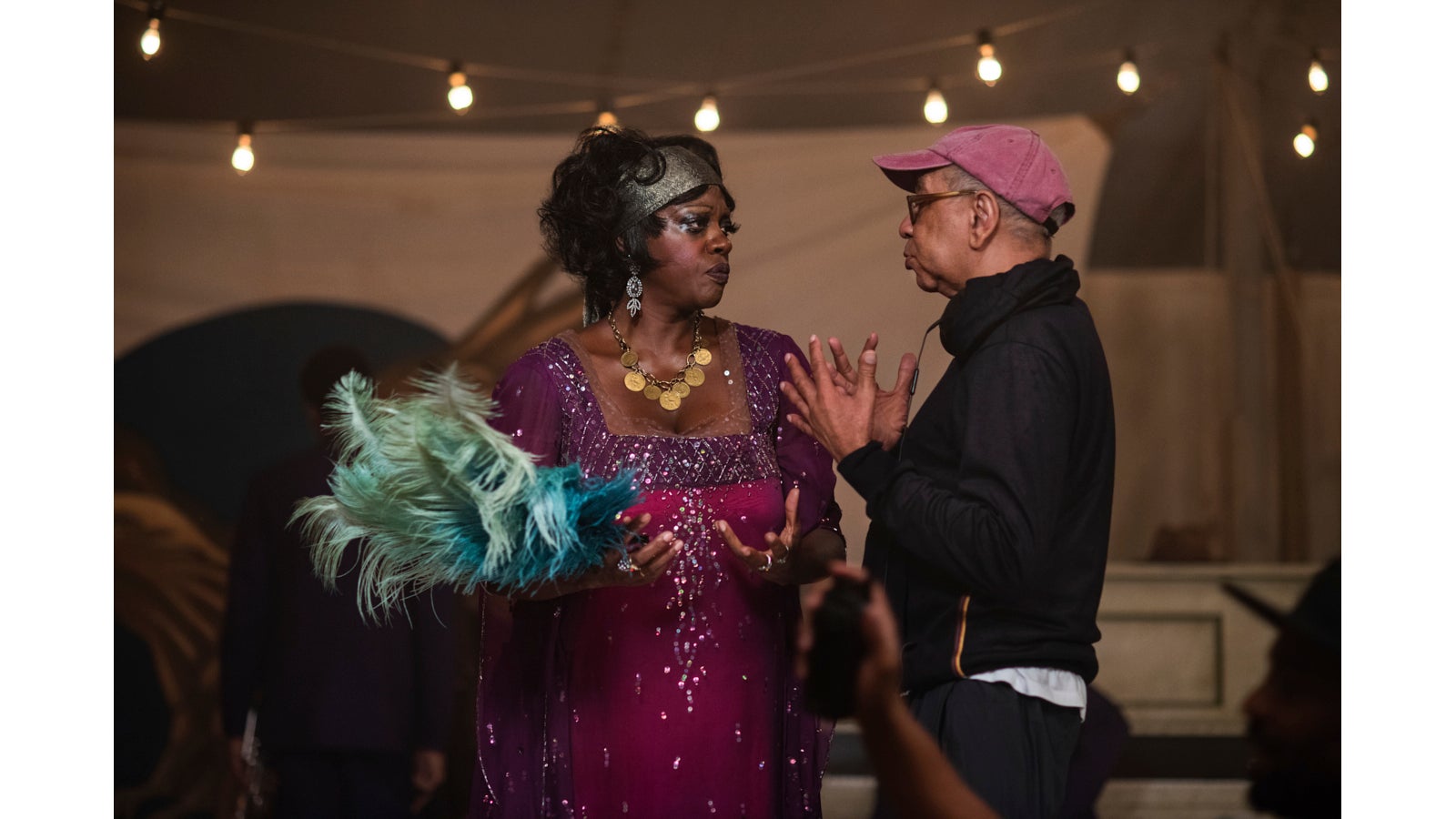 "It was cramped in there," 1st AC Wili Estrada relays. "Eight-page scenes with the Steadicam created this dance with the actors all around the set. Not one moment is the same, which was the biggest challenge."
Estrada used the Preston FIZ system in conjunction with a Light Ranger 2; however, he says sometimes the Light Ranger limited him because of all the movement from the actors and the over-the-shoulders, going from one actor to another. "When we were on the Steadicam I used the Cine RT, which they call the 'Bug from Vancouver, Canada,'" he adds, "and that was awesome. In Studio Mode, I'd use my Light Ranger."
With Wolfe rehearsing with the actors without yet adding scene blocking (because the takes were so long), Estrada says that "basically, our rehearsal was Take 1 and we would just figure out where they were going. The scenes were run by [Chadwick Boseman] because he had the most lines. He'd show up to the set and we'd say, 'Where are you going?' Sometimes he'd tell us; other times he was too deep into his character to respond. Branford Marsalis was always working with Chadwick on the musical authenticity, so we would say, 'Let's just go and see where it takes us.' We always knew by our third take we had it nailed on our technical side."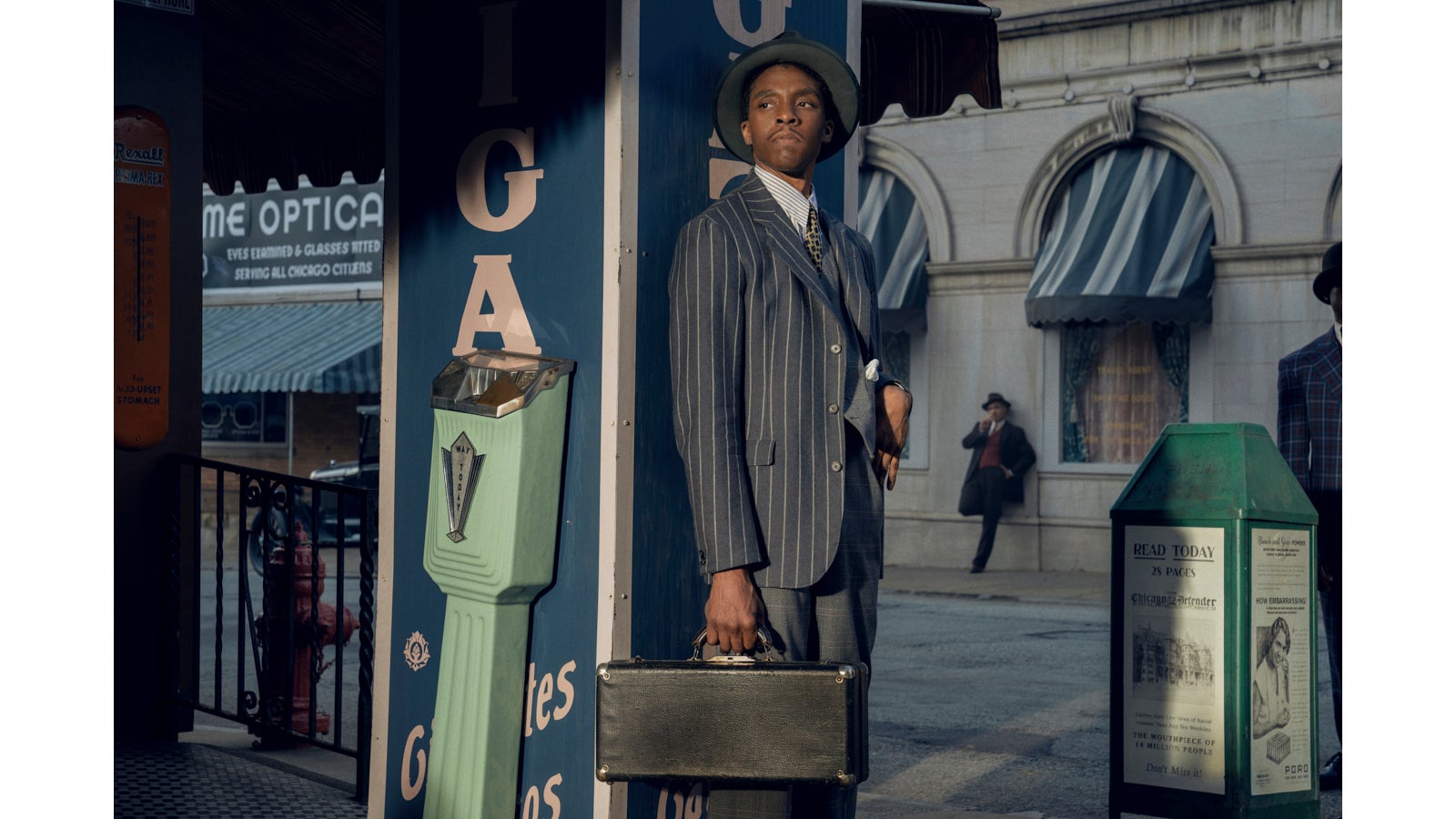 A-Camera/Steadicam Operator Kirk Gardner says that with such a tight schedule, "Tobias was always thinking one step ahead. He would take care of stuff before we would get to the set. He's an on-your-feet kind of magician, and the challenge is to keep up with him. That was the learning part: keeping up with somebody that smart!"
Gardner recalls a moment where "we had to take a camera down a very small chute. Tobias attached ropes to a dolly on tracks and had the ropes spin above the Oculus head. The camera was lowered as the actor was trying to climb out. He had this great idea of using ropes on pulley systems, connected to a dolly on a track, and pushing the dolly raised the camera. George told us what he wanted with the action, and we were like: 'How are we going to get down in this hole?' And Tobias came up with this idea like he'd just done it last week."
For the tent sequence with Ma Rainey singing, Key Grip Bart Flaherty discussed different ways of going into her singing, including the use of a Cablecam. "We settled on a ramp, hidden in the aisle of the audience, and everybody got out of the way as Kirk, on Steadicam, went up the ramp to get right into her face," Flaherty describes.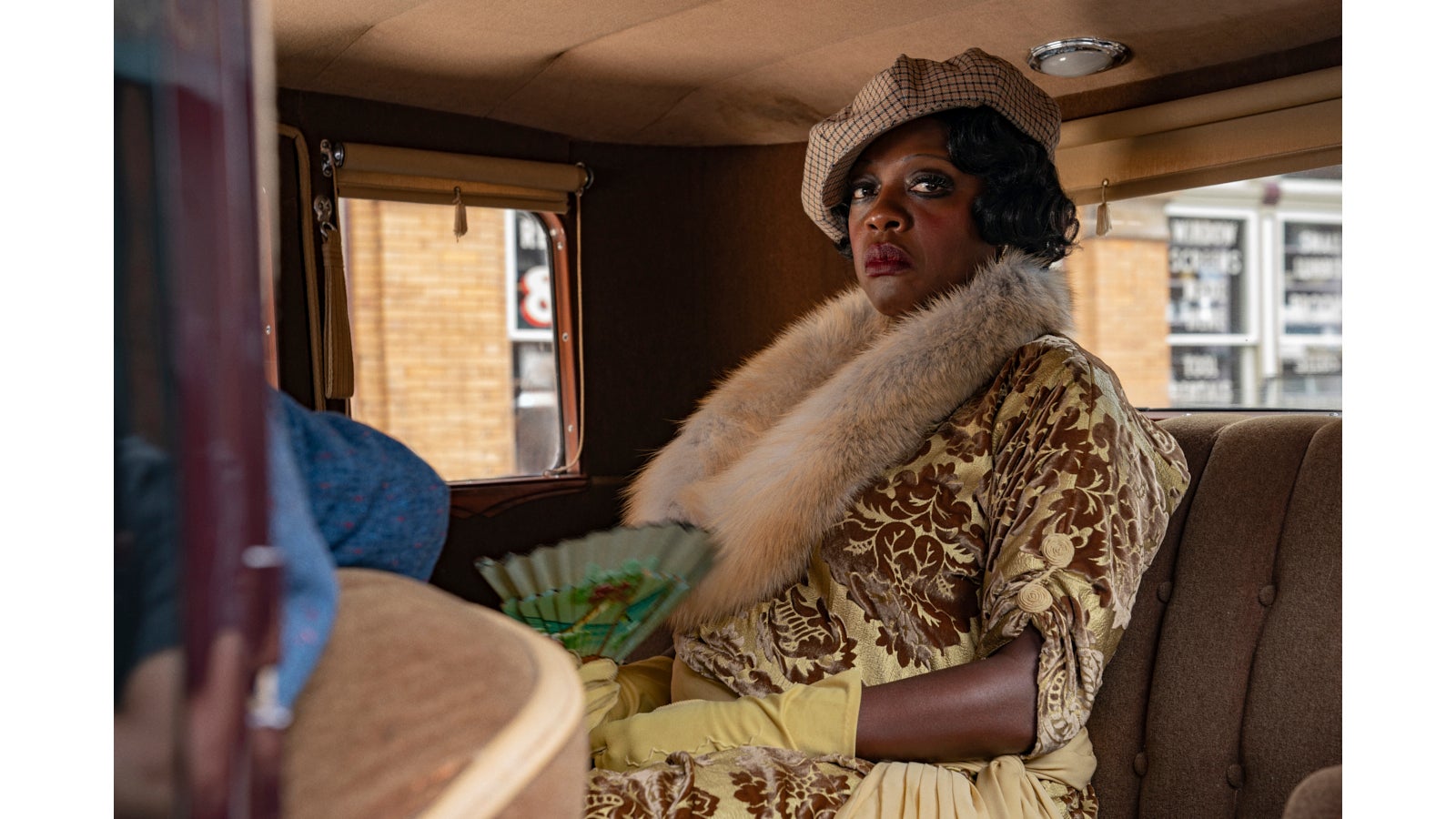 The lighting inside the tent was motivated by gas lanterns, tungsten bulb string lights, and simple footlights. A tungsten balloon was used to provide soft ambiance as well as some SkyPanels with Chimeras; and a small, 1000-watt Dome Light with a narrow Honeycomb, designed by Krattiger, was used to give Davis' character a bit more front light. For close-ups, LED LiteMats on the floor were used to augment the footlights.
"George wanted all the shots of Ma Rainey in the tent to include the audience, further enhancing her intimate relationship with her fans," Schliessler explains. For the exterior scenes in front of the studio, lighting continuity was imperative. Schliessler notes that his first instinct was to "hang a big overhead 40-by-60-foot diffusion frame over the entire set. Unfortunately, this idea would not work as there were high-voltage electrical wires across the street. Thankfully, my local key grip, Bart Flaherty, and his fantastic crew managed to keep the sun off the set using fly swatters with light-grid diffusion on Condors."
"Maneuvering fly swatters in there was pretty tough," Flaherty recalls. "We had four on a small street on the north side of Pittsburgh. We did a week of exteriors where the band gets off the L-train and walks to the recording studio, and there are a couple of scenes that play outside the recording studio."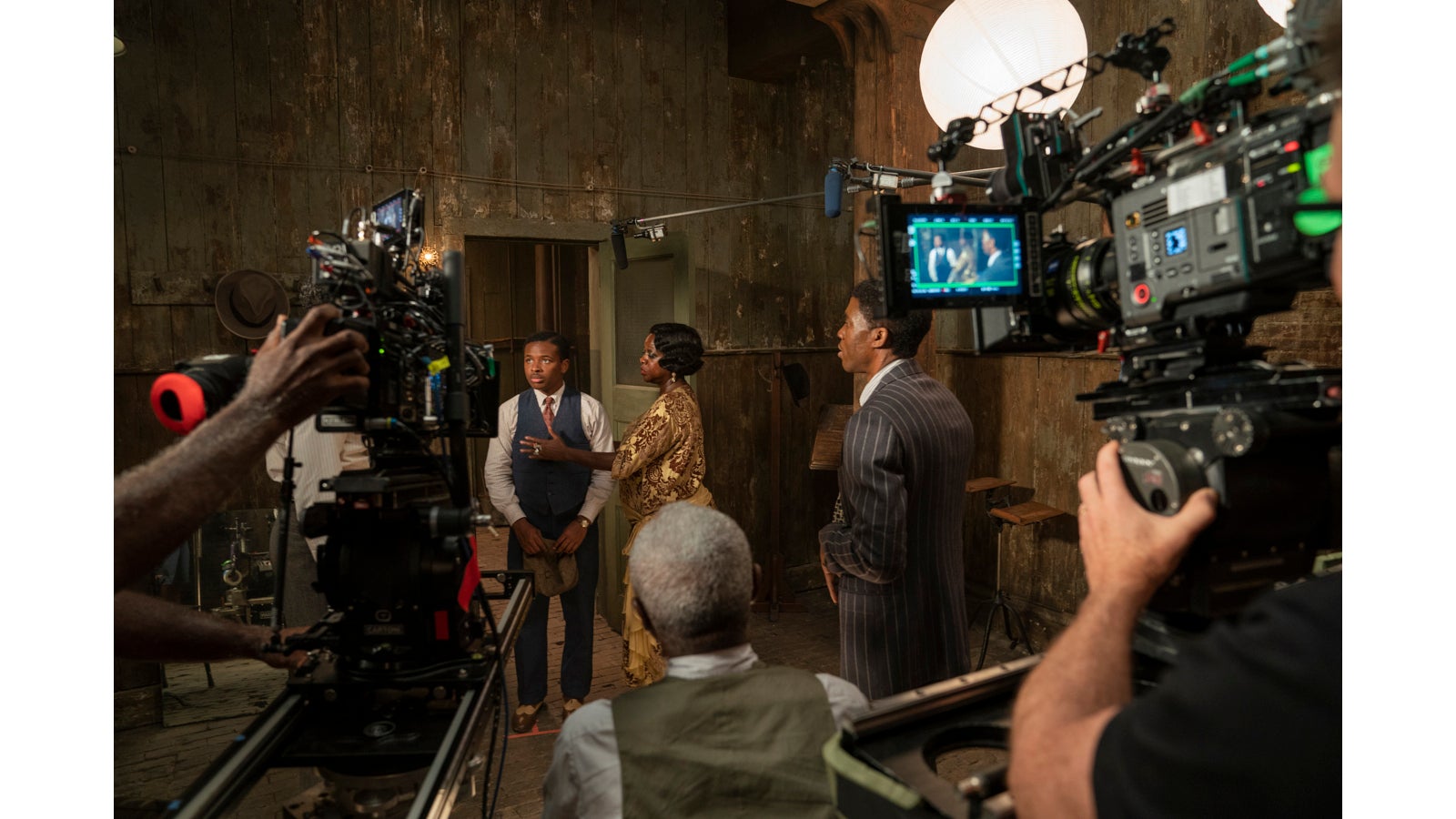 "Robert [Krattiger] used six LRX 18K HMI remote lights with ½ CTO filters on Condors to create the sun for the exterior scenes," Schliessler explains. "George designed some beautiful shots with the [43-foot] Chapman Hydrascope crane that gave our exterior a large scope. The background was further enhanced by VFX, helping to evoke 1927 Chicago."
For the wide exterior shots, Schliessler says he leaned heavily on First AD Michelle "Shelly" Ziegler, "who fully understands the challenges of a DP and was able to adjust the shooting schedule to accommodate my lighting needs," he raves. "To schedule it at the right time of day, and with the luck of the weather, I was so pleased with the result."
Schliessler says that he felt lucky to be witnessing, firsthand, such incredible performances. "I can't be more thankful for the wonderful experience I had making this film," he concludes. "It was one of those projects where you always felt everyone was working symbiotically towards the same goal. I had so much support from Netflix, the producing team, and my amazing Local 600 crew. All of those reasons are why I was able to do my best work. Of course, when we found out about the passing of Chadwick, our hearts immediately all sank. Working with him was an experience like no other and one that I will never forget. He was an unparalleled artist whom we lost way too soon."