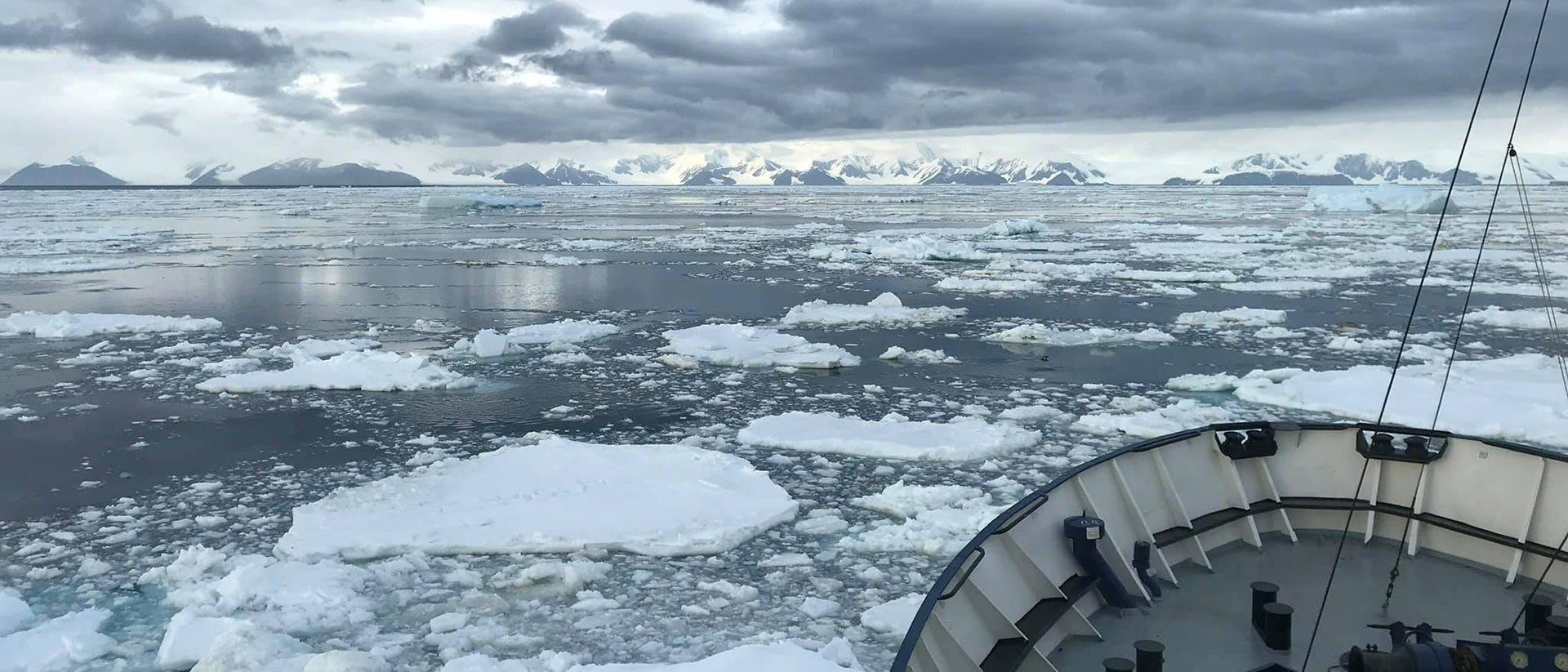 https://77snszqv.media.zestyio.com/COVER_1920.jpg
04.29.2020
04-29-2020 - Case Study
"Go Further South" - FX9 to Antarctica - Shot on Sony
By:
SonyCine.com recently connected with Auckland, New Zealand-based Director of Photography Yves Simard to learn about his recent voyage to Antarctica with the Sony FX9. His mission was to capture the extraordinary scenic vistas found at the bottom of the world for "Go Further South," a 12 hour film for Slow TV. Here is his account of the experience.
Click on the video directly below to view an assembly of clips from the Sony FX9, which was their workhorse camera for all shore excursions.
Antarctica is an epic place. It's on many of our bucket lists and has captured my imagination since I was a kid combing, inch by inch, through the glossy maps in National Geographic magazine. It has a scale and grandeur that is difficult to comprehend. It is one-and-a-half times the size of the United States, and is covered in ice, snow, wind and volcanoes. It is an unforgiving place and many have lost their lives in their quest to tell its story. When we set out to make a Slow TV project about Antarctica and the Sub-Antarctic Islands, we knew we were taking on a mammoth task.
The year 2020 was the 200th anniversary of the January 1820 discovery of the continent by a Russian expedition led by Fabian Gottlieb von Bellingshausen and Mikhail Lazarev. Our voyage was a 23 day (one-way) journey from Bluff, the southernmost settlement on mainland New Zealand, to Scott Base & McMurdo Station, the southernmost point on the planet and home to Shackleton's Hut. We spent a total of 10 days shooting in Antarctica and another eight days enroute back home. We were traveling as part of a special trip organised by Heritage Expeditions, aptly named Ross Sea Discovery: In Scott & Shackleton's Footsteps - A Journey to the Heart of Antarctica.
Below is the "Go Further South" Official Trailer.
A resident Kiwi for 23 years, I'm originally from Northern Ontario in Canada and have worked in insanely cold conditions, including filming polar bears in Arctic regions, so I am rather well versed in the tips and tricks of cold weather shooting, but Antarctica was different.
Slow TV, to the uninitiated, can seem bizarre. The concept is to play journeys in real time, without narration or music, to give viewers an experience of immersion. The images and sound can be mesmerizing or hypnotic even, mimicking how it would be if you, the audience were there in real life. With a run time of 12 hours, non-stop and no commercials, it is less appointment television and more background television, where things that interest you give you pause as you otherwise go about your day. Greenstone TV produced our last Slow TV project, which was a rail and ship journey the length of New Zealand, across the Central Plateau, the Cook Straight, and through the Southern Alps. A hit among trainspotters and ship and rail enthusiasts, it generated lots of feedback from viewers - the most, in fact, a Prime TV show has ever received. Turns out Kiwis love Slow TV.
This is not a natural history documentary. There is nobody explaining what you are looking at. There are no curated stories. Shots are long - they tell their own stories, allowing the viewer to digest what they're seeing, and to muse about it. This poses a challenge from a cinematographer's perspective. Every shot needs a beginning, a middle, and an end. A pan that may have a spectacular start position cannot end on nothing. A viewer won't sit through a 45-90 second shot unless there is some sort of payoff. Shots need to be grand, full of detail and rich with light. They need to be epic, which means your shooting needs to be brave. You need to take chances and be willing to ruin a merely good shot to get an incredible one. Our aim was to have a handful of these throughout our program and in Antarctica, we were rewarded in spades.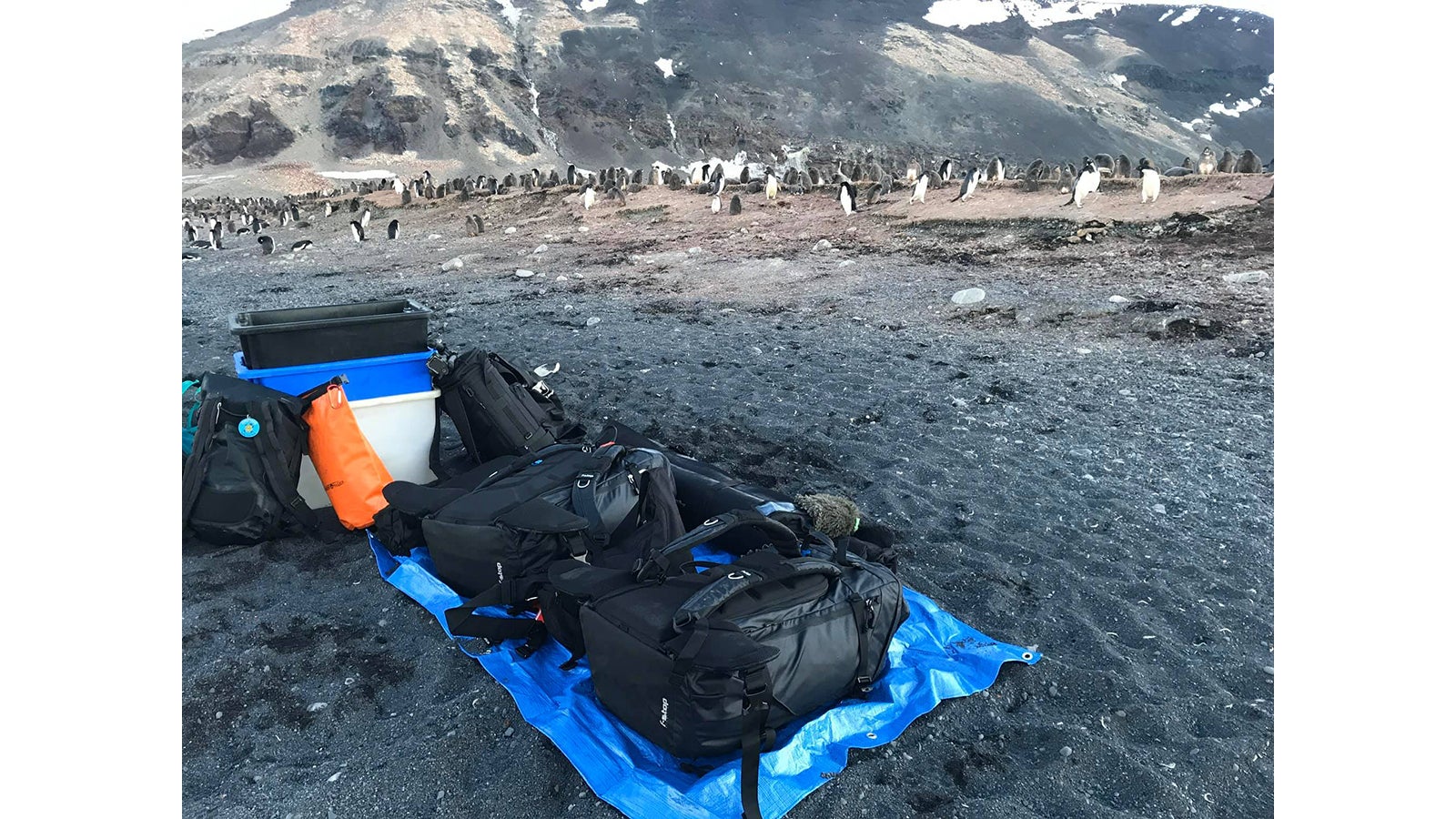 We made two shooting plans among our crew of four - one for shooting from the ship and one for when on expeditions.
On Land
Our shore kit needed to be compact, robust, light and manoeuvrable. We chose two Sony FX-9s kitted with a selection of Canon EF lenses that fit the brief. We carried them in specially designed backpacks which we could wear through narrow passages on the ship, that let us jump in and out of zodiacs, manage hours-long hikes to mountain tops, and allow us to easily shoot quickly along the way. We had considered using Alexas to keep the look similar to our main ship camera, described below, and also investigated full frame options such as the Mini LF and the VENICE. These would have been great but our footprint and portability would have been difficult to manage given our crew size. We made a similar call about lenses. Rather than reach for the most expensive glass, since I'd used EF lenses in similarly cold conditions, and since they cover a full frame sensor, we decided on them for this project.
The Gear Room in Auckland had one of the first orders of FX-9s to arrive New Zealand in December 2019. As soon as I held the camera, I knew it would be our kit. The form factor was perfect and I instantly fell in love with the look of its images. The full frame was fun, something slightly different, and was perfect for this project. The results exceeded our expectations. We used it in 6K Full Frame mode and recorded internal in S-Log3 in XAVC 4K at 25P. We decided to use V-lock batteries with the Core adaptor for power longevity and reliability given the extreme conditions.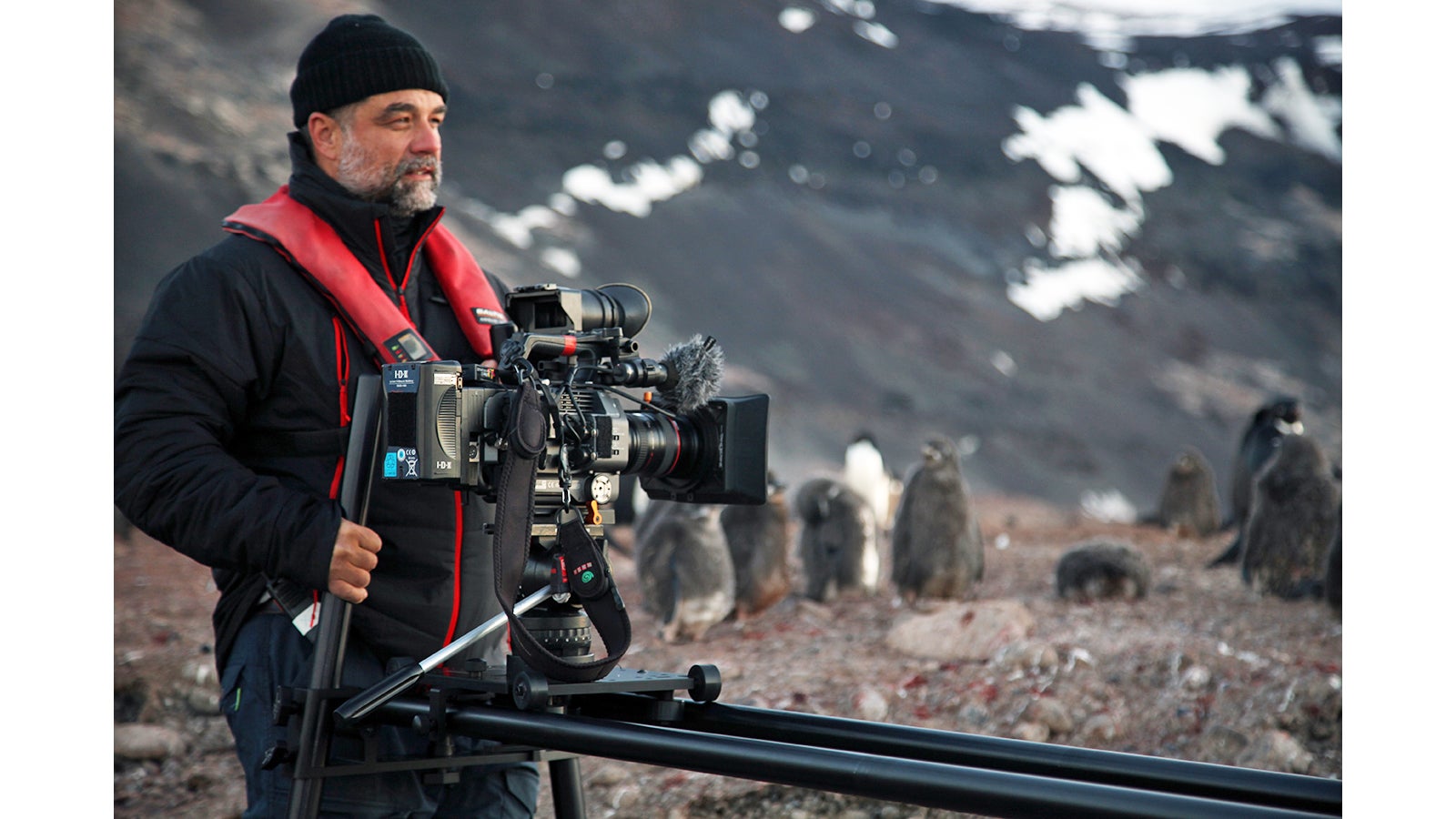 The look we wanted was simple. Clean air meant we could see for many many kilometres, and the light was like nothing I had seen before, especially at night (the Antarctic summer is a 24 hour day). We kept the lenses at their optimal range of f/5.6 or higher and worked the full range of the LOG file. Pastel blues from the water showed hues that seemed impossible. Sunlight hitting mountain peaks blended yellows and oranges with hundreds of shades between them, and shadows with detail that screamed 1000 shades of grey. The camera has a terrific dynamic range and we took advantage of it. Antarctica was seductive to the visual storyteller and we were collecting images that could easily sit on screen for ages - tableau after tableau, and it was all in motion right in front of us.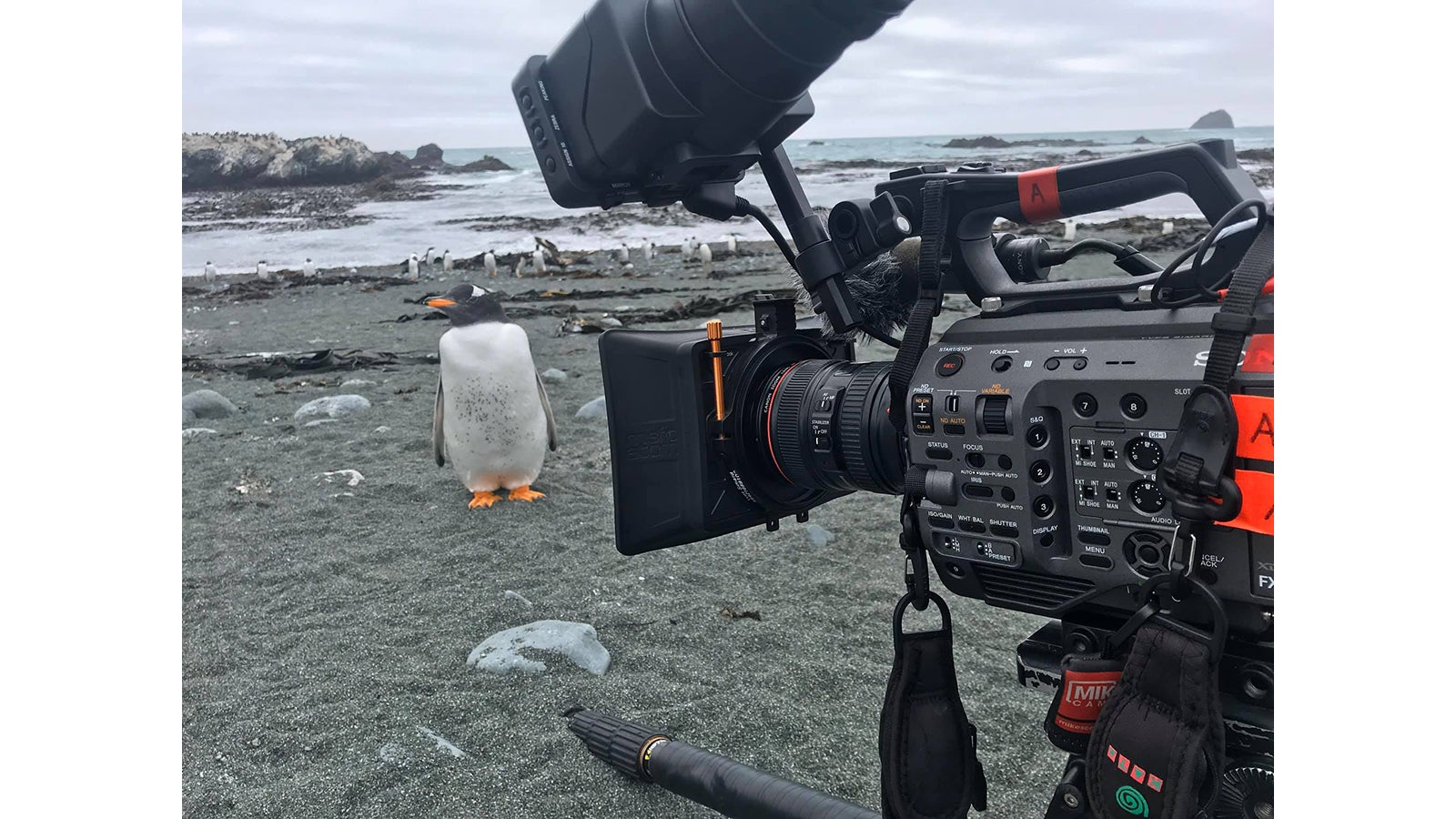 I am often asked how the camera performed in the extreme conditions we encountered in Antarctica, where we were consistently working in ambient temperatures as low as -20 degrees Celsius, which is -4 degrees Fahrenheit. The answer is flawless, though we took numerous precautions to ensure their reliable function. As such, camera operator Alex Campbell and I established a few protocols. We paper taped every single screw and crack where salt water could enter the camera. We had wet weather and polar bear covers on hand, tarps ready for dirty conditions, dry bag backpacks for beach landings, and reusable heat pads to keep our batteries warmer so they would last longer. We made backups to the backups in case any unknown issues popped up, but our biggest problems were not the cameras themselves. In fact, the FX9s never missed a beat. Because Antarctica is an ecologically sensitive environment, there was a lot of emphasis on washing down, scrubbing and disinfecting gear and bags once we re-board the ship. And since everything was wet and freezing, to prevent condensation we used garbage bags to re-climatize the cameras to warmer ambient temperatures when returning to our cabins. Only after a few hours at room temperature would we then access the gear. This is a practice many of us were used to doing in North America but on this trip, humidity and salt water combined to make things even more tricky, especially when at sea.
For media management, we were using Shot-put Pro and Hedge on two 15-inch MacBook Pro I9s. One station was managing the data from the Shotover and fixed cameras on ship, where we copied the files from 1TB SSDs to an A and B RAID array. We then consolidated a third copy to 12TB hard drives for an offsite backup. The FX9s and specialty cameras were managed on the second station. Overall, we had 20 4TB SSDs and 10 12TB hard drives to manage all the data. Transfers were running 24/7, day and night. And to keep things in place during the sometimes roiling seas, Alex devised a system to secure computers, drives and cables to the desk with Velcro and crates strapped to the wall.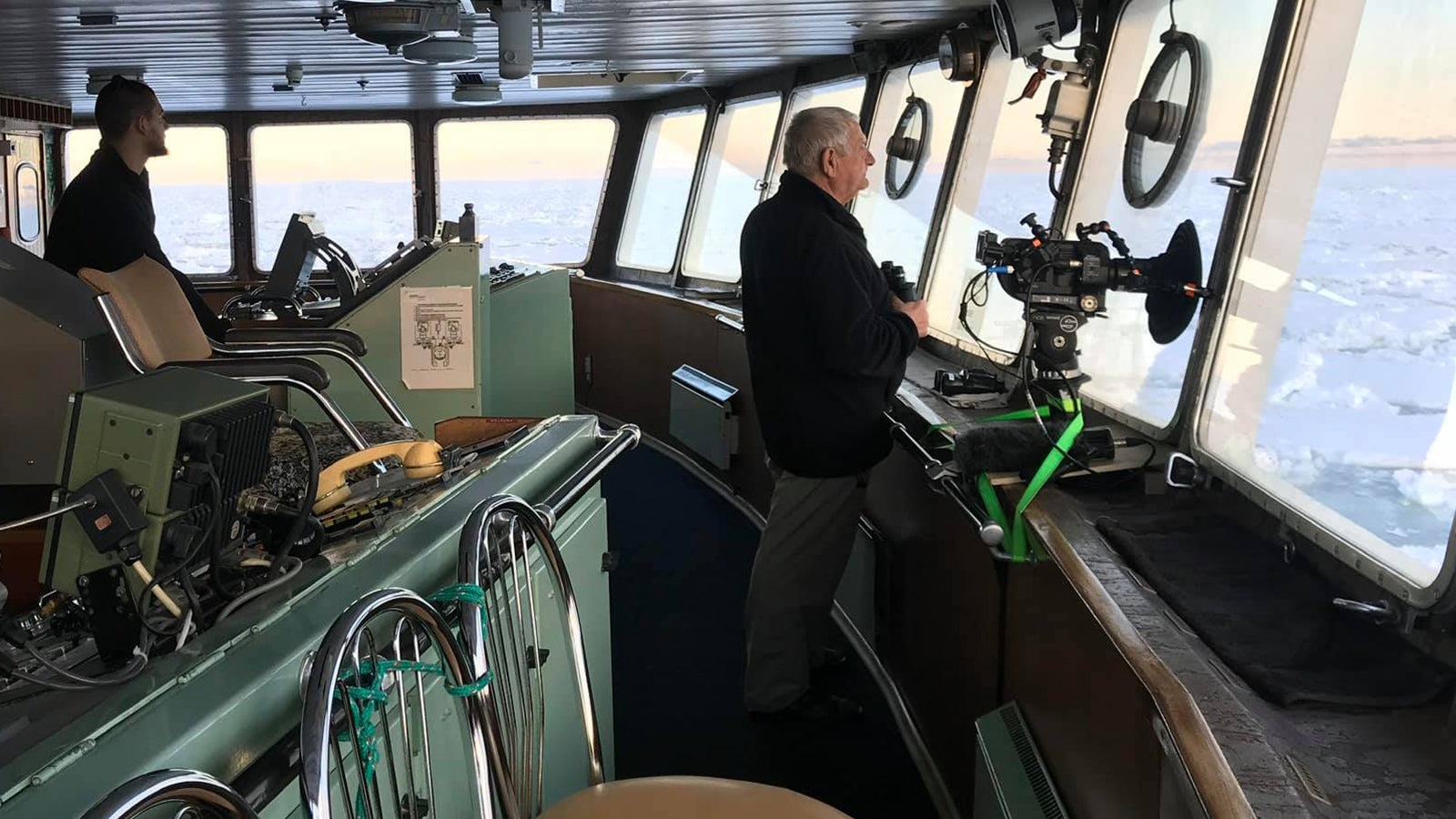 At Sea
On board the ship, our hero camera was an Arri Alexa Mini in a Shotover F-1 six-axis gimbal. It was fitted with a Fujinon 46x9.5 2/3" 4k lens modified for use in Shotover gimbals with thermally compensated backfocus and an internal servo extender. It was in an IP66 housing with a blower/heater. Peter Thompson, the DP/Tech who had shot "Russia from Above" was the Shotover's primary operator and supervised the installation of a custom arm we welded to the top deck of the ship. We had been warned that green water can make it over the bridge and that they routinely find seaweed on the handrail so we were not taking any chances. A Sony FS7 was installed on the bridge facing forward, and a DJI Ronin M with a Sony A7S was also on hand in case we got into trouble with stabilisation. In addition we carried redundancies in the way of a spare drone and a second FS7.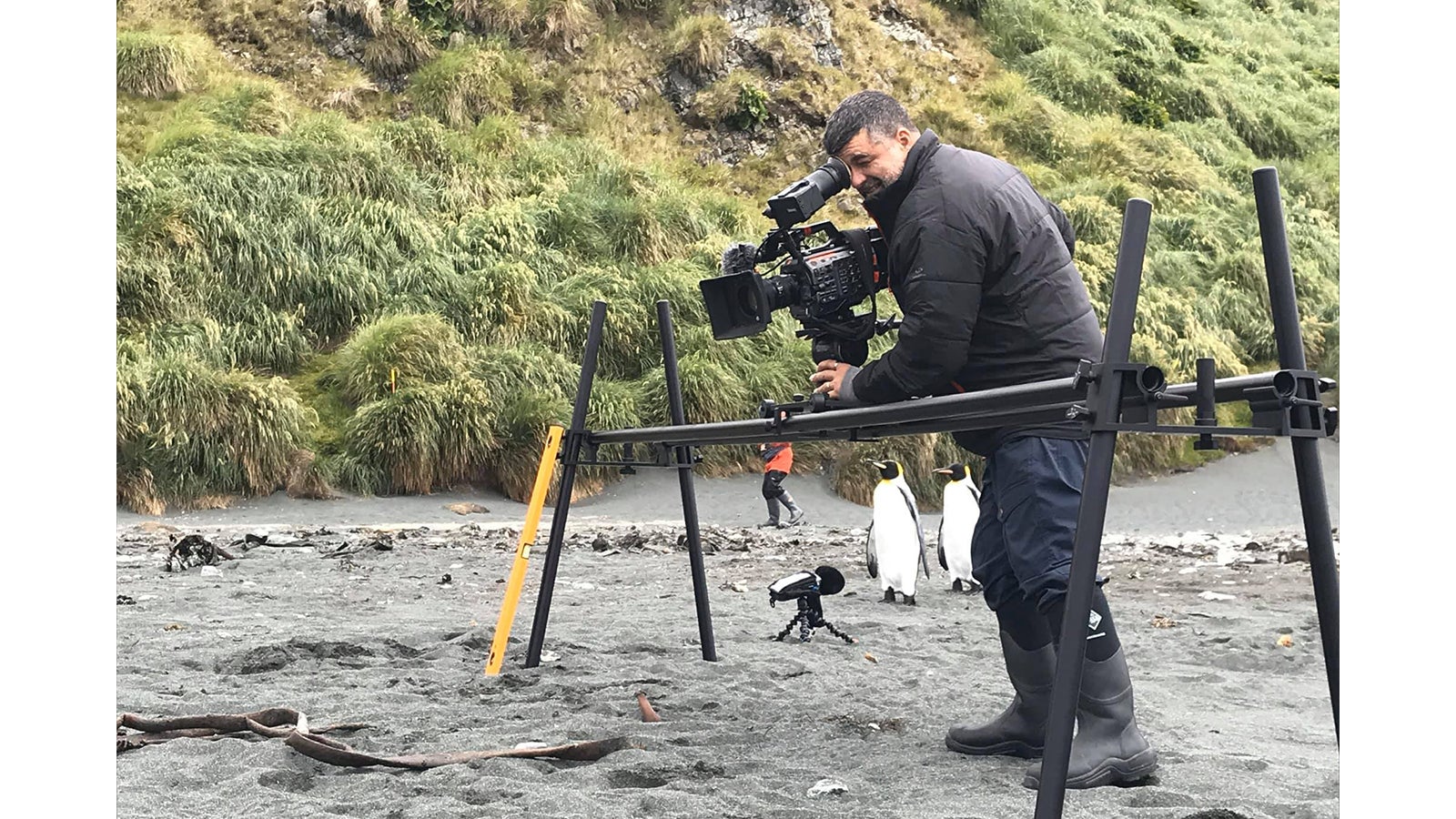 Ice Ships are flat hulled. They are designed to push ice around. The ship doesn't just go up and down, it corkscrews as it battles 3-7 meter swells and can list as much as 30-40 degrees. This is where gimbals come into their own. Our fixed cameras would have made the audience as seasick as the passengers and crew were. At times, as an operator I was helpless, as getting around the ship could be nearly impossible. As the latitude numbers increased, so did the sea conditions. There is an old sailor's saying, "Below the forties there is no law and below the fifties there is no god." We passed the roaring 40s, survived the furious 50s and just made it through the screaming 60s. We had entered the Antarctic circle, a small club of very few.
Something I observed is how the guests were taking this experience in. On land, they'd find a spot and spend time with the animals or the view, or just pick a vantage point and take in the vista. The penguins were so playful that we were able to observe them for hours. They were so busy, with so much going on, and the cacophony of noise eventually became a part of us. At one point I witnessed a guest break out in hysterical laughter while others were simply moved to tears. Our goal was to bring the audience with us, and keep the camera moving. Our main camera support was a Camera Goat "Expedition" slider system. It was light, easy to carry and adaptable to rocky, uneven terrain like at one point near the ocean when cinematographer Alex Campbell tracked penguin waddles as they sheepishly edged each other into the sea. Another simple technique we used were simple old fashioned pans - some of them 180 degrees and up to two minutes long. How can TV sustain that sort of duration? It is amazing to watch a busy colony of little penguins all doing something. Where are they going? What are they doing? Who is in charge and who is following who? Surprisingly, or not, it's very engaging. These very long shots would never make a documentary, but here they have a place.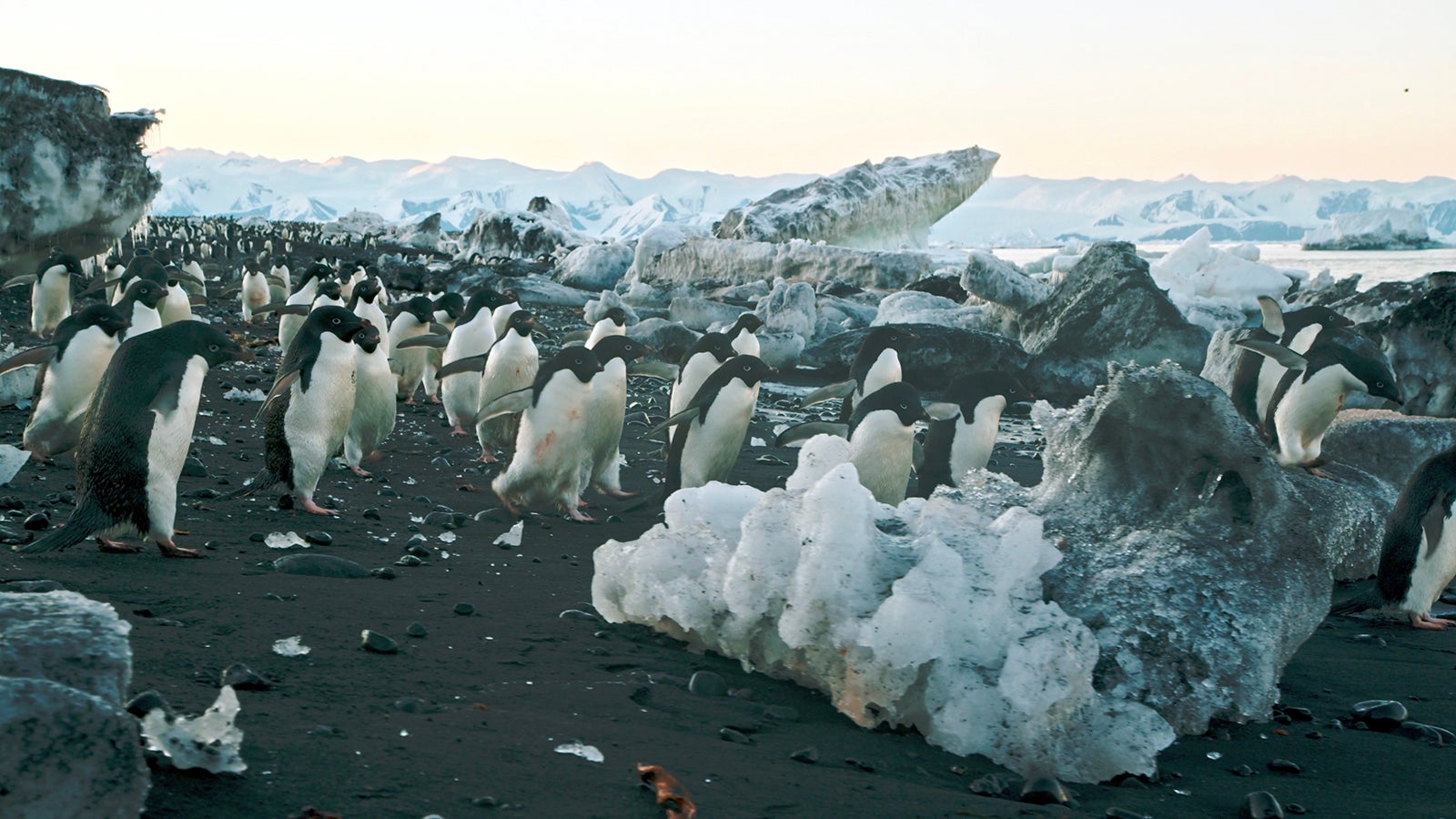 My favourite moment was a particular shot just short of 5 minutes. Departing Cape Adare at 4 am, and with six hours of magic hour, we tracked past more than a dozen giant tabular icebergs the size of shopping malls which had grounded themselves on a shoal 215 meters (705 feet) in depth. A forest of ancient ice in the shadow of the Admiralty mountain range, with 11 peaks ranging from 1,200 to 4,100 meters (4,000 ft to almost 14,000 ft). With ice in the foreground and mountains in the background, the light danced between rafts of penguins close to us and the little specs of pepper in the background, which of course were penguins porpoising. The shot goes on and on and whenever you think it's over it just keeps on giving.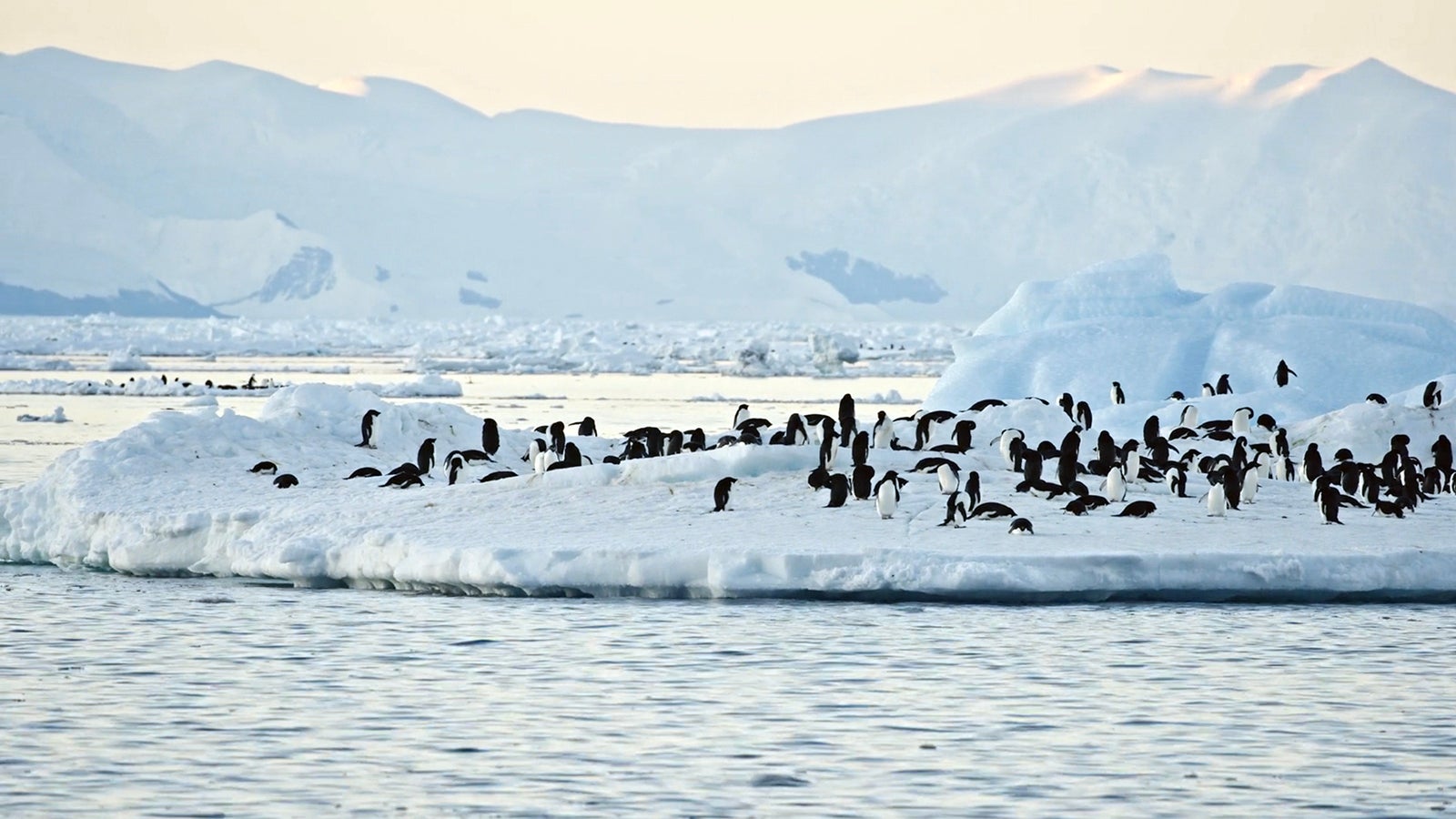 Discovered by British explorer James Ross, this part of the Ross Sea, near Cape Adare, is rarely seen by humans and comprises more than an hour of our show. Only four ships a year come as close as we did, none land, and few people make the day-long helicopter flight from McMurdo Base. Our drone permit was the first of its kind and required sign off from three countries, including personal authorisation from the Deputy Prime Minister of New Zealand, and a lengthy conditional document with detailed flight plans and wildlife engagement protocols compiled by Spencer Stoner, our Producer. Our drone, the DJI Mavic 2 Pro, chosen for its portability and ease of use, was faultless. We had been warned that satellite coverage would be poor, with often few or none overhead, and to expect compass calibration issues. For this we trained extensively in Attitude or "Atti" mode. To our surprise, the Mavic locked on to 10+ satellites and we experienced no issues other than degraded battery duration in negative temperatures. We shot in 4K full frame mode using the D-Log settings.

Shooting in Antarctica has its challenges and we learned many lessons, most of all that like in any arid environment, prevention outweighs the cure. We had two or three redundant systems for everything and we often needed them. This included warmers to keep batteries at temperature, covers to keep gear dry, dry bags to keep stuff afloat, and electrical tape, baggies and silicone to prevent salt water ingress, but our biggest problem was keeping the gear out of the guano. Penguin guano (a mixture of urine, faeces, dead penguin and salt water) has, shall we say, a distinctive odour and it gets in your kit, your gear, and somehow makes its way into your hair, onto your hands, shirt and into your mouth. Once you traipse the odor back to your room, you can't get rid of it, and it simply becomes part of your journey. Oddly I can still smell it now.
Seeing Antarctica with my own eyes was truly a lifelong dream realised, and capturing its beauty was an incredible privilege. I am also pleased with my camera choice. Even though I had done a handful of test shoots in December, bringing a new camera into the wild, so far away from civilisation and disconnected from the world, can be risky, but this was not the case with the FX-9. It performed flawlessly and it became apparent that it was not only robust and reliable, but the pictures it made were truly stunning, outperforming other cameras that I would have normally used. The bar has been raised and I'm looking forward to all the new firmware upgrades bringing features I'm sure I'll use in our next project.
The show aired on Good Friday on Prime TV in New Zealand and is currently being distributed through Flame Media worldwide. It is also available on SKY GO on demand.