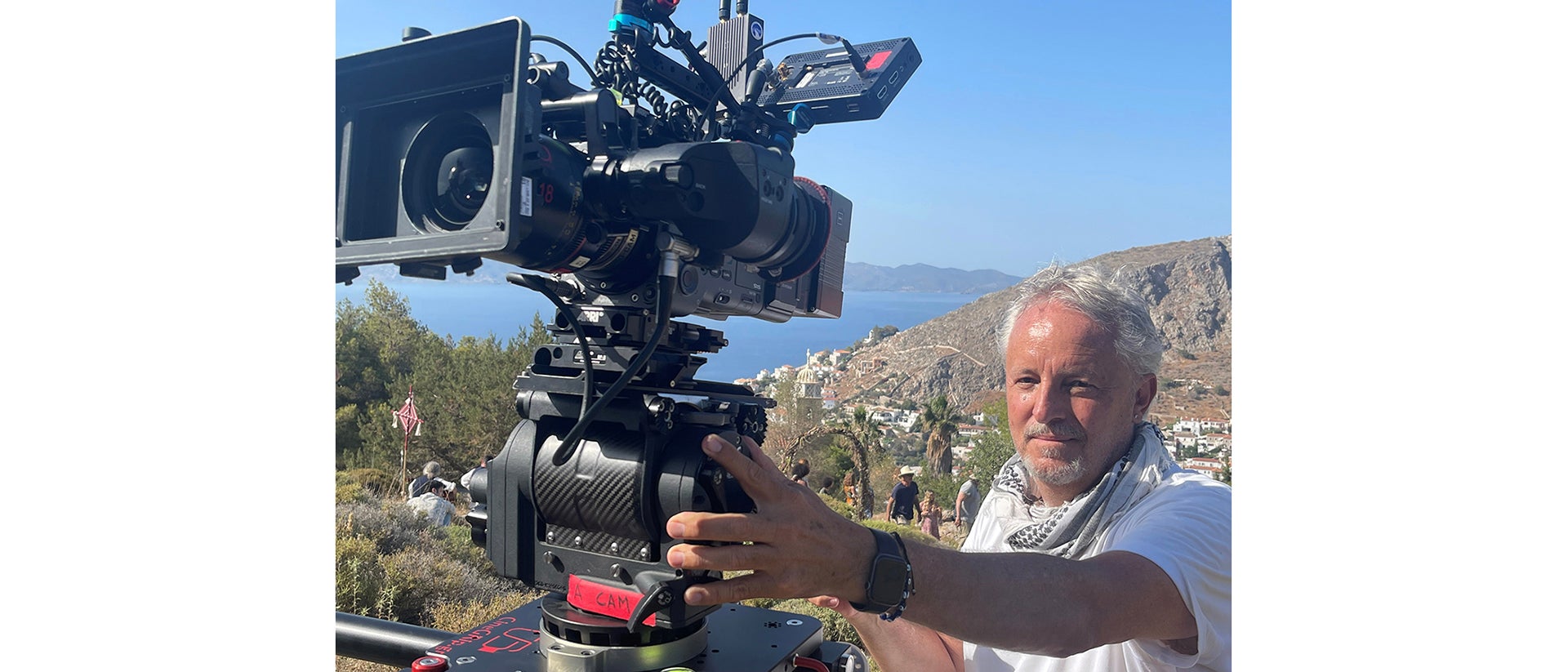 https://77snszqv.media.zestyio.com/Checco-Varese-1920.jpg
07.11.2022
07-11-2022 - Case Study, Gear, Technology
Checco Varese & Daniele Colombera First To Cut the FX3 with A Sony VENICE
By: Oakley Anderson-Moore
About two years ago, Daniele Colombera got a package in the mail while DIT on the show Dopesick with his DP Checco Varese, ASC. Inside the box was an early release of the Sony FX3. Ordinary filmmakers would probably have left the small camera in the box or fiddled with it once or twice in between a long week on set.
But Checco Varese, ASC and Daniele Colombera are not ordinary.
"I don't know how many hours passed from the moment I looked at it until that camera was used to shoot an important scene of the movie," says Daniele Colombera.
"About 25 minutes!" jokes Checco Varese.
Colombera and Checco Varese got the FX3 in the early afternoon and by that evening, they were using it on set in between capturing shots with the Sony VENICE.
"If you're going to get fired, do it for taking creative risks!" exclaims Checco. "I'd rather be fired over that than because I'm too conservative.( And I have yet to be fired.")
After Dopesick, Daniele Colombera went on to give Sony engineers direct feedback on the FX3 camera, and Checco Varese went on to pair it with the Sony VENICE on more projects, like the upcoming Amazon show Daisy Jones & the Six. SonyCine had a chance to sit down with Varese and Colombera to hear about how they collaborate, how they match the FX3 with the VENICE, and how they know which tools are right for the shot.
How Checco Varese took the opposite route of almost every other cinematographer
Born in Peru with parents who were skilled jewelry makers, Checco Varese was more interested in architecture and his chickens than cinematography. "I never wanted to be a filmmaker. I had a bunch of chickens at home. I wanted to be a veterinarian," explains Checco Varese.
He studied architecture in Italy, but when he came home, the economic crisis in Peru changed his career plans. Amid a 600% inflation rate, a film crew for National Geographic asked Varese to act as a translator and a driver to get to the Peruvian highlands. About 29 gigs later, the crew turned Varese on to a place in Atlanta that was hiring. Soon, he found himself outside the building of a little company owned by Ted Turner. "I knocked at the door in the second story of a huge building with a little office. It said CNN. They said, 'Hi, how are you? Do you speak Spanish?' Yes. 'Are you a cameraman? And I thought, sure. So I said yes, and they responded with, 'Can you fly to El Salvador tomorrow?'"
That started over 12 years as a war correspondent, filming video initially on Betacam. Varese started on digital, shooting on analogue tape at locations across the world where you had to be ready at a moment's notice to capture a story unfolding in front of you. But a war correspondent's life is rough, and not everyone makes it out alive. After the loss of friends, Varese had burned out. It was then that Varese came to film – and eventually, narrative. Today, he's a leading DP with a huge body of work, from features like It Chapter Two and shows like the Amazon's series Jack Ryan. And his style is owed in part to this unique background.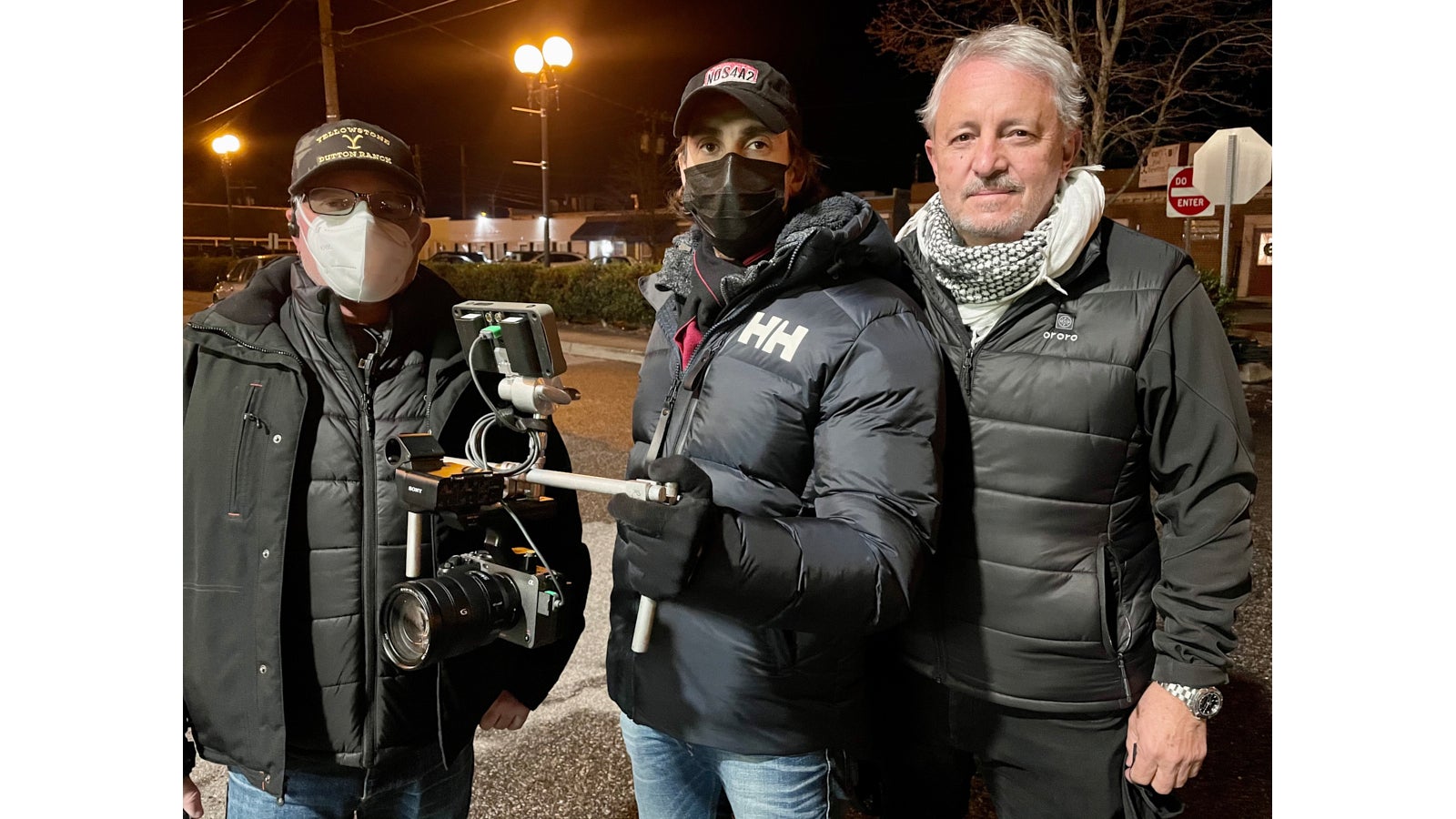 Why Varese and Colombera were 'pretty sure' they could match the FX3 to the VENICE on Dopesick
One of biggest things about the FX3? How small it is – especially considering everything packed inside. For Varese and Colombera, this was intriguing. When they thought about how this camera could be used specifically for a more authentic POV perspective and got their camera operators on board, they decided to shoot an entire scene for Dopesick with it. But it still needed to match the look of the rest of the show. Could the compact FX3 be cut with the magnanimous Sony VENICE?
"I knew a couple of things," explains Daniele Colombera. "First off, Sony doesn't release a new camera if they're not really satisfied with its specifications and performance. Second, it had the same sensor size and color space as the Sony VENICE. So you knew you were playing with two things working in your favor."
"We were shooting that project with the ZEISS Supreme Primes, which are amazing lenses," explains Varese.
"They were the lenses that fit this project best. Coincidentally, or maybe it wasn't a coincidence, Sony sent the Sony E-Mount lenses [with the FX3], whose glass inside is also ZEISS and share a similar ZEISS T* multi-coating and color matching technology. To me, it was very simple math. Is this going to look approximate? Yes. It doesn't need to match exactly. It just needs to feel familiar." Colombera adds "a clear advantage that worked in our favor for that specific scene is that we could rate the camera at its higher EI base of 12,800, a whopping sensitivity that fit the dark night exterior/interior we were shooting. Last but not least, we tweaked the color temperature to match the VENICE and tested several combinations of the in-body image stabilization system, both active and standard, and we went for active since we were using a lens that gave us 5-axis stabilization. Also, we used the powerful continuous auto focus tracking function and it worked brilliantly."
They proceeded to use the FX3 in more scenes, and Dopesick went on to win several awards as a compelling series. It was the first production to experiment with using the FX3 as a companion to the Sony VENICE on a real show. But not the last. Colombera adds "While on Dopesick we shot internally in the XAVC S-I 4K 4:2:2 10-bit format, on Daisy Jones & The Six we switched to external recorders, taking advantage of the 16bit HDMI RAW output and recording 4.2K ProRes RAW HQ 12-bit files. S-Log3 S-Gamut3.Cine was our working color space."
A look at how a good relationship between a DIT and Director of Photography should work
"The division of work with Daniele and me is, from the lens to the left is mine," explains Varese. "And from the lens to the right is his." We share the knowledge.
Daniele Colombera, who's had a penchant for the technical aspects of filmmaking from a young age, first started working for Varese on Them using the Sony VENICE with anamorphic lenses. That was only about four years ago. "But considering the hours spent working on set, that would make each year like three years to a normal person," exclaims Colombera.
"I've done this for 30 years, 20 years of digital, and I have yet to find someone technically as wise as you are," muses Varese to Colombera. "Aesthetically and creatively as well. I've done 300 jobs in the last 24 years - if I could, I would never work without you."
"Likewise" concurs Colombera "our jobs can merge in some aspects. As a camera operator or a gaffer can give feedback to the DP, a DIT can also share constructive ideas, always respecting each others' point of view and working as a team. For the choice of specialty cameras, I always try to give some input, like with the FX3, and then Checco can test it. The thing about Checco, he likes to do and try new things. It's good to push the boundaries and experiment now and then."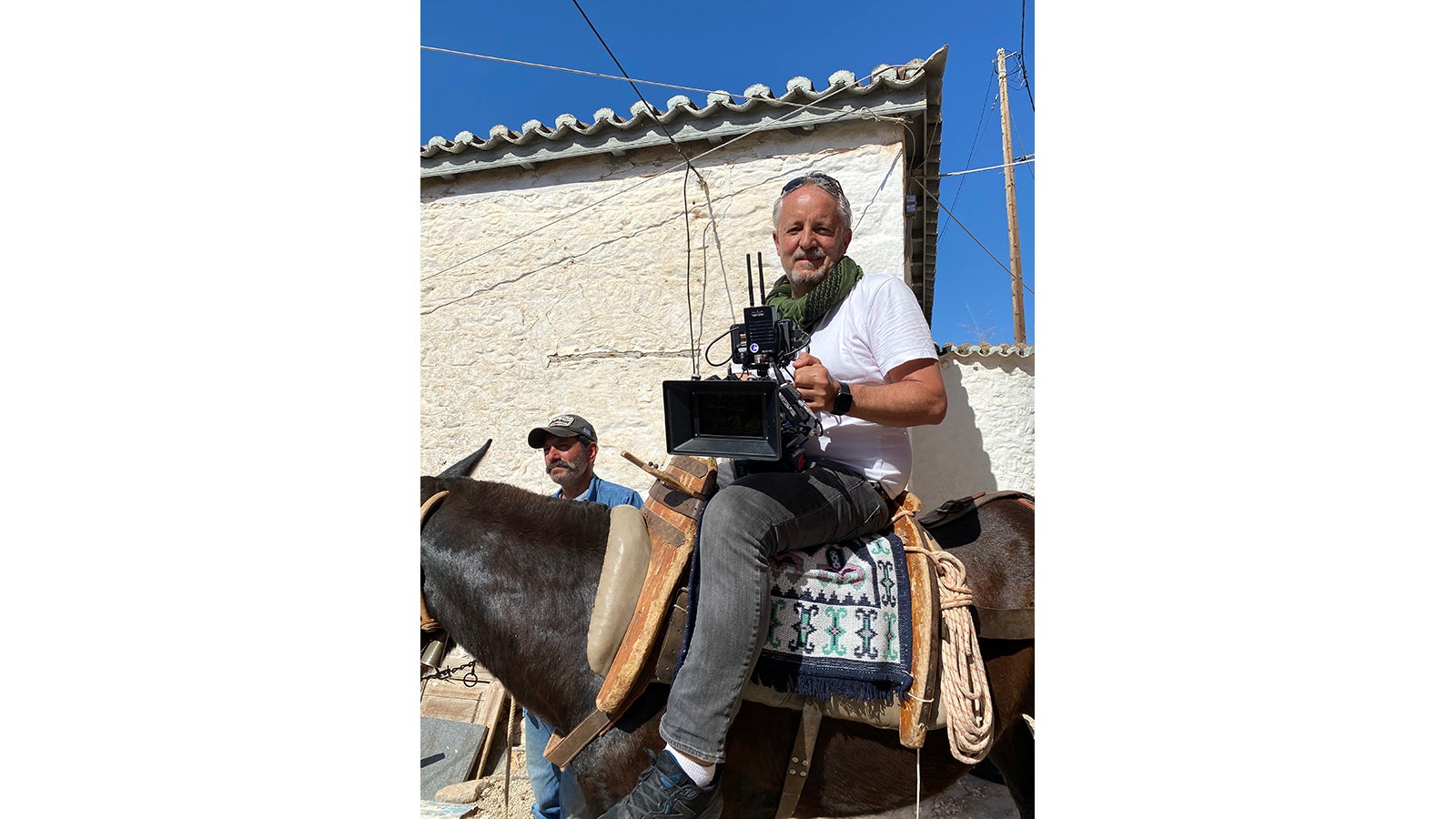 Why Checco Varese took the FX3 over the Sony VENICE (on the back of a mule)
While Varese and Daniele have to keep some details about the upcoming Amazon show Daisy Jones & the Six under wraps until the premiere, they were able to share a glimpse of the production.
"I was in Greece," describes Varese about production on the show "and we shot on a little island named Hydra; it doesn't have any cars – only mules and horses. It didn't make sense to lug the amount of gear we needed for three Sony VENICE cameras up and down the hills constantly. My solution was one FX3 camera with E-Mount ZEISS lenses, which doesn't require an assistant. It doesn't really require anything. It's more like... I don't want to say run-n-gun because that's a disservice to the camera itself. It's more like an independent process by which I don't need anybody. If the director didn't need to watch it on a monitor, I literally could grab it from the case and run around."
Then Varese took it a step further.
"We got a PL mount adapter and used the same lenses we used with the VENICE. In this case, the lenses were the Angenieux Optimo Primes with Tiffen Glimmerglass filters. And the DIT we had for that segment, Eduardo Fraschini from France, said, 'Oh my gosh, this looks amazing.' So side by side, he analyzed the signal and said it was great, amazing. And we shot complete scenes with the FX3, the Optimo lenses and the Glimmerglass filters, which require focus pull and IRIS control. And it requires a little bit more sophistication, yet the whole rig is very compact and self-contained."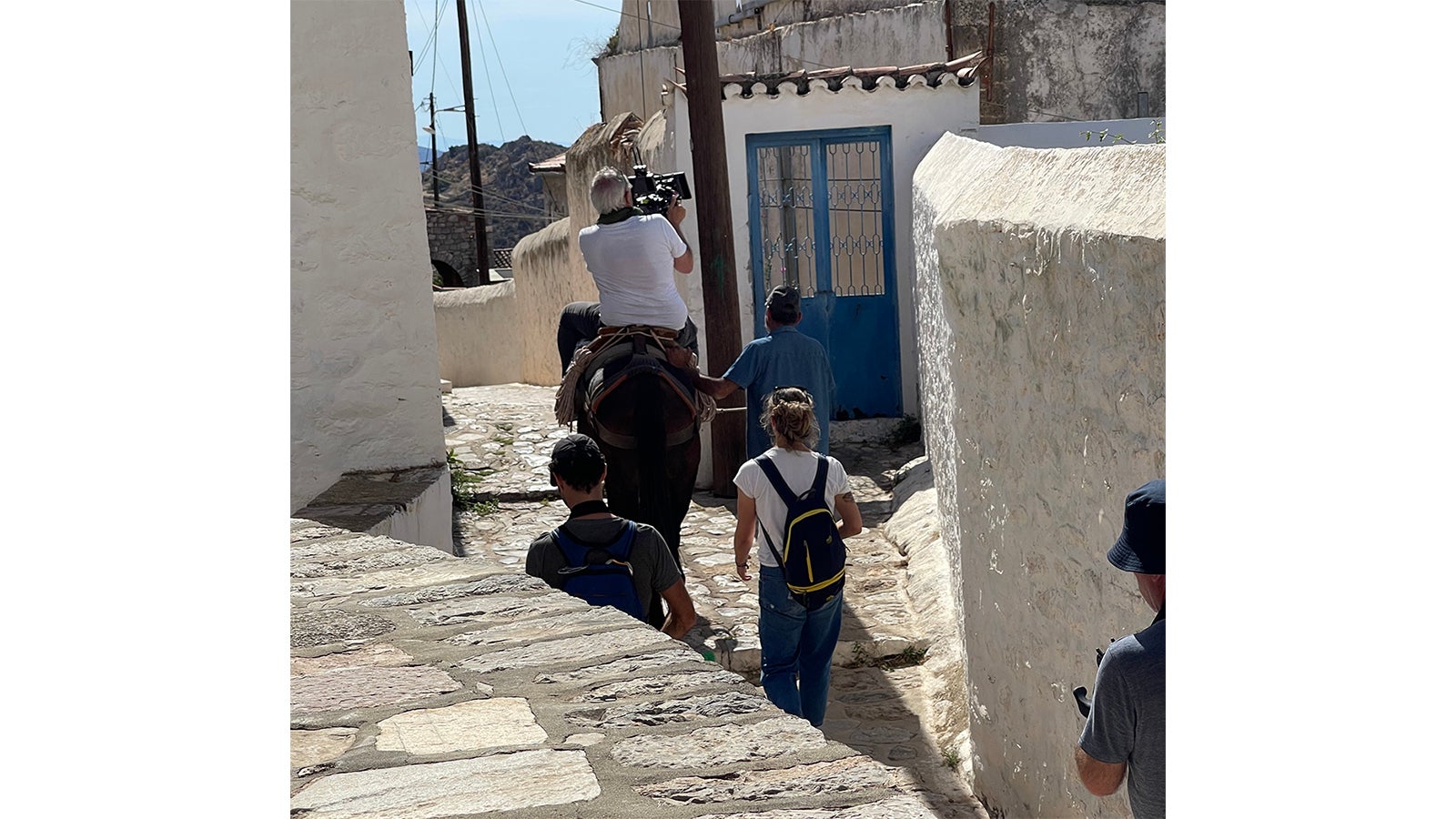 Surprisingly to Varese, the FX3 also held up on Daisy Jones & the Six in conditions even he would be skeptical about.
"We were shooting a difficult scene in a fishing boat with two characters who come to the island. The whole scene was shot with the FX3," describes Varese. "It's a lot to ask due to the incredible amount of detail and the contrast of the scene. And those little pixels perform beautifully in this wide vista. That was, to me, stunning because it's the worst possible scenario. So, we ran this little camera through the grind to show how beautiful Greece was."
"The key factor for us is to have the right tool for the right shot," concludes Colombera. "The FX3 has the advantage of being a lighter and smaller overall configuration, especially using short prime lenses, and the resolution is high enough to be approved by Netflix, Amazon, and other major streaming platforms. So, there are no shortcomings, although it's not a VENICE."
"I've done my last three or four shows with one of the most talented colorists, Stefan Sonnenfeld at Company3," says Varese "and the first time I didn't tell him we had shot with both the VENICE and the FX3. He graded both, and said it looked great."