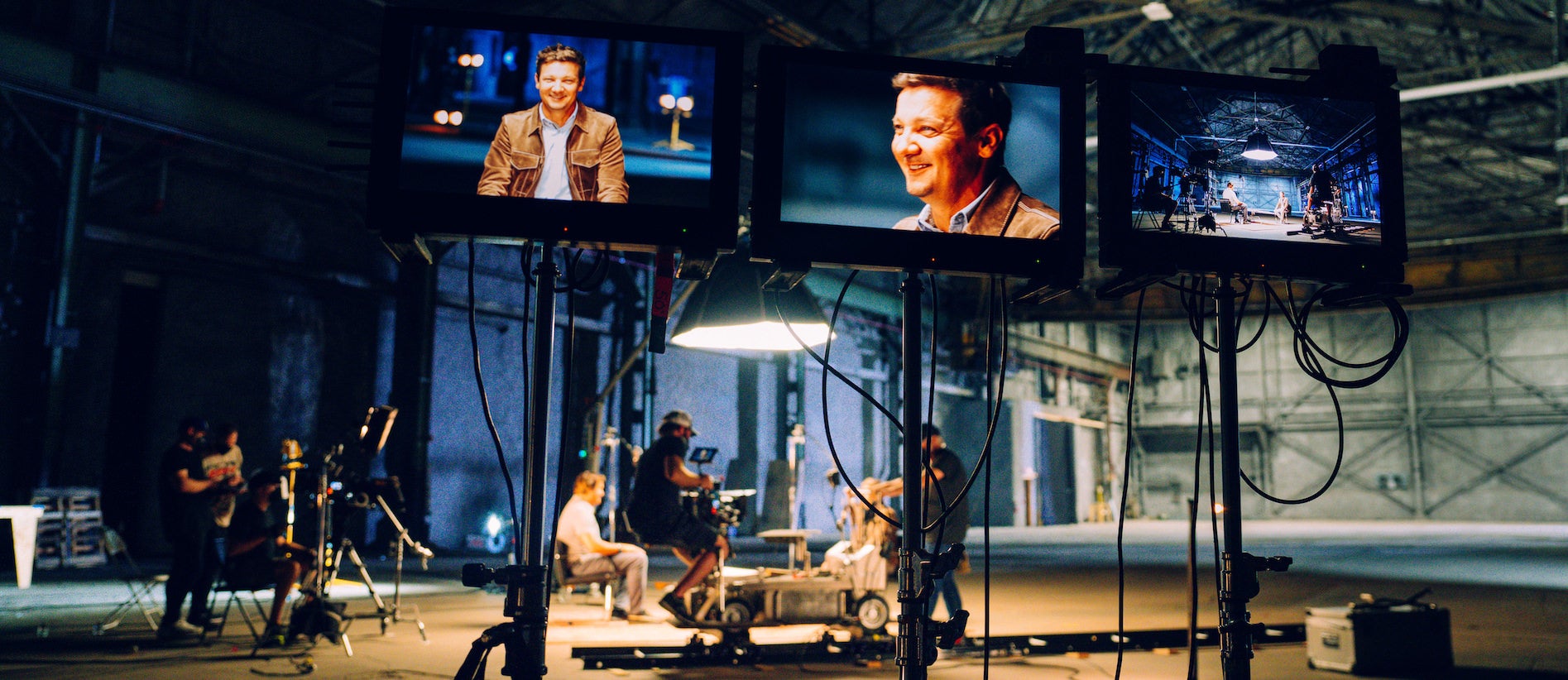 https://77snszqv.media.zestyio.com/SonyCine_Rennervations_Main1920.jpg
04.28.2023
04-28-2023 - Gear
How Bill Winters Used Every Sony Cinema Camera for the Dramatic Look of Jeremy Renners' Heartwarming 'Rennervations'
By: Oakley Anderson-Moore
On January 1, 2023, Bill Winters got a text message from his longtime friend and director Zach Merck. It was Jeremy Renner. He was in the hospital after a nearly fatal snowplow accident that left The Avengers actor in critical condition with thirty broken bones. Earlier in 2022, Winters and Merck wrapped shooting a series with Renner, his family, and his community in Reno. The show is called Rennervations.
Rennervations, produced by Boardwalk Pictures, is centered around Jeremy Renner's love of vehicles. In it, Renner and his team renovate decommissioned government vehicles into "mind-blowing creations" and deliver them to kids in different communities across the world.
"We became this tight knit little family," describes Winters. "Jeremy is so welcoming, and so open, and so involved in the community. When the news came in, the crew banded together. I was on the phone with Rory, his partner in the show and one of his best friends. I was on the phone with Corey, the mechanic. All the crew members were on the phone. And, they're like, 'What's the update?' It hurt. We are still really worried about him. It brought us together, almost a crew reunion one year later."
Winters is happy to report that Renner has been steadily rehabilitating since the accident, and the release of the show, which came out on April 12, has been a driving force in his recovery process.
"The amazing thing about documentary is that you really form a strong bond with people," says Winters. "Both the people who are in front of the camera and behind the camera."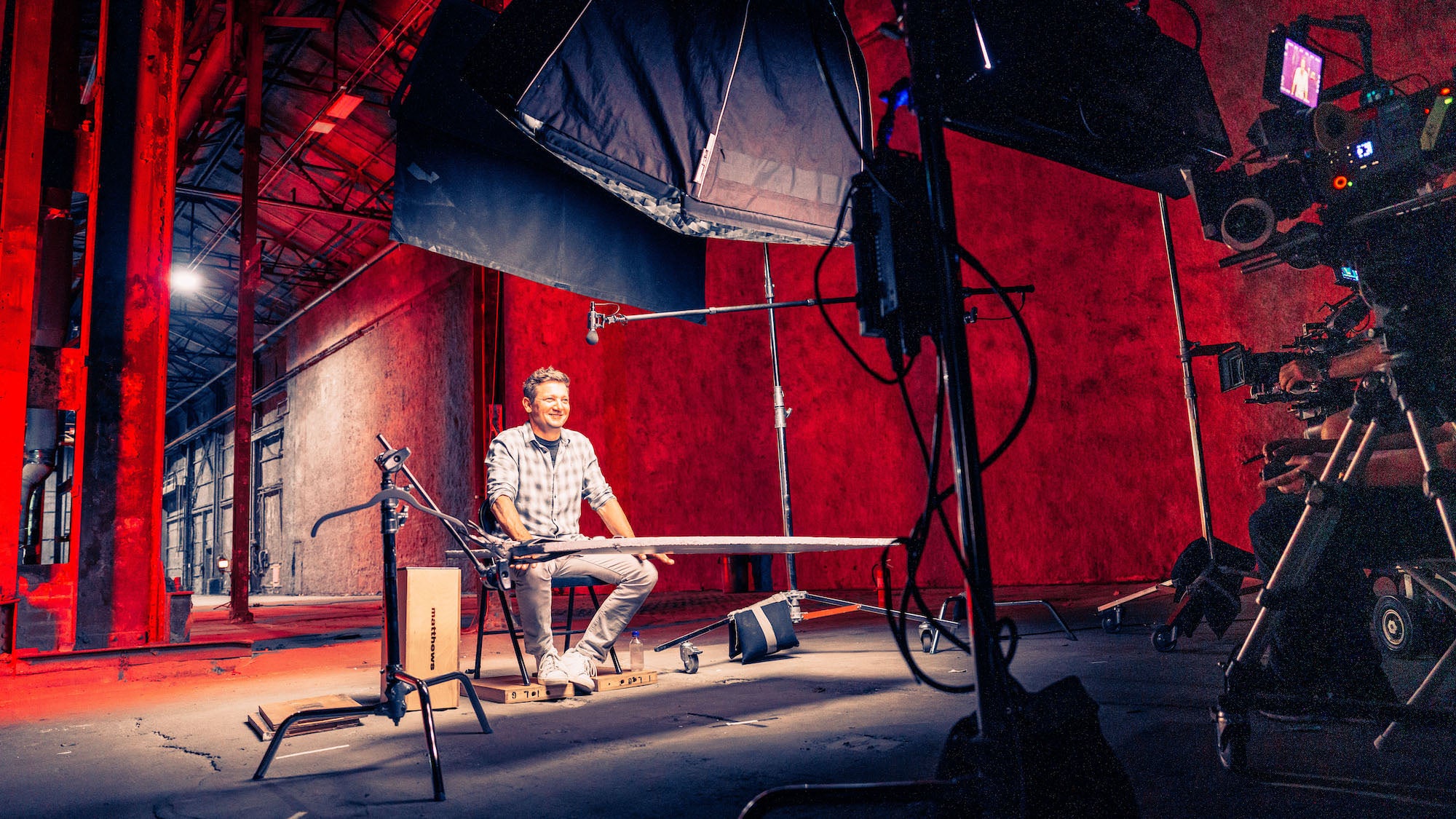 How Bill Winters got his start on a Sony U-matic with a Bert and Ernie sticker
Bill Winters grew up around video cameras at a time when almost no one had video cameras. How? His dad taught TV Production at Westchester Community College. His father not only set up a three-quarter U-matic with a Sesame Street sticker for Winters to program before he could read, but in the late 1970s, he brought home a video camera.
"It was a vacuum tube Sony studio camera," reminisces Winters. "They had an extra one for the field that he brought home, and it had this amazing three-inch CRT on it."
Winters loved playing around with video cameras and was the lone high school student in the pre-smartphone era of the 1980s who did class projects on video.
"But I never really thought of it as a career," says Winters. "I don't know why. I was just so far away from Hollywood."
While Winters first pursued computer science, he eventually felt the pull of filmmaking, and with the encouragement of those around him, applied and got into NYU Film School.
"I love New York," explains Winters. "In the nineties, the independent film scene in New York City was just amazing." At NYU, Winters learned video, but also to expose on film. "Most people wanted to be directors and there weren't many people there who wanted to be cinematographers, so I got to shoot so many films. It was the best learning experience ever."
Bill Winters got his first break when a producer friend at Radical Media called about an unusual ESPN project that needed someone young who knew how to use MiniDV cameras, which were just coming out on the scene. Winters was the perfect choice. There was a joke there that if you sent Bill into a RadioShack, he could build a Sony PD150.
"No one was really embedded like that with MiniDV cameras before," explains Winters. That show would later become the iconic ESPN series The Life. It profiled anything from Shaquille O'Neal to Kentucky Derby horses. It was there that Winters first started working with Zach Merck, and they have since traveled around the world together many times to film.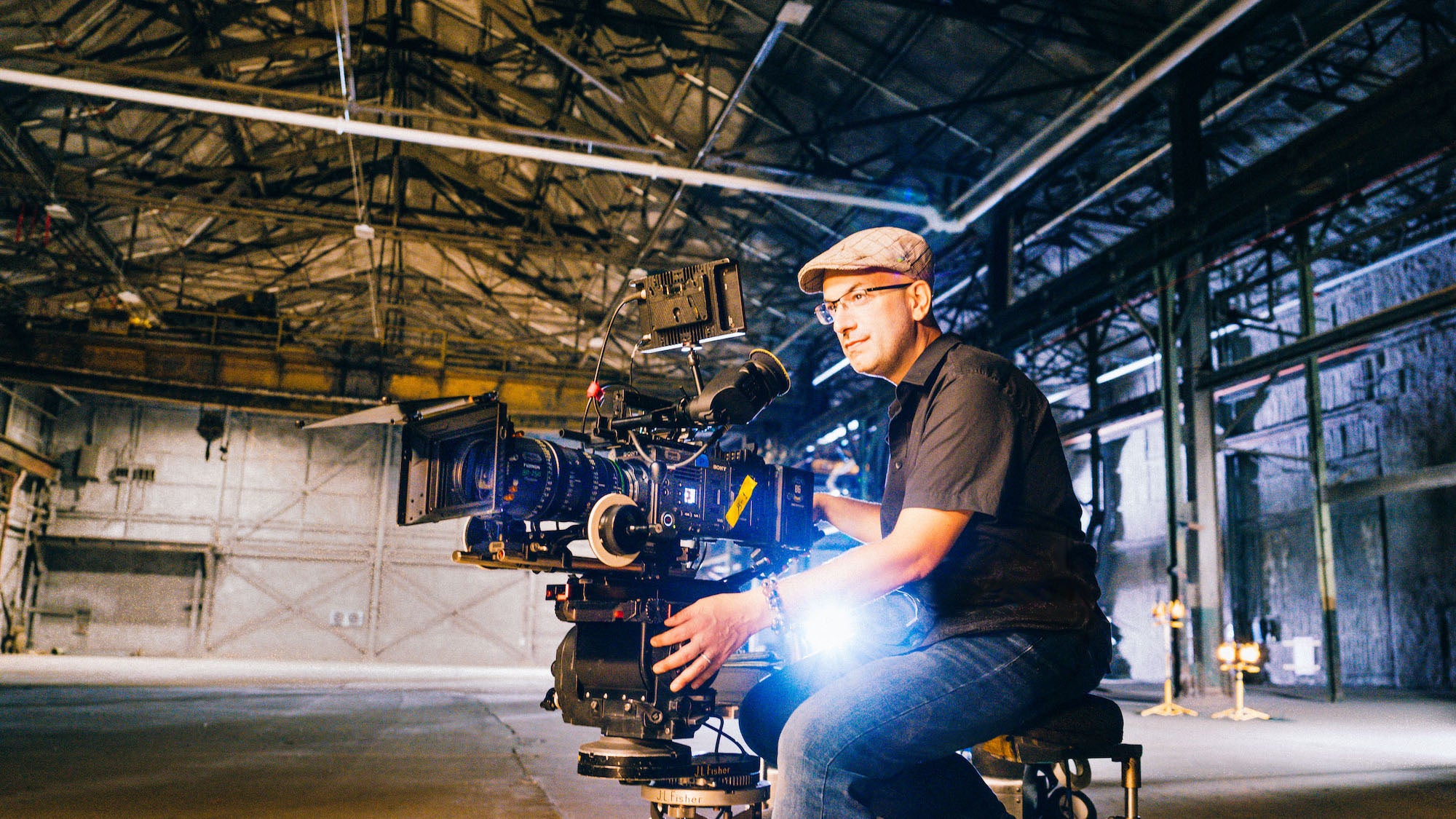 Winters is now an iconic, Emmy-award winning cinematographer known for his camera work on Hamilton, where he was mentored by DP Declan Quinn, ASC. Winters other credits include Comedians in Cars Getting Coffee, and Jeffrey Epstein: Filthy Rich, to name a few.
"I try to think more cinematically," explains Winters. "I studied all of the best Hollywood movies and I think about all of the basic principles that they used to light and shoot it."
One thing became clear in the documentary medium, it's not just how you make things look, but how you make people feel.
"I was good at working with normal people, and I was also good at working with celebrities," says Winters. "When you're shooting someone who is used to being in front of the camera, you have to earn their respect."
Enter Rennervations.
When the right camera for the job turns out to be all the cameras
To shoot Rennervations, Bill Winters knew he'd be confronted with a number of shooting challenges. First, Jeremy Renner would be constructing all these vehicle transformations in a massive, dark warehouse. Then, Renner and other high-profile friends would deliver the vehicles across many cities (and countries!) Finally, all those diverse shooting situations not only involved these larger-than-life figures -- but kids. Lots and lots of unpredictable, enthusiastic kids!
Right off the bat, Winters knew he would shoot Sony. Why?
"I trust Sony," explains Winters. "I know when they put out a camera, it's going to be good."
On this production, Winters managed to use every Sony camera in the Cinema Line.
"I knew there was no one camera for the job," Winters continues. "We were shooting in so many different scenarios, I needed to shoot with a variety of different cameras. Sony's got everything from the VENICE, their biggest camera, all the way down to the FX3. The cool thing about Sony is that all the cameras use the same gamma and the same color space. We shot everything S-Gamut3 cine and S-Log3, so right off the bat, matching all the cameras was already really close."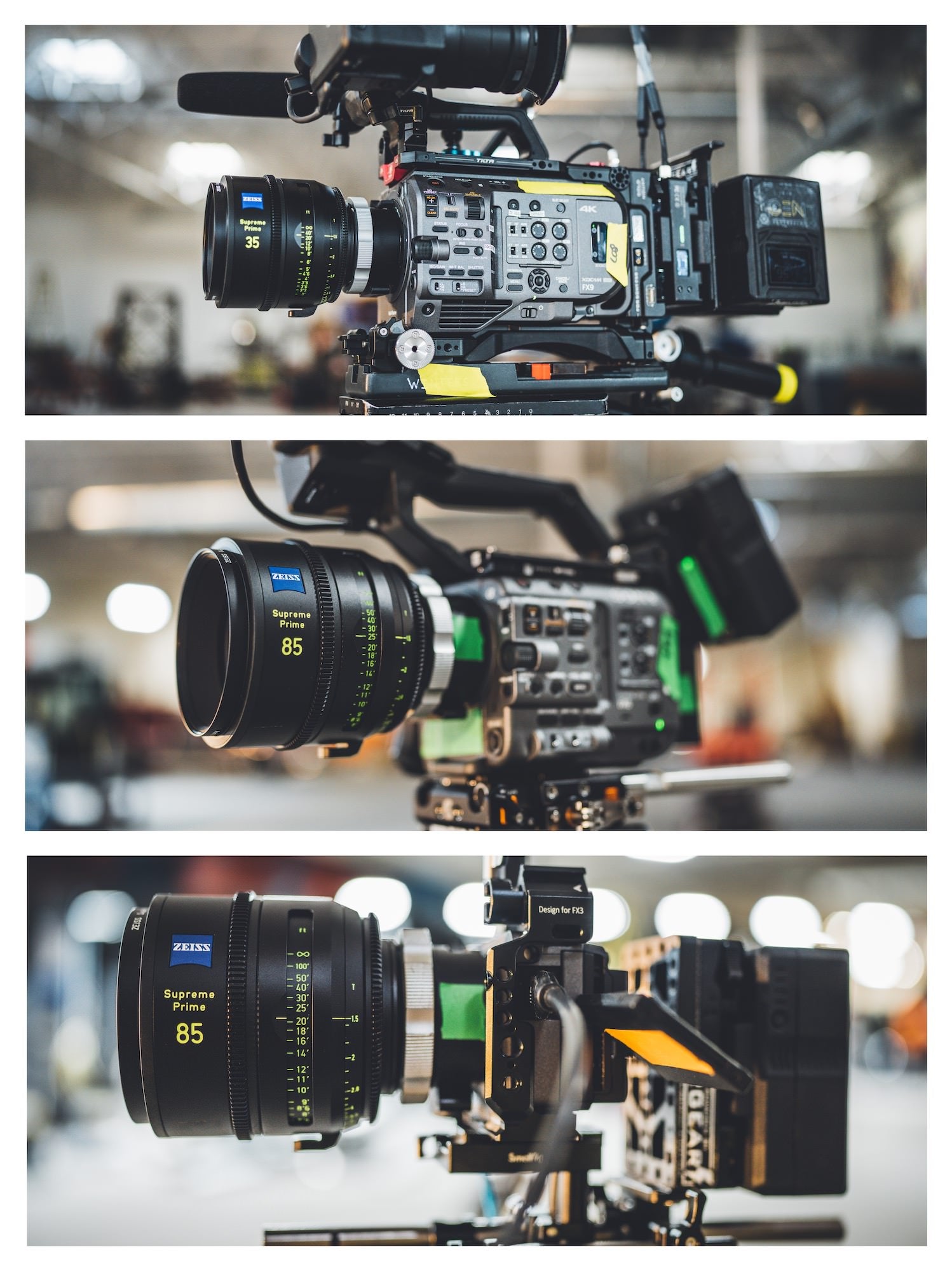 This was especially important for Winters as the show was finished in Dolby Vision, requiring a Rec 709 out as well as HDR. For Winters, this is all part of the process that he likens to Ansel Adams' school of thought on photography.
"With the amount of dynamic range these cameras have and then shooting S-Log, you're basically making a digital negative," explains Winters. "The print is your color grade. The camera, the negative, and the print, those are the three things that make the image the way you want it, so you have to control all three parts."
Winters, who has a background in computer science, still likes using Sony LUTs. "Those engineers are way smarter than me, so if I'm getting a good image there, I know I'm in a good place and I can just push it even further in post."
Multi-camera, multi-city, multitude of planning
Winters is known for bringing a cinematic edge to unscripted moments. How does he account for the unaccountable in this shooting environment?
"The most important thing is the planning phase," resounds Winters. "You never know for sure, but you have to go in with a good plan. We do tech scouts on every location we're going to shoot. I do the sun path. I know where the sun's going to go."
Winters' example is how they would know exactly where the sun would be when Jeremy Renner would deliver a vehicle.
"We would go to the location, I would look at the sun path, figure out where to place the bus so everyone's nice and backlit. And then we'd have a camera plot, which was really important."
As a DP, Winters loves to operate when there's only one or two cameras, and not a lot of lighting involved. But on Rennervations, he needed to conduct a whole symphony of cameras, and brought two camera operators (Christopher Phelps and Joey Fry) and AC Cassie Coker from his previous unscripted show Twenty Somethings to help him.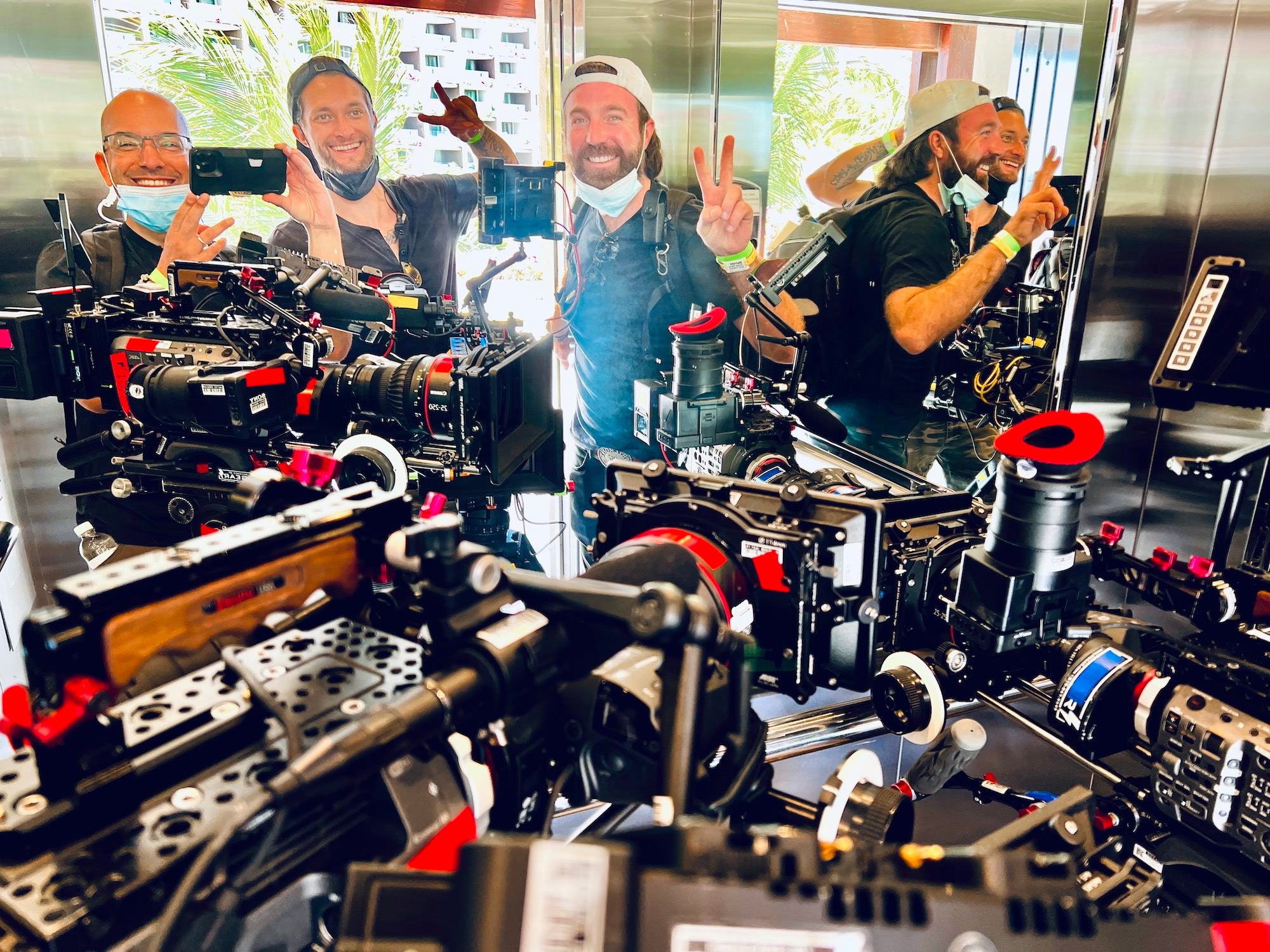 "I love having a camera in my hand," says Winters. "But, in a show like this, I operate the camera as little as possible. When you start to get more cameras, your job as DP is to make sure everything is looking good and matches. The more you work with operators, the more they know your style and the more they can adapt to it. A lot of the operators I worked with are great DPs in their own right. They can think on their own and compose really great shots on their own."
Why the FX9 satisfies the need for speed
Needless to say, the moment of Jeremy Renner unveiling a big, converted bus only happens once. The camera team needs to be nimble. Winters and his team used the Sony FX6 and FX3, sometimes as locked-off wide shots or sometimes for handheld inside tight spaces like the bus interiors. And Sony VENICE came in for the opening of the series. There were even some Sony A7S bodies used for car rigs and timelapse. But the camera of choice for almost all of production was the Sony FX9.

"Our main cameras were three Sony FX9s, and our workhorse lenses were the Canon 25-250s," describes Winters.
For fast-paced unscripted moments in Rennervations, he needed cameras that could conjure up all the camera functionalities within seconds.
"On the FX9, I've got my hotkey set to the base ISO, so I can switch between 800 and 4,000," describes Winters. "Another hotkey for scanning mode. Say you need a little more, boom, hit a hot key and you switch to Super 35. And another hotkey is set for slow and fast motion. The variable ND is great because I can just keep my shutter speed and my F-stop consistent and just roll in variable ND right on the camera. You don't have to deal with anything in front of the lens. It's just so much flexibility built into the cameras. You can work really, really fast."
The Cine zooms, which Winters harkens to nice ENG lenses, had an awesome zoom range. However, the necessary trade for the zoom range was that the team needed a way to deal with the lenses stopping down the iris during a zoom.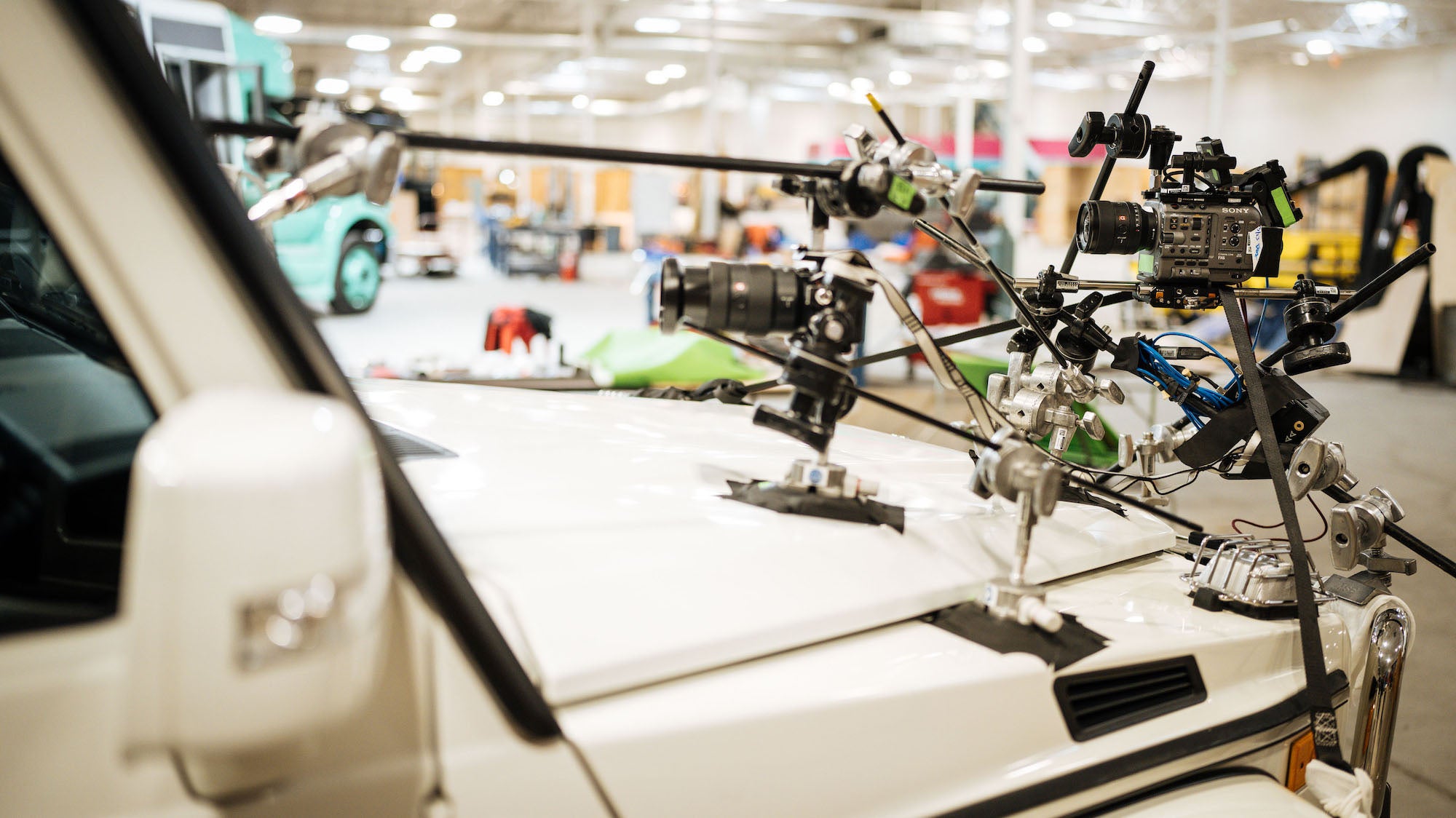 "I love the dual base ISO on the FX9 for those lenses because 4,000 base ISO would let me shoot at a T4. At a T4, when you zoom in and out, there's no change in exposure at all."
The base ISO also helped give Winters an edge for using practical lights in the warehouse interior, which was essentially a massive, abandoned Lowes. Winters hired an industrial electrical crew to hang LED lights that would function as the warehouse lighting and give the show a coherent visual theme.
"We didn't want it to be an over lit, glossy reality show," says Winters. "We wanted to have some guts to it and have a cool look. By lighting with practicals, and by using work lights, we tried to give it a little bit more of an edgy look, a little darker than usual."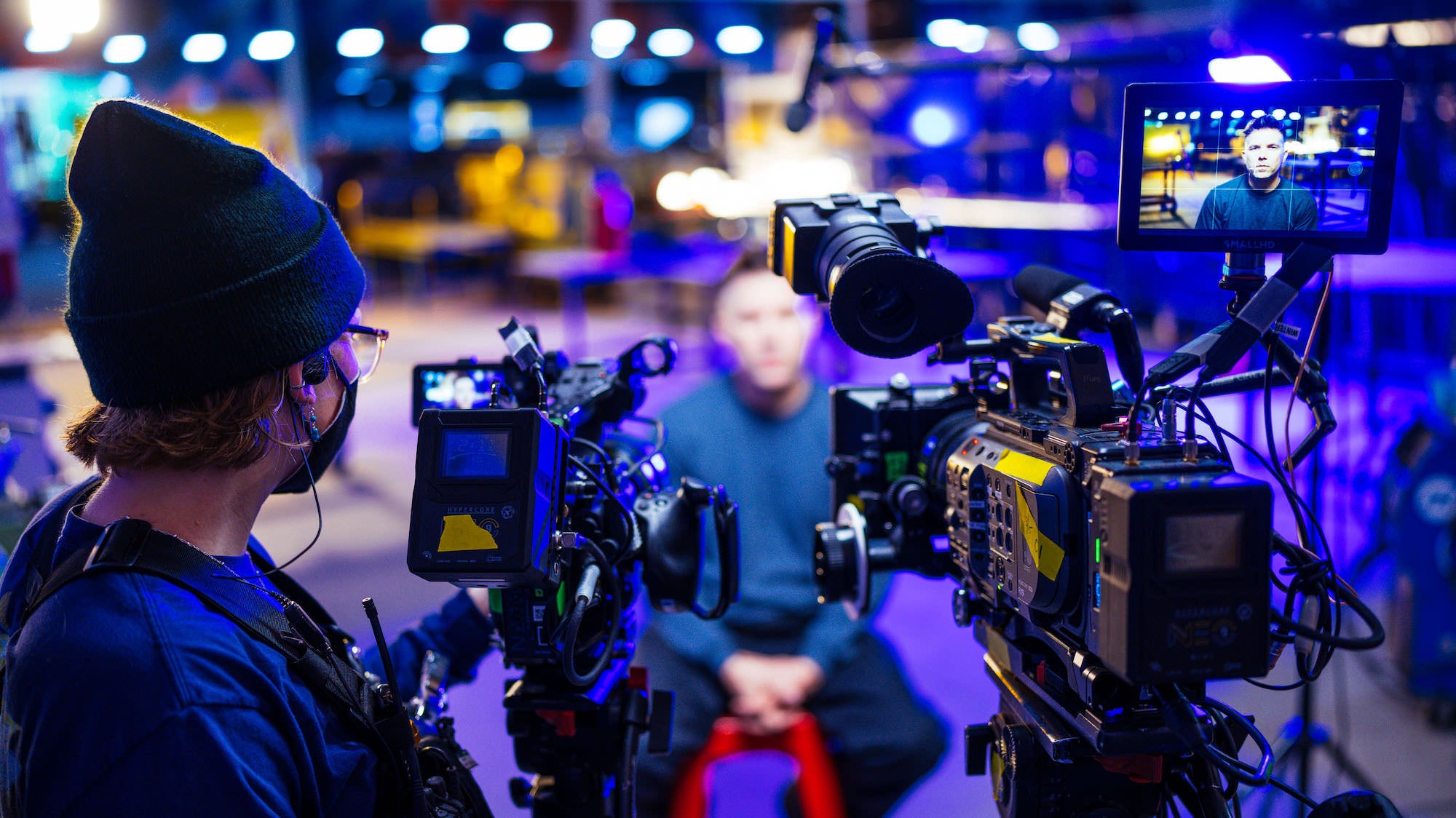 It was a creative risk, especially as this meant not lighting Jeremy Renner in the traditional front-lit way, but with backlight and sculpting. But Renner was game to try, and it worked, along with the help of the FX9's versatile dual ISO.
"I think Sony is the best at high ISO," says Winters. "When I first heard the 4,000 base on the FX9, I thought that was going to be really noisy. I looked at it and I was just like, 'Whoa, that looks really good.' It cuts with base 800, too. It's amazing. Back in the old days when you had a practical, you had to supplement it with a movie light because the practical couldn't do the actual lighting. Now with the sensitivity of these cameras as well as the dynamic range, you can actually get away with the practicals lighting the scene. And you can still see some detail in the practical itself. Then you can still get a nice range of tones in the main area of action. The high base ISOs really helped us a lot with that."
What Winters' did when Disney asked for the perfect cinematic opening
When Disney approached Winters about the opening of the show, they wanted it to be the best it could possibly be.
"The show open is definitely what I'm most proud of," explains Winters. "Jeremy was shooting Mayor of Kingstown in Pittsburgh at the time. So, we went out to Pittsburgh to shoot this show open in an old steelworks building. Disney wanted it to be perfect. They're like, 'What's the best camera that we can shoot it with?' I said VENICE. So, we got three VENICEs. We had the Fujinon Premistas and some Zeiss Supreme Primes, which are just awesome and they cover full frame. We got some really nice cinematic dolly moves as well.
The way it should look in my head and what I saw on the monitors when we were shooting is exactly the way I wanted it. We used the VENICE for the show open and then Jeremy's hero interview and Rory's hero interview. It's so nice to be able to shoot three VENICEs. Patrick Costello, the show runner, said 'Next time, it's VENICE 2 no matter what.'"
How working with Jeremy Renner is a reminder to enjoy every day
For Winters, working on the show and seeing the direct impact went beyond the show and translated into real life. As Winters explains it, Renner on Rennervations isn't just Hawkeye, he's a construction worker, a friend, a son, a member of the community who loves vehicles. He said many people on the crew actually signed up and became Big Brothers/Big Sisters after being influenced by Renner.
"In documentary, some projects are great for the reel," concludes Winters. "You get to play with cool stuff and make beautiful images. Others are for the life experience. You still want to do a great job, but you go places that you would never have gone before, meet people you have never met before. And I'm lucky I got to work with really nice people. It's the most important thing. Filmmaking is so tough. There are so many challenges. You have to love the people that you work with, people who are team players and just good people in their heart.
Jeremy Renner was never like, 'Oh, I'm a big movie star. I can't get my hands dirty.' He's in there with saws. He's in there with hammers. He's doing a lot of the physical work. He's not afraid. He goes for it. He lives his life.
I count my blessings every day that I get to do that, as well as something that fulfills me creatively. I don't take it for granted. I'm thankful every day. Every day I'm on set, I just take a moment to think, man, I'm so lucky to be here right now."
Watch Rennervations on Disney+ starting April 12.