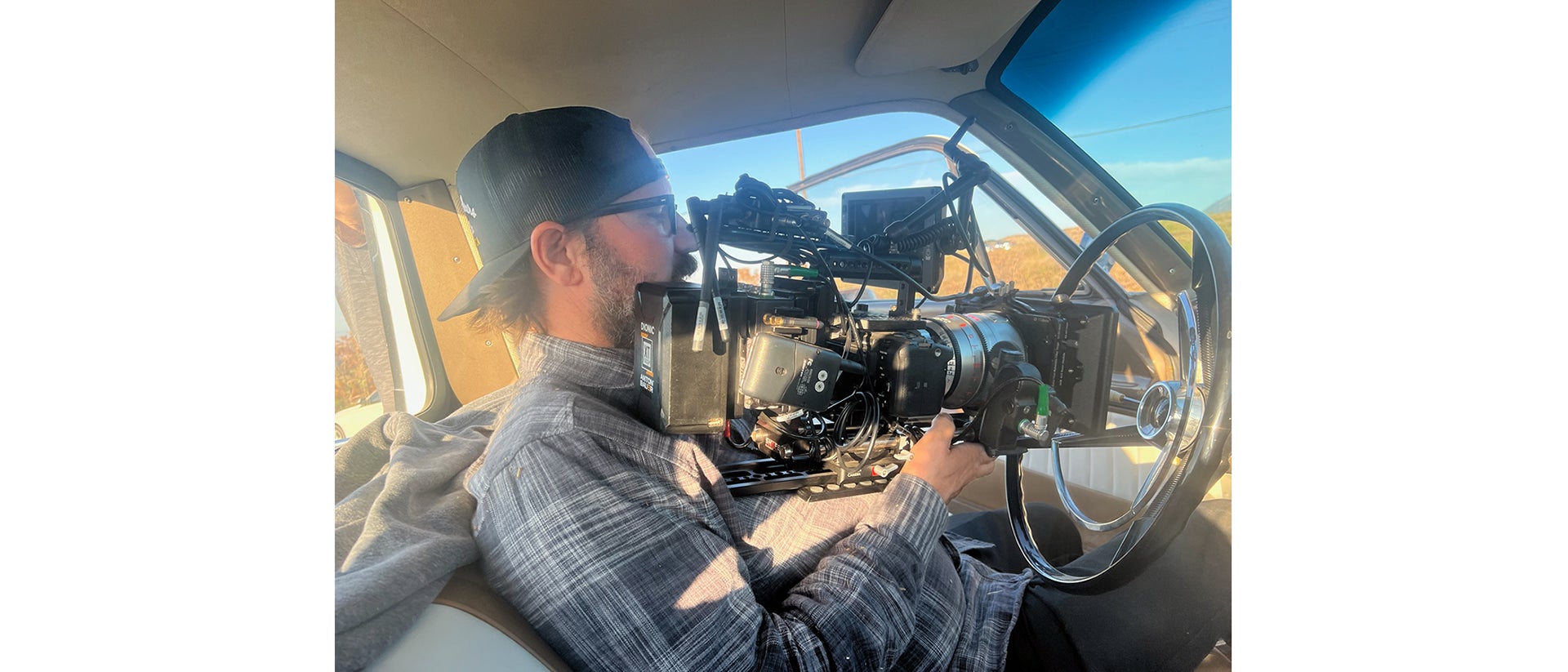 https://77snszqv.media.zestyio.com/1-1920.ryRGFCyxj.jpg
09.07.2022
09-07-2022 - Case Study, Gear, Technology
How Filmmakers Made a Cinematic Horror Film Using an Airpeak and an FX3 with Cinema Glass
By: Oakley Anderson-Moore
Michael Gabriele has a slew of polished commercial directing credits, with clients like Jim Beam, Frosted Flakes, and Honda, to name a few. Ryan French is a DP with tons of industry gaffing and lighting experience. He's worked on Comedy Central's Drunk History, The Twilight Saga, and Little Fockers.
After working on a few commercial and documentary projects together, Gabriele and French clicked. And they realized they had something else in common. "We both wanted to do more narrative work," explains Gabriele.
That's how they came to make the cinematic horror film Get Away. Get Away is a 17 minute short film developed by the duo specifically for Sony to demonstrate the cinematic ability of the Sony FX3. Set in a remote vacation-rental in the desert, the film follows a group of friends who play a mysterious VHS tape... followed by terrifying coincidences.
This ambitious cinematic short took under a month to write and prep, followed by a four-day shoot, with three days of principal photography and a fourth for drone footage with the Sony Airpeak. Then, Gabriele cut the 4K film in another two weeks. That's crazy fast for a 17 minute indie film that looks and feels like a bigger-budget flick.
The film was inspired by the realization that so many high-end filmmakers have started incorporating the compact FX3 into their shoots. From Emmy-nominated series like Dopesick to an upcoming feature film, True Love, shot exclusively on the FX3 by Academy award-winning DP Greig Fraser and Oren Soffer.
Gabriele and French sat down with SonyCine to talk about how the camera lets them pull off this production.
How reverse-engineering a shot list around the FX3 made for maximum creative freedom
Usually, when shooting a film, you'd start with a shot list and then decide what gear you need to shoot it. But for Get Away, the FX3 was the inspiration for the shot list. According to French and Gabriele, along with writer Anthony Jefferson, that opened up a lot of creativity.
"I feel like it was reverse-engineered in that way because we knew we wanted to use the FX3," explained Ryan French. "We were thinking about the camera and how we could use it when creating the shot list. We thought about the camera's form factor - and how that makes it really easy to put the camera in hard-to-get places. We knew we could get unique shots from mounting on the car, handheld shots, and over the head looking down. So I think it lends itself to those types of rigs."
"Ryan had the idea to get a shot inside the trunk," says Gabriele. "Normally, that would be a tougher shot to get with a typical digital cinema camera."
"With a bigger camera, you'd have to start digging a hole into the ground if you want to get a low-angle shot!" jokes French.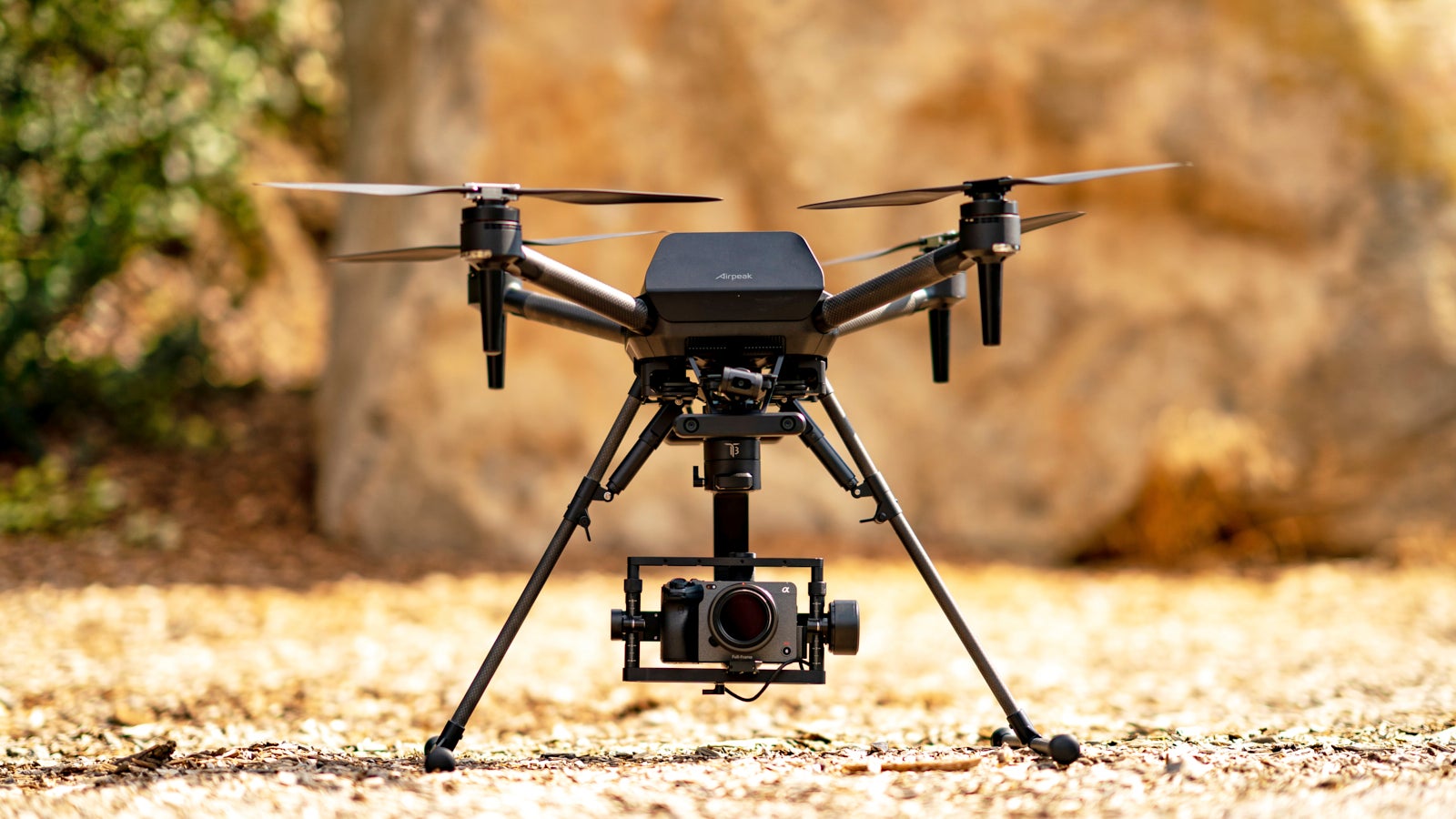 Why pairing the FX3 with the Airpeak made for seamless matching drone footage
The FX3 held up even when flying through the air in a dusty desert landscape.
"We really wanted to highlight the isolation in this vast, beautiful desert that's very barren and cold in a way, even though it's hot," describes Gabriele. "It's an interesting metaphor. So we wanted to get these really cool establishing shots with the drone to give a pretty good feel of what we were trying to do."
"We knew having that small form factor, and lightweight payload would be easy to put on a Sony Airpeak for drone shots," explains French.
"Sometimes, when you're working on lower budget short films, you're usually dealing with these smaller, consumer-style drones. And sometimes because of the drone's small sensor, the footage doesn't match your main camera properly," continues Gabriele. "But being able to use the Airpeak and the exact same camera we used for the rest of the shoot was phenomenal because it all matched perfectly."
"Craig Coker was a great operator," says French. "But on top of that, with the Airpeak system, we could pull it out, set it up, and be flying in minutes. And then we could do a couple passes with the drone. Then he could land it, break it down, and put it in the vehicle to go to another location within minutes - all with the FX3 attached. So it was pretty phenomenal."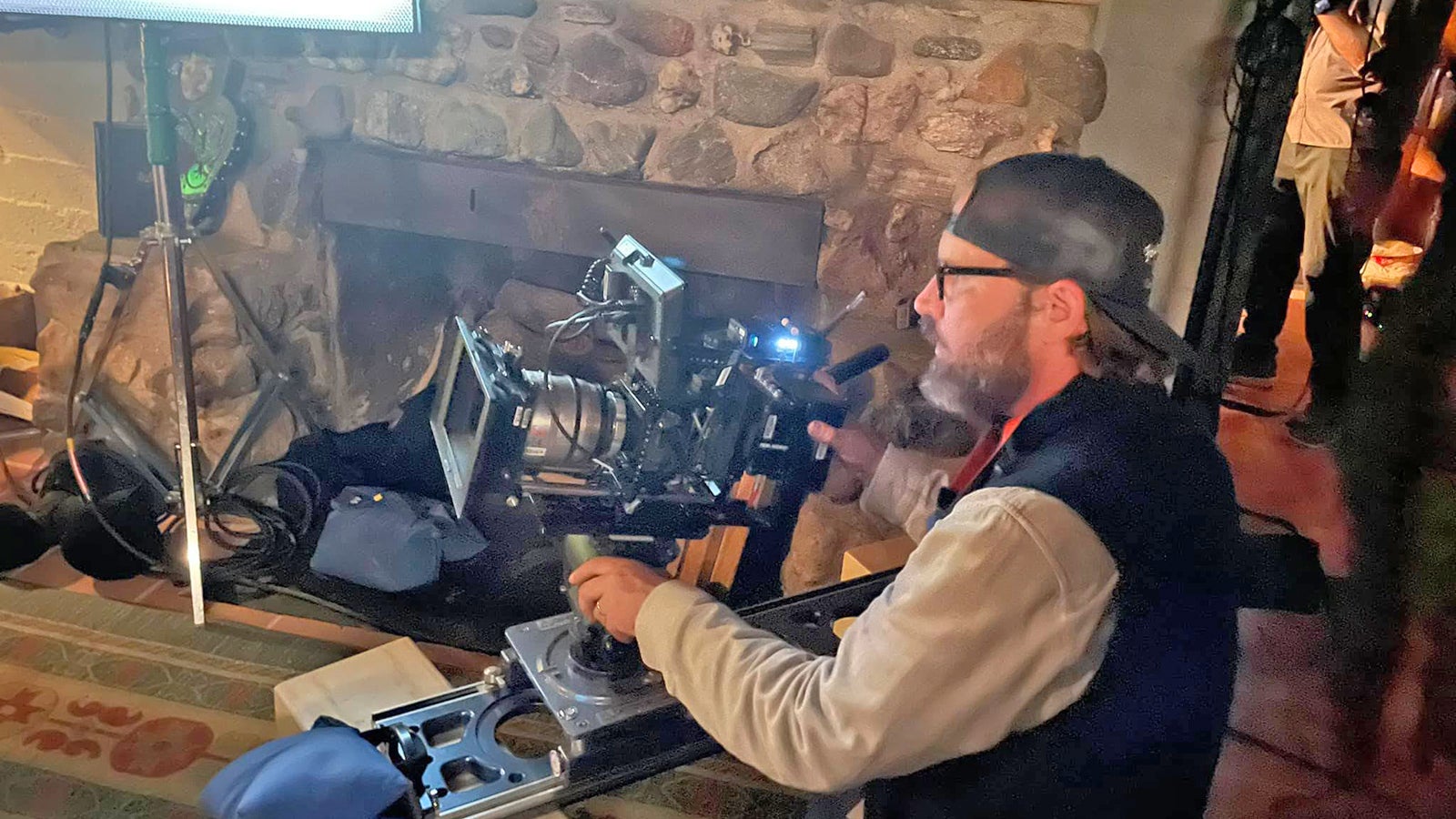 How 12,800 ISO lets you light on a blood moon in the middle of nowhere
For the look of Get Away, French wanted to recreate a bleach bypass feel to suit part of the horror story. Part of the effect came from DIT Mason Harrelson, who created a vintage LUT for the film, and Jeff Altman executed the color grade. But part of the look was achieved with lighting. Specifically, the freedom of lighting with the FX3's two base ISOs.
The dual base ISO sensitivity played a big part," says French. "It was great having the native ISO at 800 and then, shifting it at night, we could go to 12,800. Normally, at such a high ISO, you'd have a lot of noise or a weird grain structure-type element in the footage. The amount of noise at that level was so minimal that I don't even know if we even did a noise pass at the end because it was so pleasing to look at. We started the shoot on Friday the 13th and finished shooting on a blood moon, which was crazy. We were doing a blue hour shot with the moon out, and I remember the moon eclipse happened, and we lost all of our ambient light. At 12,800 ISO, we captured all this ambiance from just the moon!"
Why cinema lenses on an FX3 are perfect for leaving scary figures to the imagination
Part of the pitch for this shoot was to use the FX3 with cinema glass. Why? French and Gabriele wanted the shallow depth of field to play an integral part in the story.
"Because we don't have a big visual effects budget or a special effects budget, we needed our horror entity to be obscured a little bit," explains French. "Having a full-frame camera with a lens that has a really wide-open aperture, we were able to throw certain elements out of focus when and where we wanted to. We used MasterBuilt lenses, which are beautiful lenses that work fantastic with the Sony line of cameras. I've used them several times on the VENICE, but this was my first time using the lenses with an FX3. It has given me great results every time."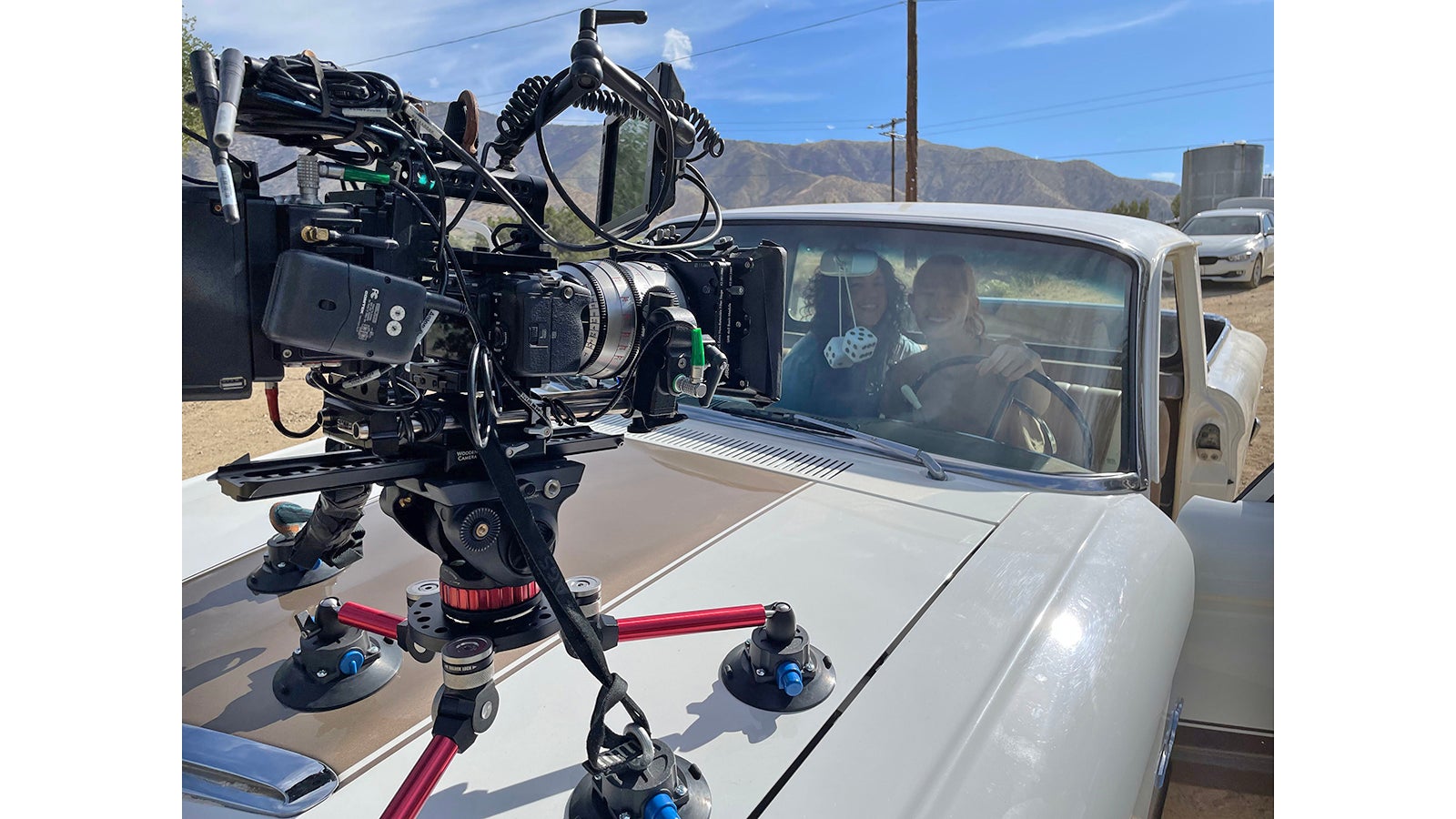 How the FX3 lets you tell your story without waiting for a big bag of cash
Many filmmakers wait years and years waiting on a big budget to make their dream film. The beauty of Get Away is that Michael Gabriele and Ryan French show us that you can do it in a few weeks on a small budget, and it will still look great.
"I'll be completely honest, I was afraid at first," confesses Gabriele. "At first, I was just like, 'Oh, man, we're putting all this work into this short film, and we're going to shoot it on a tiny little camera. But I was so impressed with what I saw from the FX3. As a commercial director, I get to work with every type of camera, and a lot of them are on the high end. But at the end of the day, with good lighting and good lenses, shooting with the FX3, I don't think anybody would notice unless we told them. That's what I think is so amazing. Even 10 years ago, the amount of money that you would have to spend to get something that looked half this decent would be unattainable. With the technology that exists in a camera like the FX3, you can have your idea and just go out and do it."
"Most filmmakers on a professional film set are going to have access to $100,000 cameras and lenses and everything," says French. "Yet the FX3 is a camera I've seen used on professional film sets with the VENICE. It's a little camera that punches above its weight class. I feel like Get Away is a proof of concept, if anything. Any filmmaker can afford to get a cinema camera at an entry-level price. Beyond that, it's just storytelling."
"As a director, a lot of it comes down to making sure you have a good story," concludes Gabriele. "That's where you have to invest a lot of time. But once you have one, if you don't have a huge budget, this is an amazing tool to bring a story to life."