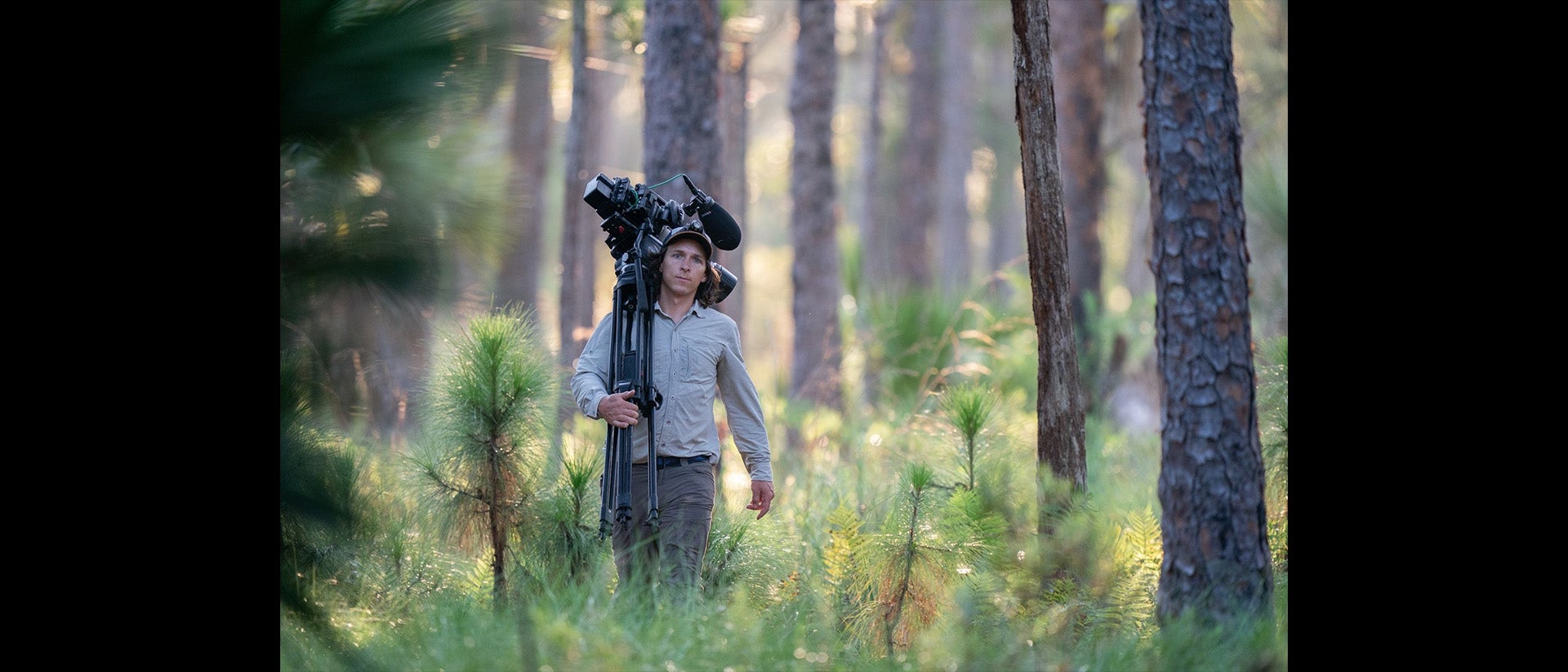 https://77snszqv.media.zestyio.com/SonyCine_Ward2020_1920.jpg
02.27.2023
02-27-2023 - Case Study, Gear
How "Path of the Panther" DP Spent 5 Years Capturing the Elusive Big Cats of Florida
By: Oakley Anderson-Moore
The Florida panther is disappearing. A film crew set out to tell the story of these panthers. The only problem? No one ever sees them.
Covert, endangered, and potentially lethal. How did Danny Schmidt, a multiple award-winning cinematographer, capture the panthers while keeping his crew safe and not disturbing the natural habitat he and the film team were trying to protect?
For starters, it took almost five years to pull off. On top of that, Schmidt got creative with cinematography, including a parade of Sony cameras, performing with no room for mistakes, in the wildest sections of Florida. The result is a rare film that is both beautiful and urgent. As one critic describes it, "Image-making has rarely felt this essential to our planet's survival."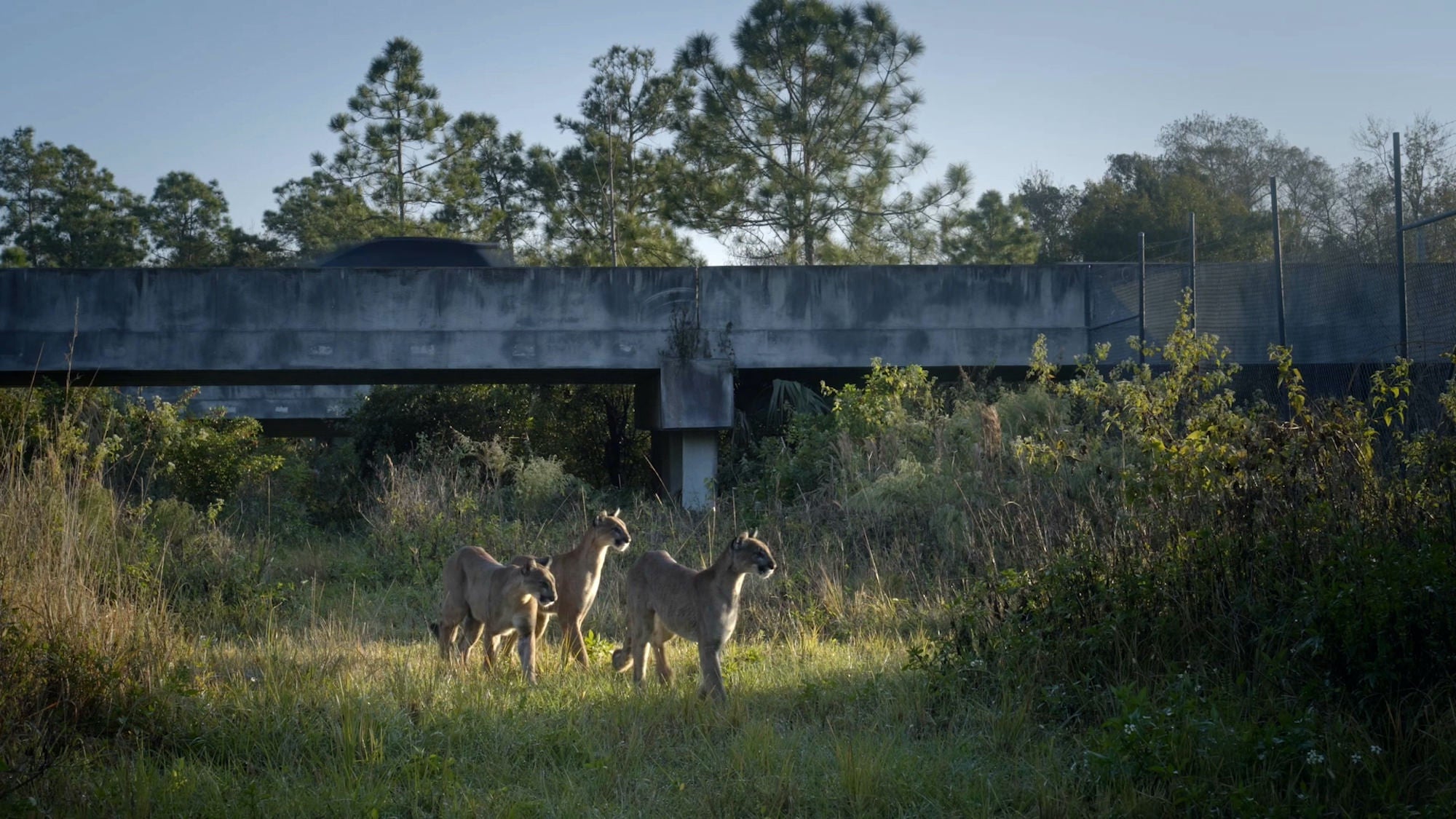 Schmidt sat down with SonyCine to talk about what it was like to shoot Path of the Panther, and why it's important.
Trapping panthers with cameras, not cages
First thing's first, how do you find a panther?
"Panthers are incredibly elusive creatures," explains Schmidt. "They live in dense forests and swampland and do a great job of not being seen. This obviously presents a problem when you're trying to make a movie about them and not disturbing them. All of the panther footage that made the film was a result of one man's quest to bring them to the screen, and in turn, create a plea for their survival as a species in Florida. That man is Carlton Ward, Jr."
Along with the panthers, Carlton Ward, Jr. is the central character of the film. He has established a strong reputation as a wildlife photographer who has captured everything from elephants in Mali to shrews in Gabon. Ward found a passion for the Florida panther and has devoted the better part of a decade to their protection. His journey to capture these animals on camera is the central story of the film.
"Carlton employed dozens and dozens of remotely-triggered camera rigs - basically Sony mirrorless cameras in waterproof boxes that begin recording when off-camera triggers sense an animal walking by," says Schmidt. "It's not a perfect system and it is incredibly tedious, but Carlton's dedication to this craft has elevated him to one of the best in the game."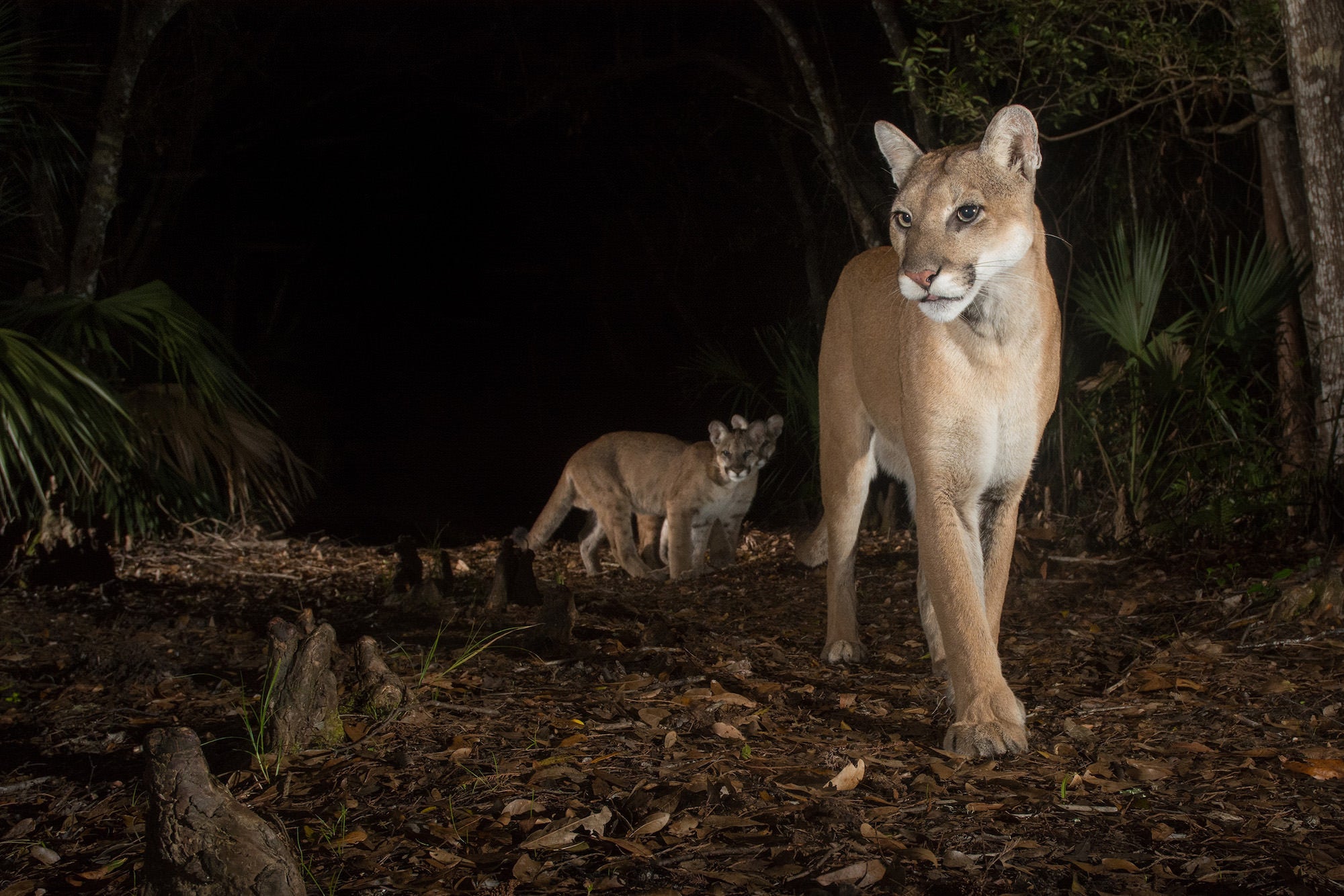 Transporting audiences to the wild forests of Florida
For Schmidt, the look and feel of the story had to be intimate.
"Director Eric Bendick had a vision for the film that was well articulated to myself and the other DPs: he wanted to capture intimate and authentic moments without too much interference from the production team," says Schmidt. That meant being on the ground instead of in the studio, and for capturing the panthers, that meant removing the cinematographer from the equation altogether. Schmidt explained,
The camera trap footage is incredibly intimate and helps create an emotional connection to these rare cats simply by seeing them be themselves: curious, strong, persevering in this landscape… The rest of the footage of our human characters sought to do the same thing. We aimed to capture moments of Carlton and the other humans dedicated to preserving wild Florida not through talking head interviews, but through actual, on-the-ground experiences. Our goal as cinematographers was to let the story unfold in the frame and to create enough time and space for things to happen in a natural, unproduced way. We all shared the same goal to create this beautiful portrait of wild Florida and the people dedicated to saving it.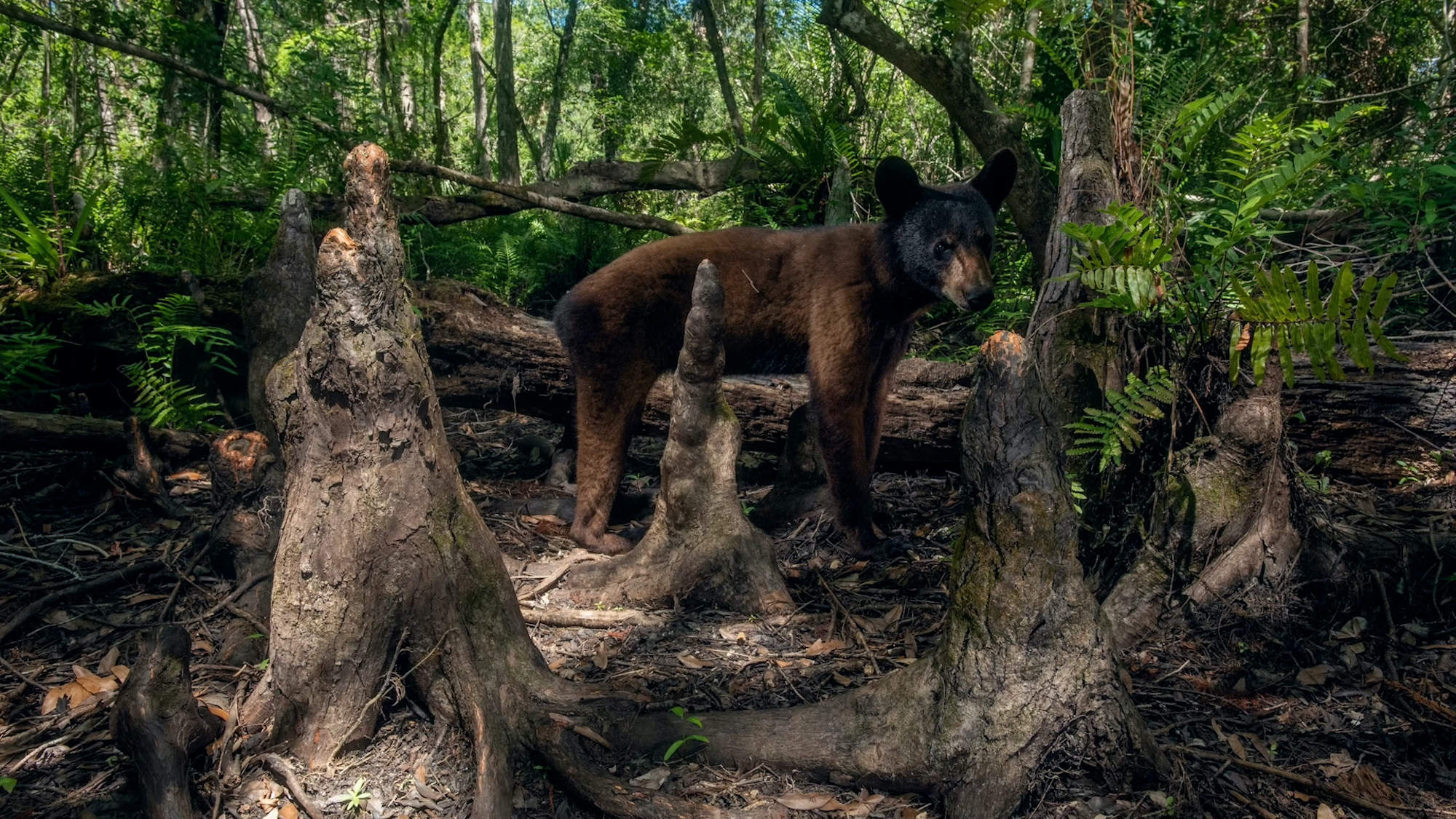 The parade of Sony cameras that captured the film
Schmidt explained his rationale for choosing Sony cameras for this project, "The Sony cameras were chosen based on their reliability and image quality. The FS7, in particular, is just an absolute workhorse - we could haul that thing through the swamp all day long in rain and hot weather and it always just performed like a champ. It's great as a single operator set up - with or without a follow focus - running our own audio at times and taking a bunch of different lenses. This allowed us to pivot quickly to different parts of the story, filming wildlife at one moment and a character-driven scene the next."
He continued, "Most of the verité doc moments of the film were shot on the Sony FS7 using Sigma Art series primes, and EF-mount L-series zooms. In addition to the camera traps, Schmidt used Sony for the rest of principal photography, which was spent in some pretty extreme conditions."

All of the camera trap footage was shot on various mirrorless bodies ranging from Alpha 6400 all the way through to Alpha 7S III. Different focal length Sony primes and other non-AF lenses were used in the camera traps depending on the intended shot. When cinematic quality and reliability is crucial to a project's success, Sony was the obvious choice.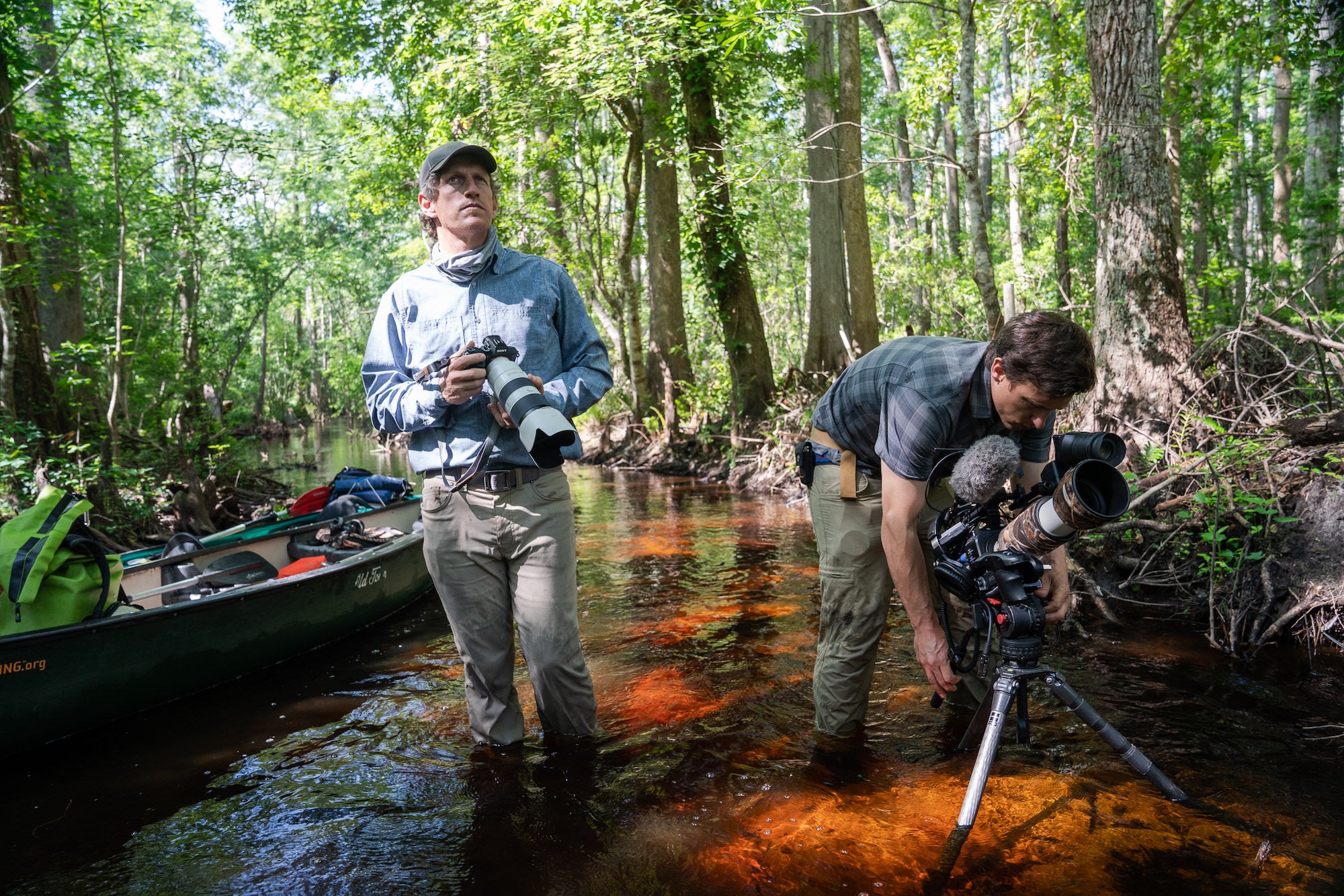 When being a cinematographer means making a difference
It can be easy to get caught up in the beautiful craft of filmmaking in and of itself. But for Schmidt, there has always been a deeper purpose. "I've been working on wildlife conservation stories in Florida for the last 6 years," Schmidt explained. "Over that time, the natural world there has revealed so much magic to me. I want it to be around for my kids and their kids to experience."

As Schmidt describes it, everyone on the production needed to believe in the power of the film to change the future. "Major kudos goes out to Eric Bendick of Grizzly Creek Films who held this ship on course as the film's director and executed an incredibly beautiful and impactful film. Tori Linder of Wild Path Productions also dedicated so much energy as the film's impact producer to ensure that this project continues to be a rallying point for conversations on wildlife connectivity in Florida and beyond. And of course, none of this would be possible without Carlton's absolute dedication to his craft and to uncovering this wild place with his camera."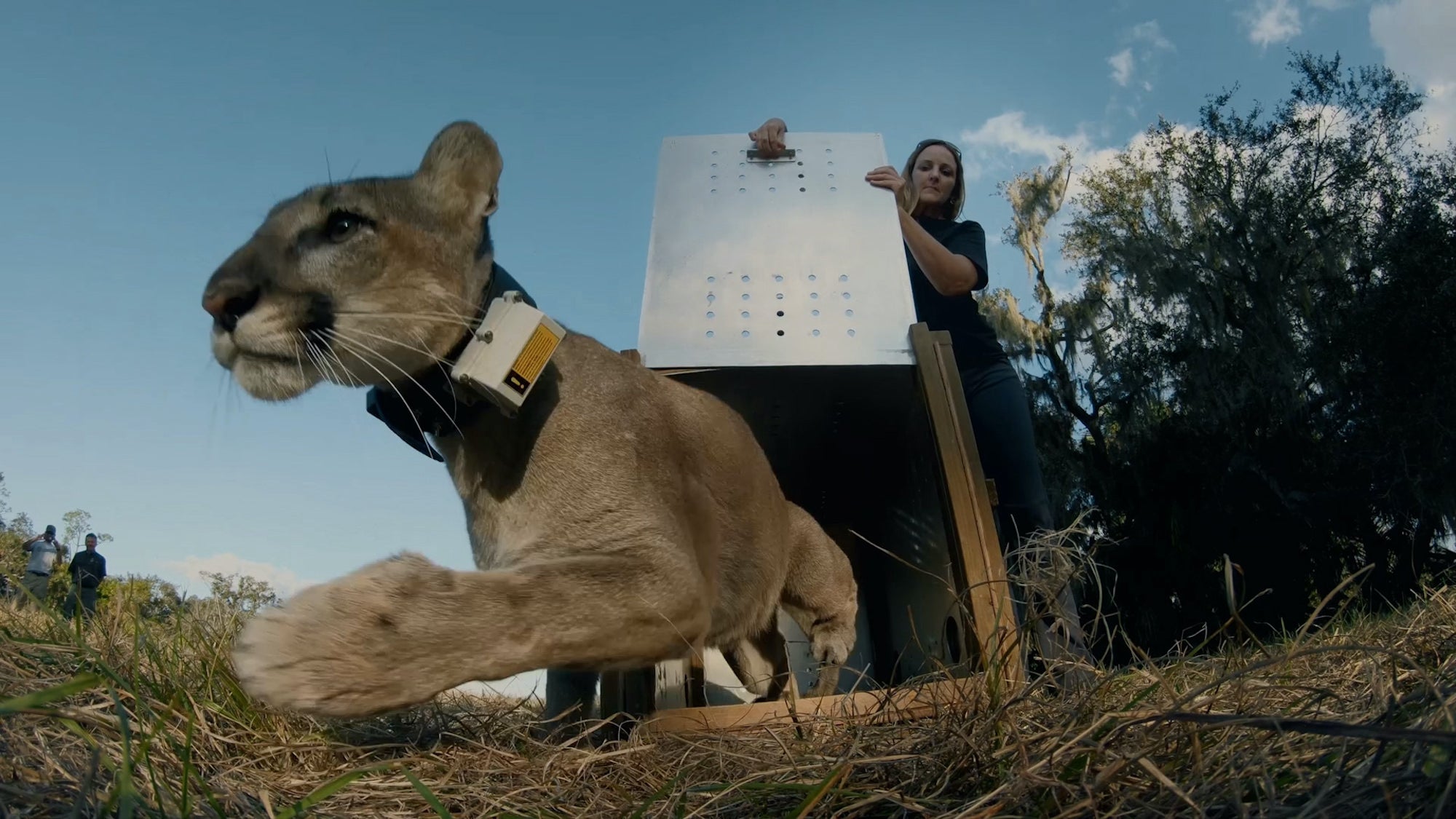 What Danny Schmidt loves most about capturing documentaries
"The thing that keeps bringing me back to documentary cinematography is just the element of surprise," concludes Schmidt. "We can go in with the best laid plans, but the way things unfold in real life is always different. It requires flexibility and an open mind. We just hope we are in the right place when the story unfolds - and when we are, it's magic."
See the magic for yourself and watch Path of the Panther in theaters beginning February 24 and Disney+ this spring.
Trailer: