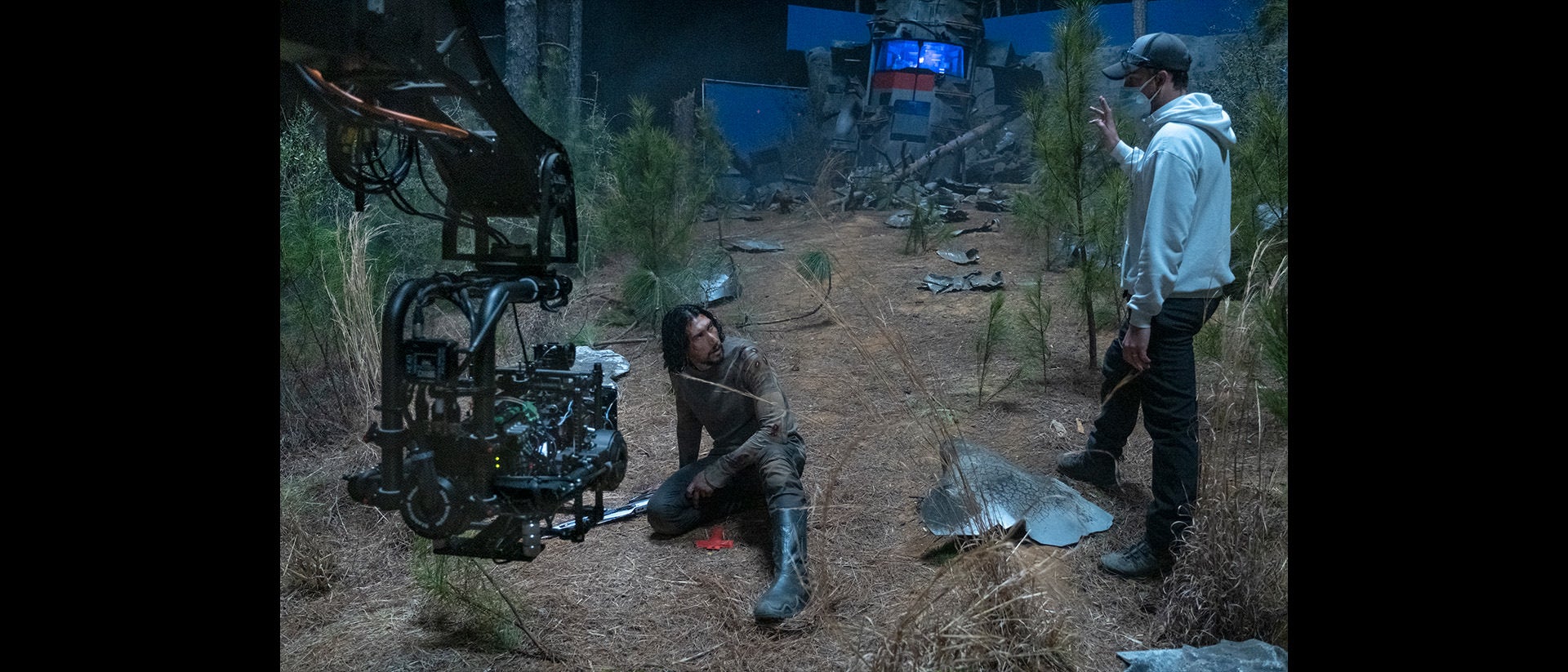 https://77snszqv.media.zestyio.com/SonyCine_65_1_1920.jpg
03.15.2023
03-15-2023 - Case Study, Gear
How Sal Totino Pushed the Limits to Create the Epic Prehistoric World of "65"
By: Oakley Anderson-Moore
To film 65, cinematographer Salvatore Totino climbed giant trees, waded in swamps, and shot military flares into the night.
"I like to get my hands dirty!" says Totino.
To pull off the simultaneously prehistoric and futuristic concept of 65, Totino needed to create a undiscovered planet for a lone pilot (Adam Driver) to crash on. The catch? It's Earth...65 million years ago. The film, shot on the Sony VENICE, is a thrilling visual adventure of epic proportions, from futuristic spacecrafts to cretaceous-era creatures.
Totino's adventurous spirit and creative vision have landed him alongside an impressive array of iconic directors, from Oliver Stone to Ron Howard. How did he get his start? As Totino explains it to SonyCine, from a young age, he loved visuals. His family, however, didn't share the enthusiasm. "Growing up in an Italian immigrant family, my parents came to America and they wanted you to go to college. If you didn't go to college, they wanted you to learn a trade. The idea of being an artist was not instilled in my household at the time."
For Totino, the challenge was figuring out how to be an artist as a broke kid in Brooklyn. "I've been working since I was 13 years old, because there was no money around. If you wanted to do something on your own, like go to the movies, you had to make your own money." Totino got his start as a PA, and with his first taste of cold, hard cash, he bought his gateway drug: a still photography camera. With it, he taught himself how to print black and white photos. Whether he was carrying cases for an AC or tagging along for prep at a rental house, he used it all as a chance to learn.
Eventually, Totino joined the union in New York, and got his first big break from director Peter Care. "I did a lot of work with Peter over the years," recounts Totino. "REM video, Tom Petty videos, Bruce Springsteen's Secret Garden. We did a lot of beautiful work together. I guess some of it is being in the right place at the right time, being lucky, all while having a good work ethic and wanting to learn."
Of course, at some point along the way, he got good at it.
"Look, I still don't think I'm good at it," jokes Totino. "No, I'm serious! I get really excited and I love what I do. If you look at the films I've done, they're all different. I find scripts and stories that resonate with me, or the people involved, and then whatever that story is, however that story needs to be told, that's my style. With 65, when I read the script, it was immediate. It felt personal. It really came from within somebody."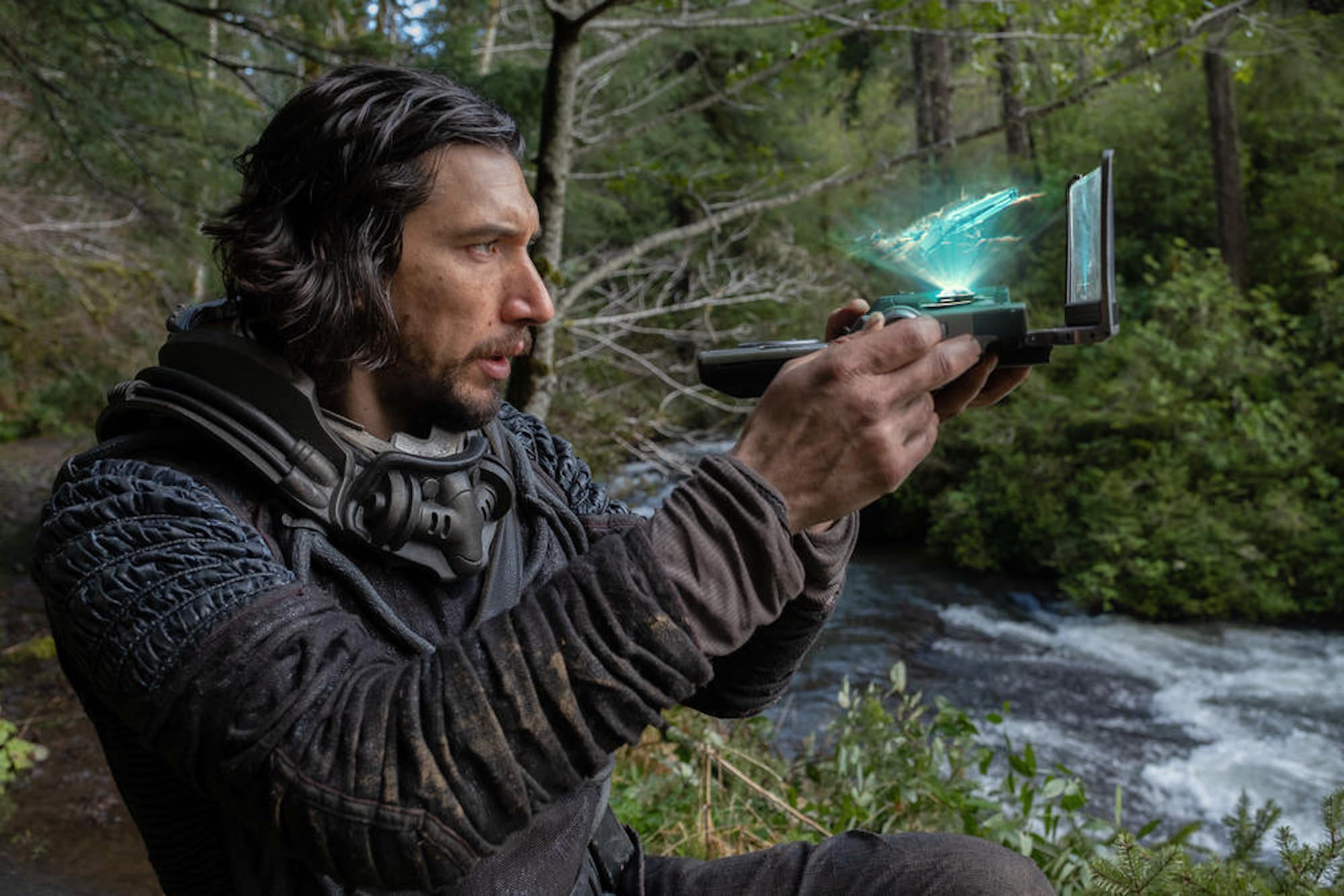 Pushing Totino to his creative limits
When Totino first interviewed with directors Scott Beck and Bryan Woods for the project, he liked them instantly. "They've been best friends since sixth grade," explains Totino. "They grew up in Iowa where they started writing and making films together. And when you work with them, it's just an incredible collaborative experience. I could be honest, I could be myself and be creative and pushed the limits, and we did that on 65."
In fact, it was the directors who pushed Totino to shoot anamorphic. "At first, I wanted to go spherical because spherical lenses, you can focus a little closer. There are some limitations to the anamorphics. But we did some tests and we decided on the Hawk V‑Lites, and I just fell in love with them." In order to pull off the anamorphic look and the extreme locations, Totino knew he needed the Sony VENICE.
"Because we were shooting anamorphic and the lenses are a little slower, I wanted a higher ISO camera. Also, I knew I was going to be in some tough locations. I knew I'd have situations at the end of the day, in a forest when the light's going down, and you've hiked up a mountain and not carrying lights with you. I decided to test the VENICE at that point, and I loved the color space of it."
From the looks of it, it was the right choice. "I fell in love with the VENICE. I love the look of it -- and the dual ISO. The 2500 is a tremendous help. It made a huge difference. Thank God, finally, a camera that's designed with input from a cinematographer. I am very happy that Sony really listened to Claudio Miranda. He really contributed a tremendous amount in developing that camera. It's really intuitive. It's easy to work with."
Color is very important for the storytelling of 65. Totino needed the natural world to contrast dramatically with the spaceship. Within the color space of the Sony VENICE, he was able to come up with something completely new. Instead of the tesla-esque look of futuristic technology we see a lot of at the moment, Totino created a unique yellow-orange cockpit that you haven't really seen before. It's one part of what makes 65 so fresh.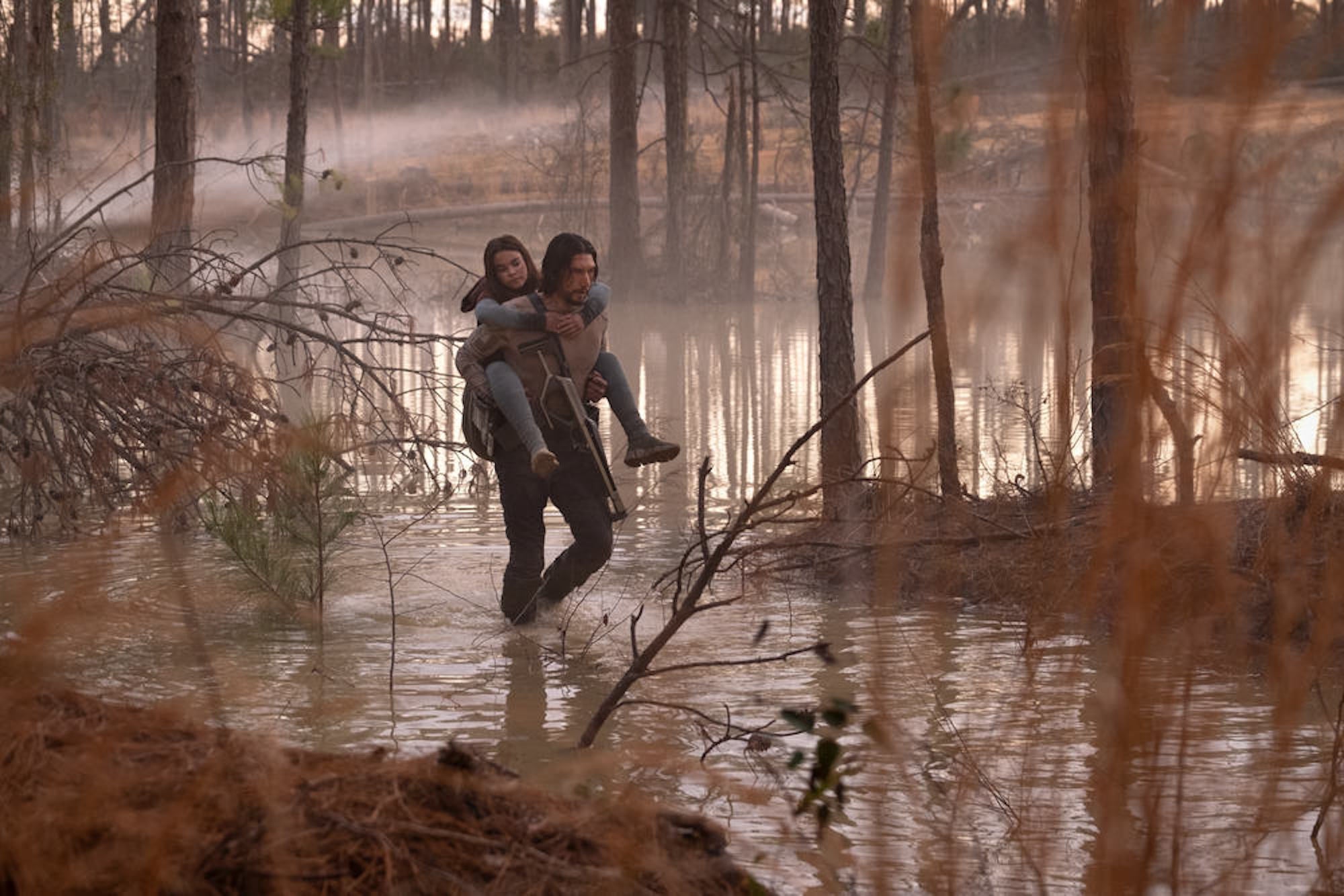 For Totino, some cinema cameras had driven him nuts partly because of the way they handle. "It's like somebody took a computer and put a lens on the end of it," he says. But above all for Totino, the VENICE dual ISO just makes other cinema cameras too limiting. "When you start shifting the ISO on the other cameras, it starts shifting your exposure curve and you've really got to start dealing with what ramifications that has. It was the smartest thing Sony's ever done to have that dual ISO."
Carrying the Sony VENICE up a 60-foot tree in the middle of a swamp
The outdoor locations of 65 were off the southwest coast of Oregon, up in the mountains and in the swamps of Kisatchie National Forest, four hours out of New Orleans. As Totino recalls,
At one point, I had to climb a 60-foot tree to get a shot, the owner of the ranch was able to cut in a road for us to get up the mountain a bit with equipment. We had Gators and stuff to transport – but then it started raining a lot - and got very muddy. At the top off the road, we couldn't really get much equipment up there and we had to start hand-carrying stuff. I could not get a crane up there, which was the original plan. So, at that point, since the actor was on a harness, they just put another harness up and I went up in the tree and got the shot I needed looking down at him climbing up.
Through all the challenges of the outdoor locations, Totino contends that the camera was not one of them. "The VENICE was a great workhorse. We never had a problem with it. I like to be able to push equipment when I need to and not have to worry about it. We had it on descender rigs, it was handheld, we're in the rain. They took care of making sure the electronics didn't get wet. We had extreme weather differences between inside, outside, New Orleans, Oregon, and not one problem."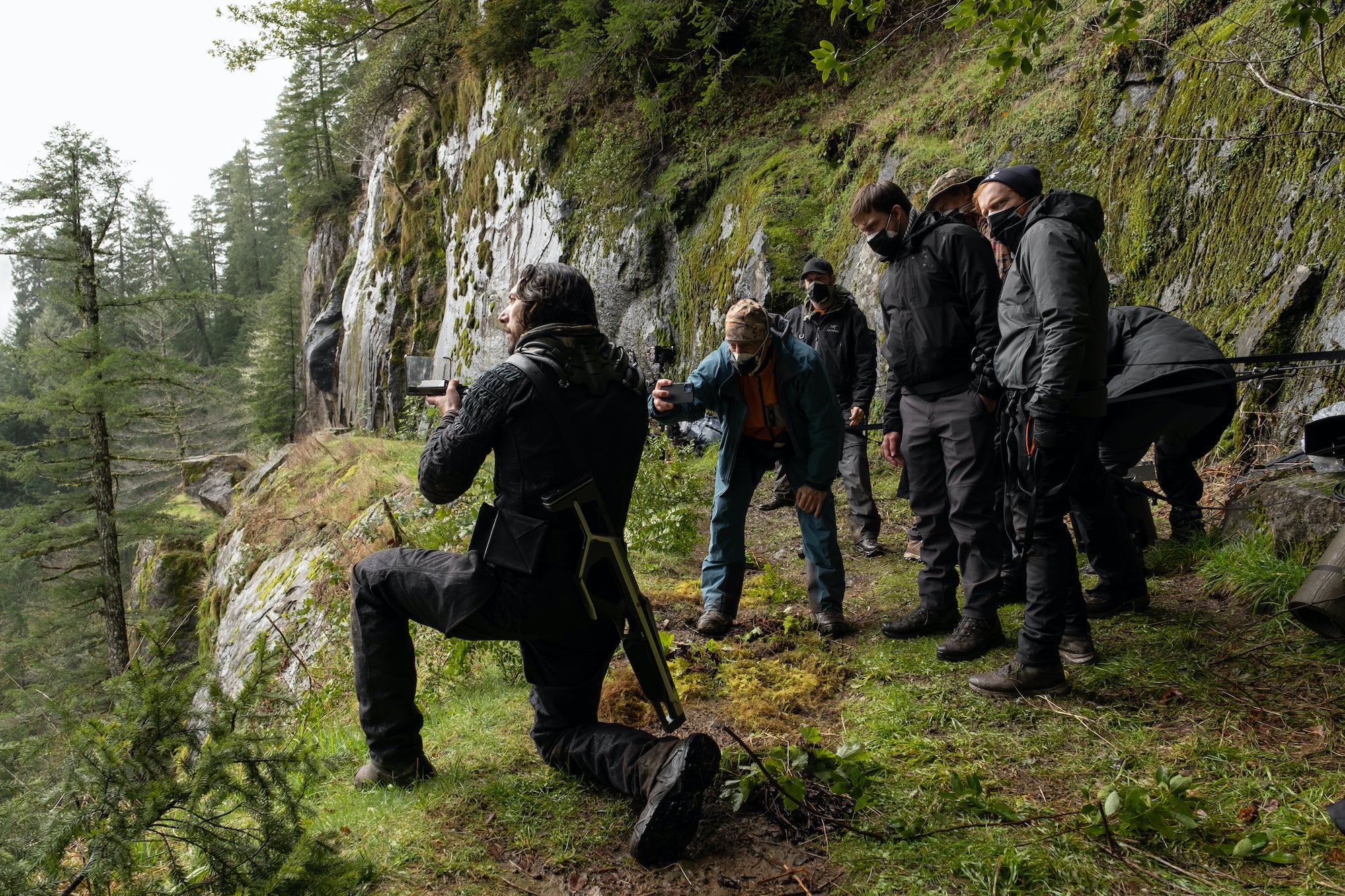 Pushing the limits of 360-degree camera moves
65 is full of challenging and cinematic shots, but Totino's all-time favorite happens to be the trickiest. He needed the Sony VENICE to start one way and end another for one exciting moment. To do that, he needed the camera to move 360 degrees. According to Totino, it could have been done in a more expensive way with a motion control arm and a lot of visual effects. Instead, key grip Nick Leon came up with a brilliant alternative solution. Totino explained,
Nick found a company to make a special dolly track for us and a motorized tracking system so I could put a wireless head on it and do this 360. He put in a lot of R&D to figure it out. Then, production gave us some time to actually shoot a test and figure out the problems. When they started building the mouth of the cave where [the actors] first come in, we realized we could only make this 360 track a certain size. So, they had to make the cave part a little bigger so I could actually get the camera out! It was great, working with a good production designer like the incredible Kevin Ishioka. They're like, Okay, we've got this problem, we'll work it out together." I'm very proud of the shot. I love the fact that it was a team effort.
Catch Salvatore Totino's latest masterpiece and the cinematic adventure of 65 on the big screen when it comes out in theaters this March. For more, visit https://www.65.movie.