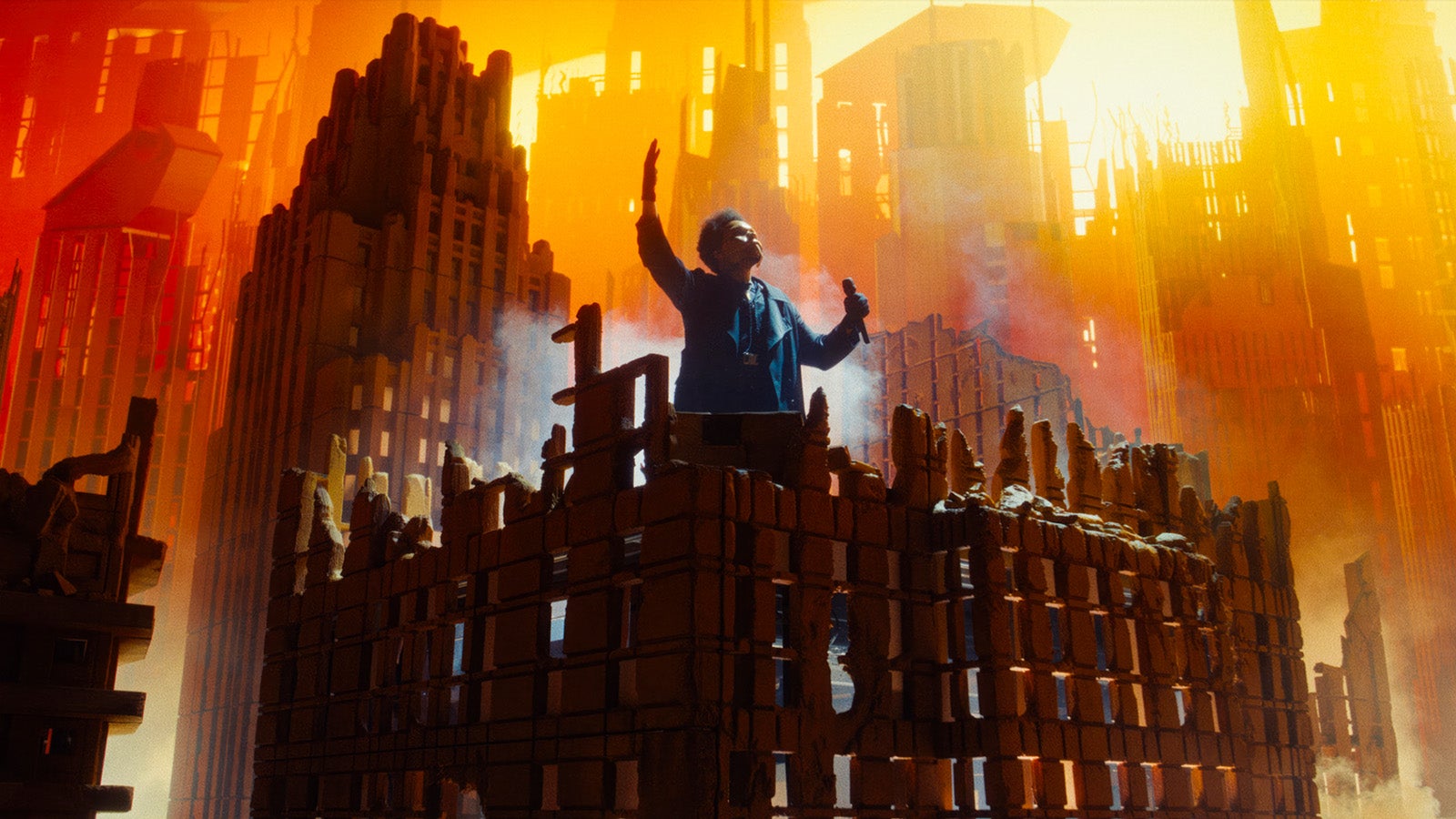 https://77snszqv.media.zestyio.com/sonycine-venice2-the-weeknd-hbo-masthead.jpg
05.19.2023
05-19-2023 - Case Study, News
How the Team Behind HBO's 'The Weeknd: Live at Sofi Stadium' Created a Multi-Cam Masterpiece Using Sony VENICE 2 and FR7 Cameras
By: Oakley Anderson-Moore
Live at SoFi Stadium is the first live album to be released by singer The Weeknd. For any artist, releasing a live album is a daring move. How can a recording of a live event ever match the experience of being there in person?
It starts with bringing on a creative team who can match the excitement of a live event with cinematic prowess, pound for pound.
The creative team at Contrast Films did just that, bringing to life a sold-out crowd, a 95-minute setlist, post-apocalyptic sets, a giant moon, hooded dancers, pyrotechnics and more with an expert team equipped with the Sony FR7, VENICE, and VENICE 2 cameras.
The birth of Cinematic Multicam
How did we get here?
"I came from the broadcast, live event world first," explains Co-Executive Producer Aaron B. Cooke. "It started as a trickle. I think that directors have always had the interest, but in the broadcast world, integrating a cinema camera into the multi-camera workflow was a much bigger project."
For Cooke, bringing cinematic standards to broadcast was like climbing a mountain. It started with multi-camera tape shows and comedy specials. And then two years ago, the Super Bowl LV Halftime Show happened.
"I would say in our experience, the Super Bowl two years ago was a tipping point into the live broadcast world."
The halftime show featured The Weeknd, over 150 cameras, and the first ever time cinema cameras were used live at the Super Bowl. Cooke was the Supervising Producer for every moment. After that, each Super Bowl Halftime show has used cinema cameras, and more specifically the Sony VENICE with one even winning an Emmy.
"Traditionally, there was this school of thought as if because music's being performed live, it has to adhere to the tropes of live broadcast," explains director Micah Bickham. The halftime show at Superbowl LV proved that we've moved on from that tradition, and there's no going back.
"I think that's also what's so refreshing about working with people like Micah and DP Chase Smith and Executive Producer Jordy Wax," says Cooke. "They're coming at it from a purely cinema point of view without that baggage of broadcast that we all had to go through. It's good because they have this purely artistic point of view of how to do something."
"One of the reasons that we gravitate towards using these cameras is because that's the world we come from," explains DP Chase Smith. "Micah, Jordy, and myself have little to no knowledge at all of broadcast cameras. So I don't know how to lens a broadcast camera. We're coming from the cinema world. So every time we approach one of these, it's always like, what do you want this to look like? What tools do we want to use? And James Coker from Funicular Goats has been integral in making all of our cinema stuff work inside of that broadcast world workflow."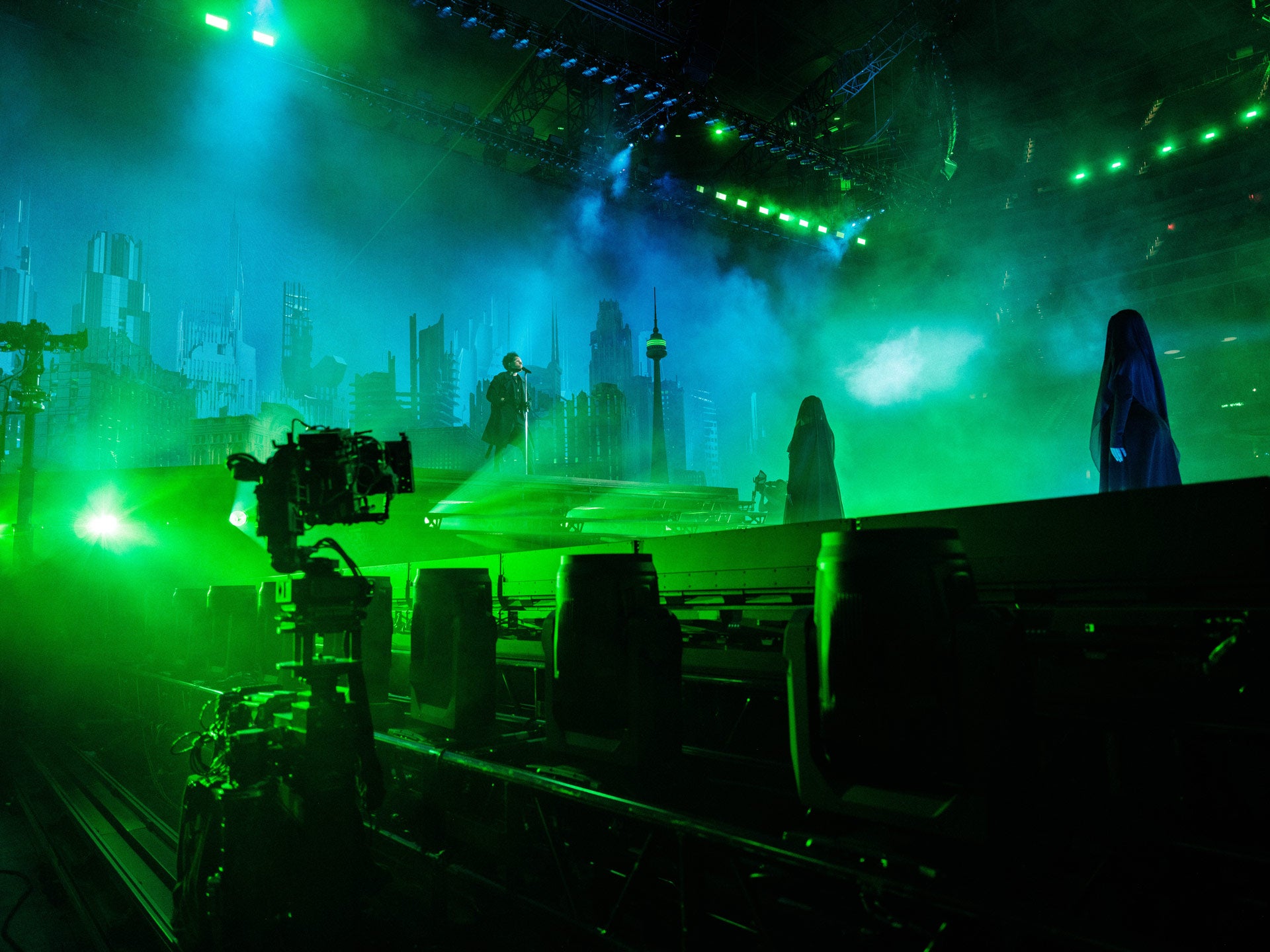 For engineering and tech expert James Coker, the incremental shift started for him and Goats co-founder Morgan Kellum some years ago.
"People started calling us to achieve this kind of thing," explains Coker. "It got more popular, and as we grew, technology got better. We've been filtering out components that don't work, adding in components that do as we go. This is changing as we speak, as new technology is growing, but I try to give Micah and Chase these tools to make it better as we grow."
Coker has been so successful in the role that now the Funicular Goats have become the go to experts in the industry when it comes to integrating that cinematic look into a multicam environment – whether it's a concert, reality show or even a corporate event.
How Jordy Wax and Micah Bickham became The Weeknd's "live guys"

Flash back to last October, and The Weeknd wouldn't embark on his daring live album without a team he trusted to the core.
"Micah and I have had a relationship with The Weeknd for a few years now," explains Executive Producer Jordy Wax. "Abel's creative director and a co-founder of XO, Lamar Taylor called us The Weeknd's Live Guys."
From COVID shutdowns and reopenings, The Weeknd: Live at Sofi Stadium has been years in the making for Wax and the team. But with the challenges came unique opportunities.
"We had the unique opportunity to be embedded with that team even before the first seat was sold," explains Wax. "We were able to identify dates on the calendar and a venue and go ahead and put seat kills and even do some consulting on stage design a bit, with about how do we film this in a way that's cinematic and engaging, not just to the fans in the room but the fans at home as well."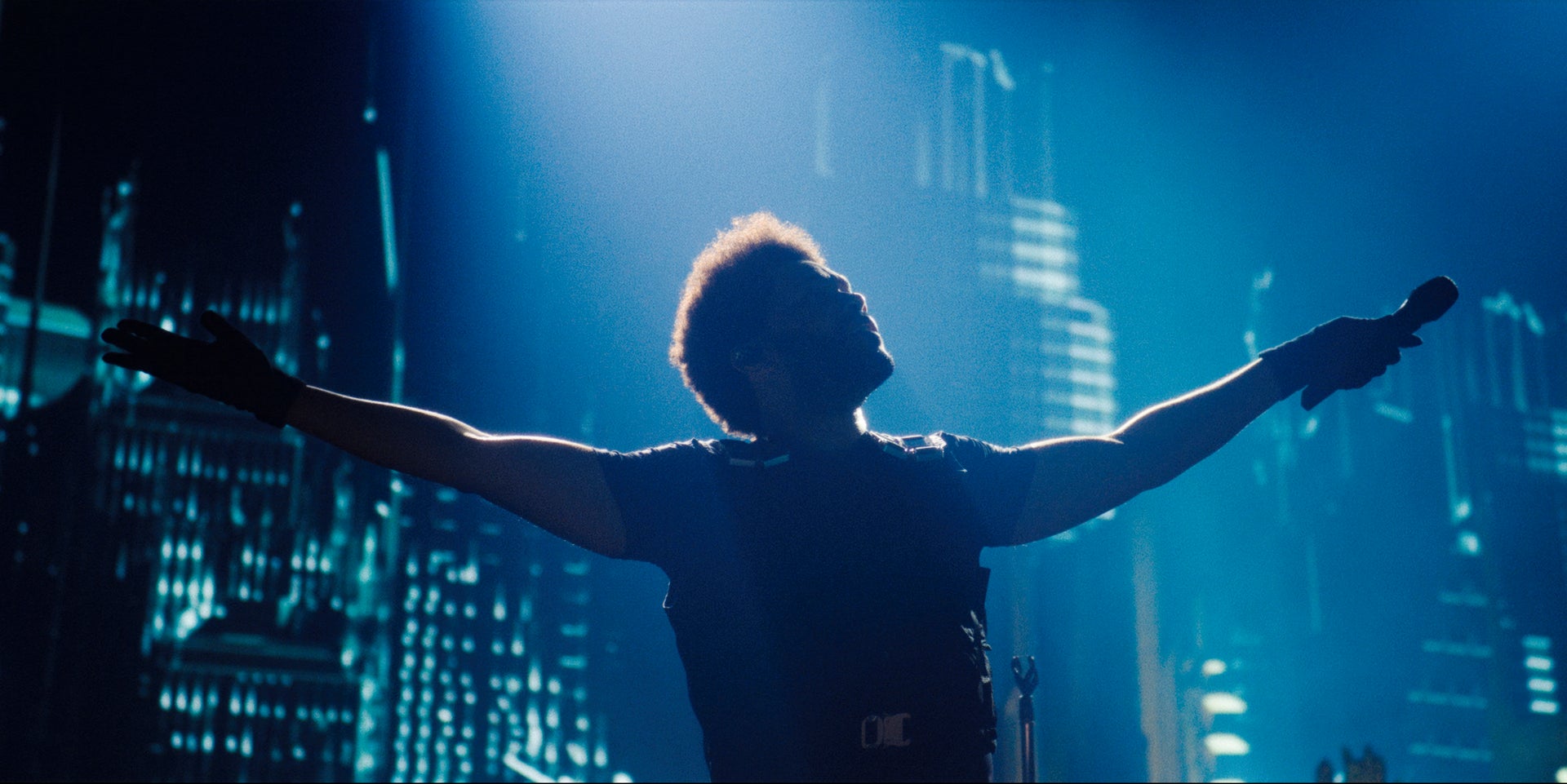 To execute the show, the creative team needed to know in extreme detail every moving part of the show.
"In a show of this magnitude, it really starts with understanding, at a very fundamental level, the music, the form of each song, where Abel moves throughout the 90-minute performance," explained Micah Bickham. "It's internalizing the show in your head. Only after we're able to do that then we're able to break down that show from a camera's point of view."
Micah Bickham and Chase Smith don't just throw cameras in a room, they work hard to make sure the camera plot reflects the intention of each song. They scrutinize every aspect of the show, including each camera and camera angle. And when it came to camera choice, it had to be Sony.
Why Sony's dynamic range made it perfect for the world of The Weeknd

"The Weeknd's brand, everything's dark," describes Jordy Wax. "We don't have the luxury of beautiful pop star key light, and we needed a camera system that could play in The Weeknd's world. I think that's where VENICE and VENICE 2 have been pretty awesome.
According to DP Chase Smith, part of achieving this look was the ability to rate the show at 800 and 3200 ISO thanks to the new capabilities of the VENICE 2.
"One of the most important things for me visually is dynamic range," explains Chase Smith. "In this show, there are a lot of bright whites, there are a lot of dark shadows. Capturing everything in between is important. To get that filmic look so we're exposed correctly for our shadows, but we're not losing our highlights. Obviously, I started by utilizing all of the VENICE 2's that we had. You've got a lot of haze in the room that you're shooting through. You've got hundreds of feet between you and the artist with some of these long lenses. Long lenses typically are a little slower and just typically lose some stops as you zoom in. I knew that the cameras I was going to be fighting with were the long lens cameras the most to maintain exposure. So it seemed like a no-brainer to utilize the VENICE 2's rated at 800. That was just absolutely perfect. It means I'm kind of using the sensor exactly how it technically wants to be rated, which is fantastic."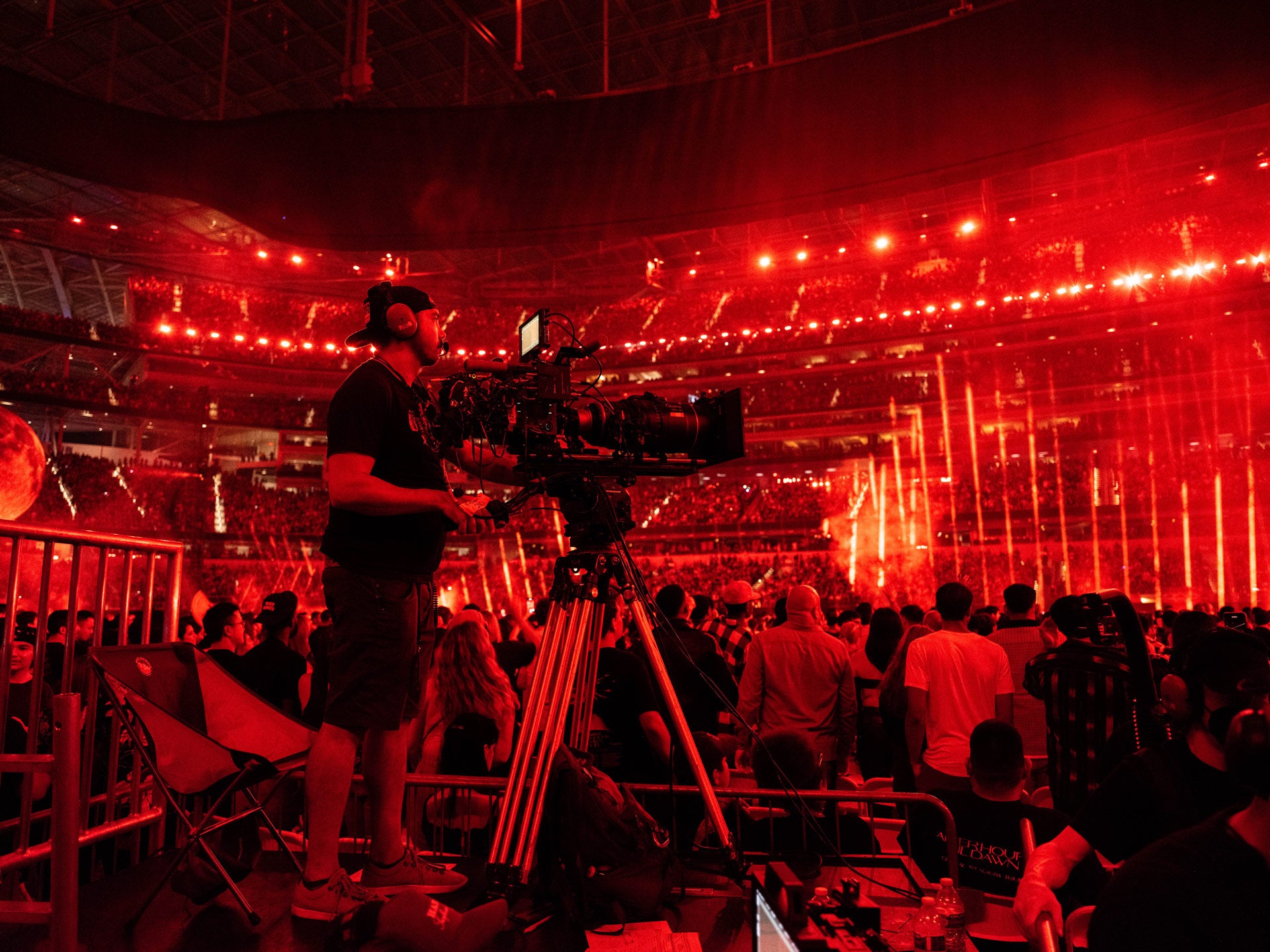 Many of the VENICE and VENICE 2 bodies were paired with Masterbuilt Soft Flares and some black satin filtration.
"I was talking to a producer today and he asked, 'why are you shooting VENICE all the time now for these?' It's peace of mind. Honestly, having the dual base ISO, when you're walking into a situation where you don't know the exact foot candle or lighting level or how it's going to all shake down, it's one of the best tools in the tool chest for exposure."
The VENICE and VENICE 2 weren't the only Sony cameras that became important players in the show.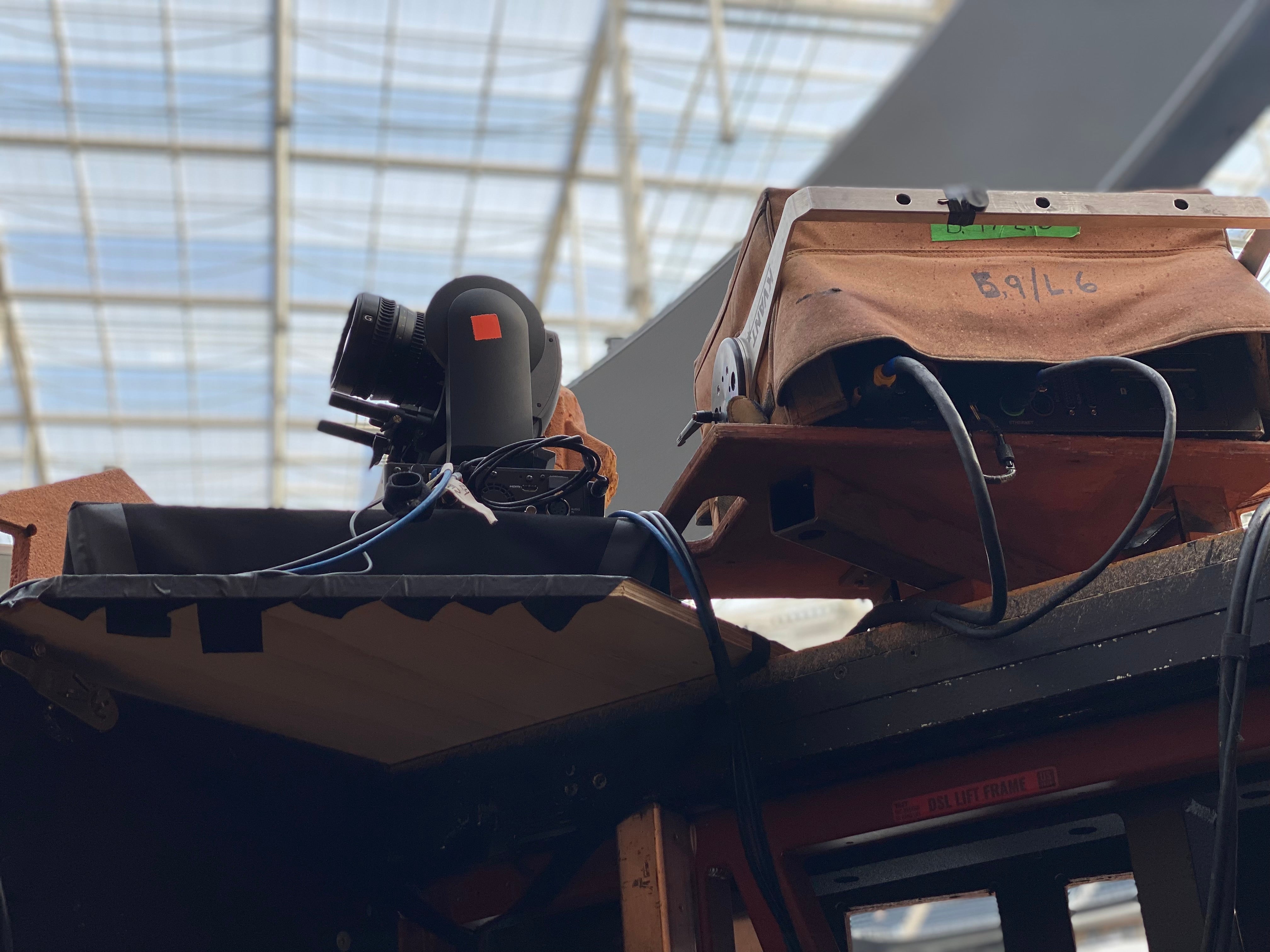 How the Sony FR7 became the invisible camera that could cut with VENICE
The Funicular Goats and Digital Cinema Collective team got their hands on a prototype of the Sony FR7. It didn't take them long to notice that it was special.
"We had a month of lead time to experiment with it," recounts Aaron B. Cooke. "It was just something very unique that hadn't been seen. It was a no-brainer to make the recommendation to use those cameras. We came back and said, 'Hey, this one's great. Give us three more.'
Before this, James Coker would have never recommended a PTZ camera for this.
"I wouldn't have offered any PTZ cameras to these guys if it wasn't for this FX6 sensor," explains Coker. "I've always known PTZ cameras to not cut as well with cinema cameras. This actually looked really nice next to a Sony VENICE 1 and 2."
For Chase Smith, the FR7 prototypes were very exciting.
"I've been longing for a new solution for that," says Smith. "Not only to be able to focus but to zoom, pan, tilt, change exposure through the GUI, all of that means everything to a multi-camera shoot where they're either rigged where you just can't get to them or whatever need to do it fast."
The team paired the FR7s with Sony lenses at 28-135mm, 16-35mm, and even 12-24mm.
"We didn't want to encroach on our own footage by having a steadicam on that very small linear stage going up and down the run of the stadium," describes Jordy Wax.
The FR7 opened up the challenge, and ended up being the camera for one of the most crucial moments of the show.
"In the intro of the show, The Weeknd ascends through the middle of the set and is 20+ feet in the air off of the main stadium floor," exclaims Chase Smith. "That's a tough position to get a camera into. We can of course shoot him from the front, but we also wanted to try and get angles from the side or the back side. Even if we could get a camera in that position, it would be quite large and would be in the middle of the stage. It's short but it's the intro of the piece, so it's incredibly important. So we chose to employ that FR7, and rigged it in nearby buildings on the stage so that way the camera was hidden by some of the buildings. It was a big point that we had something unique in that spot, and it was honestly the perfect camera in the history of PTZ cameras. With a lock off camera, if you set them wrong, once it starts there's nothing you can do. Or if you set them correctly but the artist chooses to have another idea or move slightly off the mark, then often there's nothing you can do. It was pretty awesome to be able to have the operator change shots, zoom in, and actually fully use the PTZ capability. And to be honest with you, I watched in the line cut, and you cannot tell that it's a robo-camera. It looks as good as the VENICE and matches perfectly with everything we were doing. That was a pretty big win for me."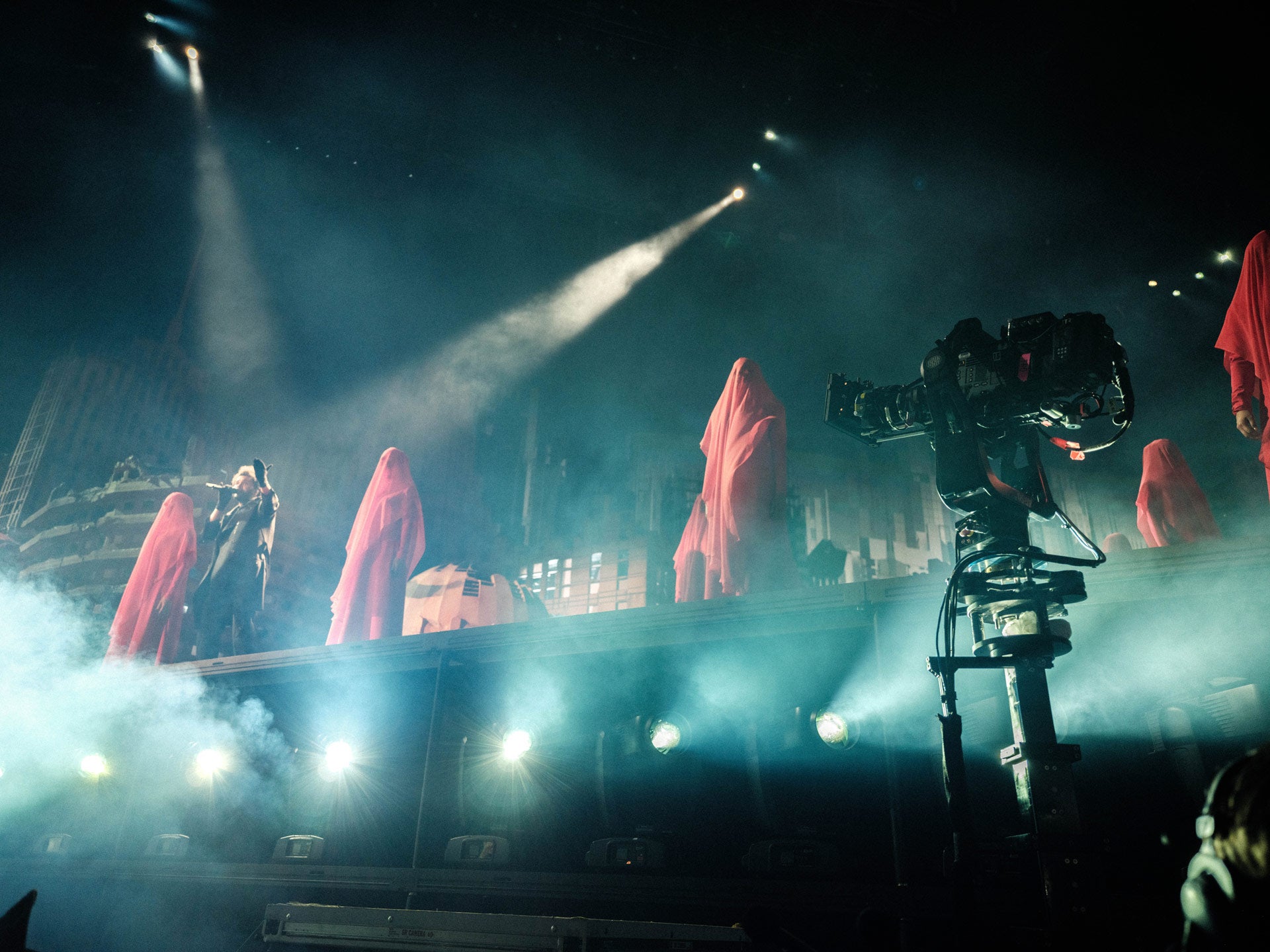 The domino effect of live TV looking this good
For James Coker, wanting to create more cinematic multicam is contagious.
"It looks so good, how could another production go in and do a show that doesn't look as good, and still be as successful?" asks Coker. "Everyone's just saying, we got to do that too because that's phenomenal."
"The more that you look at TV shows that used to be sitcoms, now these series are all shooting VENICE and at 24 frames a second," describes Smith. "One of the biggest things that artists are now realizing is just because it's on TV doesn't mean it needs to look like TV. It's amazing to have James and Aaron clear so we can do this now for everything. It's the best."
"Artists are creating music videos," concludes Bickham. "And these live performances need to feel like part of the world they've created."
The desire to shoot cinematic multi-cam is spreading to clients and audiences to see it.
"HBO was absolutely floored by how beautiful the imagery looked," explains Cooke. "I was sitting with our clients both times, and admittedly they were used to a multi-camera video setup. So when they started seeing the cinematic imagery we were getting live as we're monitoring it, they were floored with how stunningly beautiful it looked. We were recording XOCN and finishing it in HDR, but monitoring with a custom LUT. It's a nice compliment to get that when we know once we get to post, it's only going to get better."
"I think everyone's ecstatic," says Coker, who comes from the cinema world himself. "I think they look stunning."
Check out The Weeknd: Live at SoFi Stadium streaming on HBO and experience the amazing multi-cam production for yourself!