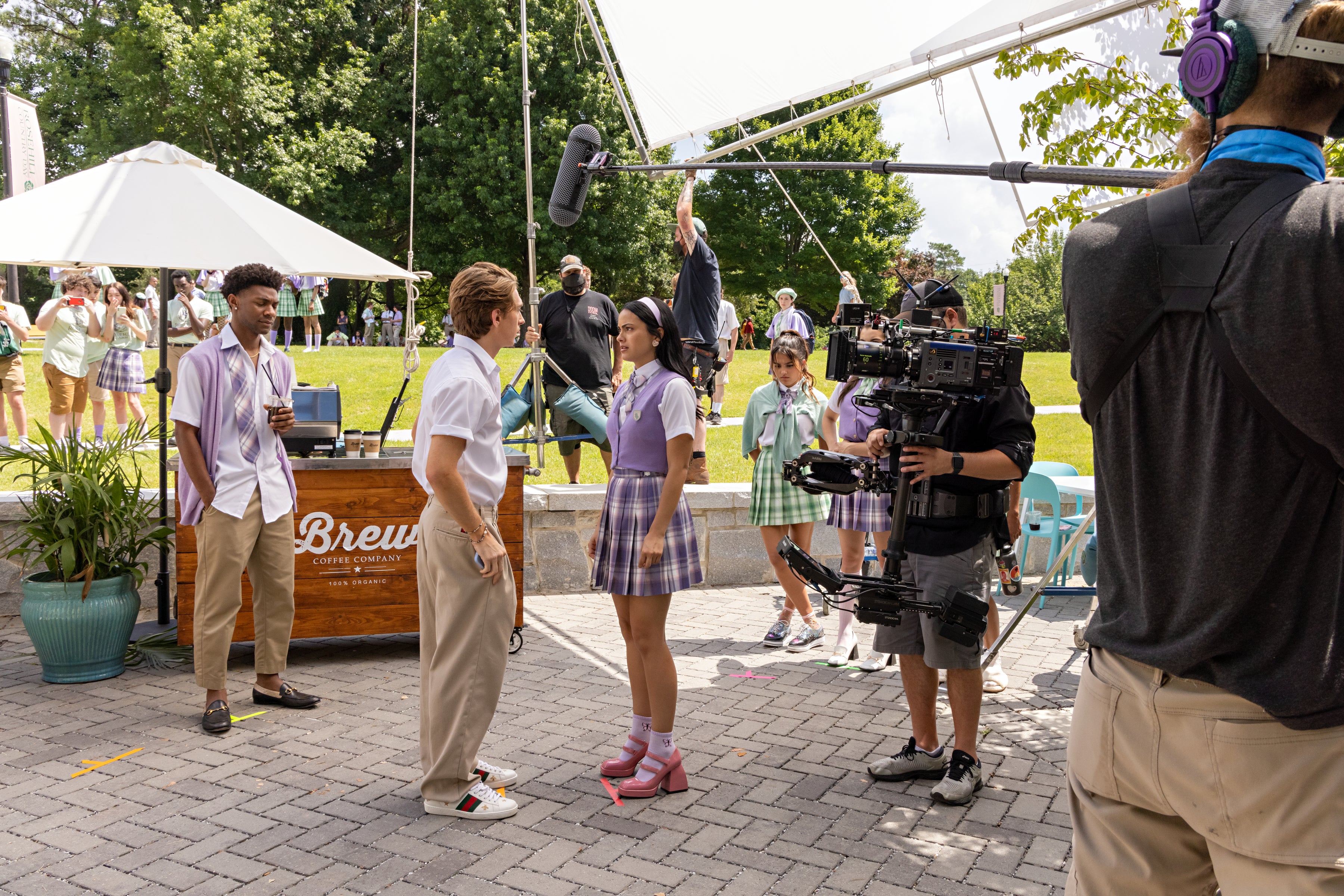 https://77snszqv.media.zestyio.com/sonycine-do-revenge-bts-brian-burgoyne-3.JPG
10.05.2023
10-05-2023 - News
Meet Brian Burgoyne: the Cinematographer behind Peacock's new series 'Bupkis'
By: Victoria Graham
Brian Burgoyne has been a standout filmmaker since his film school days at NYU and AFI, receiving the coveted ASC Heritage Award for his AFI thesis film, The Red Veil in 2006. Even with his early success, Burgoyne will admit that it took a decade of lighting and camera operating work to hone his craft and gain the on-set experience you can't get in film school. Burgoyne sat down with Sony Cine to discuss his journey and his most recent project, Bupkis.
Getting his start
Growing up in Philadelphia and South New Jersey, Burgoyne had an early interest in filmmaking through watching independent films popular in the 1990's. He decided to pursue film school at NYU's Tisch School of the Arts where, initially, he thought he would want to be a writer or director, but soon fell in love with lighting and being behind the camera. He quickly realized he wanted to be a DP. Following film school, Burgoyne was recognized early for his talent and received the ASC Student Filmmaker award in 2006 but that didn't mean instant success.
Burgoyne recalls, "My thesis film turned out well and I was fortunate enough to win the ASC student award, but I was still in my early twenties. I was young and relatively inexperienced. I ended up working off and on as a gaffer, and then I started camera operating for other DPs while shooting small stuff on my own. I shot a couple little movies and then one of them went to Sundance, and then the next year another one went to Sundance and I started to get more recognition."
He continued, "It took about ten years of lighting and operating for other people while shooting tiny stuff on my own to really get my career going, but those ten years were important for me to gain a lot of practical on set experience that you CAN'T really get from school. I had been preparing and learning how to do the job for ten years before I did any work that anybody really saw."
A message he received in film school
Burgoyne shared a memorable moment from his time at AFI when Larry Parker, owner of the prominent lighting company Mole Richardson, spoke to his class.
"I remember him saying something to the effect of 'You are the filmmaking class of 2005 and you're going to want to immediately be shooting movies but it's going to take time because you're really going to come up with the writers and directors and producers that are more in your age range when you're 25. It's really hard to convince a 40-year-old director that they should hire you when they already know a bunch of DPs they've worked with who have done 10 and 20 years of work. And as you come up together, you'll get more and more opportunities, and you'll learn how to do the job.'"
Burgoyne found this to be true, "I would meet young directors and producers on some tiny projects and then a year or two later they'd call me for something slightly bigger. Continuing to do my best work, no matter how small the project was, eventually led to better and better opportunities." It was during this period that Burgoyne was able to gain valuable experience and play with different ideas to find his own approach to filmmaking.
Building relationships with up-and-coming writers, directors, and producers led Burgoyne to bigger film projects and, eventually, his first job with the Sony VENICE the pilot episodes for The Flight Attendant. "It takes a little bit of luck and being ready so that when you're in the right place at the right time, you can actually do a good job."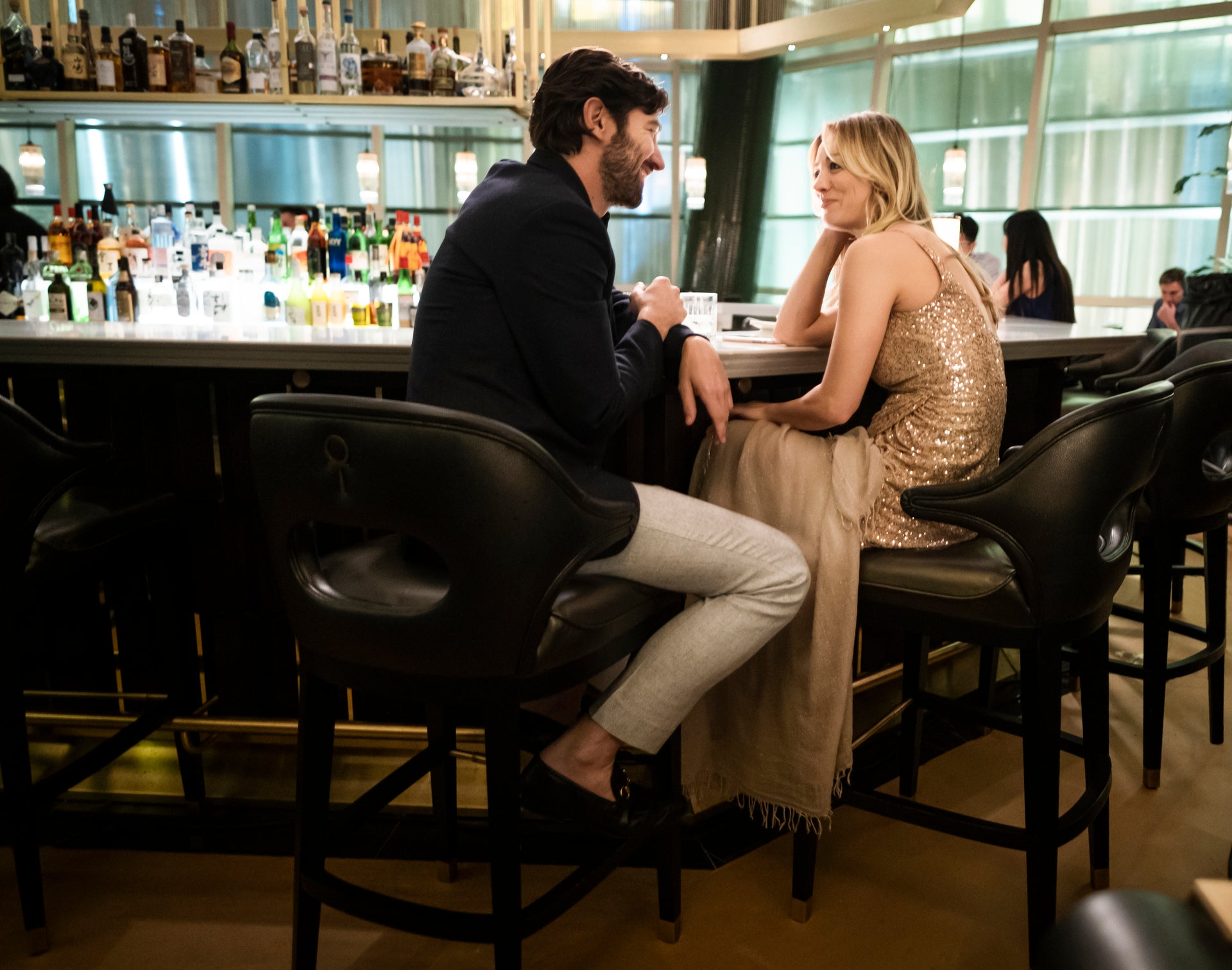 The Flight Attendant
The central character in The Flight Attendant (2020), is a reckless flight attendant with an alcohol problem. After waking up in bed with a dead man - unable to piece the night together - she begins to wonder if she could be the killer. Shooting on location in Thailand, Burgoyne turned to Hitchcock for inspiration for the look of the series.
"In the first episode, we're really trying to set up this wide-eyed, exciting, globe-trotting lifestyle that she's leading. Then, essentially it all gets turned on its head when she wakes up next to this guy and he's got his throat cut and she doesn't know what happened. She blacked out."
Susanna Fogel was the director for the pilot block, and we looked at a lot of Hitchcock movies. The costume designer also looked at wardrobe from Hitchcock movies, and Kaley Cuoco fits that mold of the beautiful blonde lead in Hitchcock. Burgoyne added, "I love the movie 'Vertigo.' It's so beautiful and captivating looking, but it's also a very dark, disturbing psychological story. We were trying to create a world that the viewer is excited by and wants to kind of get sucked into, but also portray her dark inner life. We looked at how Hitchcock would make these very glamorous movies that then had a very dark undercurrent or psychology to them, especially 'Vertigo.'"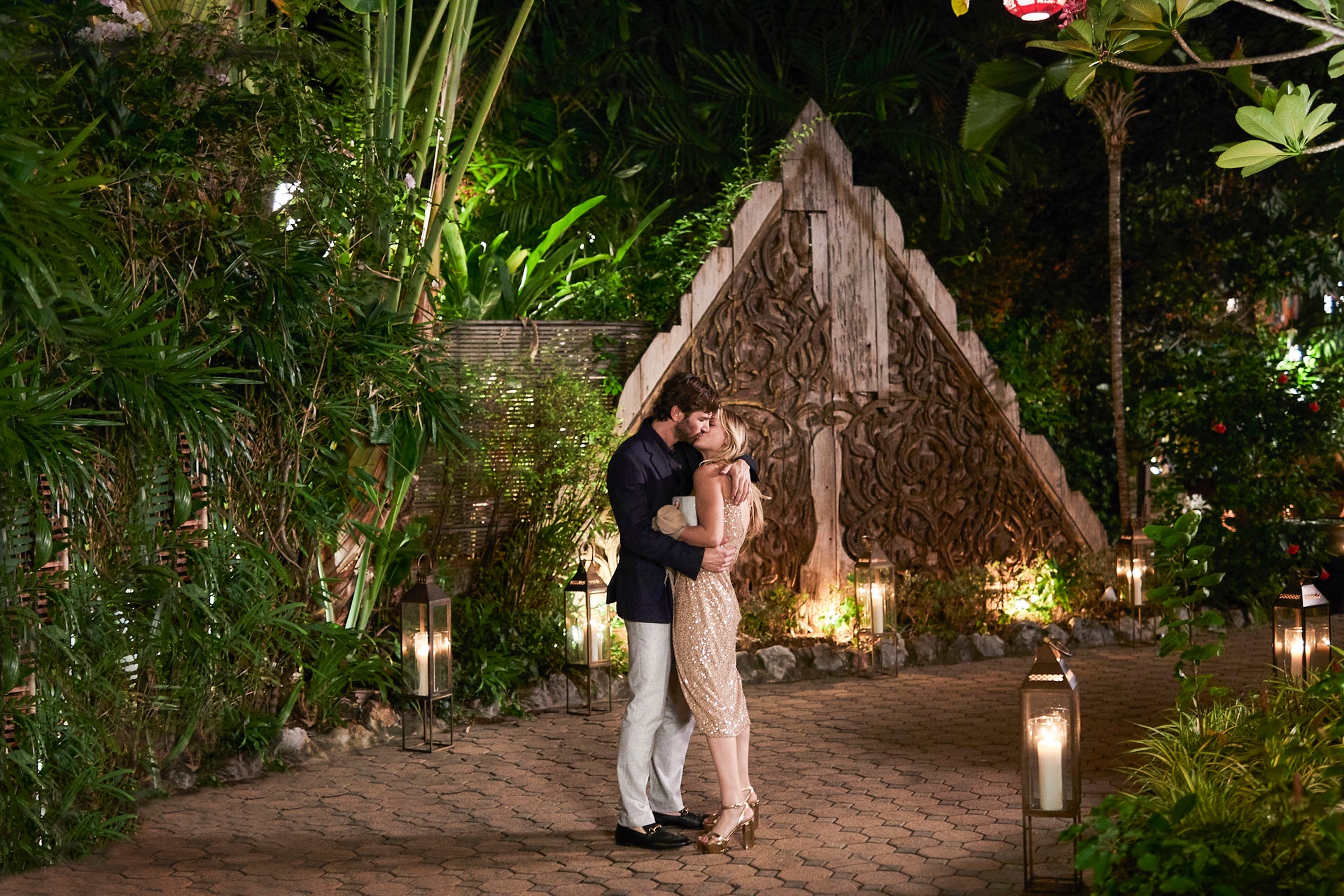 Using Sony VENICE
The series was Burgoyne's first opportunity to film a major series pilot block using the Sony VENICE and the low light ability of the camera and the locations made it the right fit. Shooting on location in Thailand, there were a lot of wide night shots where the sensitivity of the camera was helpful to see across the river to temples in the background. "We shot some dusk work on boats in the river and, thanks to the high speed of the camera, I really just had to control the lighting for the foreground and the camera was able to read so much detail in the background across the river - which was beyond our means to light anyhow. I really needed the camera to be able to hold that depth, and it did."
Along with the high frame rate, Burgoyne also credits the VENICE's ability to deliver crisp images in the low light environment while shooting at dusk. He also paired a variety of lenses with the VENICE camera and experimented with rehoused lenses from the 1960's to get the soft focus and blurred edges for childhood flashback scenes.
Experimenting with camera movement
Burgoyne used a variety of angles and closeups to convey the character's inner turmoil in wrestling with her foggy recollection of recent events. "The opening is a lot of exciting Steadicam work and crane shots that flow together with high energy montage camera work. Then, as she starts to get more and more disturbed and panicked, we did a lot of wider lens handheld work and really tight macro shots of her eye and the camera work became a lot more intense and frightening rather than glossy and exciting."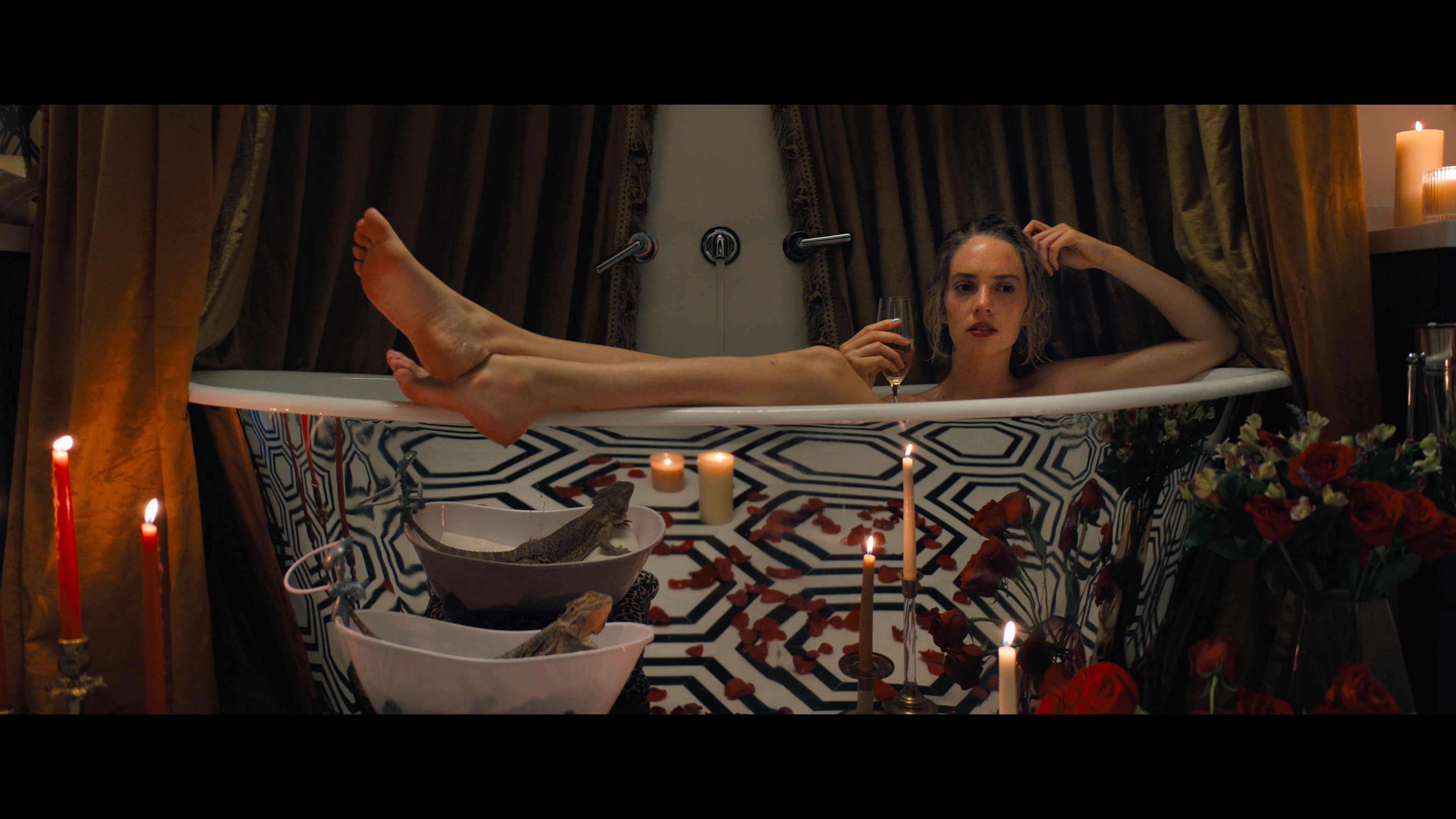 Do Revenge
His next movie, Do Revenge (2022), centers around two high school girls who form an unlikely friendship to get revenge on each other's tormentors. For the look of the film, Burgoyne and the production took inspiration from popular '90s teen movies, as well as 'Strangers on a Train.'
To help tell this story, Burgoyne opted to leave the psychological visual style of 'The Flight Attendant' and embrace a more fun, vibrant and saturated look to play off of the wardrobe and production design. Director Jennifer Kaytin Robinson had a specific look she wanted in terms of the wardrobe and the production design. Burgoyne mentioned, "I thought both of those department heads did such a good job. Alana Morshead's costume design was so specific and unique - a lot of it was handmade for the movie - and Hilary Gurtler's production design was so vibrant and colorful with a lot of interesting patterns."
"With the photography, we wanted a really bold, colorful look, which is somewhat different from a lot of the trends in photography. For many years, things have been very naturalistic and muted. A lot of the stuff I've done has been much more toned down and true to life. It was fun to do that movie because the story and the way the characters are constructed is larger than life and kind of and over the top. To light and photograph a movie that wanted to be a fun "movie" movie not trying to be super naturalistic and true to life, but much more stylized and saturated and vibrant and colorful with just kind of a younger look to it was a lot of fun."
The movie also included specialized camera work. "We carried a crane for most of the movie, and we did a lot of crane work and a lot of steadIcam work. The camera was moving, not constantly, but there was definitely a lot of energy to the camera movement."
Burgoyne knew the Sony VENICE could enhance the intensity of this look, and he chose to pair the camera with ARRI's Master Anamorphic lenses to create sharp, defined wide shots of mansions without a lot of distortion in the Miami-based film. "We could shoot these very fun wide lens shots of these mansions and there was not any distortion, so it was kind of an exciting way to shoot Miami and the characters. The lenses could be very sharp and have a lot of definition with the very detailed costumes and production design. Then I worked with colorist Tim Stipan to do some softening to make closeups a bit gentler. There was really no way to fake that intense sharpness and definition with any other lenses. So, we chose to go very sharp and then soften as needed rather than go with softer lenses and never quite get that 'pop.'"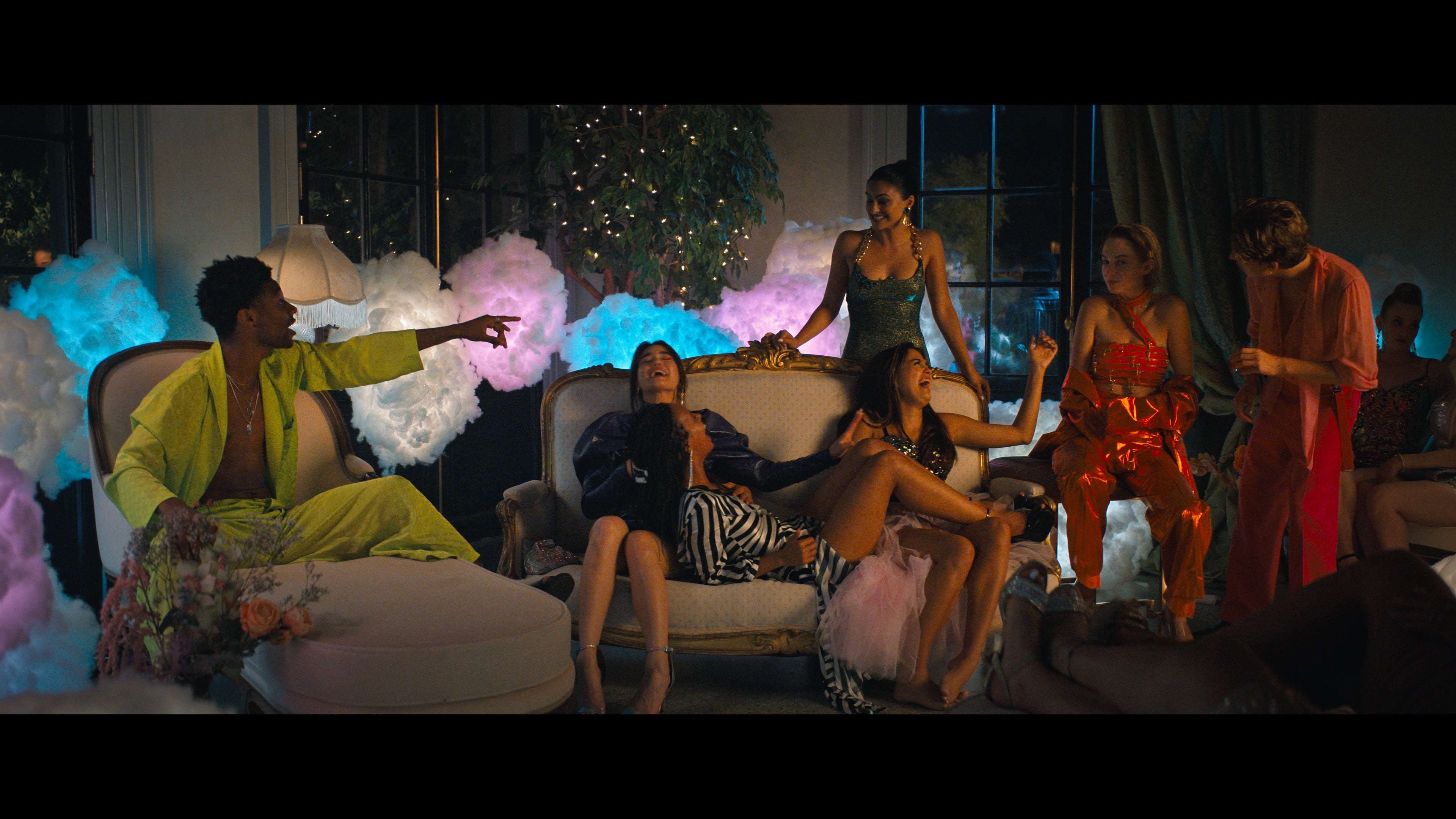 Bupkis
Burgoyne's most recent project, Bupkis (2023), follows comedian Pete Davidson's life in a combination of grounded storytelling of real events mixed with some absurd elements from the worldview for which Davidson is well known. To capture this feel, Burgoyne knew the Sony VENICE camera was, once again, the right choice due to its extreme versatility.
This project is partially based on real events, but also included outlandish scripted scenarios. The scripts hadn't been finished when it was time to choose the camera package, but Burgoyne knew there would be a wide range of looks and styles that would require a flexible camera. The VENICE was the obvious choice since it could handle low light as well as vibrant colors and desaturated images.
"We liked the idea of shooting it anamorphic and widescreen and we looked at a lot of Coen Brothers movies. We felt that this wide lens aesthetic with a lot of deep compositions in widescreen would be a fun way to lean into that Hollywood motion picture version of Pete's imagined life. We ended up shooting on the Scorpio full frame anamorphic lenses. We tested a lot of different lenses, and when we put those on the VENICE the director Jason Orley and I were looking at them, they just felt sort of huge and three dimensional and a little bit larger than life, which was very much what we were trying to do with this show."
Using Sony
'

s Crystal LED Wall

Burgoyne was among the first DPs to utilize Sony's latest Crystal LED wall for many of the driving scenes in the series. Using the LED wall was a vast improvement over using traditional green screen. At New York's Car Stage, it also meant an easier workflow on set while working with children.

"Doing process trailer work is difficult for the director. They're usually talking through a walkie-talkie, giving direction to the actors. Doing it with an LED wall at the car stage, Jason the director could just walk up to the car and sit in the backseat with the kids and talk to them about what he needed. He was able to just direct as if it was a normal scene in a normal location. With adult actors doing process trail work, they have more experience, but for kids it can be really hard to try and direct them over a walkie-talkie from a camera car as a director."

"Using the LED wall at Car Stage, was quiet and calm and totally under control. You're not waiting for traffic lights and dealing with police locking up the road. It's a much smoother, calmer way to shoot driving scenes. It also looks so much better, than blue or green screen because you get a lot of the interactive light on the actor's faces from the plates. The color shifts when you drive past green trees or a warm building out the window and it feels so real because the quality of the light is much closer to reality than anything you can manufacture with lighting and a green screen."

"The resolution was so good, it gave a very realistic appearance and experience for the actors. It was very easy to color grade the plates on the VENICE seamlessly from day to night really. The crew was able to shoot several different driving scenes quicky and efficiently in the same day which saved a lot of production time. I've gotten such mixed results from blue and green screen car work. I feel like I have so little control over it in terms of the geometry of the plates and the quality of the mats on the actors, whereas with the Car Stage, you really see what you're getting. And I was able to work with the technicians there to adjust the brightness and the color balance and the geometry of the plates in the background."

"It was also very easy to color grade the plates to look great on the VENICE. Being on a TV schedule, we had a lot of work every day. So, we'd go from day in Staten Island to night in Miami from a totally different episode with different actors. It was nice that we were able to color grade the plates pretty quickly and efficiently on set to be able to make our days and leave the director time to get the best performances with the actors."

Burgoyne relied heavily on the Crystal LED Wall and the VENICE camera in Rialto mode to capture the majority of driving scenes in 'Bupkis.' Catch the entire series now streaming on Peacock.