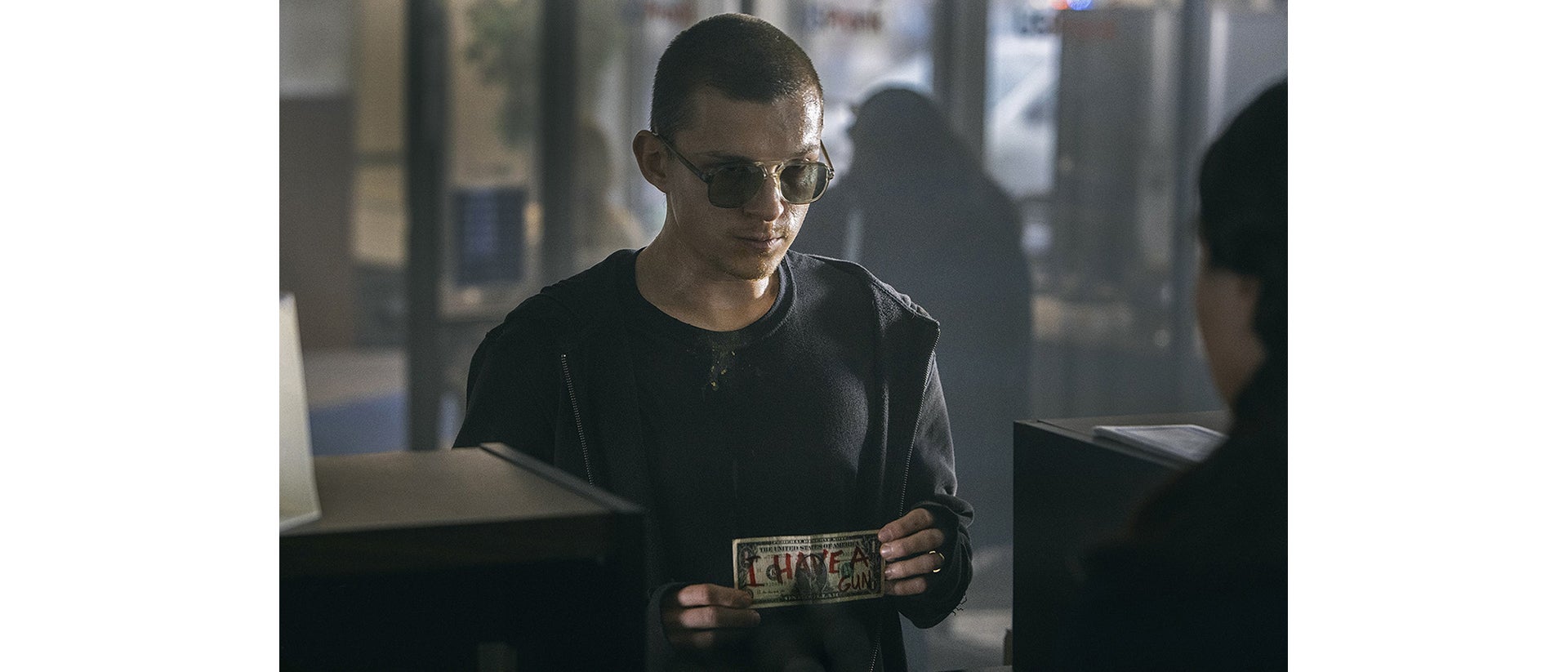 https://77snszqv.media.zestyio.com/cherry-first-look-03-1920.jpg
03.15.2021
03-15-2021 - Case Study, Gear, Technology
Seeing Red: Newton Thomas Sigel, ASC, Lights "Cherry"
By: Suzanne Lezotte
Based on a semi-autobiographical novel written from prison by former soldier Nico Walker, co-directors Anthony and Joe Russo settled on Apple TV's "Cherry" as their follow up to the record-breaking superhero film "Avengers: Endgame." Utilizing bold directorial choices, "is a declaration that these filmmakers can also turn their hand to esoteric, grown-up material," according to John Nugent's review in "Empire." Having worked on "Extraction" with cinematographer Newton Thomas Sigel, ASC ("Da 5 Bloods," "Bohemian Rhapsody"), who better to bring a bold visual to the screen?
"Cherry" stars Tom Holland as a college student going nowhere, who joins the army on a whim after his girlfriend, Emily (Ciara Bravo), breaks up with him. He spirals into a life of drug addiction and crime as he battles PTSD.
Sigel noted that the first attraction of working on this film was the chance to work with the Russo brothers again. "Working with them is like watching a left arm and a right arm on the same person. They speak with one voice, yet they each have strong and vocal opinions," he explained. Because the movie is based on a book, the intent was always to tell it in chapters, "with a very signature look," said Sigel. "As the chapters unfolded, the look of the film would evolve and change, as an outward expression of what this central character's life was like. So we looked at each section and defined what those sections represented and how we would visualize it," he said.
On a panel hosted by Apple TV+ a few months ago, which brought the Russo brothers and Sigel together, Joe Russo expressed his thoughts about working with Sigel. "We love the process of collaboration. Our favorite kind of collaborator is someone who thinks about the film in a holistic way." He further expressed that Sigel's "level of preparation was fantastic. There are so many different levels of technique, and this was a very complex roadmap, this movie."
Sigel admitted that he learned early on working with the Russo brothers that "I should be very careful about what I present to them, because they will either accept or reject it. They are very decisive, so I should be 100% sure about it."
Sigel had originally tested Sony VENICE for the film "Dog" he shot, directed by Channing Tatum. "I tested it and loved it. The reason I like it is the colorimetry, and the dynamic range," he explained. "There are so many user-friendly things I love about the Sony camera. One is the internal NDs, which are fantastic. If you've ever shot a day exterior and had to watch an assistant run for an ND3, the ability to do it so quickly and quietly is phenomenal. They all match and match forever, so that's a fabulous feature."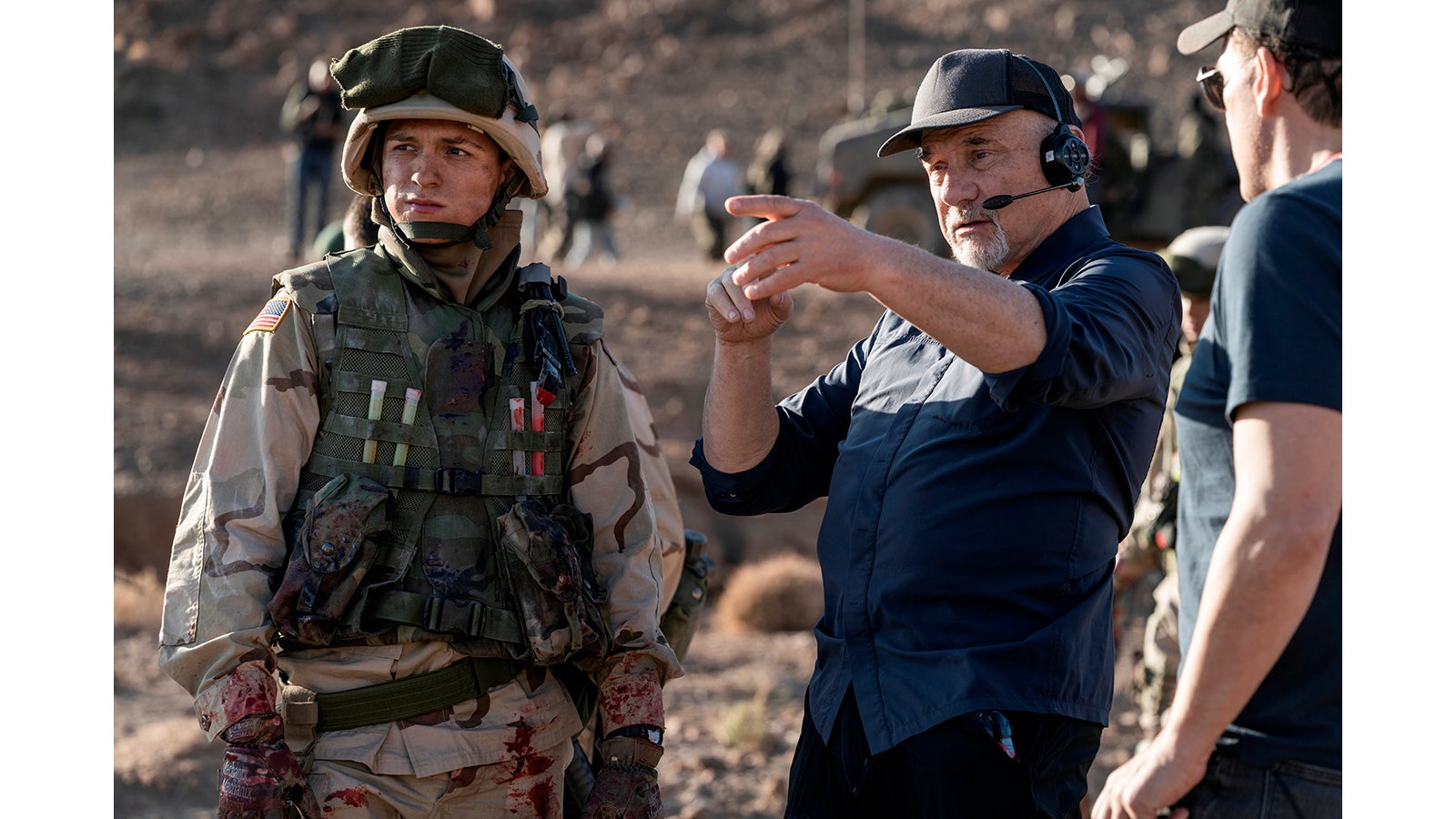 Sigel tested a lot of lens packages for the show, renting his camera package from Keslow, and kept coming back to the Todd AO anamorphics, "which are old, very beautiful and technically imperfect, but I love them. The glass was first created in the 50s by Mike Todd, for a proposed wide screen format. They were updated in the 70s, essentially a 'newer' fifty-year-old version," he explained. "It was a combination of things: the softness and character of it, the way the focus fell off, the bokeh in the background, the flesh tones. They create a very fairytale, romanticized look."
With so many interesting looks that were implemented in this film, Sigel talked about his favorite shot, and transition. When Cherry robs a bank, as he is pointing the gun at the teller the scene transitions to "an inner moment, so to speak, where he imagines what his life could be like with this beautiful woman, Emily," said Sigel. "In that scene, the lighting transitions from this bank, with the light flooding in from the window, and rays of sun cascading across all the people in the bank to the inner moment, then the light goes out and moves through the windows. All of the background vanishes and it's him and this bank teller and what could have been," explained Sigel. When the scene transitions to Cherry and this vision of Emily, she is cast in a glow and the background is barely visible, like a spotlight on her. "As he comes out of this inner reverie of staring at Emily, you see the ambience in the rest of the room come up and you realize she's just a girl in a classroom."
Dealing with the effects of the sun coming and going, "we didn't want it to be a fade, it was more like moving the light through the space. We did it by lighting from the outside, 18Ks, and we created a huge shadow maker. Our key grip, Jimmy Shelton, built a rig that would go up and block the light on the shot in the bank, and reveal the light on Emily's side in the classroom. We lit Emily in the style of 1940s glamour, and as the light opens up, we reveal it's just an ordinary classroom."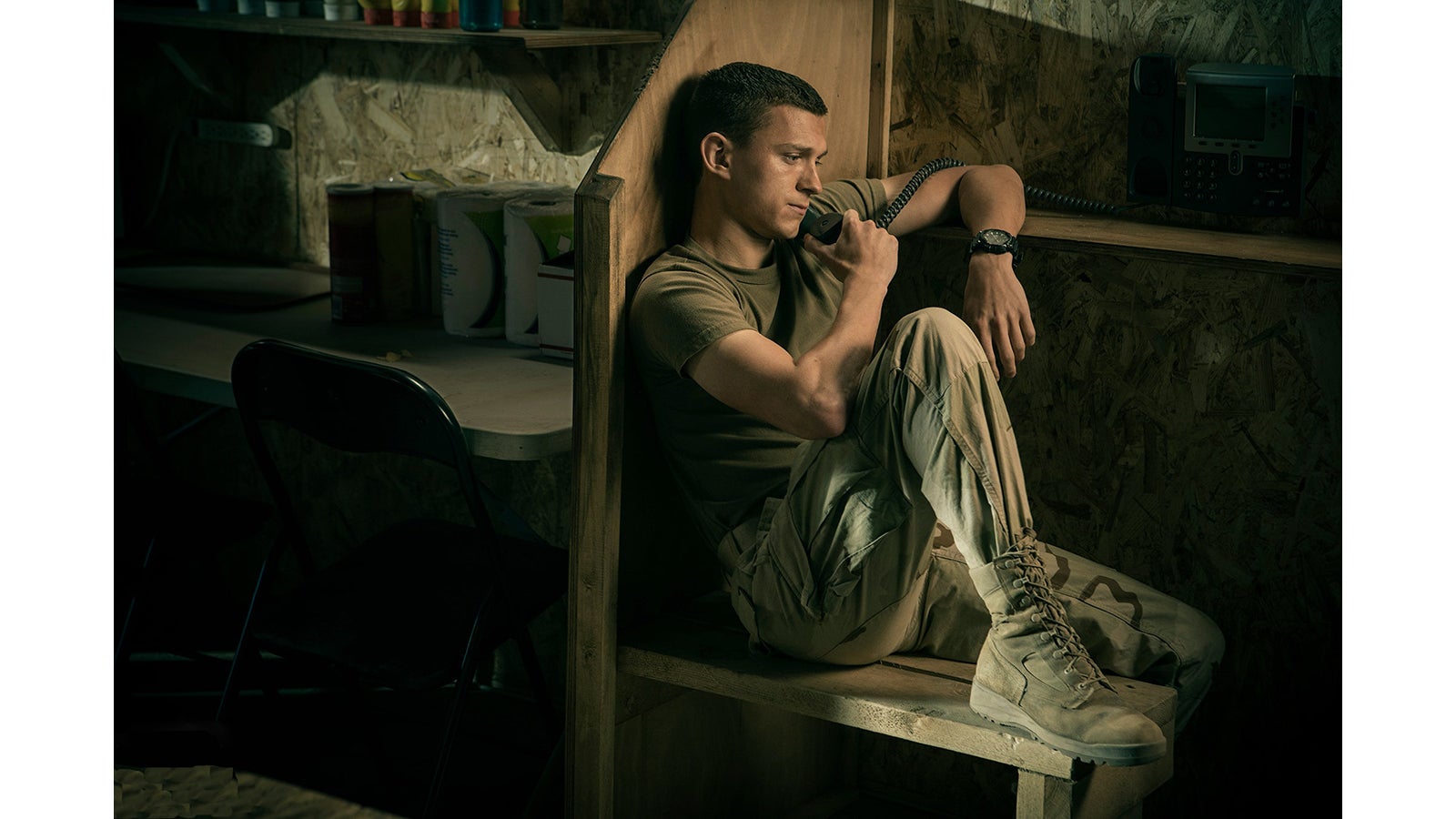 Given that so many of the scenes are a different 'look' of Cherry's life, explains Sigel, "The opening, where our central character meets his lifelong love, is shot with the Todd AO lenses, which has that very impressionistic, romantic soft look. Then he goes to basic training, which also had a very distinct look. It needed a harsher look, so we used a 14mm lens in 6K with a 1:66 aspect ratio," he said. Cherry goes off to war, and the film evokes more of a documentary tone. "That's done with a Leica M series spherical lenses."
The day exterior scenes in Iraq (shot in Morocco), utilized natural light with the occasional use of passive fill, explained Sigel. "The only real interiors we had in Iraq were the barracks. The barracks were motivated by practical lighting they would have had, which is this very functional fluorescent-type lighting that we recreated with LED lights, so it looks true to the source."
For outdoor scenes, "the VENICE has a wide colorimetry and dynamic range, so you have an enormous amount of room to play with in post. The old obsession with matching lenses and color, has been made much easier by the whole world of digital, and VENICE is no exception."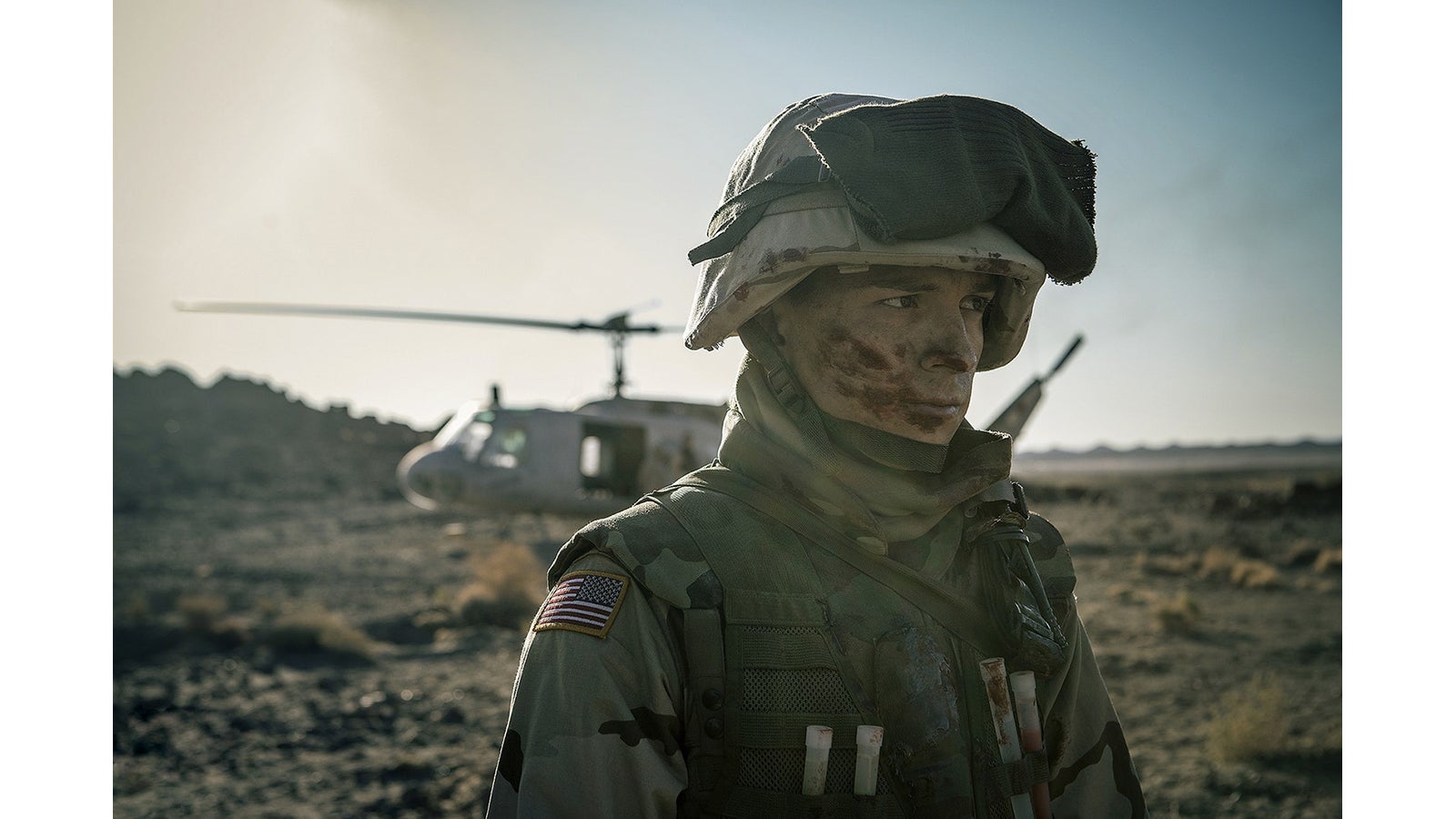 Together with his DIT, Jason Bauer, "who I have worked with quite a bit," and Steve Scott and Stefan Nakamura with Company 3, they created a show LUT, to which Sigel and his dailies colorist, Mark Sachen from Color7, made modifications. "That was our starting point, and used for the basic training section; but for the Iraq and prison sections, we made certain modifications of the basic LUT." Working with Steve Scott on the final DI, "Steve works on the Luster and I typically work on the Davinci. Working with Luster, it meant we had to find the equivalent that we had set up with the DaVinci, which proved fairly easy."
Sigel utilized the dual-base ISO, quantifying that "I personally have no problem shooting 2500, I shoot it quite often for interiors." His base for exteriors was 500, but for interiors he would switch between 500 and 2500, "and it had to do with what I was lighting in the sense that I would want to shoot at a very specific T-stop. The conversation became about what was necessary for this type of lighting: if I want to shoot it at 2.8, do I or don't I need 2500."
As Joe Russo noted, "the art of complexity and elegance Tom brought to this project is there on the screen and its one of the more unique approaches."
Sigel's work has recently been acknowledged by the American Society of Cinematographers with his recent nomination for "Cherry," which is now is streaming on Apple TV+.