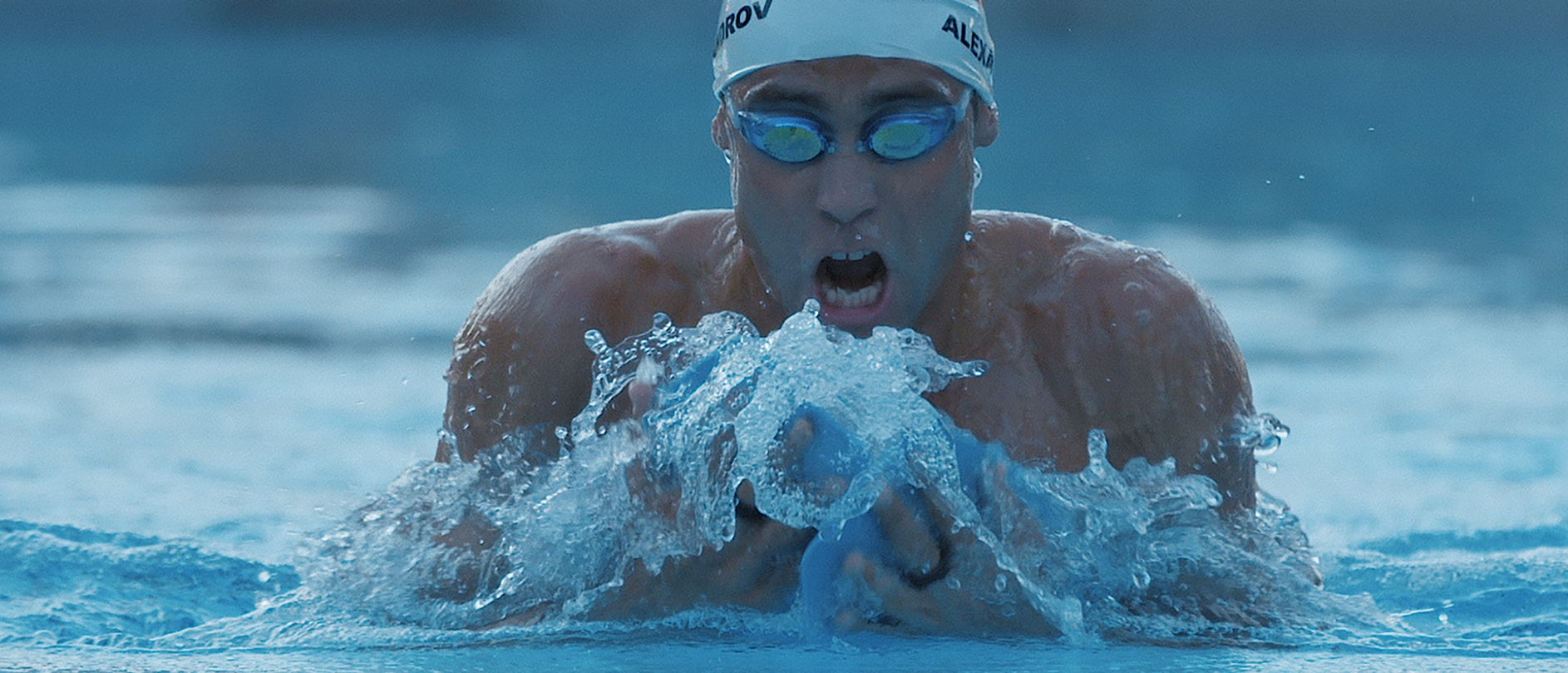 https://77snszqv.media.zestyio.com/AFTERLIFE_07-1920.jpg
09.04.2020
09-04-2020 - Case Study
Shooting "Afterlife" - A Documentary Passion Project Takes on a Life of its Own
By: Suzanne Lezotte
"Afterlife" follows Bulgarian-born Olympic swimmer, Mihail Alexandrov, as he struggles to reconcile the inevitability of retirement while training for a seat on the U.S. Team in Tokyo.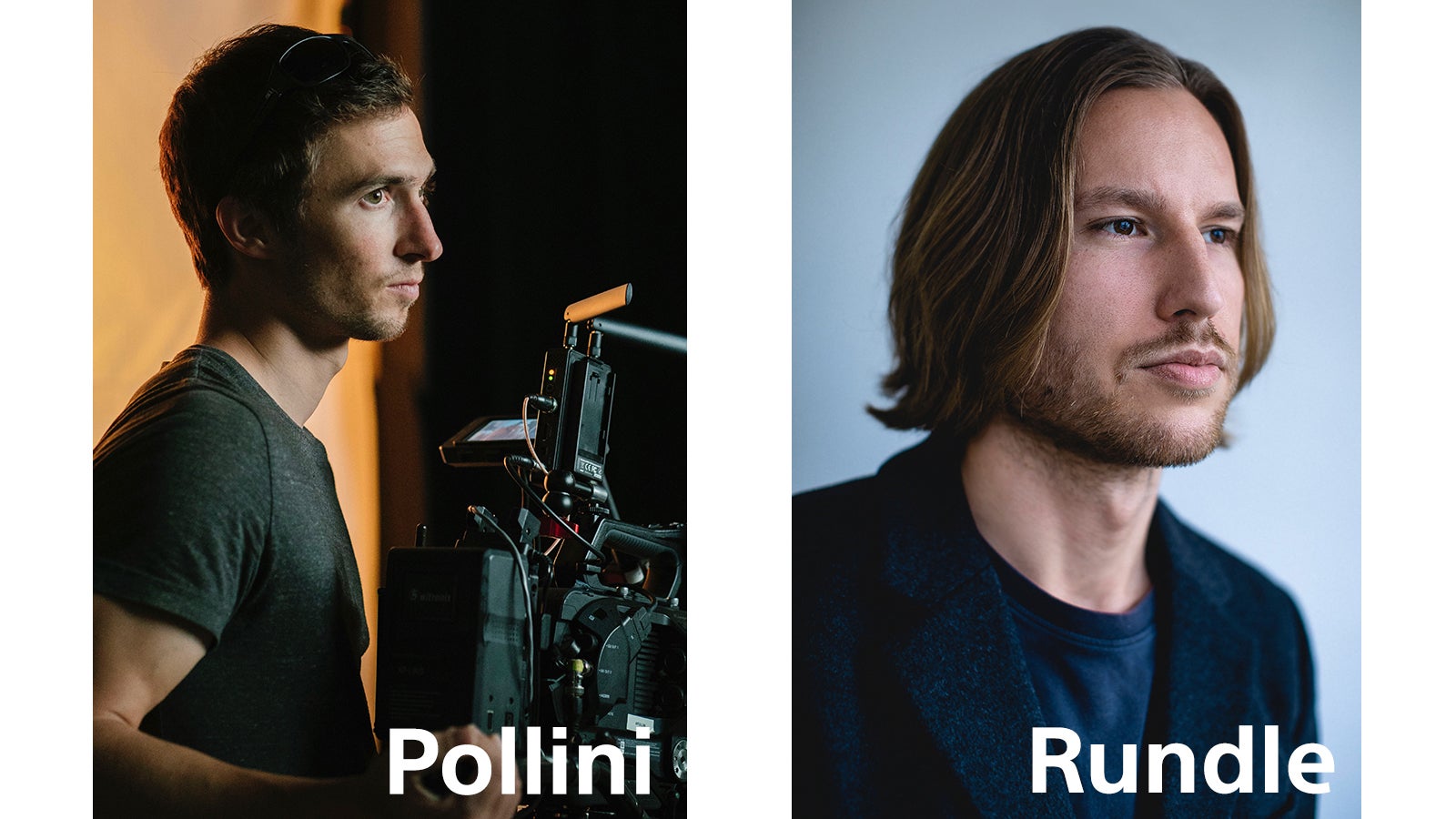 Their relationship began in college, at a small film school in Missoula, Montana, where they worked together on school projects. For director Ryan Rundle and cinematographer Alex Pollini, it was the start of a friendship and collaboration that would result in a passion project that took two years to shoot and produce. The resulting documentary "Afterlife," is based on the journey of Mihail Alexandrov, a two-time Olympic swimmer from Bulgaria, who must decide whether to push for one more attempt at the Olympics. Their labor of love has garnered a spot in the prestigious Newport Beach Film Festival, as well as the American Documentary and Animation Film Festival (Streaming Sep. 25 - Oct. 4 on DocsNow+), and the Academy Award-qualifying Bulgarian festival In the Palace. (Some festivals have been postponed for the interim.)
The two filmmakers worked on a number of films and commercials in LA until Rundle landed a job as creative producer for the brand Roland (the second largest manufacturer of electronic music equipment). "Alex and I have always gelled well together," he said. "Working on campaigns for Roland gave us an opportunity to experiment not only with different camera bodies and lenses, but with different styles of storytelling."
Growing up in Bishop, California, with Yosemite practically in his backyard, Pollini focused on landscape photography and the natural environment. "Photography is kind of meditative for me; it gives me a sense of peace, a sense of equanimity," he explained. "I had always been drawn to camera work, and cinematography. I realized how powerful of a medium it was in influencing an audience and how you can evoke that." Pollini has owned the Sony FS7 and Sony A7Sii since 2016. "I love the ease of use and the interchangeable nature of Sony's camera line; to be able to maintain the same color profile across every camera body makes using Sony cameras extremely versatile. And, of course, you really get to know a camera when you've had one for so long. The FS7 is one of my favorite cinema cameras and my first choice for documentaries.
The idea for "Afterlife" came about when Pollini met Alexandrov on a Nordic Naturals commercial. Alexandrov was the brand ambassador, and also training for the Tokyo Olympics. "I was curious about his lifestyle," remarked Pollini, "and we hit it off. After a few days together discussing his training, the idea came up to shoot his journey leading to the Olympics." Pollini suggested Rundle as the director, because of similar personalities. "I pitched the idea to Ryan since I thought it would be a good story about one of the oldest, still active, Olympic swimmers making a last effort to compete."
After meeting for coffee with Alexandrov, Rundle agreed it was a great idea, and the wheels were set in motion. "Mike had a 'shine' to him, which I immediately sensed when I met him. He's a sweet guy with an incredible work ethic and positive attitude."
Rundle has always been fascinated with Frank Miller's "The Dark Knight Returns," "when he's too old to be Batman but he still has to be Batman. Something about that conflict, external and internal, was the comparison I drew when I met Mike for the first time." Rundle explained that Alexandrov's story implied that struggle, of a human being who is incredibly driven to do what he has done since he was four years old. "That's all he knew, but as time goes on, the machine kind of breaks down, and you're not always able to do what you want to do. It becomes an intense struggle between what the brain wants and what the body can handle."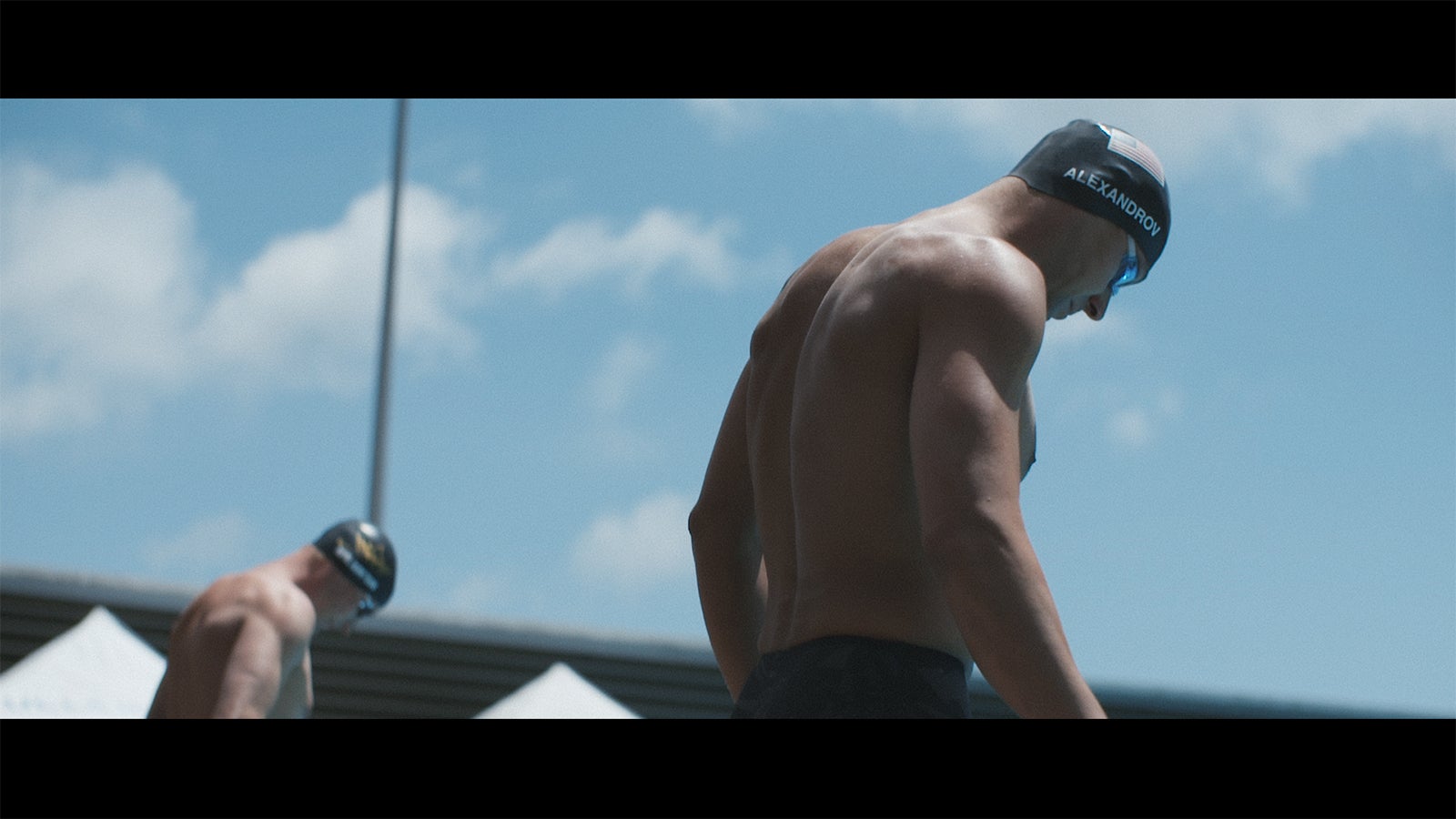 Despite hectic day jobs, the two of them spent weekends on their passion project. "It was something I felt I had to do," said Rundle. "Every week was spent preparing for, shooting, or editing this project because there was so much wisdom in what he had to communicate. Mike has a remarkable ability to articulate what he's feeling and going through."
Because Pollini had worked on a lot of documentaries as well as episodic and features, "I wanted to approach this a little differently. We had conversations with Mike and then crafted the appropriate shot list." The intent was to be as organic as possible and not manipulate the story, since he had seen documentaries totally change in the editing room. "We set up our shots in a way that allowed for a more cinematic approach," he explained.
The duo shot over the course of two years in Alexandrov's life. Initially, they began with a conversation in his living room without cameras, just the sound mixer. "We interviewed him the first time, and then I took those files and listened to them over and over again. From there, I built some notes out, placing his day to day in a narrative structure."
Rundle and Pollini talked about various setups and what they wanted to shoot. What does he eat, how much does he eat? How much does he train? How much does he exercise outside the pool? Rundle wanted to address the question, "What was life like beyond the pool when you have dedicated your life to doing one thing all the time?"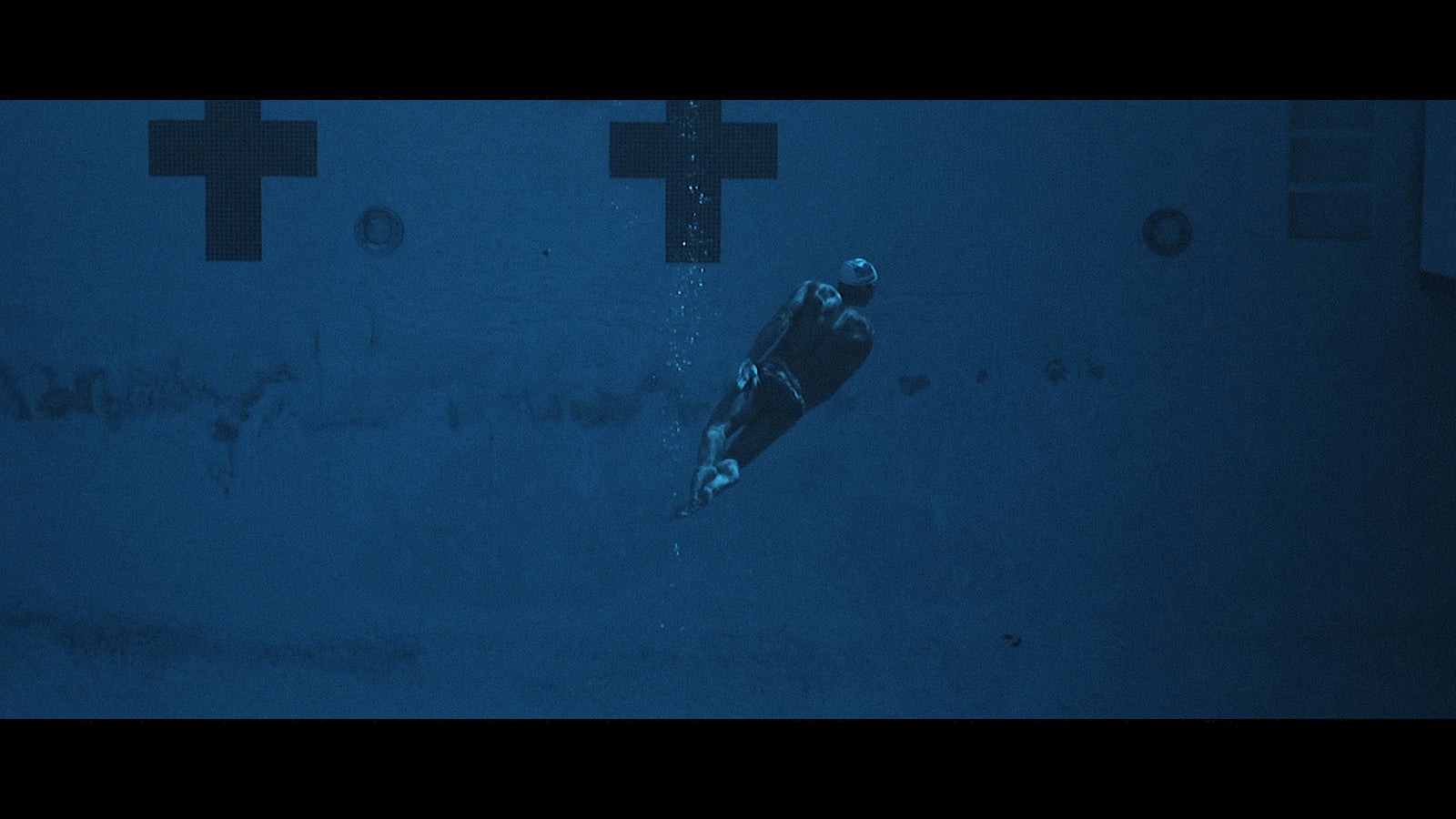 Pollini began exploring the look he wanted, and because Alexandrov is a swimmer, water sequences were key. "I thought about how I could make this as cinematic as possible with just myself and Ryan shooting it," he explained. "I have to give credit to Derek Hansen, our colorist at Arsenal, he really enhanced the look and tone. I've been shooting with the FS7 for years, but I never realized how much information the sensor captured until I watched him work the image. I left the color session with a new appreciation for the camera.
For the underwater pool scenes, which were shot on the A7Sii with underwater housing, "It was just me diving underwater and shooting," said Pollini. "Ryan managed to pull out a lot of good material in post-production. The pool was shot with available light and we pushed it in the color suite." The tones and the hue of blue was what Pollini and Rundle wanted, using the color to match the theme and motif of the contemplative state that Alexandrov finds himself in.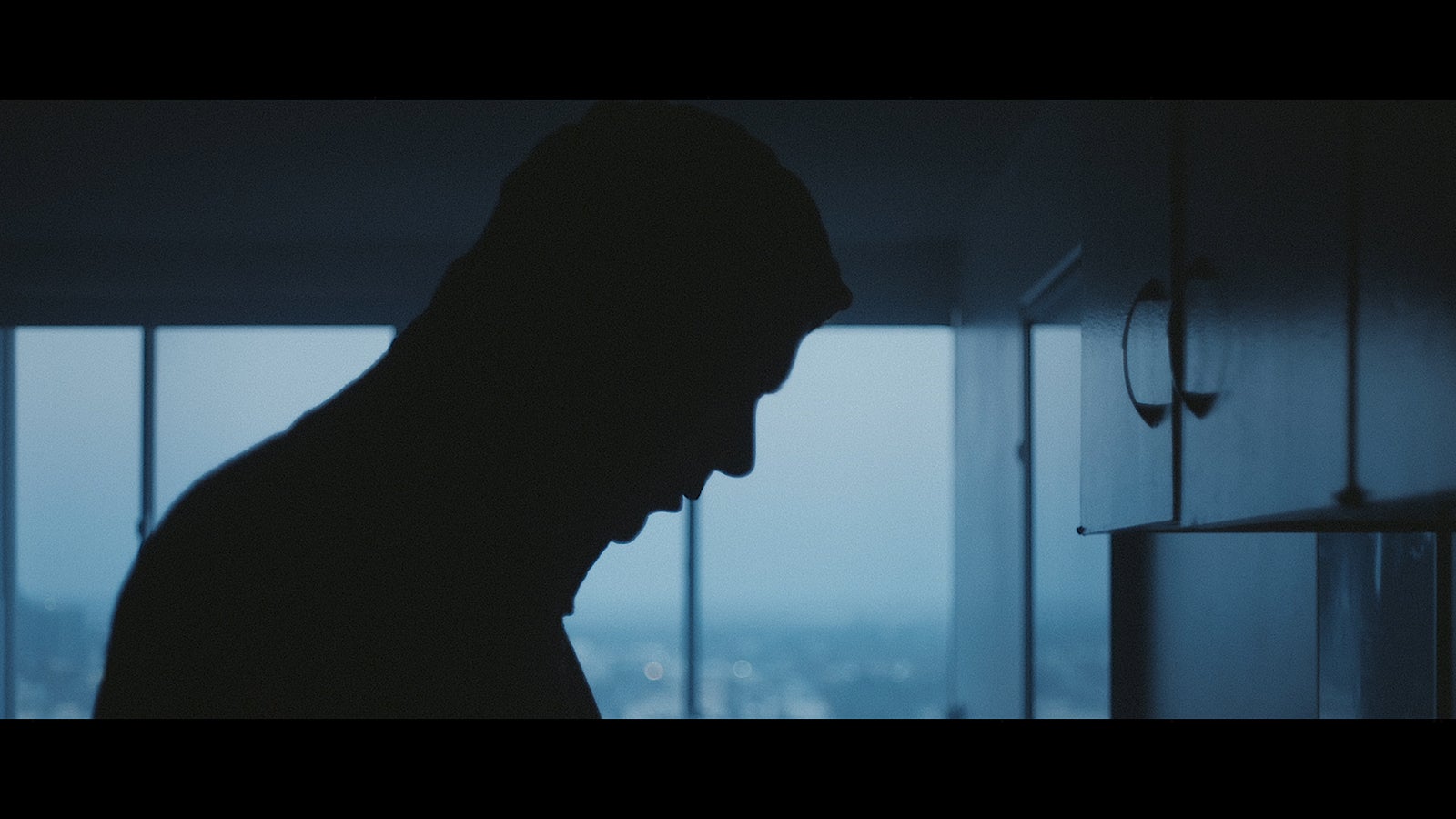 Then the project took an unexpected turn. Although they had initially started making a film about one of the world's oldest professional swimmers training for the Olympics in Tokyo, "Midway through principal photography, he announced his retirement," said Pollini.
Added Rundle, "We found ourselves in the middle of a bizarre experience: the reckoning of a pro-athlete's retirement. I remember the night he announced his retirement, Alex and I both felt like the floor had bottomed out, but we both felt compelled to keep going; these things happen for a reason. Docs are fascinating in that it kind of shows you what it wants to be, and you can roll with it or swim against the current. We rolled with it and it took us to a really interesting place."
The team interviewed him three times over the course of production: once before physical production, once when he was experiencing the fall-out of retirement, and then on the other end of that. The interviews were spaced out many months apart, so they captured a very definitive arc in his emotional state.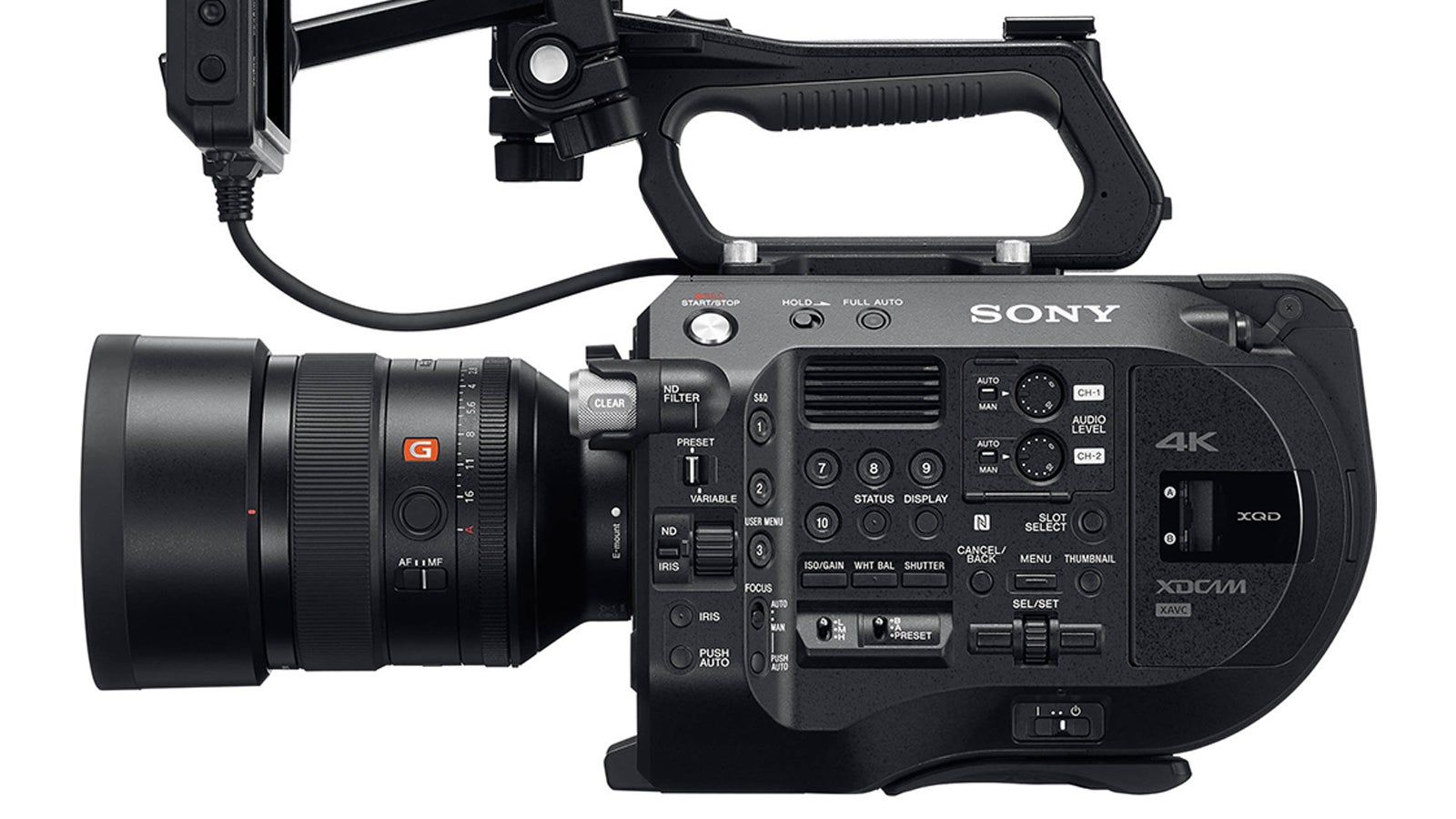 Rundle explained that Alexandrov had alluded to the fact that he was struggling with something internally, but with pro athletes, they have to focus on the achievement of their goal, and nothing can distract from that. "I think he was terrified of not knowing who he was without this goal, and also afraid, for a long time, to talk about it."
Pollini agreed. "How could we approach this in a way that represents his emotional state?" They shot a scene with Alexandrov in his Santa Monica apartment, contemplating his decisions. "It was all available light. We were shooting S-log 3 on the Sony FS7, at 2000 base setting," explained Pollini. "I've always been pretty happy with the noise level of the camera. I knew how far I could go, and we shot pretty dark." Rundle admitted, "I was nervous. Would there be enough information for the colorist to push and pull? But, as usual, Alex's instinct was right on the money." Pollini's choices come from his confidence in Sony. "I could use the F55, FS7, A7Sii and the ZV1 on the same shoot because they shoot similar codecs and the same color profile."
An added feature to the short was the archival footage they had access to from Alexandrov's father, himself a former Olympic swimmer. They hadn't planned on adding archival footage, "but we were fortunate enough to get a ton of very candid archival footage from his father, who was his coach growing up," said Rundle. "The race in 2007, when he breaks the American record, we found that footage so powerful and full of energy that it was impossible to leave out. We ended up incorporating it into the edit, alongside the footage we shot on Sony."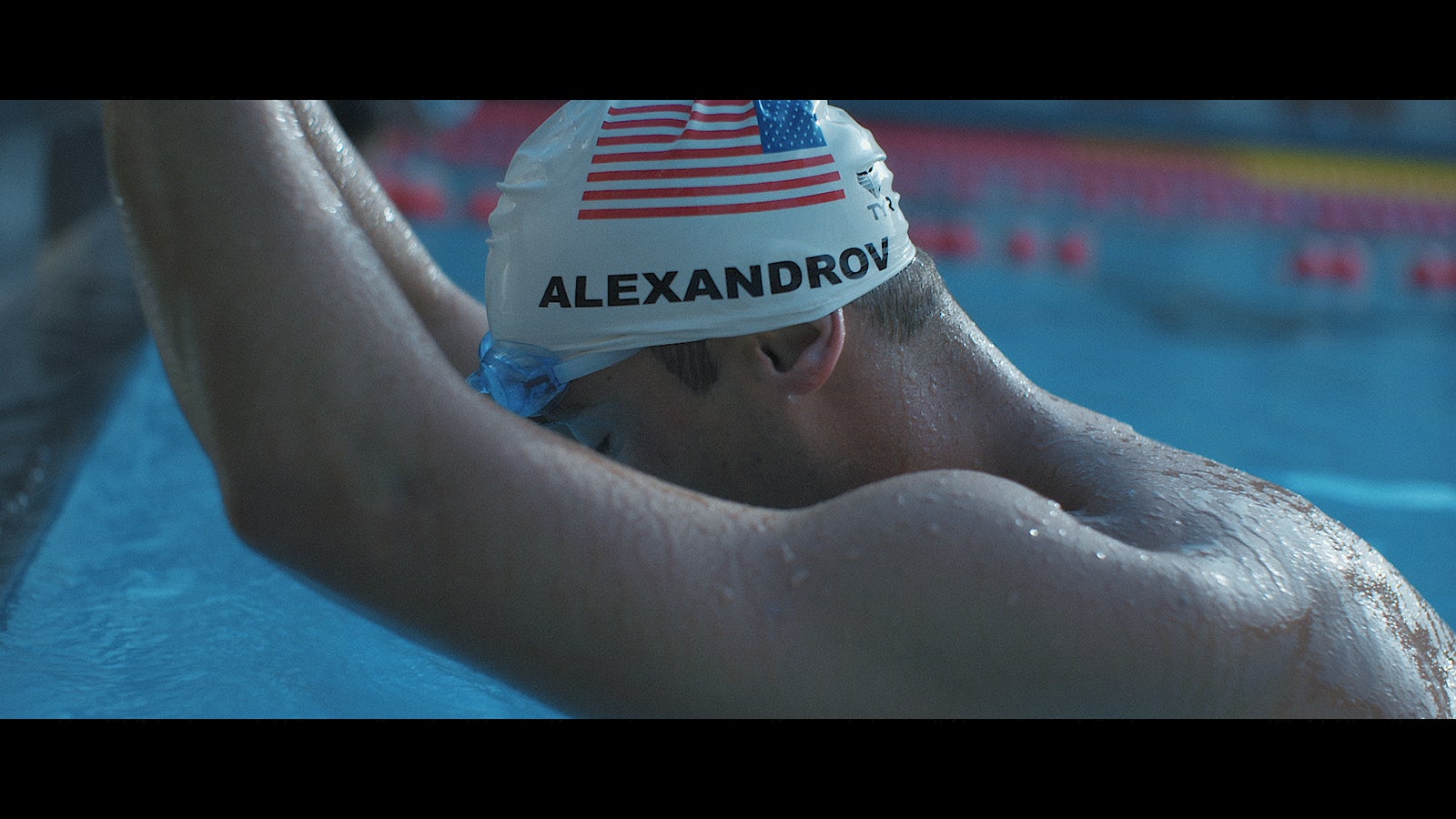 "I remember when we got that archival footage," said Pollini. "His dad could not have captured those moments any better. I don't think he was trying, but he was kind of an amazing cameraman."
The story they anticipated turned into something unexpected. But, Rundle admitted, "We felt compelled to tell this story because of its universal nature. The sport of swimming is just the context. The story itself is for anyone who has ever tried, failed, and tried again. It took a lot of courage on Mike's part to tell his story."
Referencing the film "Chariots of Fire," Rundle said, "I've always been fascinated by the human spirit and its capacity to overcome physical barriers. I wanted to tell a story like that and I felt this was it."
Follow the filmmakers at @afterlifethedoc @bundleofrundle @alexpollini