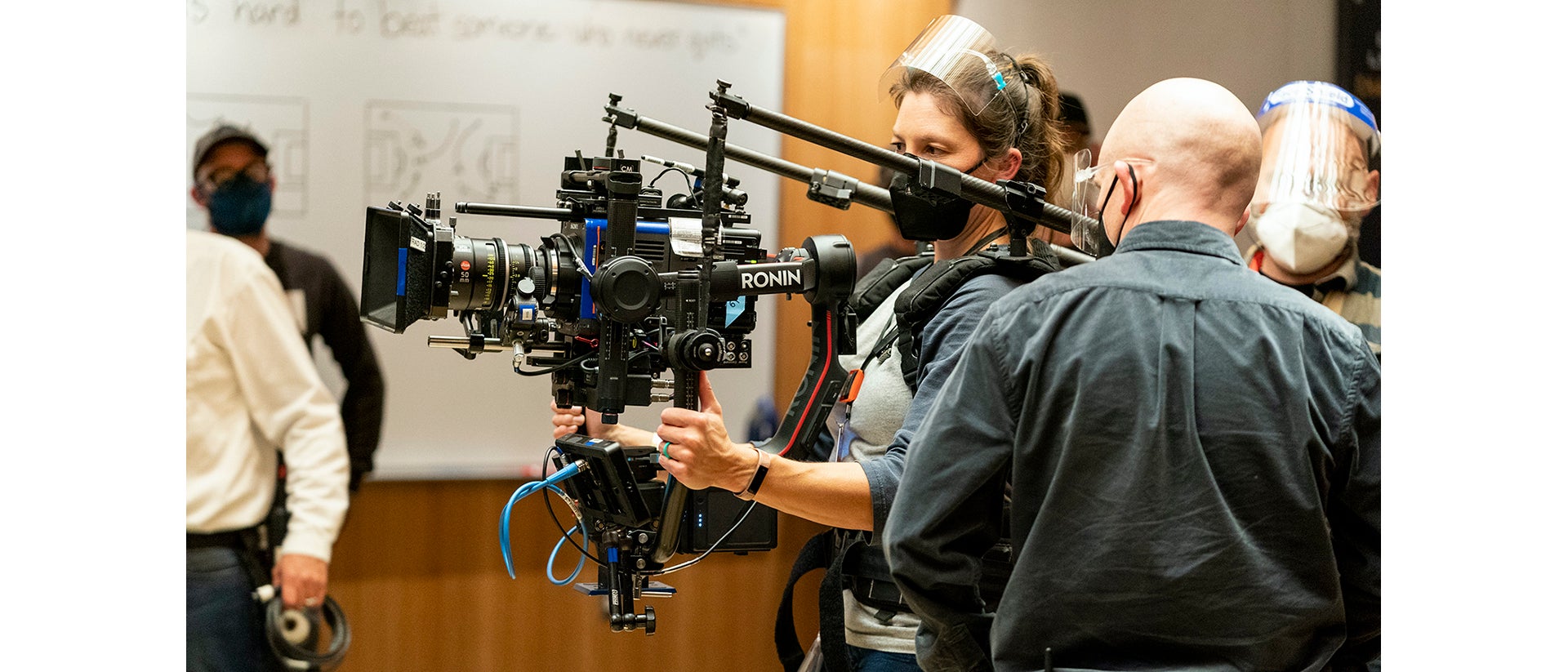 https://77snszqv.media.zestyio.com/BTS-1-1920.HkHsQD7pF.jpg
01.17.2022
01-17-2022 - Case Study, Gear, Technology
Shot on VENICE – DP Chuck Ozeas Discusses His Work on "The Sex Lives of College Girls"
By: Tanya Lyon
Tanya Lyon:
Tell Me a little bit about yourself. You've done a lot of amazing work.
Chuck Ozeas:
I feel very lucky, honestly. I love my job. I got bit by the production and film bug pretty early. My uncle gave me a super 8 camera and I took to that right away. I thought movie photography is something that must be someone's job, and that was the moment I wanted do that job. I started looking into what cinematography was and ended up going to USC Film School.
TL:
What do you feel has helped you find success?
CO:
Commercials, and I love my job. I feel so fortunate that I'm also able to work in different aspects of production. I am now working in commercials and TV, but I grew up in the nineties shooting music videos, and that's kind of a bootcamp, shooting a different music video every other week and creating different looks and experimenting and seeing what works and what doesn't work. I think that laid a great groundwork for me to be able to create eye-catching images, and that's what commercial photography is about.
TL:
Tell me about the jump you made, from commercials, music videos, to narrative.
CO:
I was friends with Rick Page, who was the original DP on [The Sex Lives of College Girls] for the first couple episodes. I'd met him when I was actually shooting a spot for his previous show, Brooklyn 99. He was going to have to leave the show after the first several episodess [of Sex Lives of College Girls] so he brought me in to interview with Justin Noble, who's the show runner, and we hit it off right away. I ended up shooting about half the pilot and then episodes five through 10.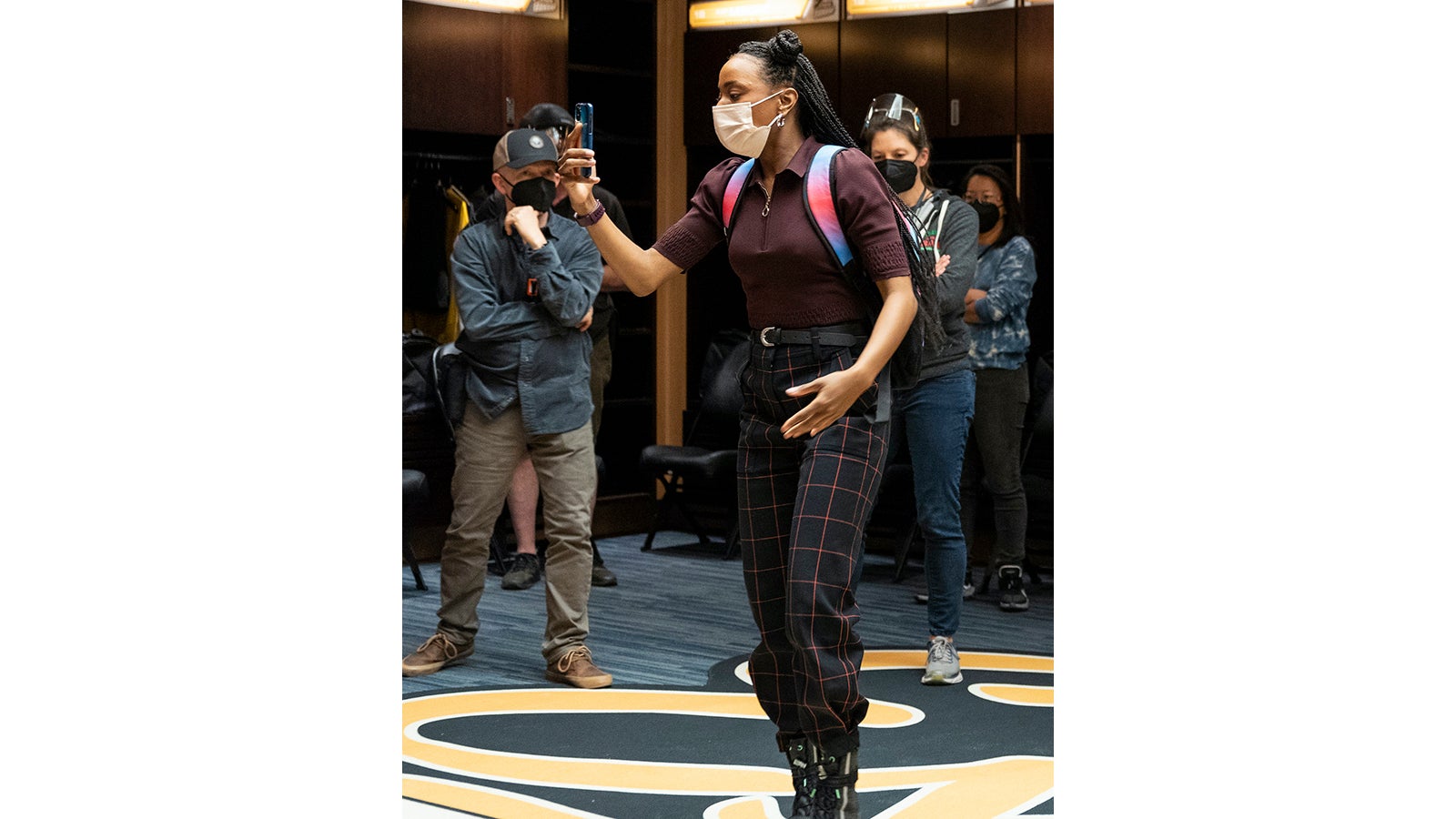 TL:
How would you describe the look of the show? Did you get inspiration from other work?
CO:
I thought the show should feel as real as possible, to connect the viewers to the characters. The lighting could be expressive at times, but only when it had a natural motivation. I was blessed with incredible production design, Susie Mancini was our production designer. I like to shoot very naturally.
Speaking about the VENICE specifically, I think this is really where it shines, in the natural color rendition and the smooth highlight and shadow roll off. The high ISO capability also made it so easy to create very natural-looking images very quickly on a TV schedule. With the Catalan writers lounge, for example, I just threw two 20 K lights through the windows and bounced the light around with cards and rags on the floor and created a very natural look. I wanted things to look as natural as possible.
TL:
Was the show shot on location, on set?
CO:
Most of the interiors were at Warner Brothers studios and generally most of the exteriors were Vassar college, and we did some location work at UCLA.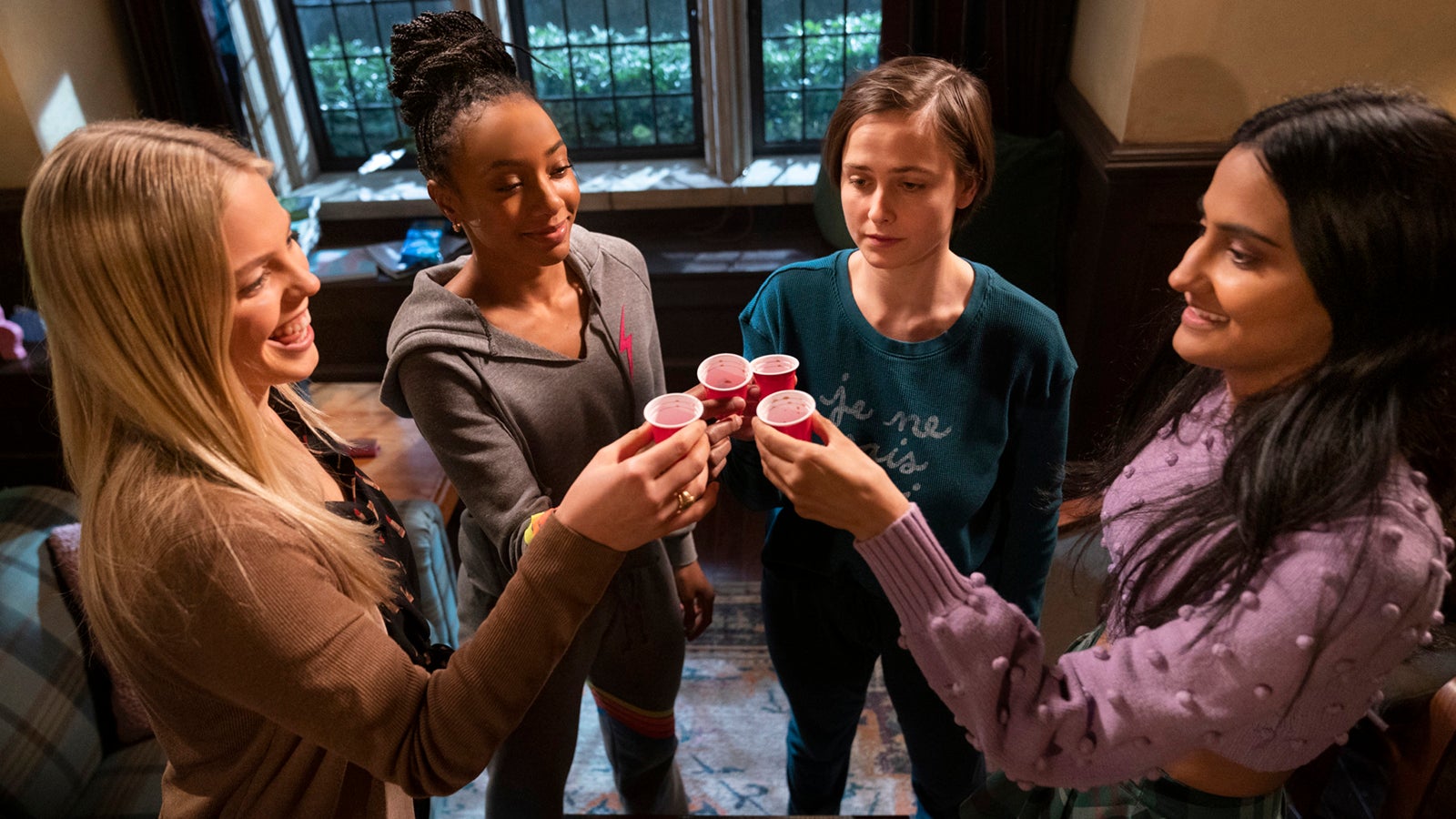 TL:
What lenses did you use?
CO:
We used Leica Summilux-C lenses, which I felt combined really nicely with the VENICE. We were shooting 4K,17:9, which was requested by the studio, so we weren't making complete use of the large format sensor, which I hope to push for on the next show, or the next season. With the Summilux-C we were shooting very shallow, close to a T1.4, to make up for the 4K windowing on the sensor.
TL:
Can you talk a bit about your approach shooting this show versus how you'd approach a commercial?
CO:
With TV it really starts with the script, compared to a spot where you're just looking at some boards normally. I look at each scene and want to know what the intent of the scene is and what the tone should be. In a lot of the group scenes that are comedic, I'd go a little more broad with the lighting, softer and usually a little bit deeper with the stop because with comedy you want to see everyone's reactions to what's going on. Then, for dramatic scenes, I wanted to go very shallow. And those were the ones where I was shooting around T1.4 most of the time so you make the viewer identify with whomever the scene is about.
TL:
How much time did you have to shoot each episode?
CO:
We were shooting seven day episodes. The VENICE helped me shoot faster. I was able to shoot at the 2,500 ISO, throw lights through windows, go in and model the light a bit and not have to put up a ton of lights. Just being able to work that way and at that speed, you really are still able to create very natural images.
TL:
Why did you choose the VENICE camera for the show?
CO:
The first time I used the VENICE was on an HBO spot with Larry David for Curb Your Enthusiasm. For that spot I wanted a very deep depth of field look kind of similar to fashion photography. It was Larry David on the white cyc with some props. I was drawn to using the VENICE because of the high ISO and I was really impressed with how clean the images looked at the higher ISO, and that I could get to a deeper stop so easily without toasting Larry with tons of light, When I started on College Girls, I spoke with Claudio [Miranda] about the camera because I'd only used it on those Larry David spots.
Miranda suggested that I treat the camera like a film stock and shoot it at 2,500 the whole time. I took that to heart and shot all our interiors and the night exteriors at 2,500. I was pretty amazed at how fast I got used to working at these light levels. I think I'm pretty spoiled by [the camera] at this point.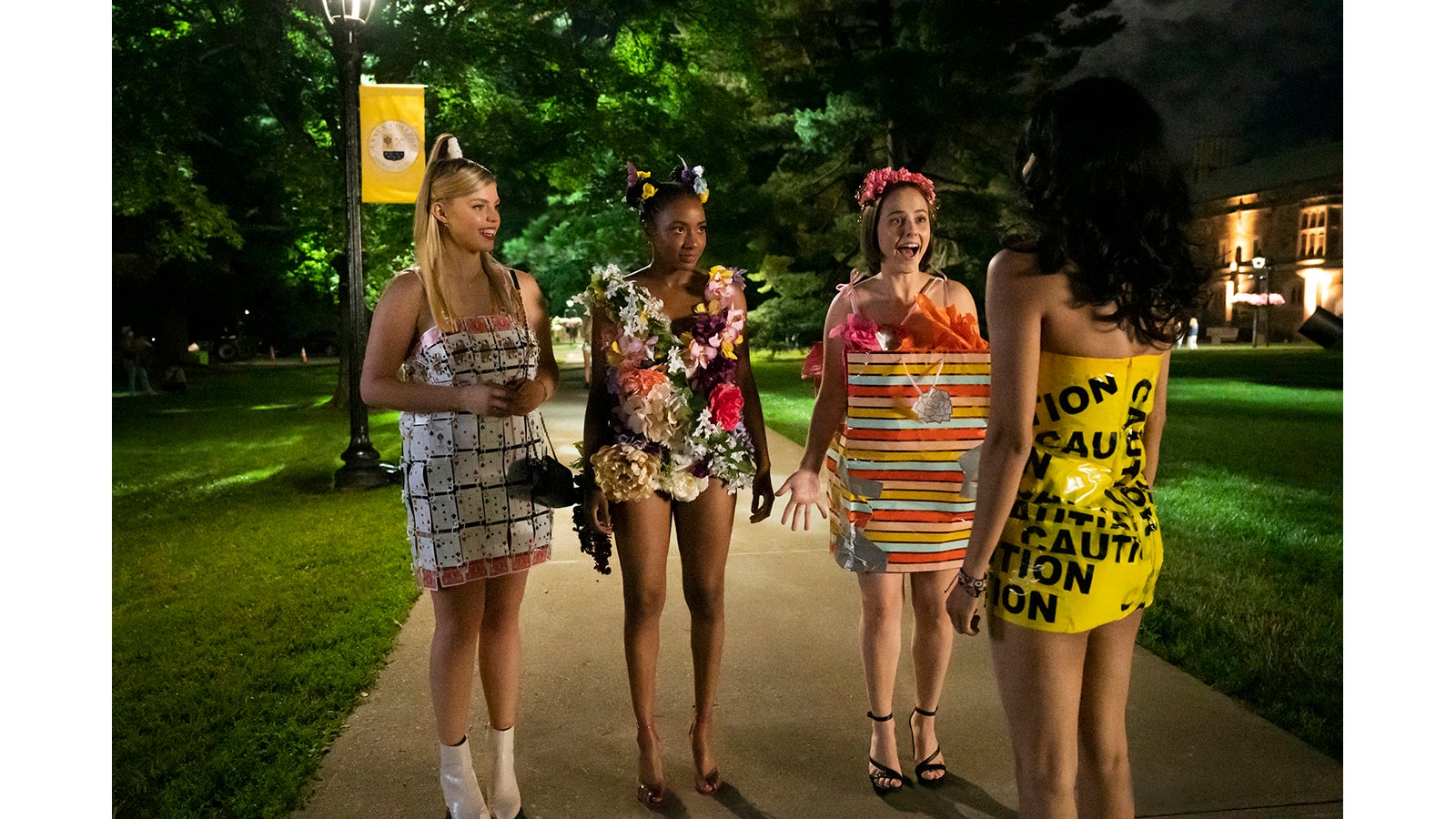 TL:
In terms of shooting interiors at 2,500, how do you feel the camera handles skin tones and color separation?
CO:
I'm thinking of a couple scenes that I just love the look of because the images are so tonally rounded and filmic and have a softer quality. [The camera] does render gorgeous skin tones.
TL:
Did you have to deal with noise in those interiors?
CO:
I started treating the base noise level as a type of grain, similar to the way I would shoot back in the film days where I could control that by how I would be exposing it. I don't like to call it noise anymore because the base noise does have a very film quality to it. I did notice that I was able to really control that with exposure.
TL:
Did you shoot multi-cam?
CO:
We shot with three cameras 80% of the time. When we had tight sets or car work we would shoot two cameras only, but most of the time we shot three to be able to cover scenes as economically as possible, timewise. This also gave the actresses more time to work out the scene. I have to say that the VENICE really did grab me on this show. The speed at which I was able to work with the camera was refreshing.
TL:
Last question, what are your thoughts on shooting large format?
CO:
Shooting large format gives a more grand, even epic feeling to the images. I think that will come through even on a character-based dramedy like this. I think large format lends more importance and weight to the imagery which, I think, subconsciously makes the viewer kind of perk up and pay attention to the images and the show that much more.