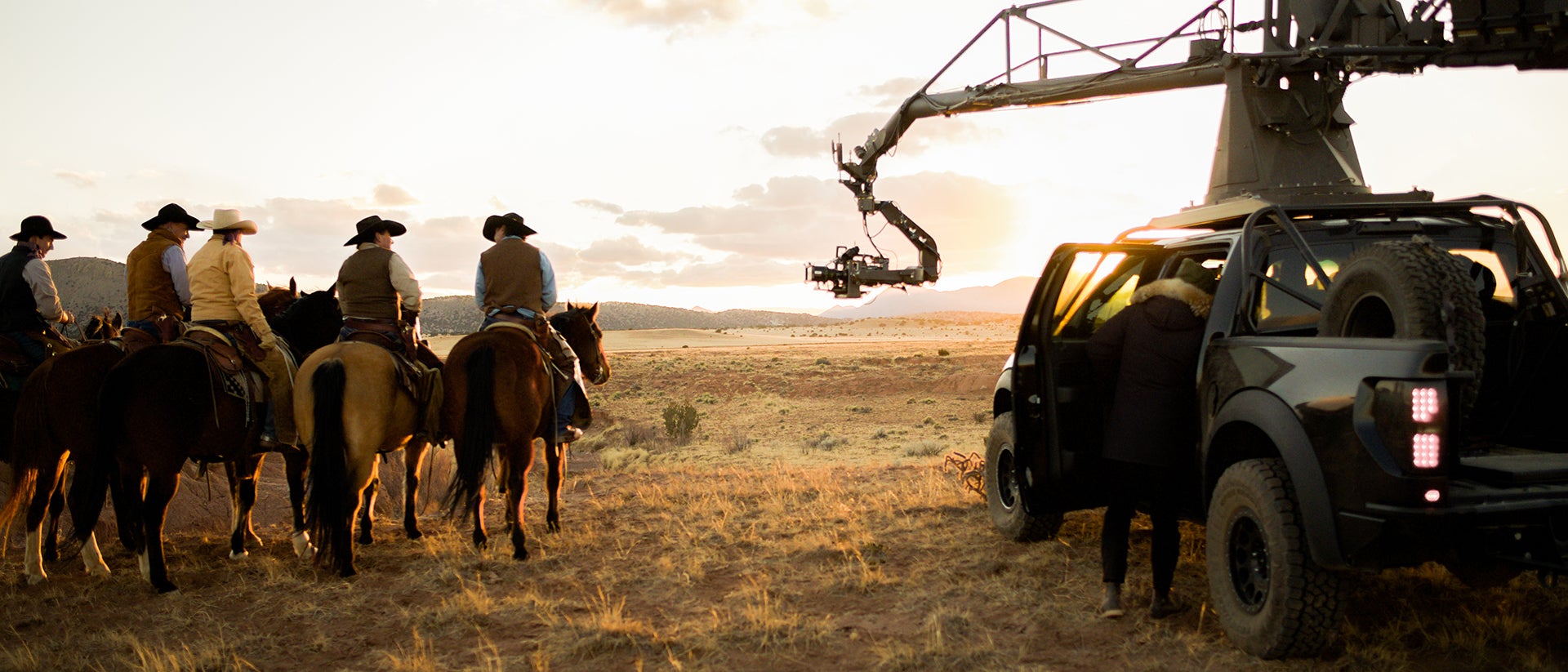 https://77snszqv.media.zestyio.com/CC_V2-BTS-2728-1920.jpg
05.31.2022
05-31-2022 - Case Study, Gear, Technology
Shot on VENICE 2: Pete Konczal Puts VENICE 2 Through Its Paces On The Colorful Short Film, "Cowboy Currency"
By: Michael Goldman
In-the-field narrative piece about cowboy life relied on the newest VENICE system for a project that involved location work, action, stunts, animals, wide vistas, drones, and a whole lot more.


When cinematographer Pete Konczal heard from his friend, director Jonny Mass, with whom he had previously made several commercials, that Mass wanted to collaborate with him on a new short film about the lifestyle of cowboys, he jumped at the chance. Mass was looking to create a visually stimulating short narrative piece that could help him pivot into the world of action-oriented feature films. So, he showed Konczal a proposal for a short film called Cowboy Currency, which in just under five minutes features a grizzled cowboy (Bryan Veronneau) guiding viewers through different stages of cowboy life, ranging from shootouts to cattle roping and herding, rodeos, horse riding, pioneer life, and frontier justice, among other themes.
The director asked Konczal for ideas on how the production could best visualize this material in a way that would be familiar for fans of the Western genre, yet razor-sharp with spectacular vistas, limited lighting, and an anamorphic feel. The cinematographer immediately suggested the project would offer a perfect challenge for Sony's new VENICE 2 8K digital cinema camera system which, at that time, earlier this year, had not yet become widely available across the industry.
"I had been hearing a lot about the VENICE 2 from a couple of my cinematographer friends who had done tests with it, and they were saying it was pretty spectacular," Konczal says. "So, I reached out to Dennis McDonald [Director of Operations] at Keslow Camera and he, in turn, put me in touch with Sony. I told them we were interested in trying out the VENICE 2 and promised we would push it really hard. Fortunately, a lot of things converged and Sony was able to provide a VENICE 2 camera, Keslow supplied some Hawk V-Lite anamorphic lenses, Aether Films came in to produce and do some financing, and we were off to the races as one of the first [narrative films] shot with this camera."
Konczal says the film's aesthetic required the filmmaking team to challenge the camera in several ways. After all, he says, "It's about cowboys—all kinds of cowboys, different cowboys. So, we felt after viewing some classic Westerns, that shooting widescreen would be really important. At the same time, I was hearing that with the VENICE 2, even shooting with standard anamorphics, we would be able to achieve more resolution. We felt the story would be best served shooting big vistas, really capturing that world, so having a camera that was a step up, even for standard anamorphic range, was important since we were planning to shoot at night, at sunset, midday, interiors, with limited light, and high contrast."
Konczal and the show's DIT, Patrick Evans of Aether Films, opted to utilize their own high-contrast look-up table (LUT), which Konczal says "ate up about a stop and a half of light. That was another thing I feel makes the sensor impressive, because it essentially opened up to compensate for that. We wanted to go for a look right out of the camera as much as possible. For the final color grade, we did do some tweaks, but not far from the LUT we used on set. And that is another place where I felt the camera performed well, because I felt the range of color was incredible. How well it did soaking in our heavy LUT made it a joy to work with."
The project spent four days in principal photography at the Cerro Pelon Ranch (previously known as the Tom Ford Ranch) filming location in Santa Fe, New Mexico. As planned, the production carried only a modest lighting package as Konczal decided early on to turn the camera's sensitivity to the project's advantage.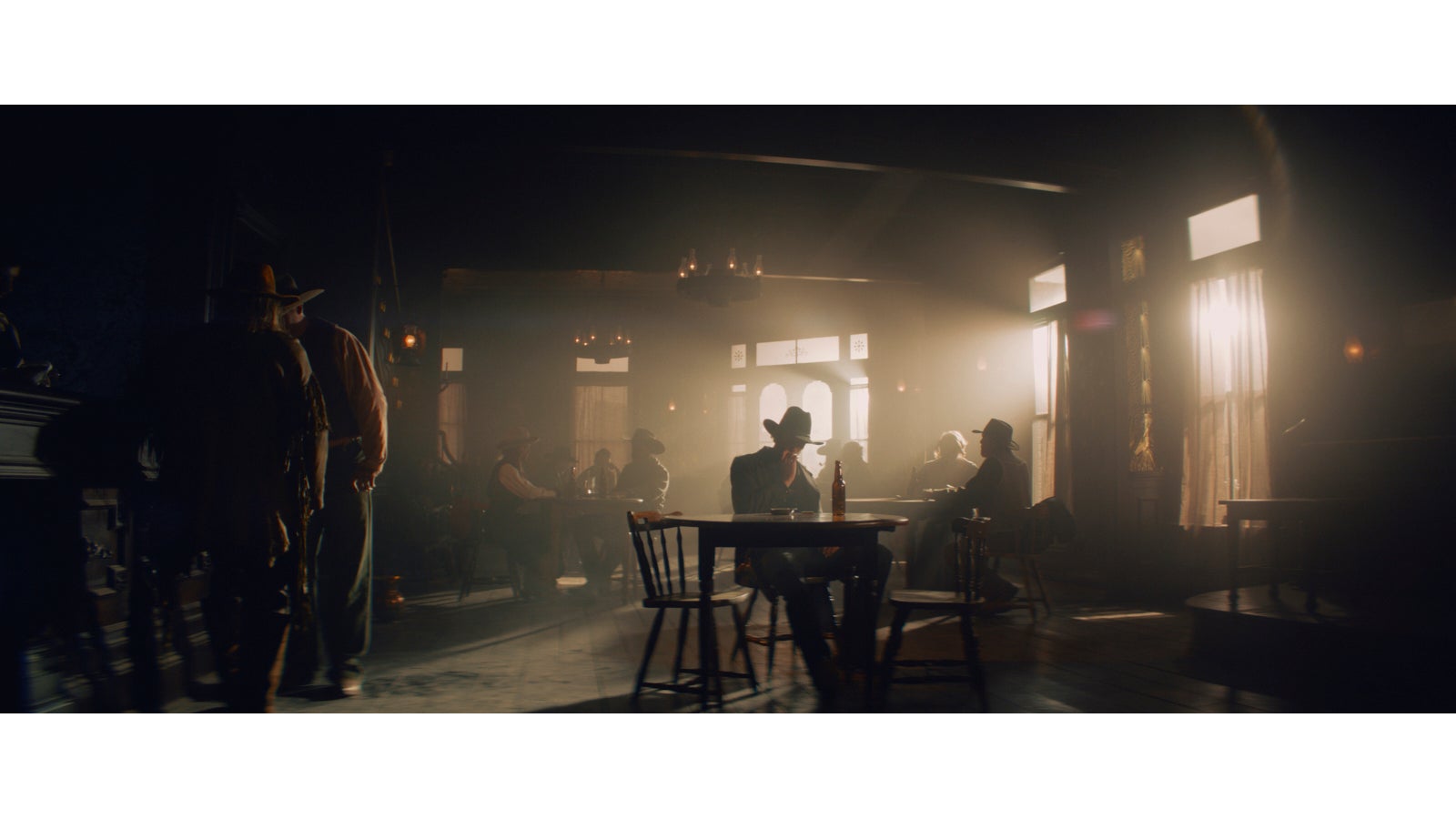 "Obviously, the camera has greater dual ISO range that goes from 800 to 3,200, so we worked off the lower range in the brighter daylight scenes, and then up to 3,200 for interior scenes," he says. "So, I didn't really have to use that much light. In the saloon scene in the beginning of the film, for example, we just used a lot of practicals and then two HMIs outside the windows—just practicals and a little bit of fill for the main talent sitting at the table. And then, in the bank—it's lit primarily with small tungsten units, and a little bit of small book light outside the windows. So, this camera allowed us to be very minimal with our lighting package, which is what I prefer anyway.

"I also found I could push the camera beyond 3,200 ISO and by doing that, we actually got a little bit more texture out of the sensor. And then, what was really wonderful for the daylight scenes is that some of the stuff at dawn or dusk, where actually we could see the sun, we had a very hot sky. And the camera performed incredibly well in terms of both highlight retention and in low light. I never felt like the sun was clipping, even when we were shooting right into it for high-contrast scenes. We had one scene where the cowboys are riding on the horizon, and there is a lens flare with the sun behind them. You could see the clouds actually lift, and then the sun broke through on the horizon. That's a lot of dynamic range needed to capture that shot properly. And the opposite effect happened in the saloon, where we were pounding strong highlights outside the windows, and just a few low lights inside the bar. I found the information in both the high end and the low end to be amazing."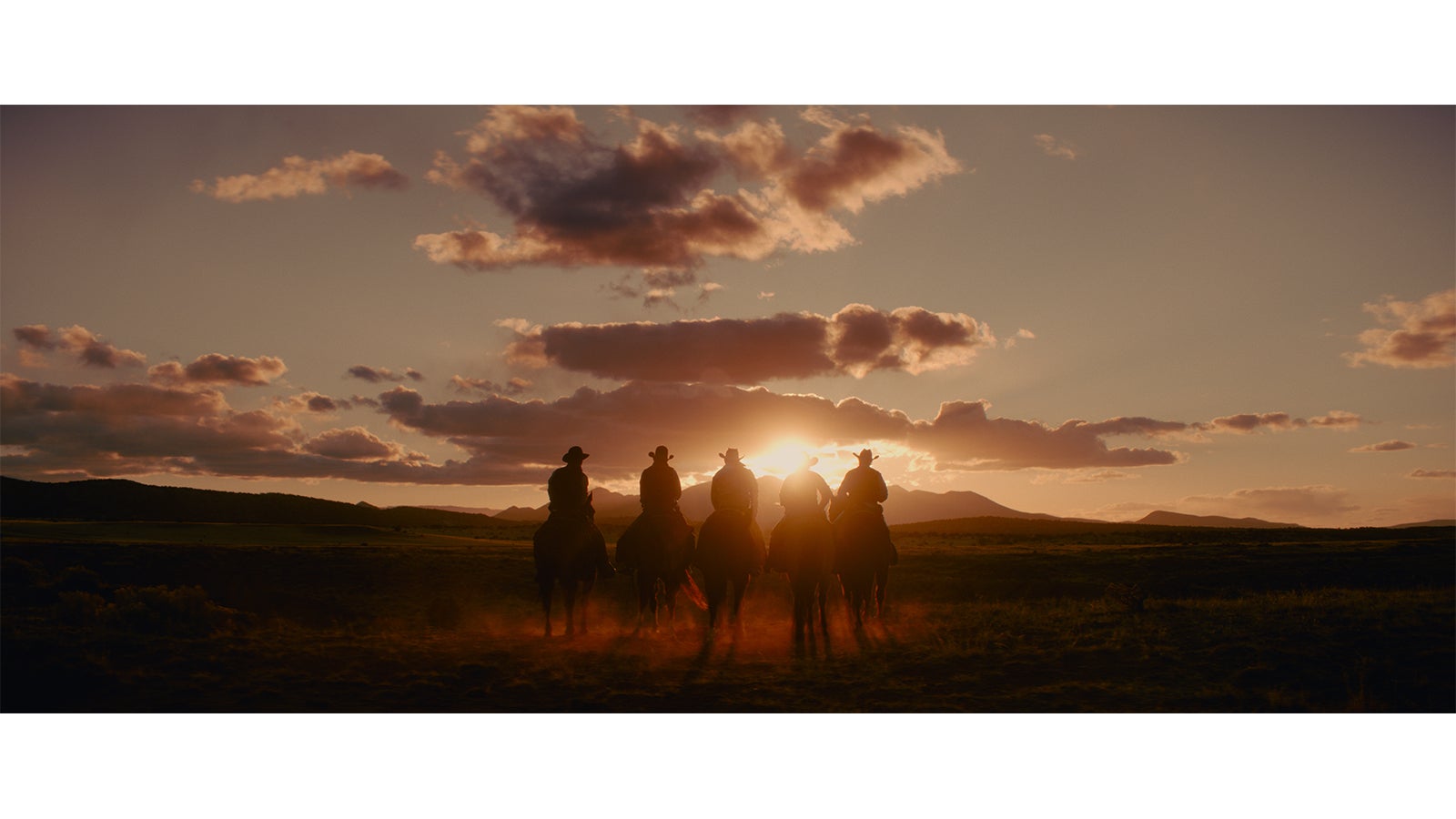 Konczal adds that he also "loved how the camera renders skin tones—it's much more filmic to me and doesn't feel as digital as other systems. It's a great color range. I initially thought we might play it a little more desaturated, but we actually wound up playing it the other way. There is quite a bit of saturation in the piece, and we liked the way it was handling color so much that we actually played into that. Sometimes, in the digital world, you will see a certain color like magenta or red, and usually, every DP hates that. But in this case, we liked the way the camera was rendering it. You can see some of the skin tones in the saloon scene and later in the shootout scene, there is actually a bit of red on skin, and we enjoyed that. I often found myself playing against what I initially thought we would do with the camera, and what we would do in the color grade."
"For me, it's a different look—I don't think this piece looks like anything else I've shot," he adds. "Other cameras that I have used, you tend to fall into a certain way of thinking. You work the edge of the sensor and with a certain color space. So, a lot of us will take 10 or 20 percent saturation right off the bat. But this camera has such a unique look, and handled color and contrast in a certain way, so that is why I found myself just playing into what the camera was giving us."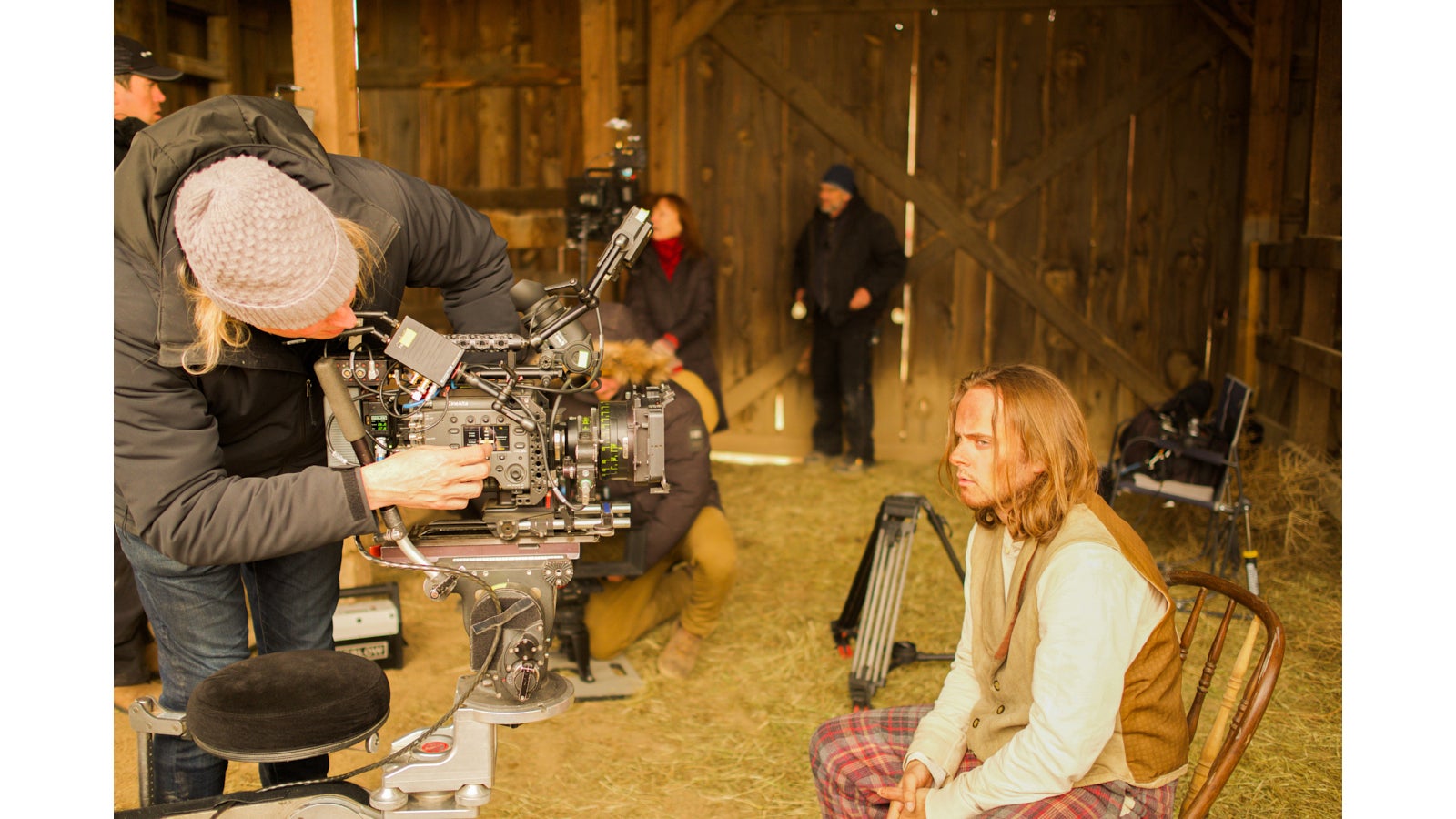 Additionally, Konczal reports that the camera worked efficiently in compact fashion and with all manner of platforms designed to help capture unique points-of-view. These included an arm car, in a pickup truck, gimbals, and even on drones for particular shots.
"No issues whatsoever with all that equipment," he states. "We used the arm car for some of the horse riding, inside a pickup truck on Nodo [Inertia wheels], and used a Ronin 2 [stabilization system], and it all went beautifully. At one point, we put the camera on a heavy lifter, as well, and it performed great. Even just the single-stop NDs in camera were great. If you are in an arm car and have remote control to the camera and your light is constantly changing, you don't have to stop to pull NDs, and can just use the single-stop NDs in the camera. That was wonderful—we could always maintain depth of field at the press of a button."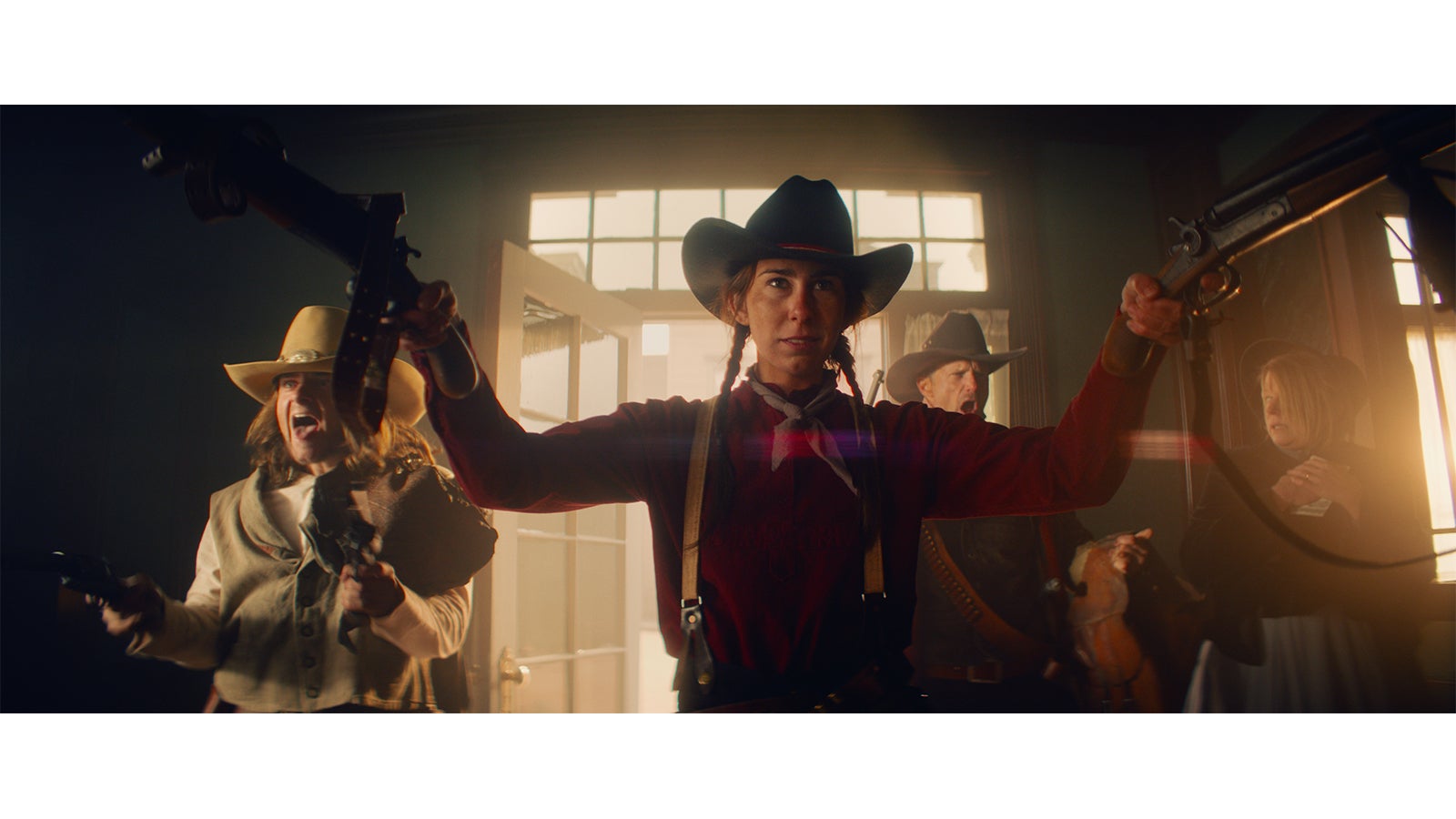 Konczal, acting as camera operator, also utilized the VENICE 2 with Sony's Rialto camera extension system for a tricky stunt scene capturing a cowboy riding a bull in a rodeo corral.
"With a camera break-away system like that, when we did the bull-riding scene, it let me run into the arena with the Rialto, but if the bull came charging at me, I could bail out of there fast," he says. "That you can take the main part of the camera and just run a cable and dock it into the small piece with the sensor and a lens and get something so nimble was another great thing. We always look for smaller for that kind of work, and there isn't a camera out there that can do that better."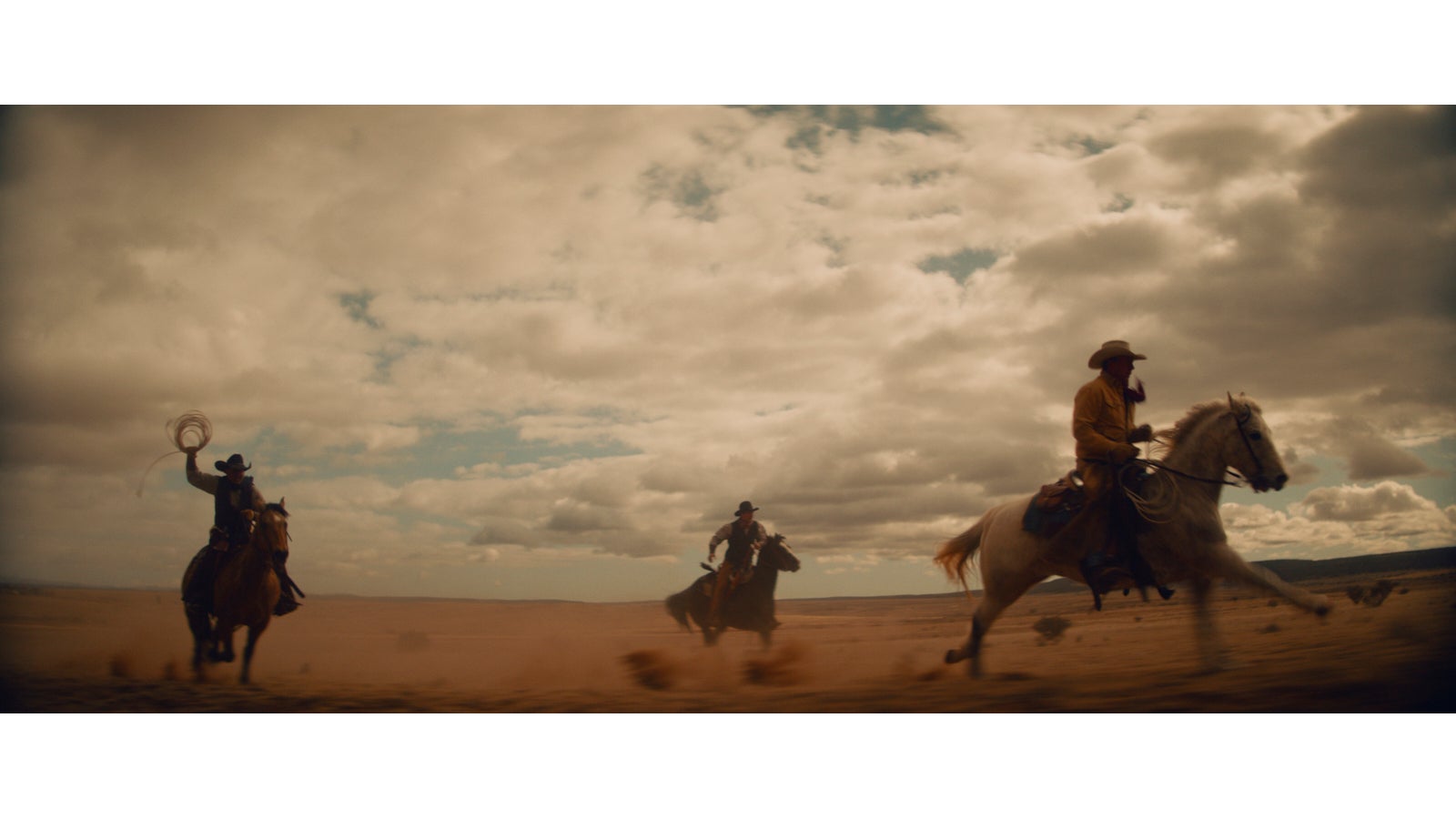 But it was the camera's ability to function without much light that really floored the cinematographer. Near the end of the piece, there is another stunt scene in which a cowboy is tormented and then dragged by a horse out of a barn. Konczal was particularly struck by how little light he employed in the barn compared to what he had expected.
"There, I used even less light there than I did in the saloon," he explains. "There was a bit of natural light coming into the barn. I had some smaller tungsten PARs, but I found myself looking to see how far I could push with the camera and how little light I could use. That turned out to be a nice progression as we shot. That scene, and another scene in a forest, which we lit up only using stereo tubes, illustrate how we ended up going with less and less light as we went along."
After his Cowboy Currency experience, Konczal feels the VENICE 2 system will "thrive on major films."
"It's very flexible in how you can push the camera outside of its ISO ranges to either retain highlights or low lights, or just to put more texture in the camera," he adds. "And when we were testing LUTs, I thought the camera responded well to different looks. So, I would say the manipulation and possibilities of this camera are wonderful."