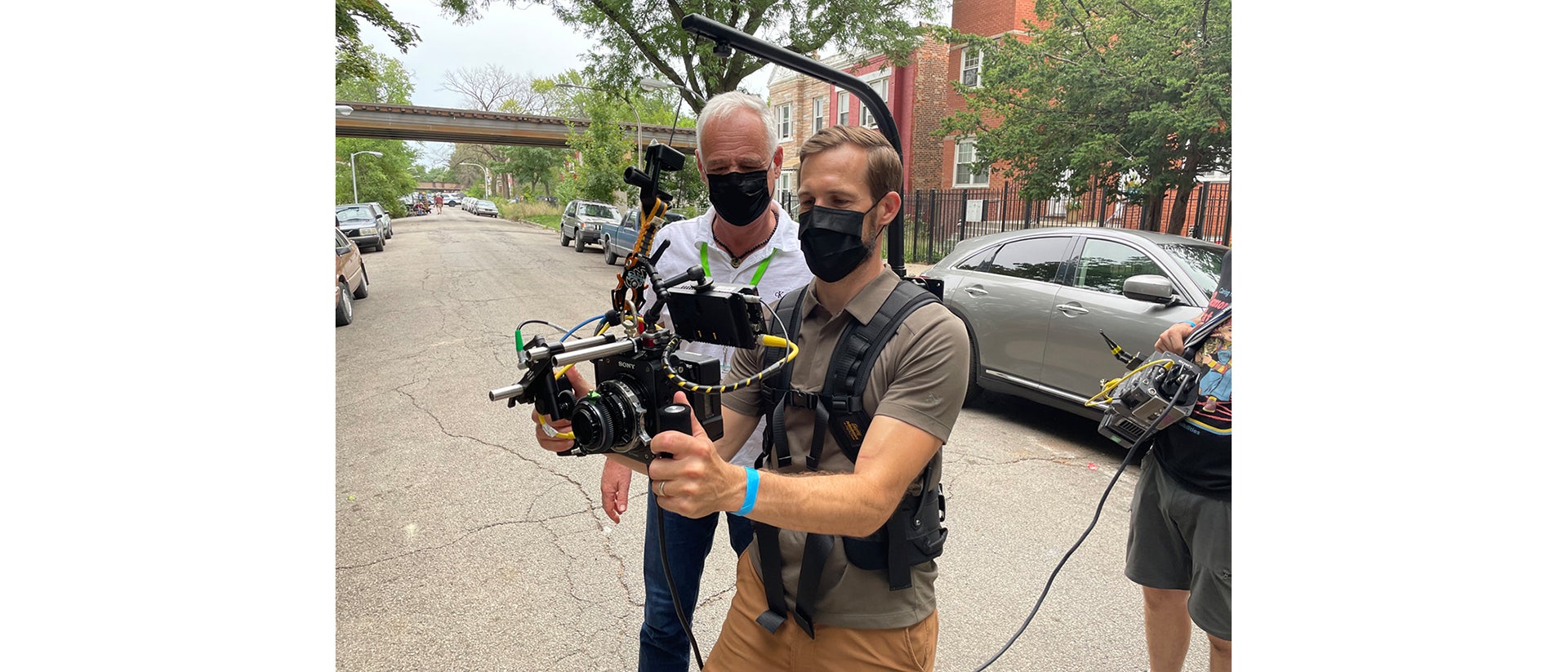 https://77snszqv.media.zestyio.com/2610-1920.jpg
06.16.2022
06-16-2022 - Case Study, Gear, Technology
Shot on VENICE: How Rob McLachlan Reinvents an Eerie 1990s Noir in "Shining Girls"
By: Oakley Anderson-Moore
Go big or go home. It's an adage that Robert McLachlan, ASC, CSC, has employed with his life-long love of noir.
As a rising cinematographer back in the 1990s, McLachlan entered the fray with a bold move. On his first big show, Millenium, he pushed the noir aesthetic into uncharted territory. The result? A look that had never been seen on TV before. The show won awards, it influenced a slew of copycats, and it catapulted McLachlan's cinematography career.
Now, after Game of Thrones and Lovecraft Country fame, McLachlan is using the technology in the Sony VENICE to return to his beloved noir – and take it even further. This time, it's inside the creepy 1996 Chicago-set world of Shining Girls.
Rob McLachlan sat down with Oakley Anderson-Moore at Sonycine.com to talk about shooting the mind-bending series, stepping up so Elisabeth Moss could act and direct, and why ZEISS Supreme Prime Radiance lenses and the VENICE are a match made in heaven.
Oakley Anderson-Moore: In Shining Girls, the protagonist Kirby (Elisabeth Moss, The Handmaid's Tale) is struggling to hold on to reality. We see this with scripted visual cues, but also the overall eerie style of the cinematography. How did you first talk to showrunner Silka Luisa about the style for the show?
Rob McLachlan: Early in prep, I referenced All the President's Men, Se7en and other Fincher films, and some of the work of Gordon Willis and Harris Savides. I also suggested finding a look akin to the bleach bypass film process so popular in the 90's. I did something similar on the TV series Millennium back in the late 90's, and like Se7en, it helped define where we were in the story, and create a feeling of dread. I also pushed hard to use Livegrain to add texture and grit to the 6K images we were creating with the Sony VENICE. Silka really responded to all of these as did producer/director Michelle Maclaren, who was on the same page.
OAM: So would you say you were influenced by the look of classic Noir for Shining Girls?
RM: I've been a huge fan of Noir since I was kid, watching all those B noir films that the local station played all the time. I really made a deep dive into it when shooting Millenium for Chris Carter. The thing I love about the speed of the VENICE is, it lets me use more practical light and nightscapes feel that much more real. By turning off some ambient light and adding a strategic, minimal bit of your own, you can really make some natural but also expressionistic images when combined with "Noir" framing.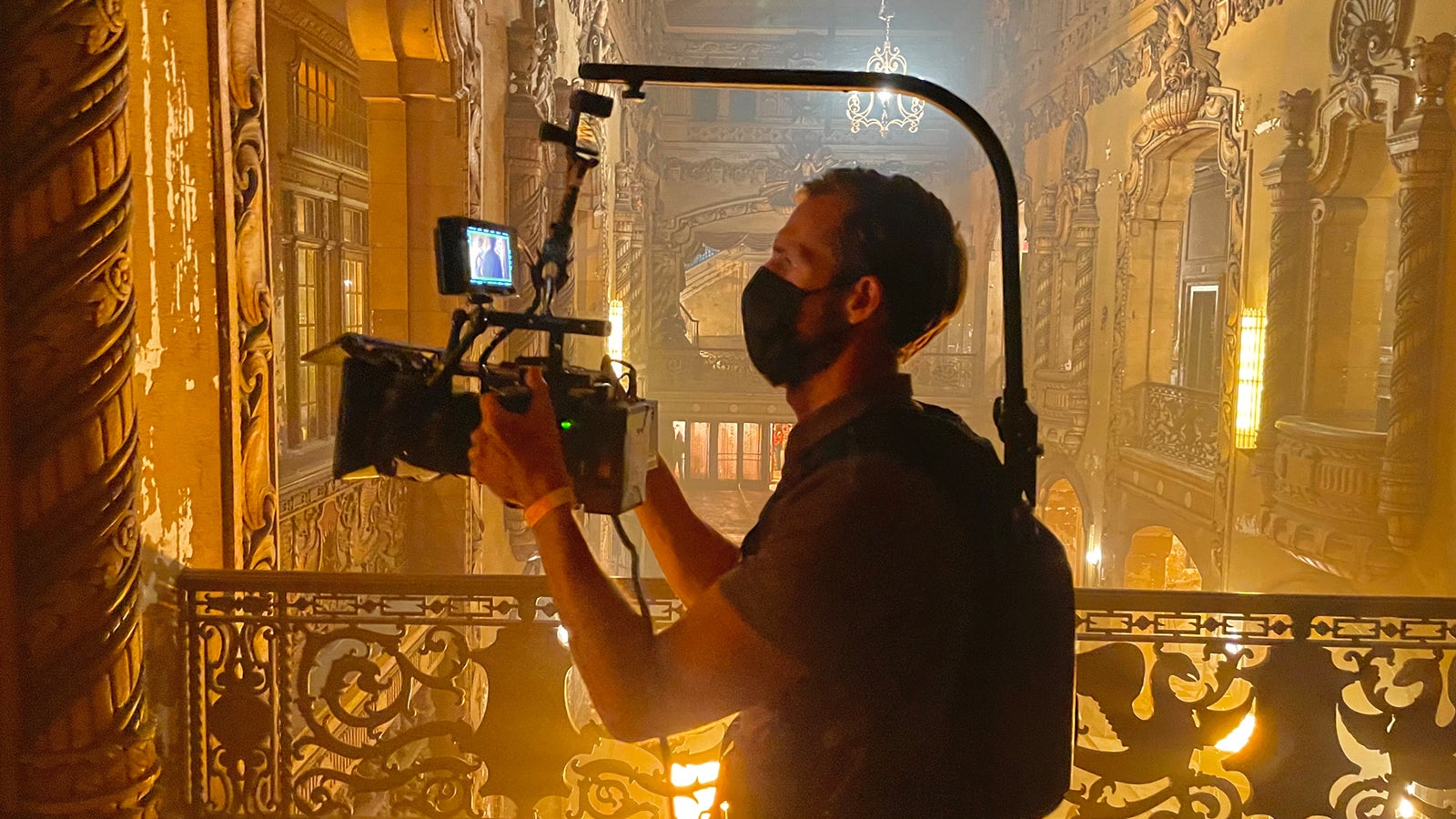 OAM: Why did you shoot Shining Girls on the Sony VENICE, and which lenses did you pair with it?
RM: I fell in love with the images I could make with the Sony VENICE on Lovecraft Country. Plus, the high sensitivity and the built in ND filters literally save on lighting and time on set. We shot full frame but cropped for 2:1, which I think is a great format for a show like this if people are watching on tablets or what have you since it uses a decent amount of the screen. I used regular Zeiss Supreme Primes for the present day 1996 material, and Supreme Prime Radiance for anything in Harper's time traveling world. We wanted to be very subtle with how we handled those shifts, and not ever be heavy handed. This was a good way to do it. We also used varying amounts of grain on the two realities.
Another reason I used the VENICE was for the Rialto extension, which we used quite a bit for car work and handheld – often with the new lightweight Easy-Rig that they were kind enough to rush to us. One of my favorite things about the huge and very sensitive sensor and large format lenses is that at T1.5, I could get the background incredibly out of focus, where bad things could be lurking. Not to mention, another handy feature of shallow depth of field was that it allowed us to blur the modern Chicago skyline, such that no CG was needed to hide the newer buildings. The high ISO also allowed us to stop down when it was right, and give ourselves eerily deep Citizen Kane calibre deep focus. It's really a match made in heaven – those lenses and this camera.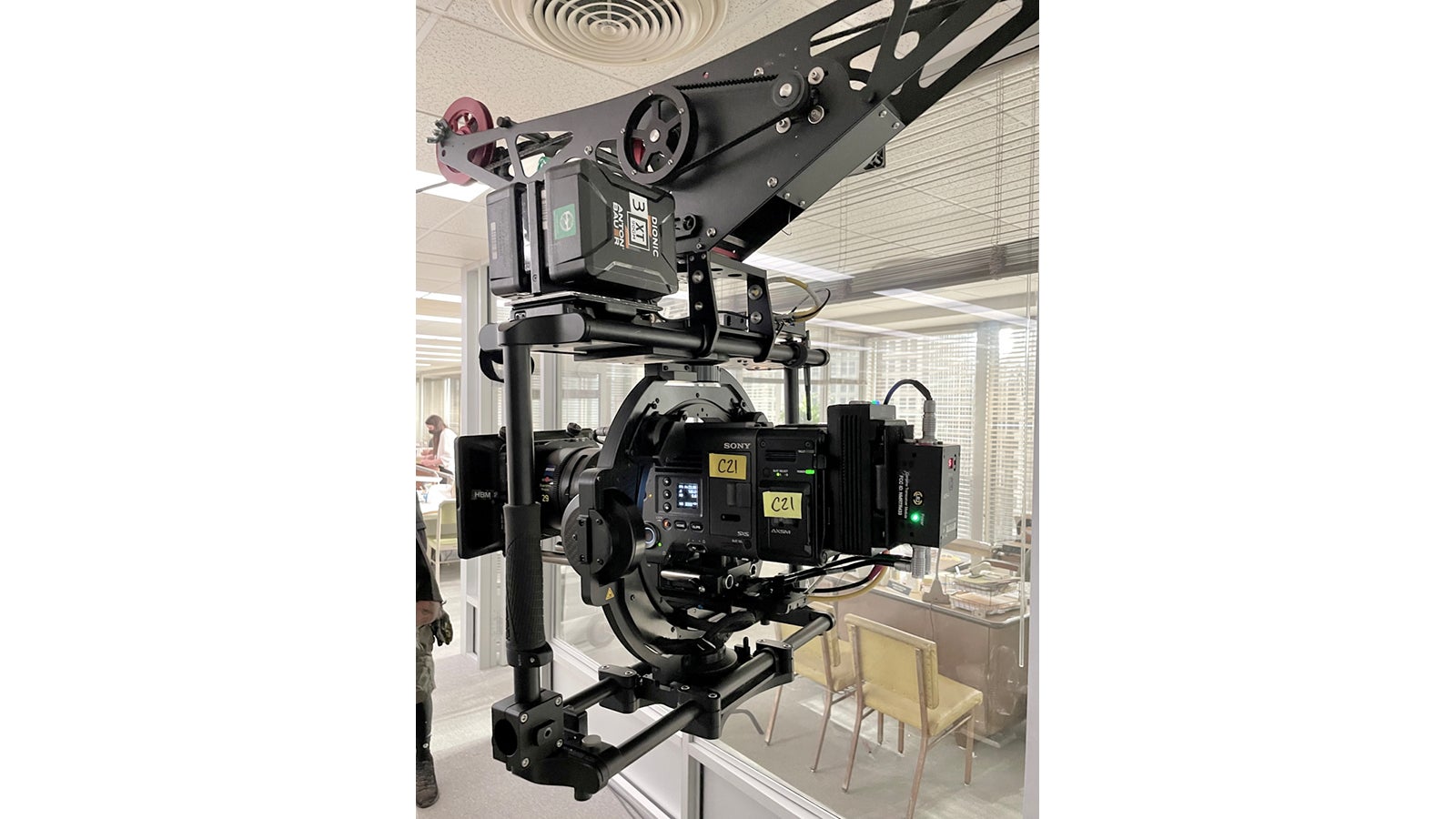 OAM: From after-hours planetarium to dingy, green Sun-Times basement, the colors in Shining Girls create a striking tone. How did you pull off the color palette?
RM: I tried to keep the color palette as natural as possible - letting the settings determine how they needed to be lit. I've always found, if you fight the location and try to impose a preconceived look on a space, it always rings false. So hopefully the location and art direction support the scene and the photography follows and enhances and builds upon it. The color science with the VENICE is so natural and predictable I never have to worry about particular colors dominating. I've since found that's even more true at 8.6K with VENICE 2. At those super-high resolutions, they produce smooth painterly images as opposed to the brittle digital look that one might expect from that resolution. Skin tones are very pleasing – and especially so with dark skin, I've found – just gorgeous.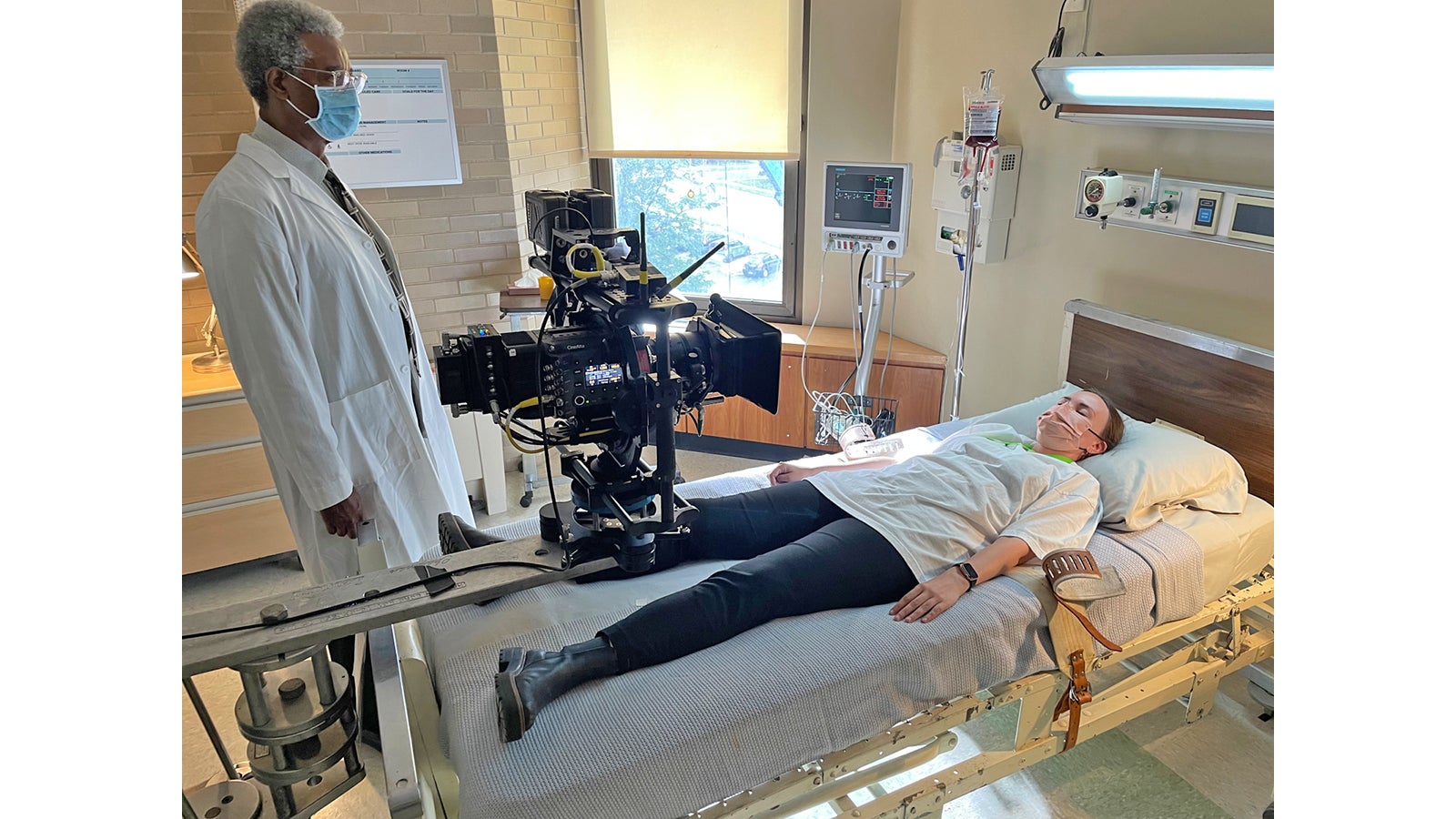 OAM: Elisabeth Moss is a deeply talented actress, and she also directed two of your episodes. What was that like, and what do you need to bring as the DP when the director is also on camera?
RM: Going by the metric of making incredible work look really easy, then Lizzie Moss is the best actor I've ever worked with. Seriously. She's also a terrific filmmaker. I've worked with other actors and producers before, including Misha Green on Lovecraft, Liev Schrieber and David Hollander on Ray Donovan. It has always been a really rewarding experience. I think because, by that point, we know each other and the show really well, and one finds you're both leaning in the same direction artistically. It's important that an acting director trust those behind the camera to watch out for them, and it's always an honor for me to get to step up like that.
If you haven't already, check out "Shining Girls" on Apple TV, and be on the lookout for Rob McLachlan's next work, including upcoming "American Gigolo." Since February, he's been shooting with dueling VENICE 2 cameras for the show, seamlessly intercutting with the V1 Rialto and loving the V2 skintones and look at ISO 3200.