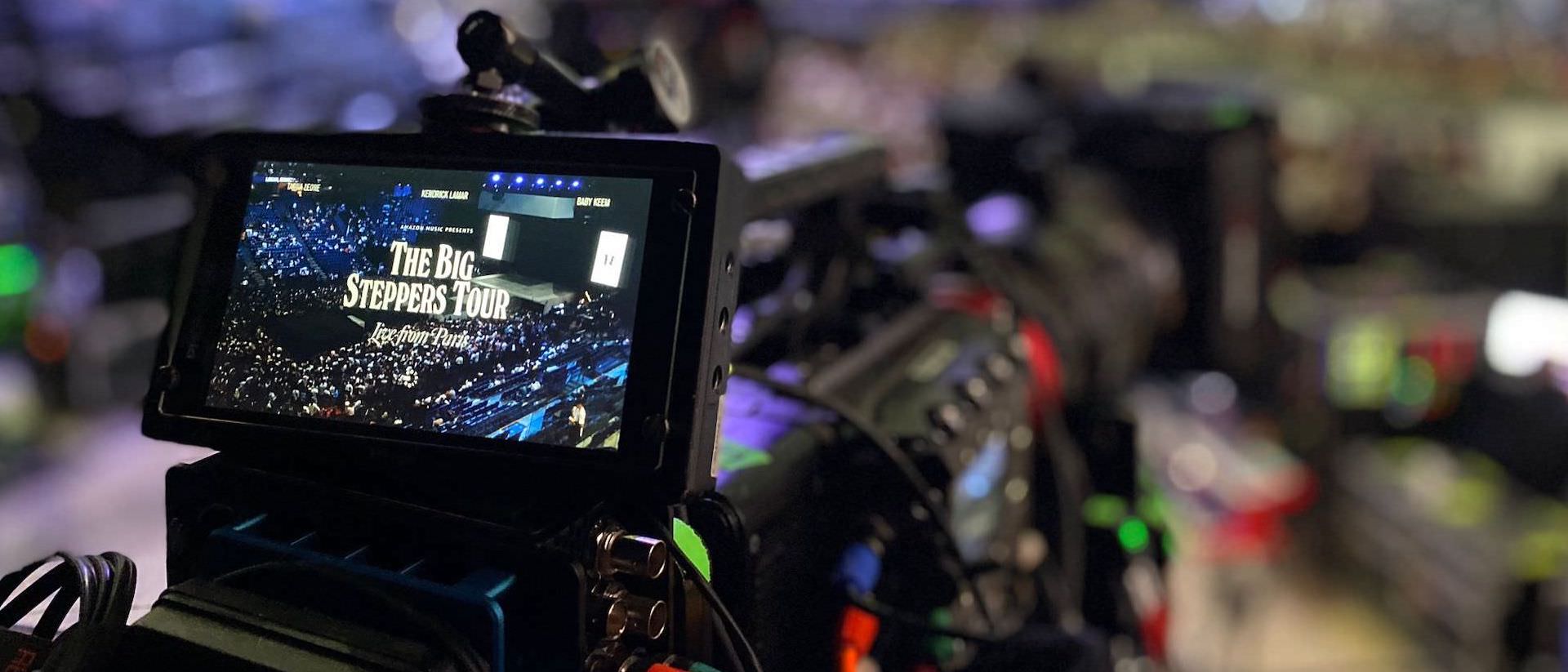 https://77snszqv.media.zestyio.com/SonyCine_KendrickLamer_1_1920.jpg
02.02.2023
02-02-2023 - Case Study
Shot on VENICE: Mark Ritchie Brings Cinematic Experience to Amazon Prime Live Concert Film with Kendrick Lamar's 'The Big Steppers: Live From Paris'
By: Tanya Lyon
Nobody knows live cinema like Mark Ritchie.
That's right, we used the word cinema. Emmy award-winning director Mark Ritchie takes his live shows to the level of feature films by using cinema cameras in concert with cinema lenses to create a one-of-a-kind experience. The result is capturing live events with the shallow depth of feel and dynamic range that had previously been reserved for feature films. It gives audiences a chance to experience a major concert as a cinematic art form – from their living room. And it's a trend that's not only growing, it's here.
"Concerts shouldn't look like a sporting event game," says Mark Ritchie. "They shouldn't be filmed like one either."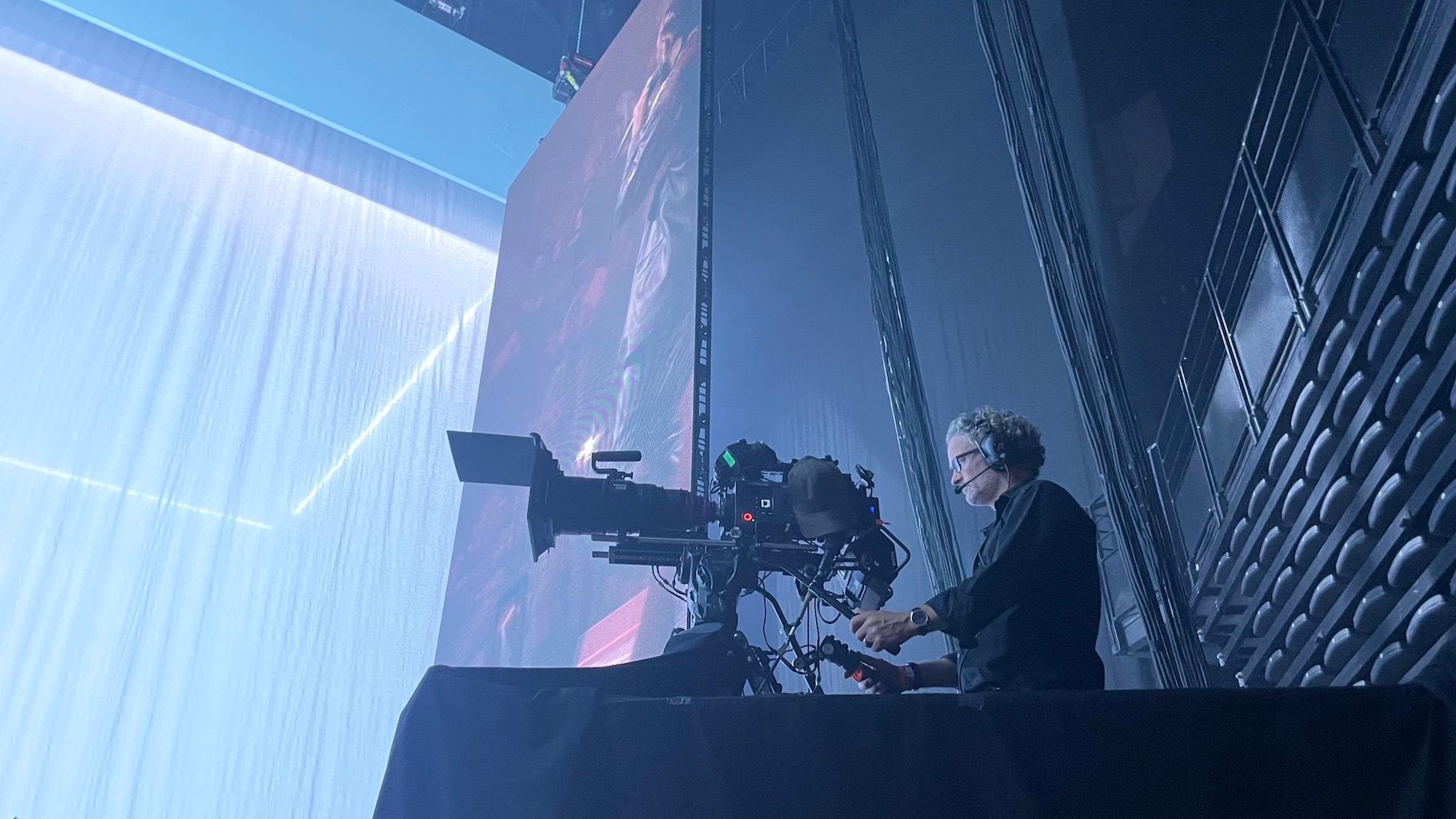 There are few filmmakers with a body of work like Mark Ritchie. After basically pioneering live cinematic multicam as a cinematographer back in the mid-2000s, he then went on to produce countless cinematic live shows as the Director and Executive Producer including his work on acclaimed live work from Beyonce and Jay Z's On the Run II World Tour to Lady Gaga's Love for Sale Album Drop.
His most recent experience? Collaborating with Springboard Productions and PG Lang to create the wildly successful The Big Steppers Tour: Live from Paris, a live concert film for Prime Video based on Kendrick Lamar's fifth studio album Mr. Morale & the Big Steppers. He spent 6 weeks in pre-production and pulled together a 60+ person camera team using 16 Sony VENICE cameras and Sony's new cinematic pan-tilt-zoom camera, the FR7.
How did he get here?
Before he was a leading filmmaker in the live space, Mark Ritchie was no stranger to the world of high adrenaline, having trekked through jungles, been a white water kayaker, rock climber, and Enduro Motorcycle enthusiast.
"This is certainly the one area of cinema that keeps the dopamine hitting and really allows you to insert your life skills into every project," jokes Ritchie.
"I've certainly interjected myself into a very high stress, fast paced, intense environment. There's nothing like shooting a feature film that should take six weeks in 24 hours. That requires a little confidence, a lot of skill as well as creative and technical experience, and an amazing team. And we've gotten good at it."
When he started cinematic multicam, Ritchie was modifying and soldering camera accessories together, in the belly of Madison Square Gardens, hours before the show to make the tools he needed for his live cinema. Today, he doesn't have to worry about that.
"Over the last few years, the Sony VENICE has been a game changer for us."
Ritchie works on a lot of live cinema content, from being technical producer for Coachella, creating live films for Amazon, IMAX, Netflix and Apple, comedy specials, and live concerts with artists like Kendrick Lamar.
"But the one thing in common we have, at this point, is the reliability and flexibility of the VENICE. It affords both the creative and technical teams with a solid workflow, and then I act as this harmonic connective tissue between storytelling and technology. Sony has clearly been working really hard over the years and listening to filmmakers to create a sensor in a camera as well as a camera eco system that really appealed to the cinema world. They gave us the VENICE, an amazing tool to tell some of the most dynamic stories in the most varying of environments. It's pretty crazy when I think about it, what we put these cameras through."

Ritchie depends on cameras that perform at the highest level for every single moment of the show, but that doesn't mean he won't try something new. It was on The Big Steppers Tour: Live from Paris that Ritchie first tested out a brand new camera from Sony.
"The new PTZ camera, the FR7, is fantastic and exceeded all expectation," says Ritchie about the pan-tit-zoom cinema camera. "That was one of my favorite cameras, quite frankly. It gave us so many immersive and up-close moments that are always a challenge in the live space. Finding ways to use new tools and technology to continue to elevate the storytelling is very exciting.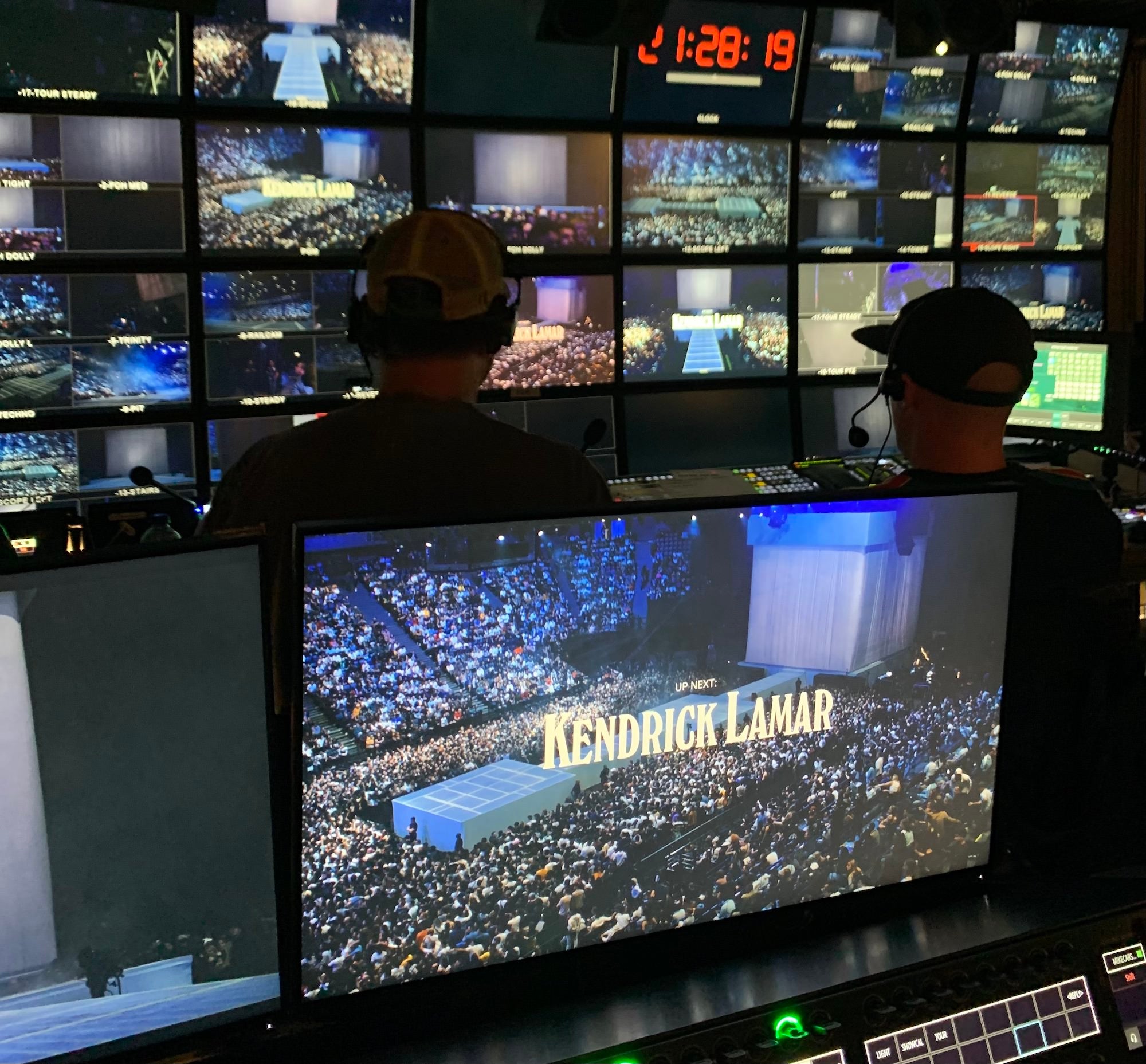 How it worked to collaborate with the Kendrick Lamar team on The Big Steppers: Live from Paris
When you start to watch the Live from Paris show, from the first moment of the show, you know you're watching something different than a typical live concert. For Ritchie, that's because everything was done with the intentionality of a feature film.
"When the opportunity arises that an artist and their camps are engaged in the creativity of what we do as visual storytellers, it's amazing. Kendrick's team was hands-down one of the most collaborative camps in this space."
The idea from the beginning was never to steal the story with technology or gratuitous camera moves, but to tell and embrace the story Kendrick was telling on stage.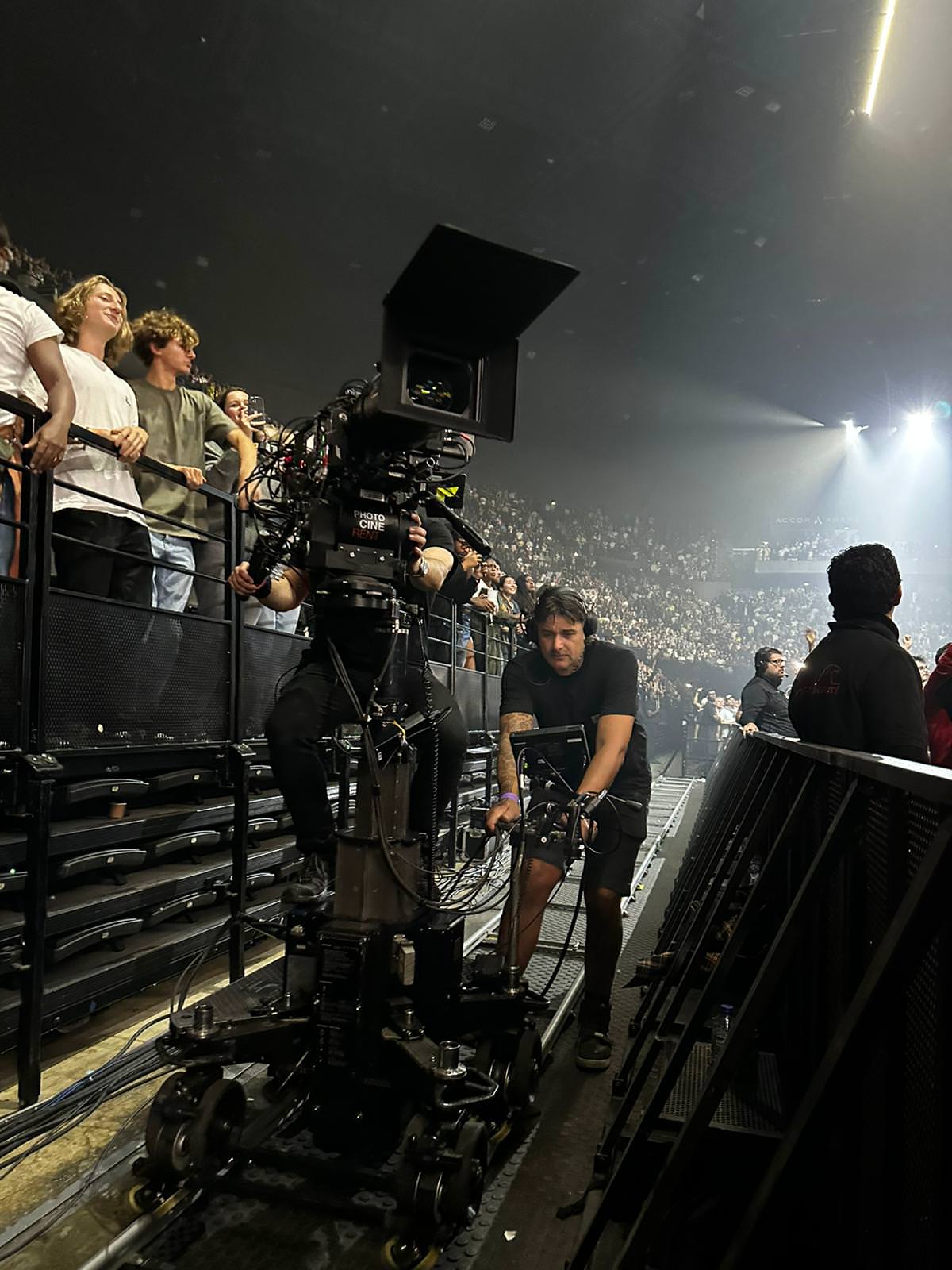 "Six weeks of pre-production started with understanding the art, language and intent of the show. We then carefully crafted our own cinematic language to work seamlessly and in perfect step with the story as it unfolded. We built chapters using camera movement, lighting, how many cameras we would use on certain songs. We built crescendos, we brought it up, and then we brought it down."
Ritchie worked closely with the camera department and personally selected every camera, lens and position it lived in.
"Everything was designed with intent. We didn't want to just use a prefab camera plot; we really wanted to understand what would be dynamic, what would be a great storytelling device, what lenses would feel more immersive versus objective."
A look inside the complex gear list of the Live from Paris production
The amount of technology used for the shoot was astonishing, and each had a purpose. There was an ARRI Trinity which went from the stage to the floor for specifically choreographed moments, and two additional Steadicams, one on stage for fluid live moments, and one in the audience to find moments with fans. They had a robotic rail cam system that acted like a sniper, being able to precisely boom up and boom down, while maintaining a beautiful frame above stage height, but was able to get out of the way quickly. They also had a spidercam used for very cinematic and specific moments and a 25+ foot tower camera and Technocrane gliding slowly over the audience that captured waves of hands as it made its way to the stage Additionally, two of the show favorites were VENICE with 12 or so lenses and 50-feet of dolly track paralleling the thrust.
"We were careful not to add gratuitous movement, but we don't want to feel like we're being left behind," explains Ritchie. "So, as Kendrick walked up and down the stage, we were able to stay in that moment, it felt like you always had the most dynamic seat in the house. To get that tracking move and position took some serious politics but it was worth the compromises and effort as it translated beautifully in the film."
Ritchie and his team were also one of the first in the world to use Sony's new cinema pan-tilt-zoom camera – the FR7.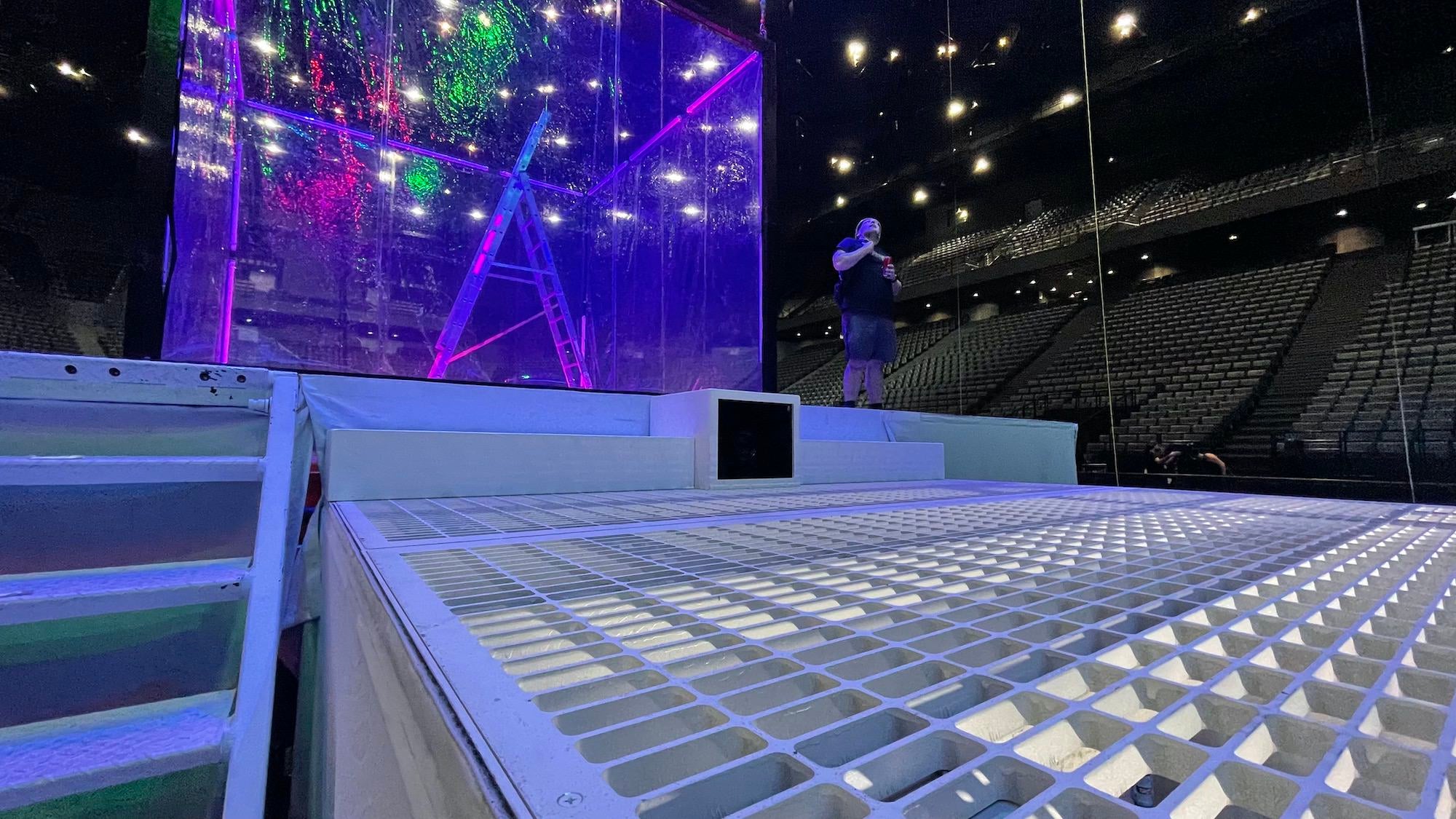 "It blew all of us away," describes Ritchie. "I mean, it took some reasonable convincing, effort and cooperation to get this built into the stage on the catwalk. I'm like, 'Guys, we should really do this. Let's cut the stair in half, let's build a new set of stairs with a camera inside.' Now they're on every show, and it's one more tool to be able to capture the story in a far more economical and simplified workflow."
For Ritchie, with the help of his DITs, the color space and the look of the FR7 cut seamlessly with the VENICE.
"Even with 16 Sony VENICE in Paris, I had the creatives calling for that PTZ shot over and over. Not because it was the best camera, but because it was often the best told story or provided the best shot. Truthfully, I contemplated using a Sony Rialto, which I'm a big fan of, but ultimately having a full-frame sensor with the ability to pan and tilt won over locking of the shot. Clearly it was a fan favorite."
How Mark Ritchie uses the "three rings" of live cinema to tell a story
As Ritchie explains it, in the live space, "you really want to bring on the best of the best camera ops and DPs but the challenge is to get all that amazing talent working in concert. The cinematic look extends far beyond the technology. . Instead, you plan out everything just like you would on a feature. Ritchie spent over eight critical hours reviewing footage, lighting, movement and composition with his team of camera operators, and DPs, so that everyone walked on set with a clear directive and visual language."
"One of the ways I like to tell a story is I create three rings in a space," describes Ritchie. "The first ring is immersive and intimate."
For this ring, he uses the original Sony VENICE at 6K in full-frame, along with lenses that have a lot of character, like Signature Zooms or Fujinon Premistas and primes.
"The beauty of full-frame is you can see a nice wide shot of a stadium or an arena, but stay focused on the person right there in front of you. To be able to control someone's attention with more shallow depth of field in certain moments is critical to the narrative. I can show you 80,000 people and a massive stage, and by using a shallow depth of field I can ensure the audience stays laser focused on the artist while still offering an epic sense of depth and grandeur."
The second ring for Ritchie is coverage. Here, he uses the VENICE in Super 35, allowing him to use longer cinema zooms and converted broadcast lenses that can offer both tight and wide coverage from all angles.
"One of the biggest challenges in live spaces is distance to the subject," says Ritchie. "Feature films happen between eight and 20 feet. However, it's often challenging to maintain the inner ring of close coverage in a live space, especially when you have massive stages and catwalks in excess 120 feet, while trying not to impede on the audience experience. Having that second ring of coverage is crucial to maintain coverage throughout the film"
Lastly, the outer ring is for scope.
"That's where we show viewers the entirety and scope of the show, surrounded by a sea of fans and the effects of the light emanating from the stage. It's a spectacle beyond imaginations. It's great storytelling to be able to take the audience into an intimate and close space with the artist, and then pull them back a quarter mile and see 800,000 fans right there with you. We know nothing replaces bing in the audience and feeling the energy, but taking the viewer on a journey where they get to experience a performance from every possible angle is a pretty special experience unto itself."
How light, color, and the VENICE work together to pull off this unique art form
In a live environment, you're often facing some extreme conditions. From the heavy contrast, bright LED screens and highly saturated lighting, we are constantly pushing the camera's sensors to the limits. According to Ritchie, there are a few cameras that can consistently perform in these demanding environments — and the VENICE remains the front runner.
"We've enjoyed the VENICE in basically one of the harshest environments in which to film," says Ritchie.
"For me, when I turn these cameras on, it's critical that it holds everything together that we're seeing the that stage. The camera's dual ISO along with a Super35 and full-frame sensor in one body continues to make this camera a leader in live space. And we've got some extreme colors out there in the LED space. Sony continues to wrangle in those harsh color spaces and maintain solid detail in the skin tones and in the shadows."
On a show like The Big Steppers: Live from Paris, the chain of any single shot starts with a film-style camera build, stationary or moving, converted to 1000-foot fiber runs, hitting the trucks where Live Grade LUTs are applied as video shaders are adjusting exposure and black levels, and accounting for any variances between lenses and the environment.
"And we're doing that with 16 to 20 cameras in the live space where every one of these needs to be as close to perfect as possible," adds Ritchie.
"When you're shooting for a film, you have the luxury of time and an edit. You can just shoot Log and tweak the exposure and color later. But in the live space it's real-time. The VENICE has been a champion in the live space. In line LUT boxes apply our base look and our truck RCPs control Iris as well as subtle variances between cameras. The cinematographer, DITs, LD and video engineers are all working in perfect sync, safeguarding the image through every crucial step. It's like watching a symphony!"
And if any one of these things go wrong in a live space, the audience is taken out of the moment and the magic is lost. The excitement and energy of his crew paired with the perfect performance of the equipment every time is what keeps Mark Ritchie in this space.
"I mean, the feedback we get after we shoot these live shows can give you all the incentive you need. A compliment from a DP is great, but a compliment from somebody who watched the show and tells you, 'Man, it was really beautiful. I felt like I was watching a film.' I'm like, 'Great, because you were.'"
It goes to show, when you and your entire team put that kind of effort into a job, you get something special. It felt less like a concert to me, and more like a visual art form."
Check out The Big Steppers: Live From Paris on Amazon Prime HERE and judge for yourself.