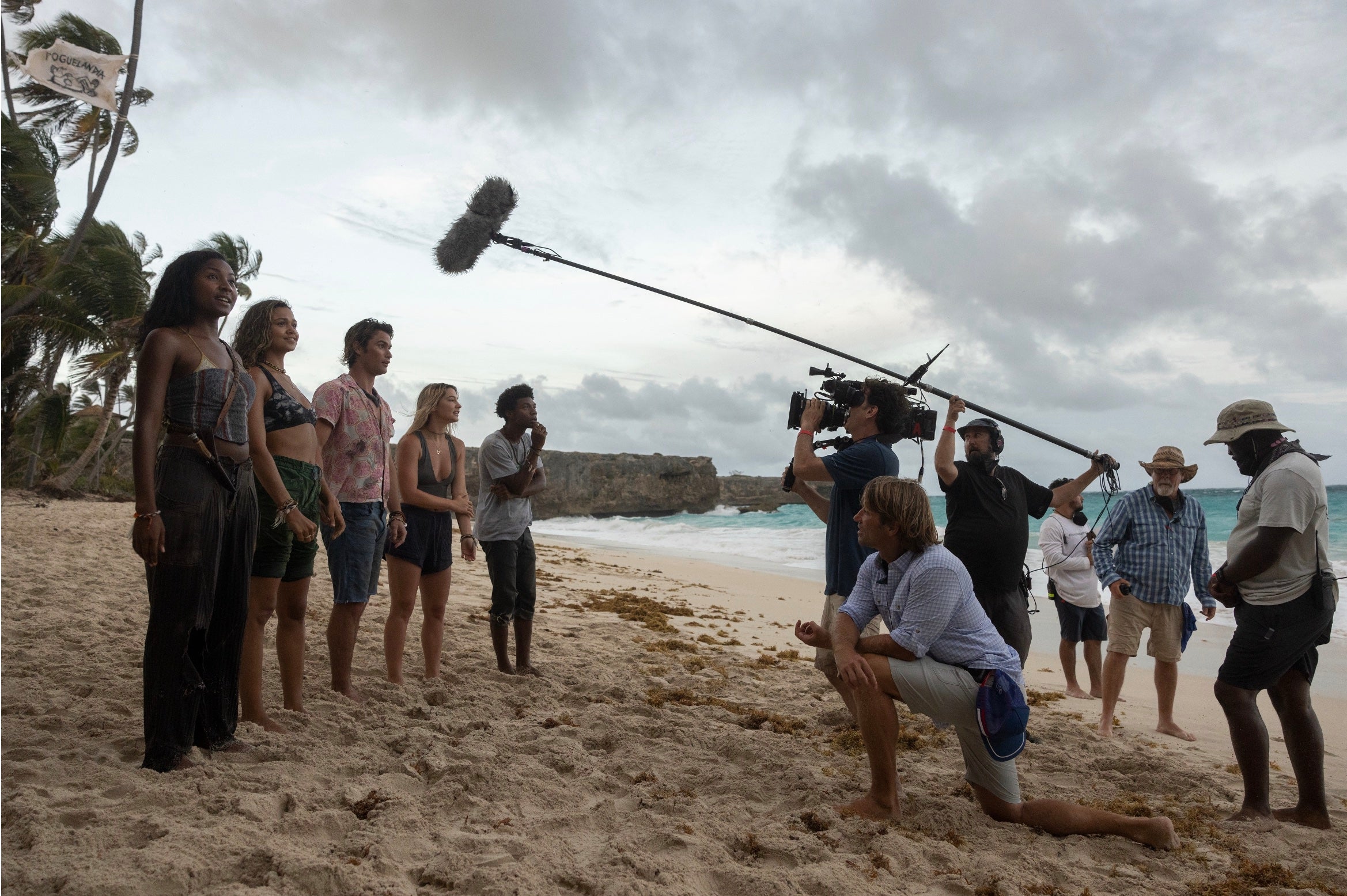 https://77snszqv.media.zestyio.com/Sony-Cine-Gonzalo-Amat-Outer-Banks-100.jpeg
04.07.2023
04-07-2023 - Case Study
Shot on VENICE 2: How Gonzalo Amat Pulls Off Diverse Roles as DP and Director on 'Outer Banks' S3
By: Oakley Anderson-Moore
The skills needed to be a great cinematographer and a great director are completely different. But is it possible to be good at both? Gonzalo Amat proves that it's more than possible, it makes sense.
How Gonzalo Amat got his start as a cinematographer
At 15 years of age, Gonzalo Amat's biggest interests were photography and literature.
Amat recounts "Someone said to me, 'Hey, photography and literature together are...film.'" It was a phrase he only understood years later - halfway through college - when Amat took his first film class. At that moment, he knew he wanted to be a filmmaker. The only question was how? "After talking to filmmakers back in Mexico, where I grew up, they told me to either work my way up, or go to film school."
Amat decided to try film school. His goal would be to become a director. But once there, he was faced with a conundrum: everyone else wanted to be a director, too. It was nearly impossible to get a foot in the door in the directing program. Amat improvised. He shot 20 short films (on film!) and that set him down the path of cinematography. He's worked in television for over 15 years, and has served as DP on amazing visual series like Fargo and The Man in the High Castle.
Then, about four years ago, something happened while shooting the pilot for Seal Team.
"I ended up directing a lot of second units," describes Amat. "The director was like, 'I don't want to ride the helicopter. You go.' So, I did all the action stuff. I guess he saw something in me."
A few months later, director Christopher Chulack talked to Amat in New York.
"He said, 'Do you want to direct? Because I have a spot for you if we go to series.'" Amat agreed. The show was picked up, and Amat got his first shot at directing.
Since then, Amat dove into the deep-end of directing and hasn't looked back. On season three of Outer Banks, Amat was able to have two positions rarely occupied by the same person: cinematographer and director. And the Sony VENICE and VENICE 2 were right by his side.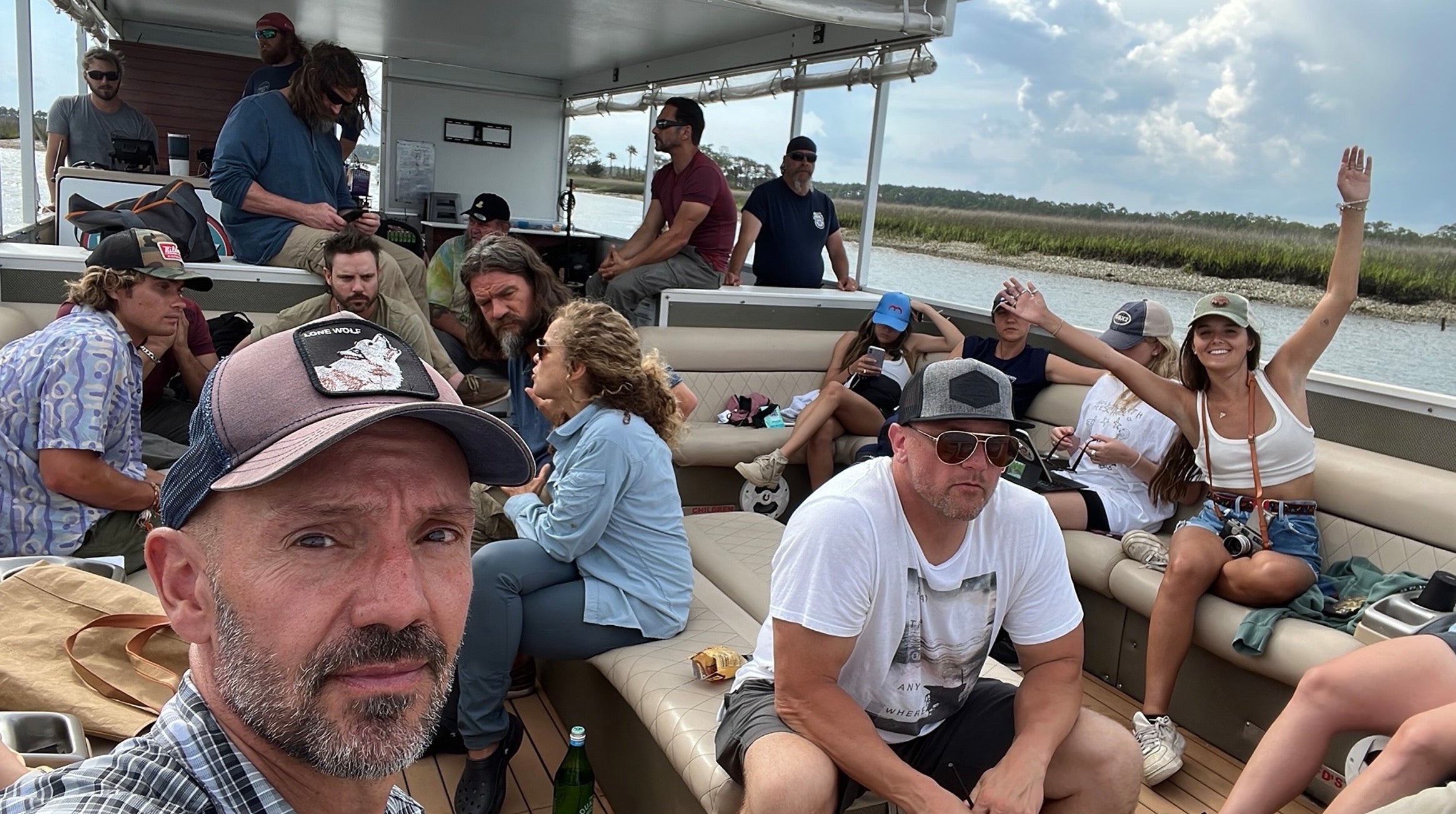 Testing out the directing waters and the VENICE 2 prototype on OBX S3
Amat had been a DP on Outer Banks for two seasons, so he knew the world very well. That meant that by season 3, it was a great time to try something new - for starters, directing.
"Outer Banks is such a collaborative project that in the end it didn't feel like a huge change to go from shooting to directing," explains Amat.
"You're always talking about how to shoot it, talking to the crew, and the operators, and the lighting. Everyone's together in a more free flowing way. I know everyone very well there. I love the actors, I love the crew. So I was really excited to do it. And to be honest, it was one of the best things I've done."
Amat was the DP on three episodes, Poguelandia, The Bells, and The Diary. His directorial debut on the show came in episode 7, Happy Anniversary, which was special for many reasons. Fellow OBX DP, Itai Ne'eman and camera operator Bo Webb, who moved up as DP, came to help Amat shoot his episode as director.
"We almost didn't have to talk. It was great. Because in the end you are telling the story with the camera. That's the expertise that you earn as a DP."
In the spirit of new things, Amat would try something new with the camera. While Season 1 and 2 had been shot on the Sony VENICE, season 3 was a chance for Amat to play with the Sony VENICE 2.
"I suggested VENICE 2 because I had filmed my short with it," explained Amat. "I really love it. First, it's smaller. It's lighter, and it has more range. And more everything. That's perfect for Outer Banks. It could be said that what we used was still a prototype model, so it was exciting to test it out. We had a few bumps on the road because it was new, but we saw that it was amazing. We love the camera, and the assistants love it too."
Amat first used the VENICE 2 to direct and shoot Take Me.
For Take Me, which profiles musician Kolonnie Green through her life in New York City, Amat used only available light. That dexterity is something he loves about the VENICE 2, and why he brought it to Outer Banks.
"The new sensor is amazing," says Amat. "You get more of everything. And I am still in love with the dual ISO. Because when you're shooting dual ISO, when we're shooting those magic hour scenes, we are shooting until the last light. You can change it really fast in-camera without having to stop. On OBX, sometimes we don't even cut when we're doing the scenes! I think I used the dual ISO more on season three than ever. It's for sure one of the reasons why this camera's so good for us. We also went from two to three cameras this season. With three cameras, you really can't do too much in terms of lighting. And I personally think the simpler, the better."
Why Amat's favorite moment as cinematographer of OBX S3 is simplicity at its best
Knowing how much Amat loves the VENICE and VENICE 2 sensor and low-light sensitivity, it's no surprise that his favorite visuals embrace those capabilities.
"Visually, I'm really proud of everything that we shot in Barbados," says Amat. "What we shot in the Poguelandia segment, all the stuff with the fire, it sounds a little slow, but it's almost like you find the way to shoot those scenes by season three. We shot all the wide shots in magic hour, and then we ended up lighting the tighter shots. This way, you can see the ocean in the background, you can see the sky, stuff like that. To me, the Poguelandia visuals are my favorite."
The aesthetic that Amat developed since the onset of the OBX world has been bathed in oceanfront sunsets and beach bonfires. These are lighting situations that demand natural light.
"In Poguelandia, we didn't have access to electricity. We were shooting in this cove that you have to load everything with ropes. I think we had power for one or two lights, which we used to light the ridge on some of the wide shots. The rest is all battery powered lights, maybe that we put next to the fire to add to the fire effect, or just a little bit of a light for the water so you can see the foam and it doesn't just look black. It's almost like a documentary style if you want."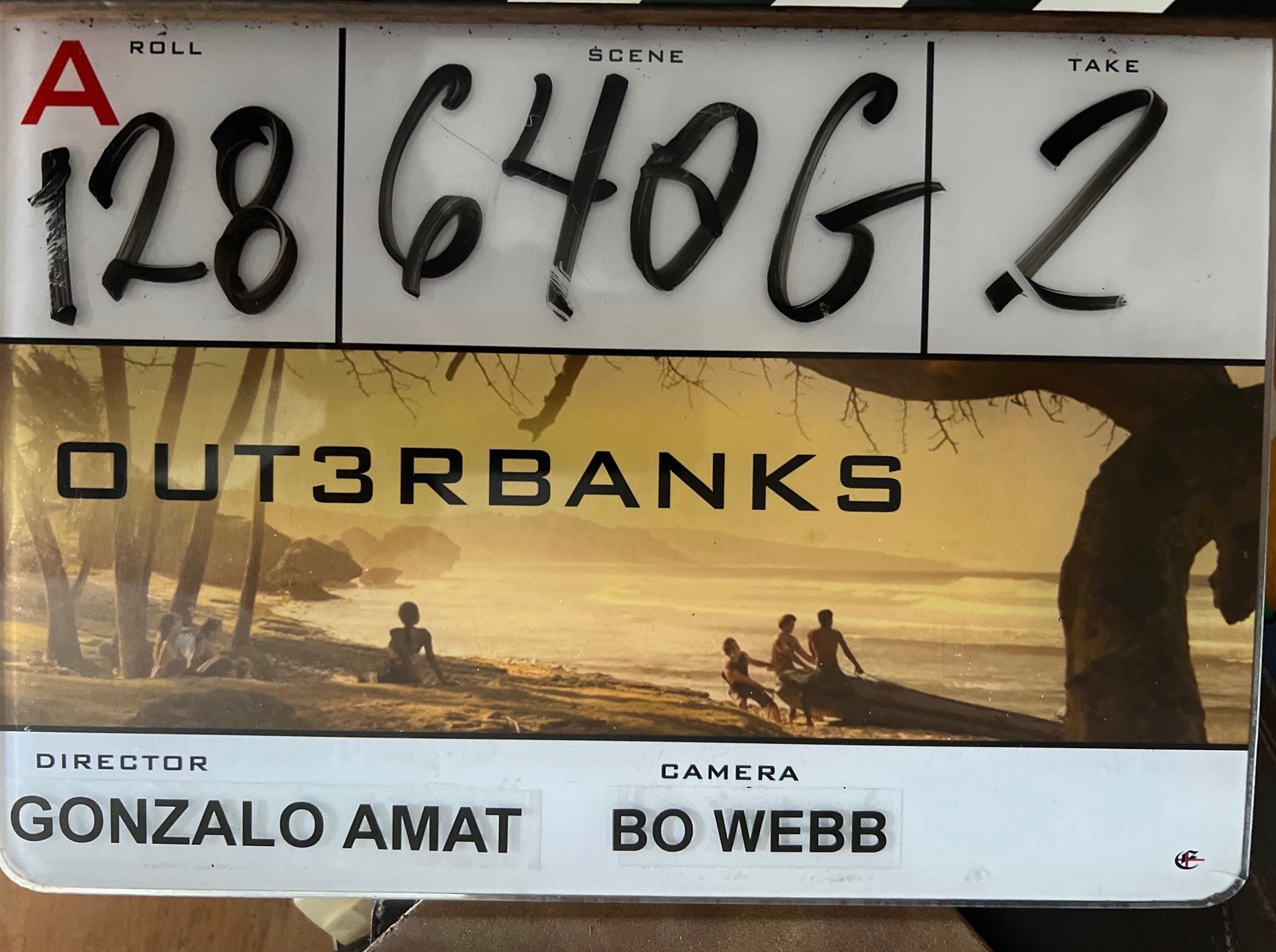 Why Amat's favorite moment as director of OBX S3 is all about the 'ultimate' storytelling tool
Amat poured himself into the director role on Episode 7, Happy Anniversary, which is full of dramatic story beats and character development between friends and foes.
"I really like the scene that I did with Drew and Charles Esten, the moment between father and son when he says, 'I don't need you anymore.' I really love that scene. Or the scene with Charles and with Maddie when they have another encounter. Working with the actors was amazing."
One of the biggest differences as a director according to Amat is, not surprisingly, the acting. It's also one of the most exciting. Among many things, it gave Amat newfound appreciation for the size of the Sony VENICE and even smaller VENICE 2.
"You need a small camera," says Amat. "I understand more about what the actors are going through. That changed completely since I've been directing. It's a sacred space that the actor has to have. You need to give them that space, that respect, and the way that you work, you have to make it seem invisible so they can concentrate. The ultimate storytelling tool can be considered the actors."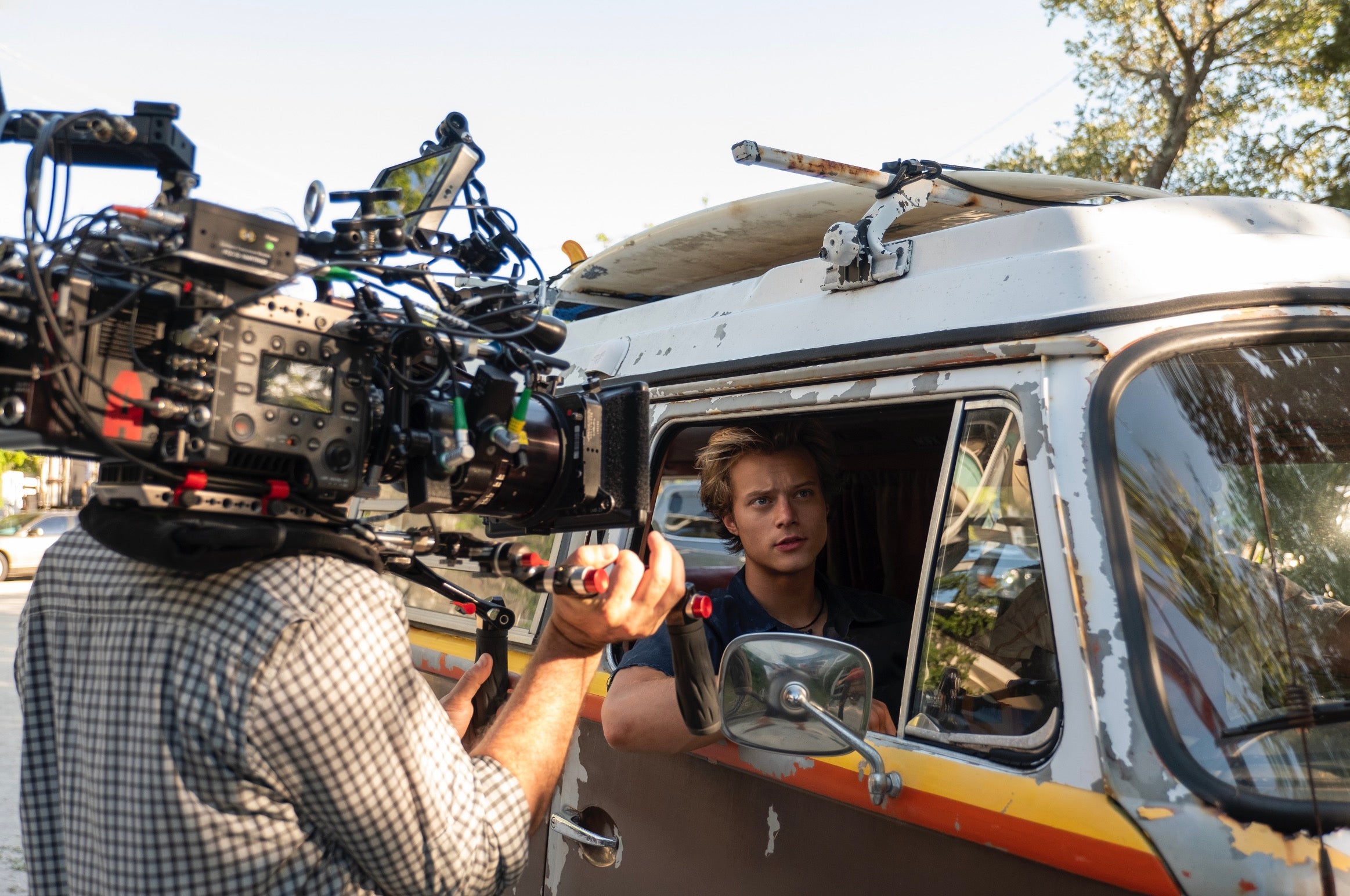 Taking the Sony VENICE 2 on a fast, wild motorcycle ride
At one point in Season 3, when Amat was DP, he had a chance to pair the VENICE 2 with a motorcycle stabilizer for an epic car chase.
"It's basically a motorcycle that has a mount in front with a stabilized head so you can really go fast and maneuver in small spaces at high speed for stunts without having to have a full car. You maneuver between cars. You can go on the sidewalk. The guy who drives it is a precision stunt driver. And we also used it for a chase sequence on episode four between the boat, the car, the Twinkie, and John B with Big John following them. All we had to do was put the VENICE in there, put it in a different configuration, and then just go on with the show. It's a lot of fun."
What it really takes to transition from cinematographer to director
While some cinematographers have no interest in directing, for others, it makes sense. Can being a DP actually make you a better director?
"Being a DP is probably the best school you can have," concludes Amat, "and possibly being an editor."
"Being a DP, you get to work with so many directors. I've worked with maybe 100 directors in my career. So imagine what you get if you listen. If you pay attention, you remember what each director did, what you liked, what you didn't. Then you can make your own version. It's not for everyone. You do end up working with the camera, the language of the camera, and the grammar of filmmaking. But then there's the whole human connection aspect that you need to develop with the actors and the writers, that sense of story. I would say for people who want to transition to directing, to get really early into that storytelling, storytelling, storytelling. The story always wins.
Back when I was in film school, I approached Alejandro González Iñárritu at the end of a lesson when he came to show a movie. I asked him, as young filmmakers also from Mexico, what do you recommend for us? His reply was the best advice I've ever gotten. 'Learn to work with your weaknesses,' he said. What don't you know how to do? Learn to work with your left hand. You don't know about actors? Okay, concentrate on that. You don't know about lighting? That's what I did in my career as DP, because I came from camera and was weaker on lighting. So I concentrated on doing lighting for a few years. Now I am working more on the actors and the story. So learn to work with your weaknesses. We're built to learn, so you can learn anything, you just have to put your focus on it."
Check out season 3 of Outer Banks on Netflix to see Amat's work as both a cinematographer and director!