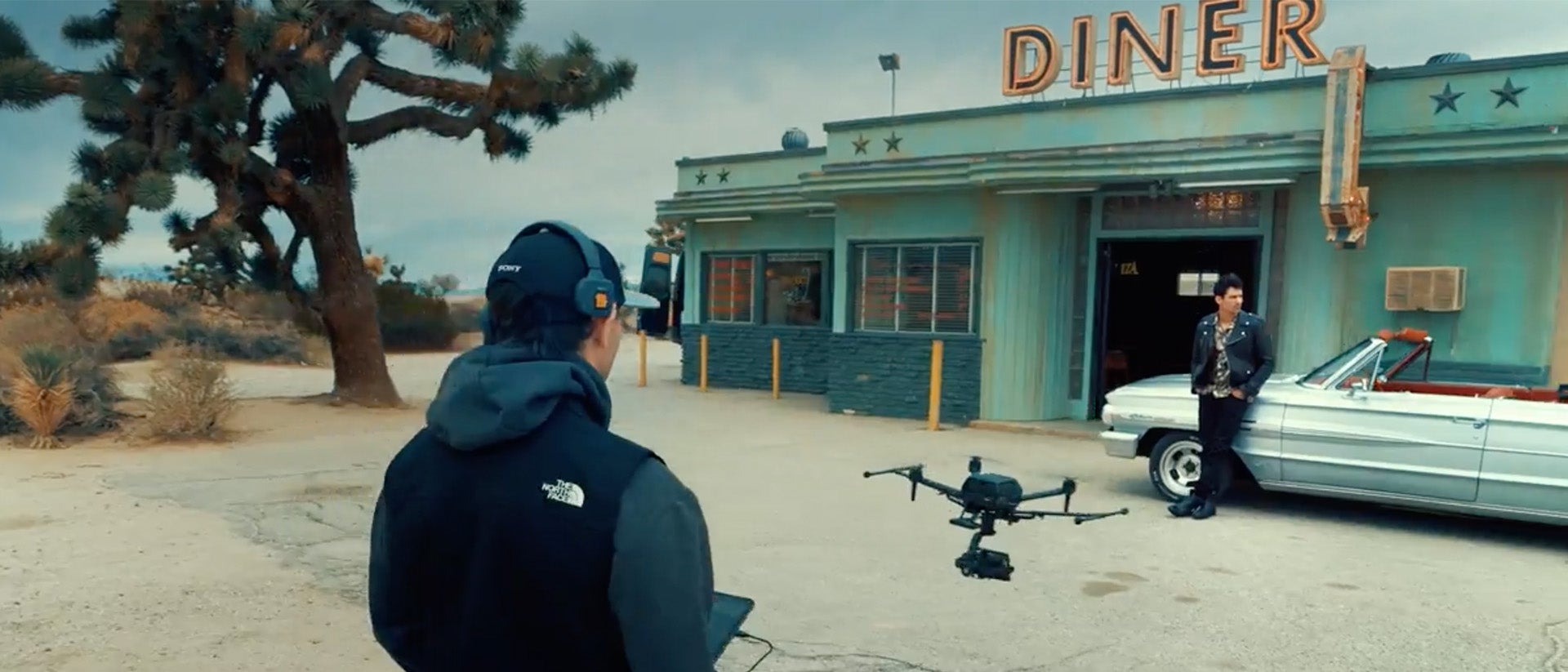 https://77snszqv.media.zestyio.com/SonyCine-Airpeak-Four-Aces-Craig-Coker-1920x823.jpg
08.29.2022
08-29-2022 - Gear, Technology
Why The Airpeak S1 Is So Much More Than A Drone
By: SonyCine Team
When you think of using a drone for cinematography, you might picture capturing those aerial shots from high above the ground. You can obviously use the Sony Airpeak S1 to get that type of footage, but it really only scratches the surface of its capabilities. Creatives Michael Dyrland of DPdrones, Craig Coker and Eddie Hayes used the Airpeak S1 to create high-quality dynamic footage at a movie ranch in the desert. "Airpeak allows me to capture things that I wouldn't be able to do with other drones," says Coker. "It's a real tool for cinematographers." Watch some of the footage they were able to capture below as Coker explains why he sees the Sony Airpeak as a gamechanger for creatives.
"The setting was a Four Aces Movie Ranch, an old style motel with a diner and gas station connected," explains Coker. "Four Aces is particularly special at night. The neon lights make the place come to life. Our cameras of choice were the Sony FX3 for Airpeak and the Sony Alpha 1 for BTS ground. The Alpha 1 provided ground support to give us both photo and video. The FX3 linked to Airpeak was our go-to choice in terms of cinema. Both cameras do very well at night so that was icing on the cake."
With these setups they were able to get outstanding footage with less equipment, as the Airpeak S1 took on more roles than just a high-flying drone. "I think Airpeak is a good substitute for mid-sized dolly rigs and allows extensive mobility," Coker says. "Its flight precision can not only match but also exceed the limitation of dolly rigs movement. Even under high winds it's pretty stable. The flight characteristics are one of my favorite things about Airpeak. It's quick and responds with precision. It's confidence-inspiring and enables you to push the envelope in creative ways."
He continues, "In one scene I fly through a small opening where Airpeak just barely fits. It would be impossible for any other heavy lift holding Alpha camera to maneuver in that way. I can also tune Airpeak to my preference. I can change parameters based on what the shot requires. Whether I need Airpeak to be quick and aggressive for chasing down vehicles or a tripod like mode when orbiting tight around a subject with an 85mm lens."
Overall Coker says the Airpeak S1 is on another level when it comes to drone cinematography and photography. "Airpeak provides solutions the drone industry has yet to lock down. The small airframe with the camera quality is incredible. It allows me to get into tight spaces with a cinema grade camera. The intuitive flight customization is useful to achieve different flight dynamics on the fly. The hot swap capabilities make for an efficient workflow. And finally the Alpha line compatibility that provides camera settings at the pilots fingertips is very important to me."
For more information about Airpeak, click HERE.