https://77snszqv.media.zestyio.com/Cover-4T.png
05.02.2019
05-02-2019 - News
Seen at NAB 2019: Full Frame (and one Super 35) Lens Roundup - Part One
By: SonyCine Team
This is Part One of our NAB 2019 full-frame lens roundup.
Part Two can be found here.
A big theme of NAB 2019 was story, and there's no doubt that one of the biggest stories for cinematographers, and Sony VENICE shooters, at this year's show was the ever-increasing options for full-frame lenses, both spherical and anamorphic. These new large format lenses will allow even more creative freedom for filmmakers to convey their stories. Here is a rundown of what we found.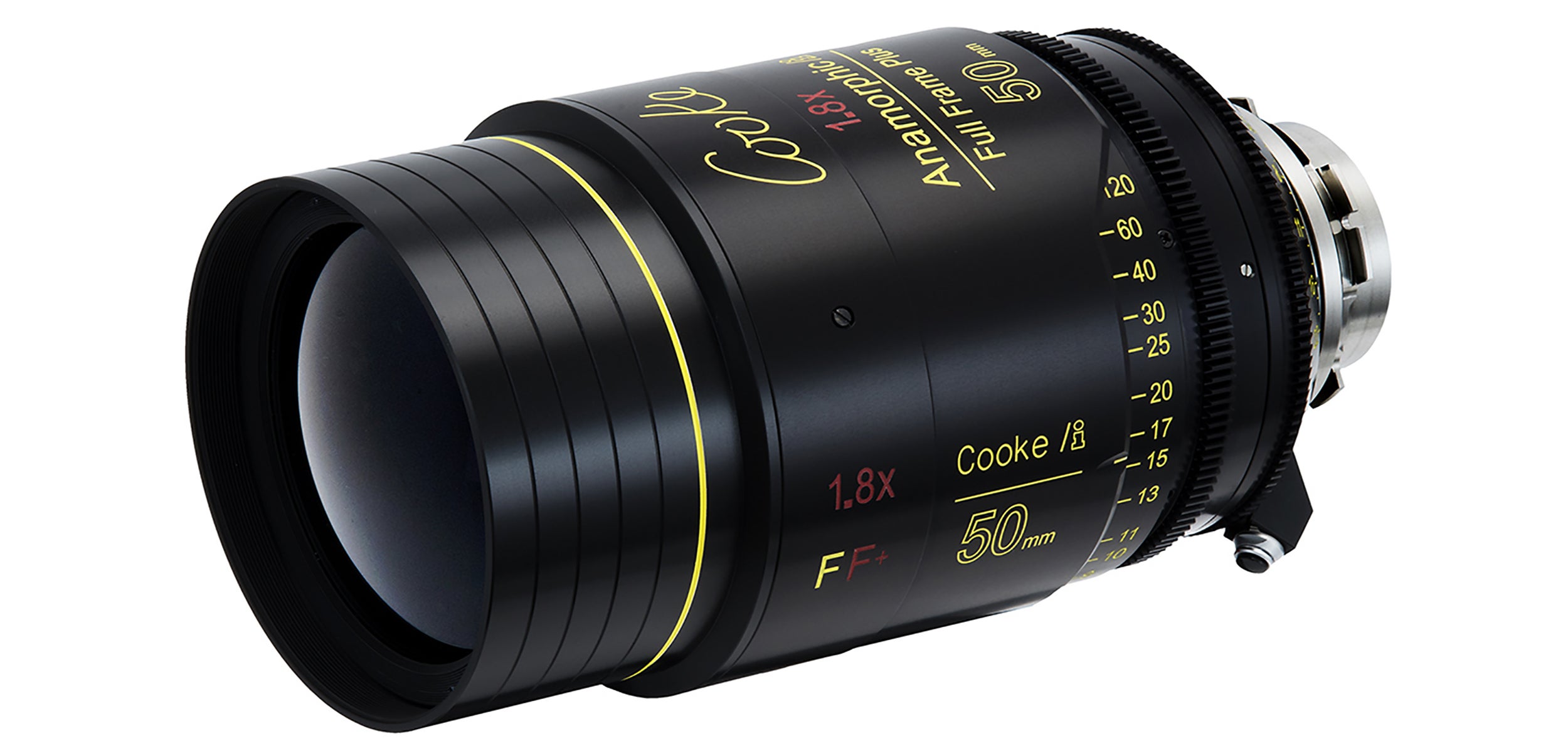 Cooke Anamorphic/i Full Frame Plus Lenses
The Anamorphic/i Full Frame Plus Standard and SF (Special Flair) prime lenses represent the next logical step in the evolution of filmmaking: large format production with anamorphic characteristics, including flare and oval bokeh.
Coverage circle covers a full 24 x 36 still size sensor with 1.8 squeeze.
Superb optical and mechanical performance, control of flare, distortion, veiling glare and spherical aberrations at full aperture. The cam-type focus mechanism allows for smooth focus adjustments. Modular construction increases ease of maintenance and serviceability.
And, the Anamorphic/i Full Frame Plus lenses come equipped with /i Technology for frame by frame digital information capture, as do all modern Cooke cine lenses for film and digital capture.
Available in focal lengths: 32, 40, 50, 75, 100, 135 and 180mm, over the next 12 months.
For more information visit their website.

Cooke S7/i Spherical Lenses
Cooke is adding three new focal lengths to their S7/i line of Full Frame Plus line of lenses – 18mm, 27mm and 180mm.
They are currently available in the following focal lengths: 16, 18, 21, 25, 27, 32, 40, 50, 65, 75, 100 and 135mm.
These new lenses will be going into production in the near future.
For more information visit their website.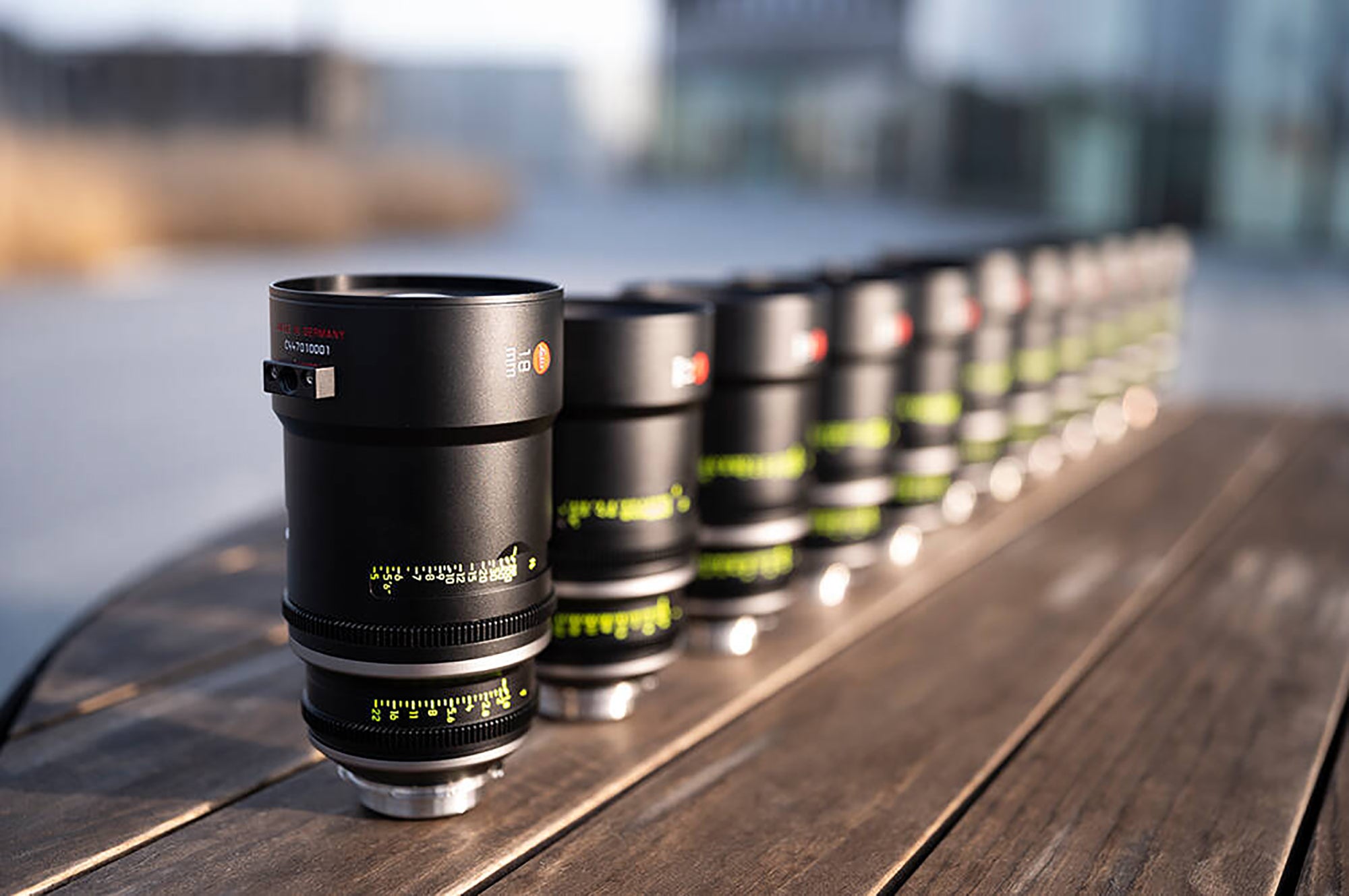 Leitz Primes
Lens manufacturer Ernst Leitz Wetzlar GmbH displayed their latest development, their LEITZ PRIMEs.
The new lenses are available with PL- and LPL-Mount options including metadata interface Cooke /i and ARRI LDS-2.
Key Features of LEITZ PRIMEs
• Breathing is minimal
• Distortion is exceptionally low
• Chromatic Aberration is not visible
For more information visit their website.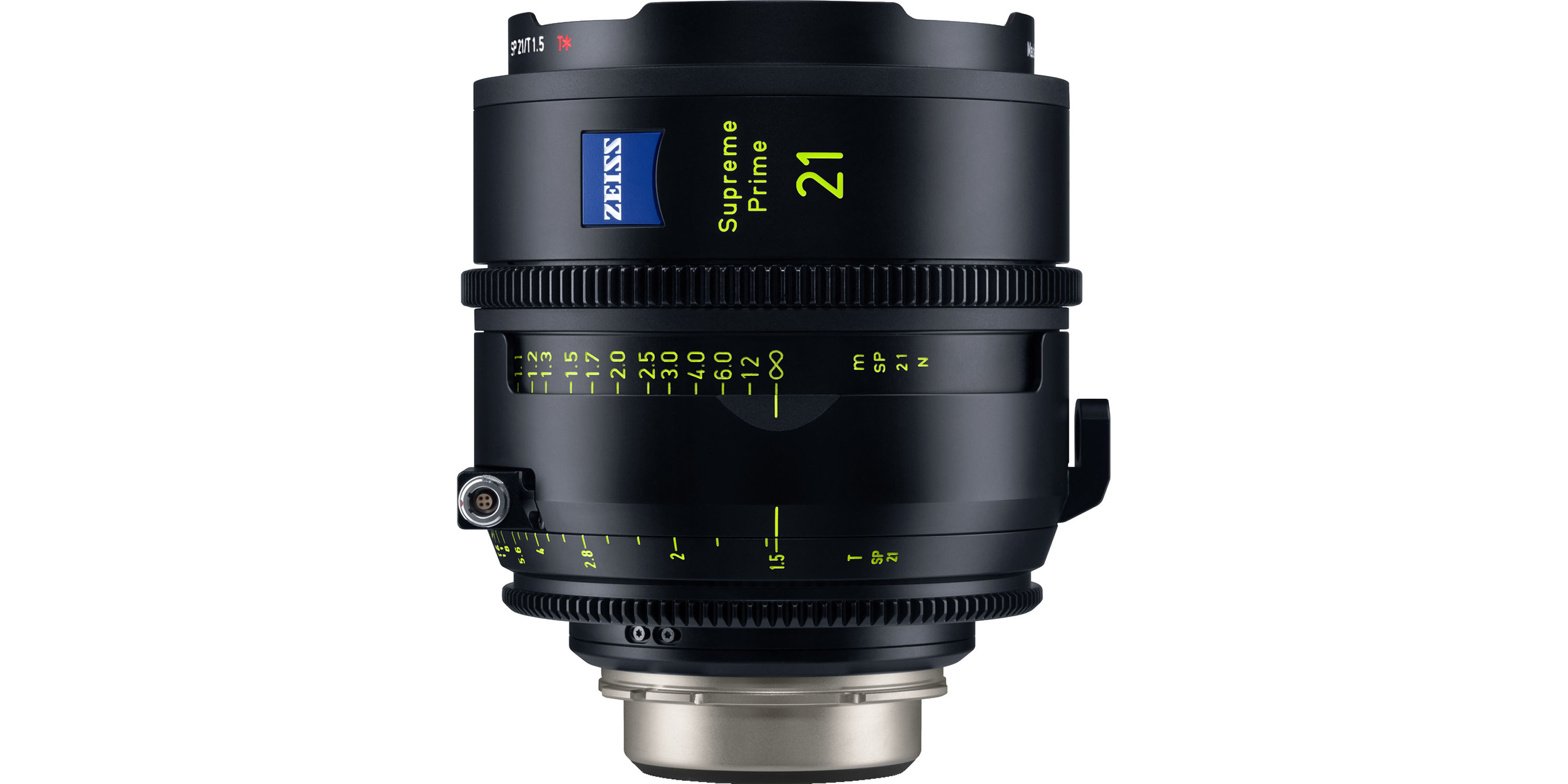 Zeiss Supreme Primes
Zeiss adds 21mm and 135mm to Supreme Prime stable of lenses.
Consistency is one of the key elements offered by the ZEISS Supreme Prime lenses: that means consistent coverage, color rendering, aperture, size, weight and ergonomics. All the lenses across the family cover full frame and even bigger sensors with an image circle of 46.3 mm. The Supreme Prime lenses are color matched across the full range and most feature a fast T-stop of T1.5.
With the addition of these two new primes, the Supremes now come in a total of nine focal lengths; 21, 25, 29, 35, 50, 65, 85, 100, and 135mm – all T1.5. This is in line with Zeiss' plan of thirteen focal lengths from 15mm to 200mm by 2020.
For more information visit their website.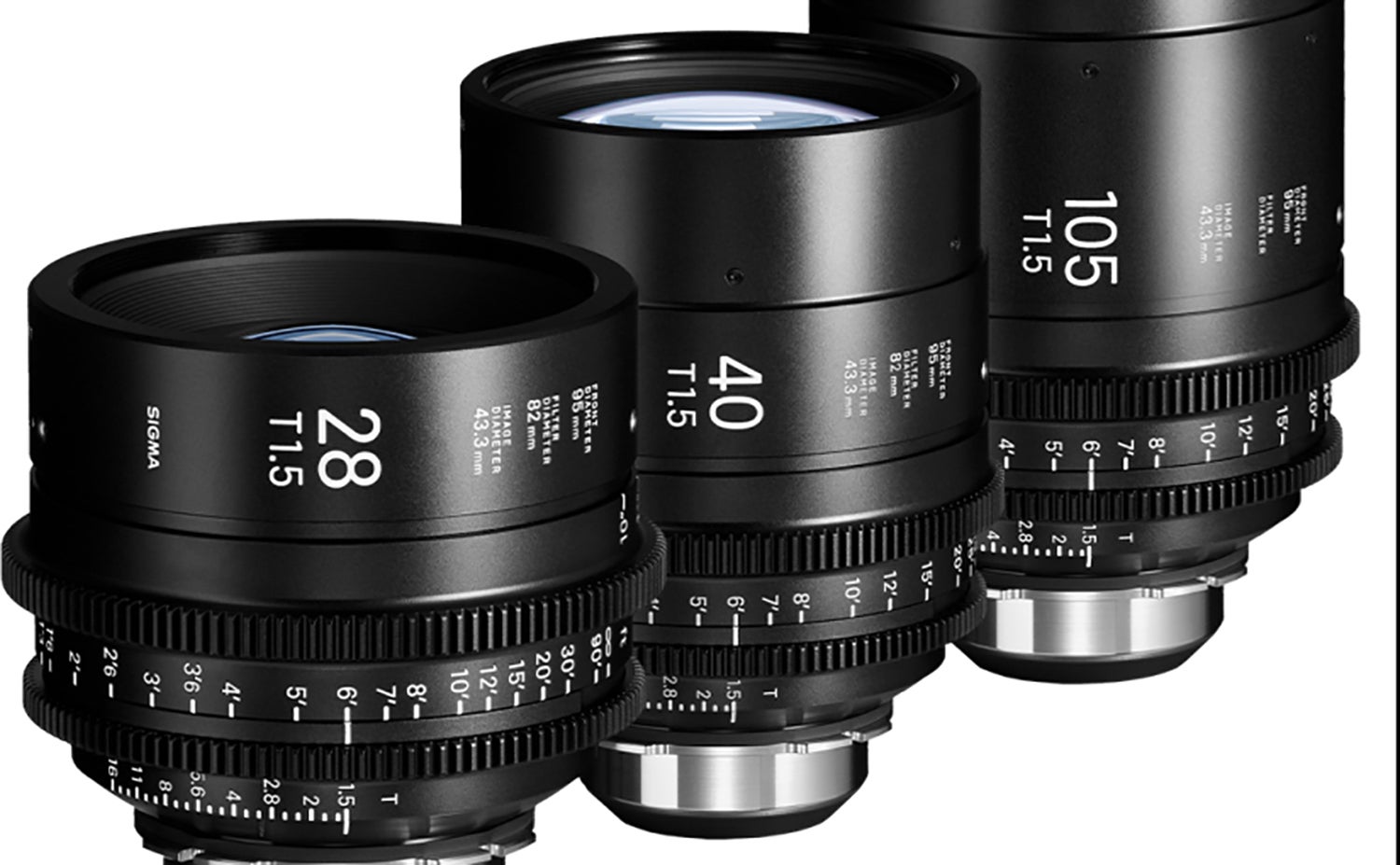 Sigma Cine Primes
Sigma offers ten prime lenses ranging from 14mm to 135mm, and all offer T1.5 or T2 brightness. Rivaling a high-end prime set with their stunning image quality and compact construction, they also offer full-frame coverage.
A common 95mm front diameter and similar physical attributes across the lens line make it easier and quicker to mount lens accessories such as matte box, follow focus, and lens control motors.
The 9-bladed iris produces pleasing out-of-focus bokeh effects and ghosting and flaring have been minimized. Color reproduction is standardized for easier color correction. Each lens in the range offers consistent lens gear positions and 180° of focus barrel rotation.
Of note are the three new lenses which Sigma recently started shipping that round out the set nicely. The 28, 40 and 105mm cine primes, all at T1.5. These lenses are a great bang for your buck, surely punching above their weight class.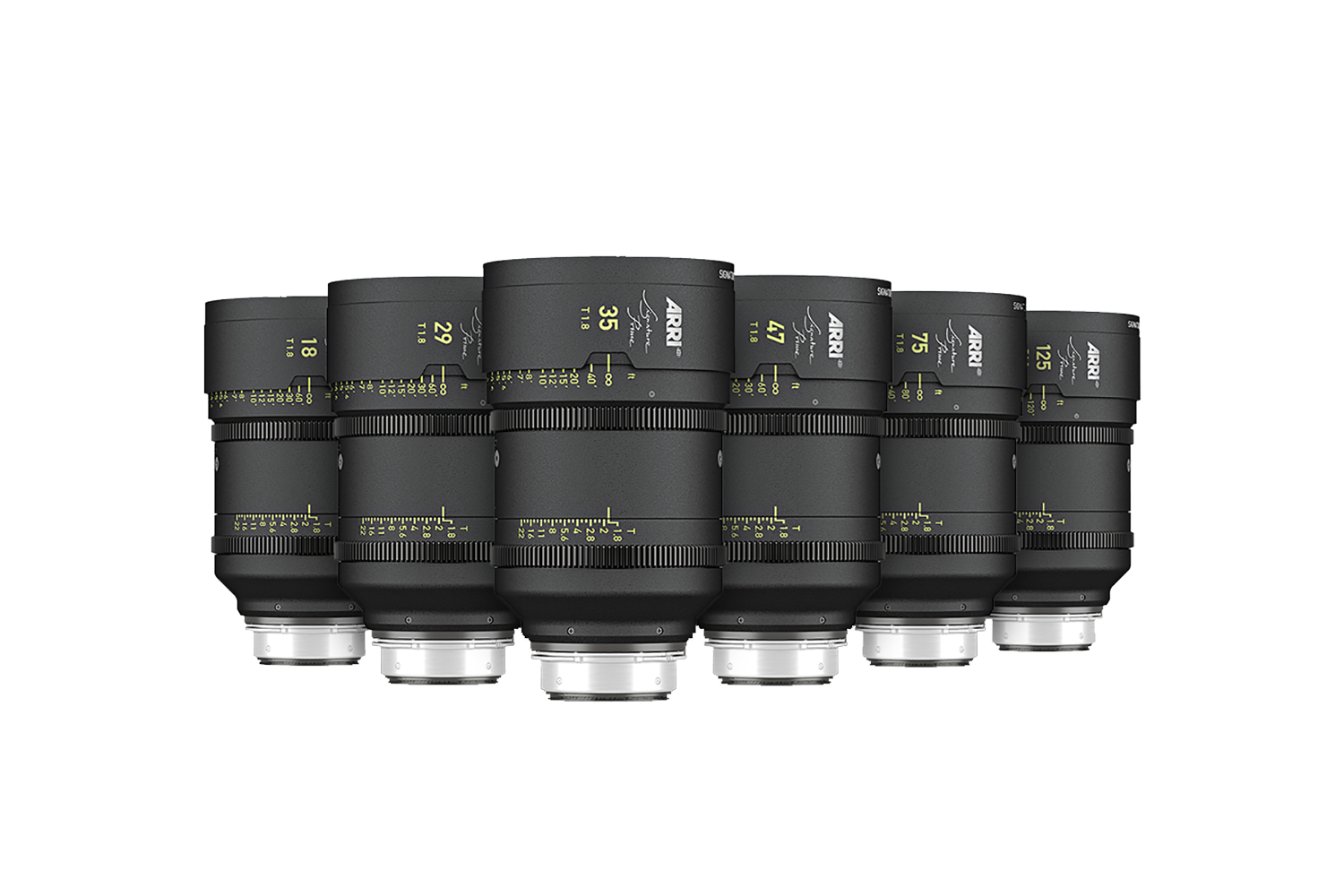 Arri Signature Prime Lenses
The newest members of the ARRI lens family are the 16 large-format and the Super 35 ARRI Signature Prime lenses, ranging from 12 mm to 280 mm and fitted with the ARRI LPL mount. While the Signature Primes exemplify state-of-the-art optical precision, they have been designed to render organic, emotionally engaging images, gently softening and texturizing the large format with natural skin tones and creamy bokeh. A fast T-stop of T1.8 facilitates shallow depth of field and the smooth focus fall-off gives subjects heightened presence in the frame.
The ARRI Signature Prime range is the first cine lens series to feature machined magnesium lens barrels, making the optics incredibly lightweight and robust. They are also the first to incorporate ARRI's next-generation LDS-2 Lens Data System, with high data rates and absolute encoders for fast initializing. LDS-2 extends the possibilities of lens data and is being licensed to other lens and camera manufacturers.
They are available in the following focal lengths - 12, 15, 18, 21, 25, 29, 35, 40, 47, 58, 75, 95, 125, 150, 200, 280, most with a front diameter of 114mm.
LPL to E-mount adapters are available from Wooden Camera, Vocas, C7Adapters.