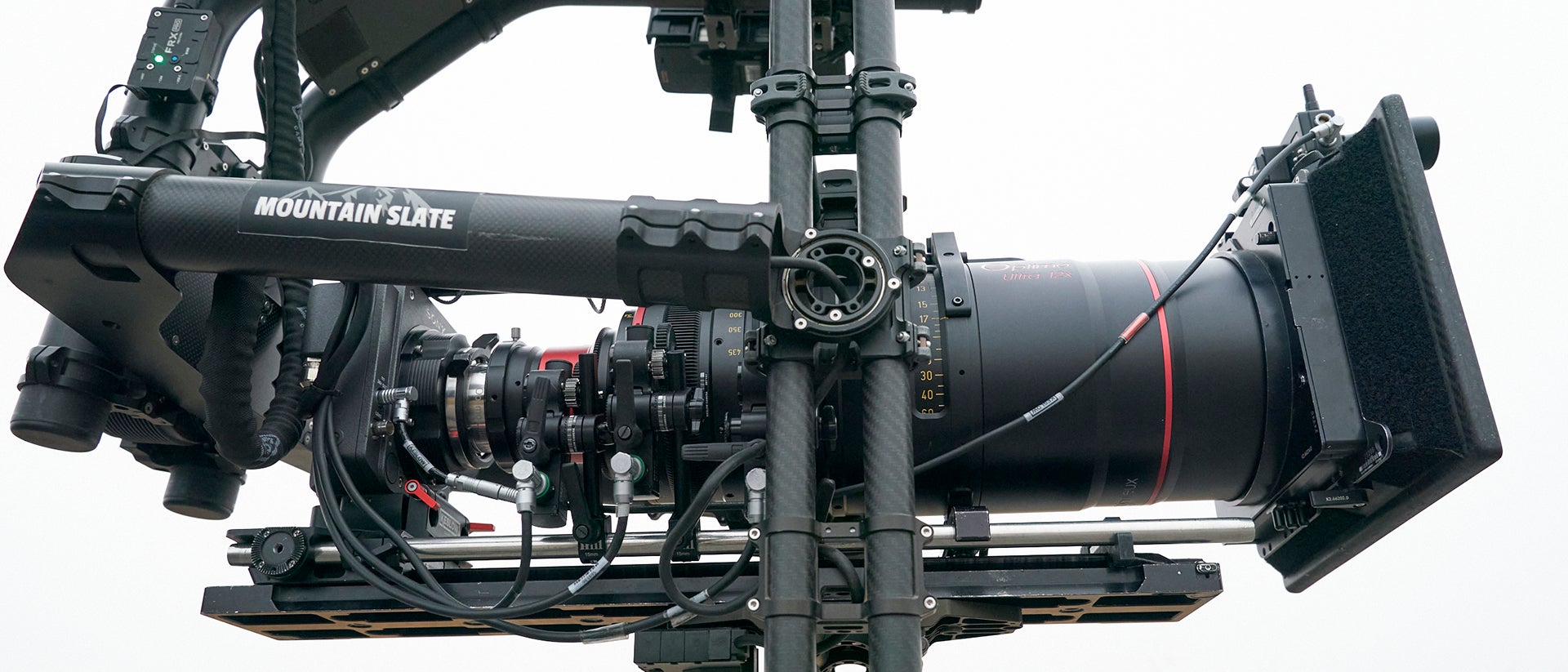 https://77snszqv.media.zestyio.com/BERLIN__DSC3238-1920.jpg
01.12.2021
01-12-2021 - Gear, Technology
VENICE Gimbal Build Options - Freefly MōVI
By: Ryan Campbell
In case you missed my previous gimbal article that focused on the Sony VENICE & DJI Ronin 2, the big questions are these:
"Can I put the VENICE into a handheld gimbal? Do we need to use the Rialto?"
I get asked these questions quite often. To quickly answer, because you're on set and your hands are sweating because your Director or DP just asked you: Yes, a Sony VENICE package with AXS-R7 raw recorder can easily fit into a seasoned owner's DJI Ronin 2, MōVi Pro, or Arri Maxima QL. Prime lenses are fine, zoom lenses will take more consideration. The cable weight of the Rialto is a bit too much for a decent DJI RS1 build so I would not recommend that. However, with DJI's relatively new RS2, I feel a Rialto build would be possible with the right consideration of hyper-lightweight lenses and accessories.
Earlier, I noted "seasoned," because several of the items needed have to do with additional gimbal-specific accessories that are common to an owner's kit, but that aren't included, right out of the box or with basic rental packages. If there's not a seasoned owner or dedicated tech who is well-experienced with gimbals, then I highly encourage you to find one. If you work with them in advance on the shot you're trying to accomplish, they'll be able to guide you and offer advice on the appropriate build and any equipment limitations.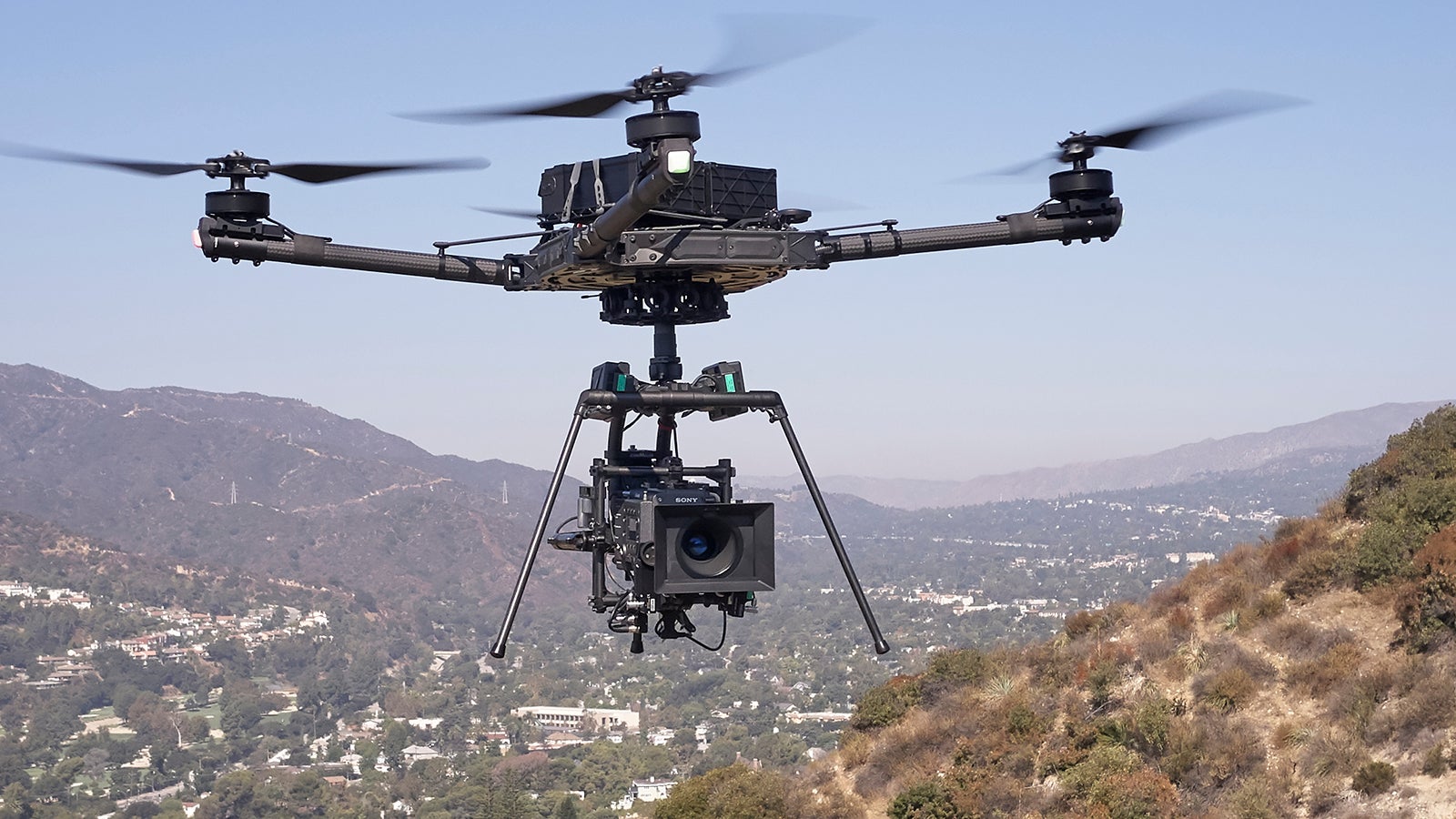 A previous article I wrote discussed Sony Rialto builds, and if you're unfamiliar with that system or its capabilities, reading that article would be a great supplement to understanding the topics covered here. For now, I will discuss just a handful of the innumerable combinations for some common electronic gimbals and placing a full-sized VENICE into them.
The only right way to build or use any camera setup is for that specific shoot or shot. Sometimes you might get thrown a curve ball by budget or equipment availability, and then you have to work with what you have, so hopefully this provides a good starting point for concept and reasons for these builds that'll get you on your way.
Electronically stabilized gimbals have been around for a while now in the consumer, prosumer, and professional markets. However, I still have A-list crew asking me what they are. In short, gimbals are defined as "…a pivoted support that allows the rotation of an object about a single axis. A set of three gimbals, one mounted on the other with orthogonal pivot axes, may be used to allow an object mounted on the innermost gimbal to remain independent of the rotation of its support."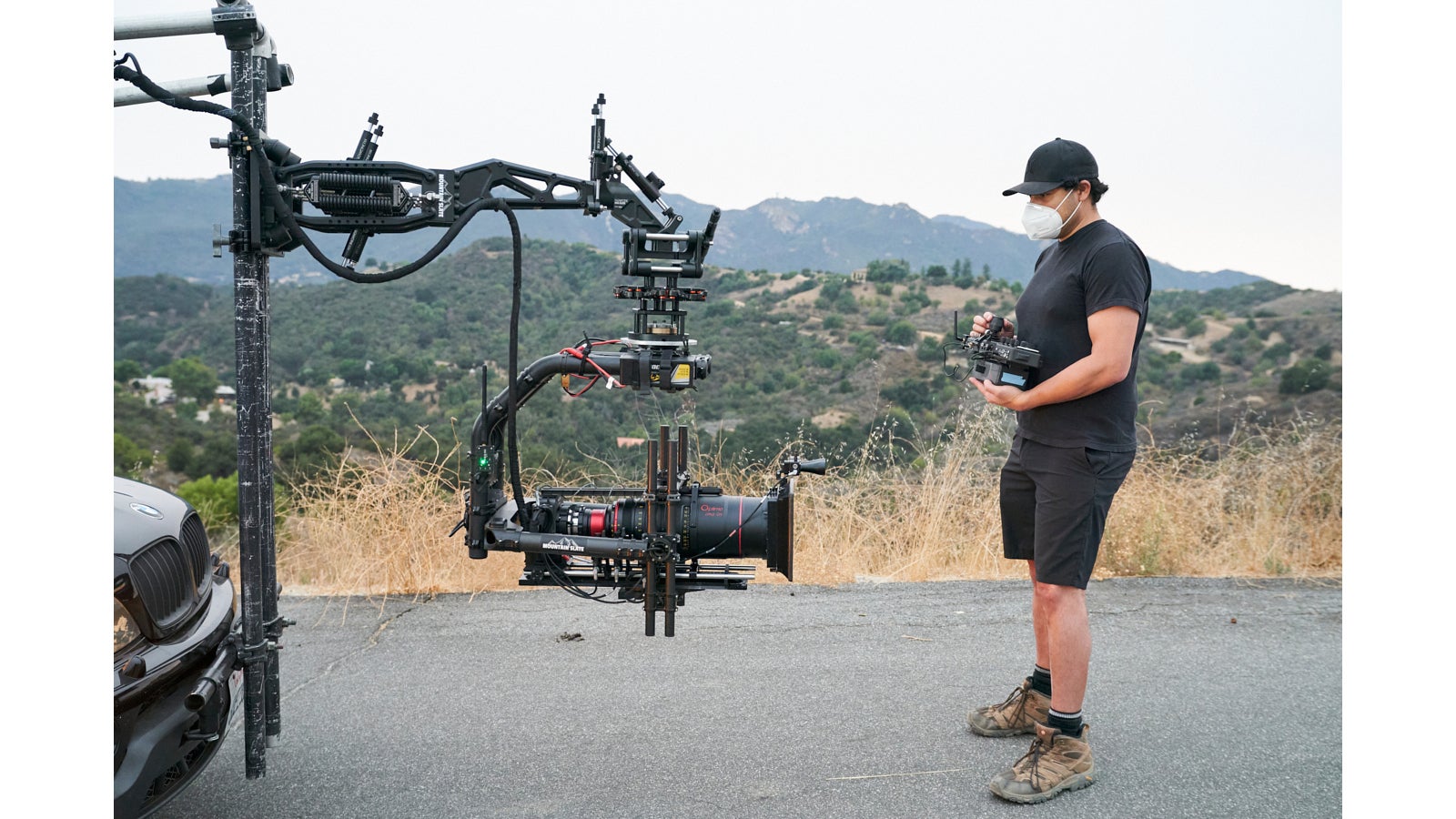 In the cinema world, they can be used handheld by a single operator, handheld with a moving-platform operator to move it through a space with a second camera operator framing the image, body mounted, car mounted as seen above, cable line mounted, on jibs and cranes, on drones, on radio controlled cars, or even tiny ones on animals. Gimbals are a very diverse tool that can create compelling and dynamic shots when used correctly. With on-set protocols and concern for COVID-19, gimbals are also just being used in studio mode as a remote camera head on a tripod or dolly to help separate the operator from the talent. For the VENICE's weight range going handheld, I most commonly come across the DJI Ronin 2 and the MōVi Pro. To be extra fair, in the world of smaller remote heads, a full-size VENICE can also sit easily inside an ARRI Maxima, ARRI SRH-3/SRH-360, Shotover G1, Libra Mini, Scorpio Micro, etc., all different style remote heads with different applications and budget ranges.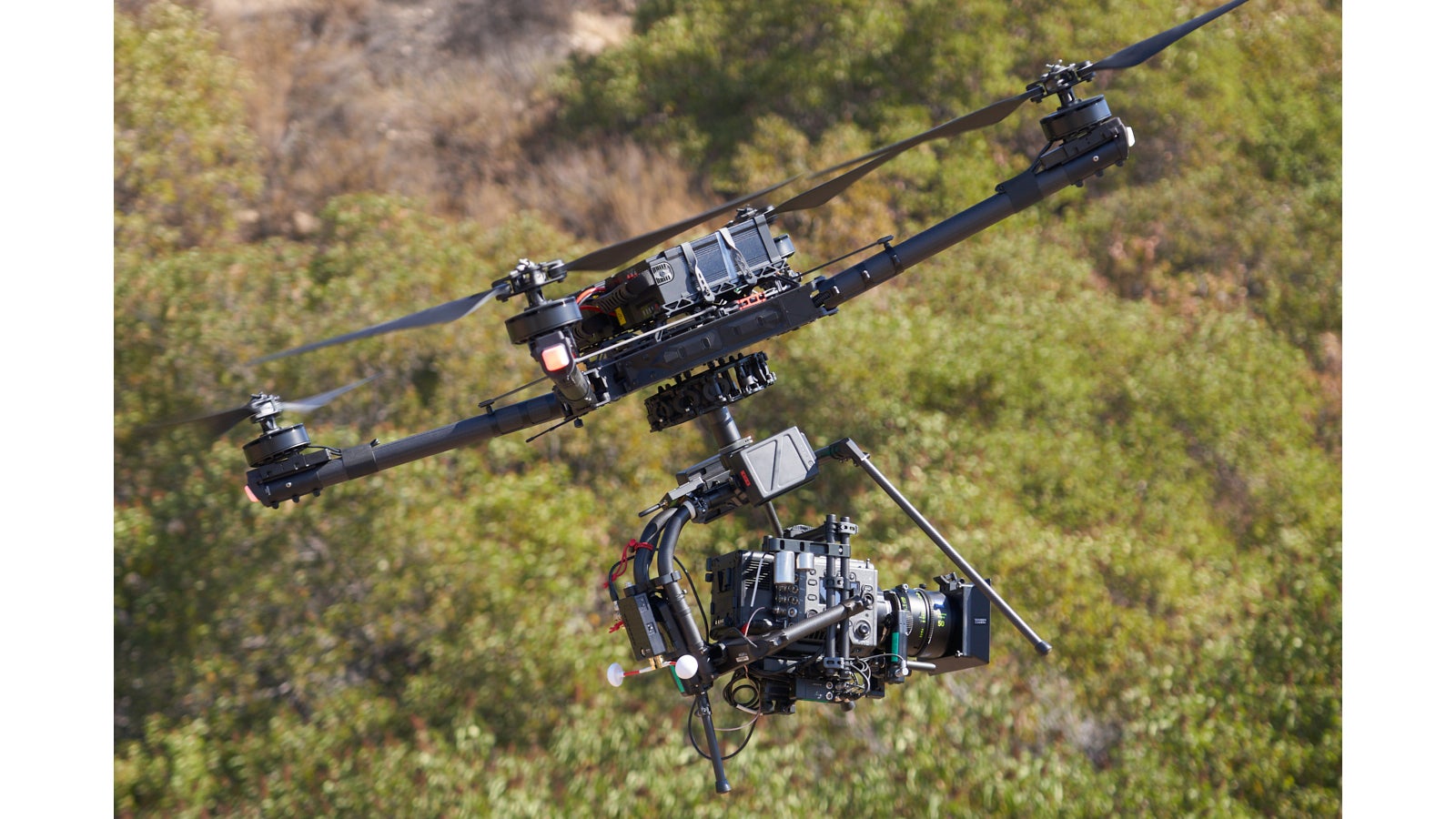 The overall weight limit concerns for any gimbal has several factors to consider, and for a number of good reasons. That's a topic of itself, but rather than doing a deep dive into all of that, just know that you do have the option to put the whole VENICE and AXS-R7 raw recorder, or just the Rialto, on the MōVI Pro. With all the talk about weight and choices, sometimes you just need to keep the overall gimbal-with-payload weight down for other reasons, such as going full handheld without vest support for a handoff, or to stay within basic Federal Aviation Administration (FAA) sUAS regulations.
If your shoot is in the U.S., then you're going to have to keep the whole package, drone, gimbal, and payload, under 55lbs. Companies are able to get waivers from the FAA to legally fly heavier rigs, but it's a long process, and one shouldn't expect to have the waiver in time for the permit to shoot this weekend. Even if you have a waiver and can fly a heavier system, any weight added is going to cut into your overall flight time and aircraft performance as well.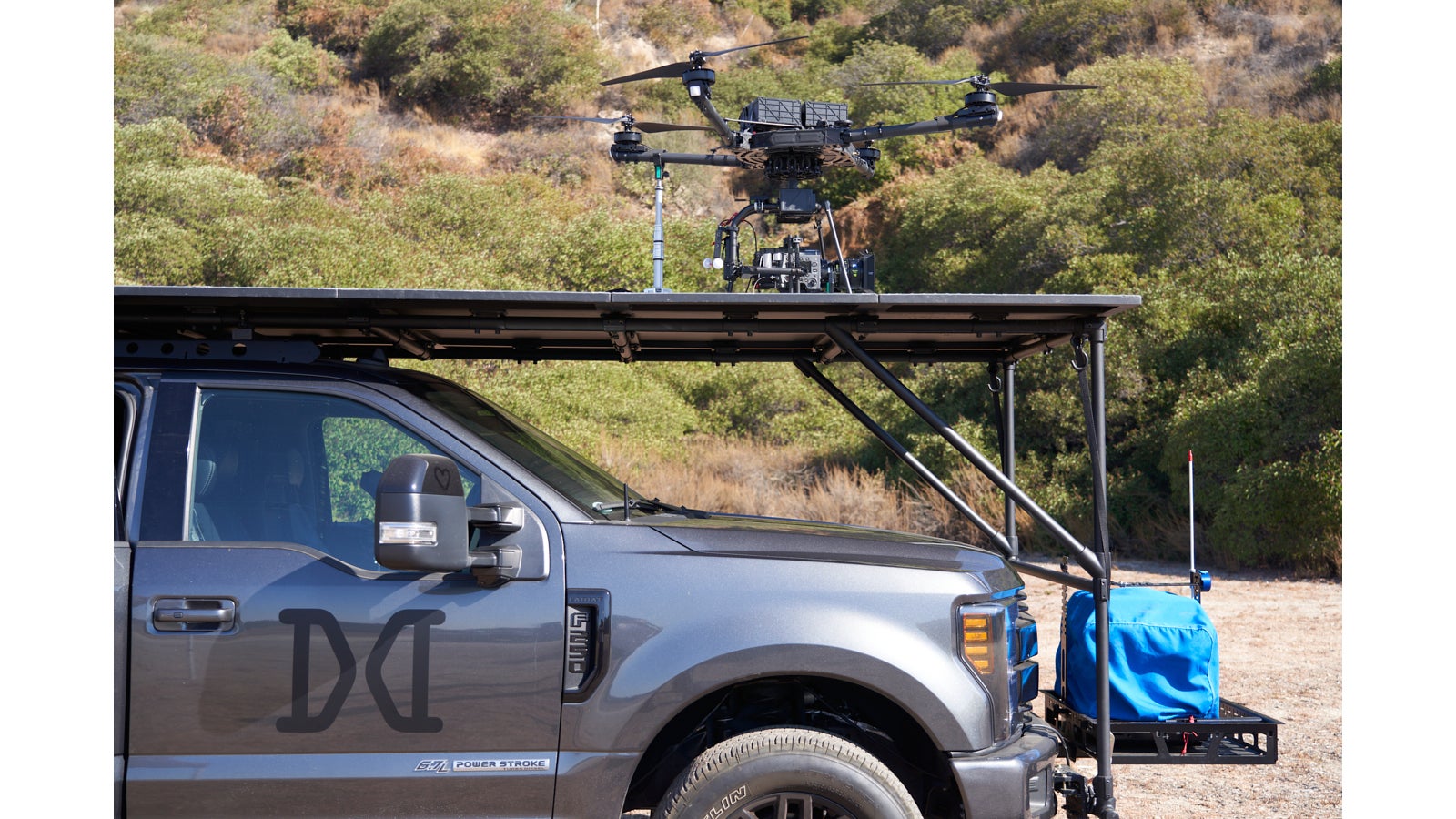 Like Freefly's previous M series, the MōVI Pro was expected to be flown and to that end, is a very lightweight gimbal. People are always surprised that such a small gimbal is capable of carrying the Sony VENICE, but for those who work closely with the MōVI, such as the DroneDudes aerial team, it's an easy fit. Our goal here was to fly with it, but if you're doing handheld, you're open to a completely different list of possible lens and accessories. Here's what we put on there.
1x Freefly Alta X

1x Freefly MōVI Pro w/landing gear

1x Sony VENICE

1x Sony AXS-R7 External RAW Recorder

1x Zeiss Supreme Radiance 50mm T1.5

1x Ignite Digi Camera Top Plate B for Sony

1x Ignite Digi Gimbal Mate Universal Bottom Plate

1x Ignite Digi Gimbal 15mm Rod mount

2x Carbon Fiber 15mm Rods

1x Ignite Digi TB50 Battery adapter pair

1x Ignite Digi Power Expansion Pack for MōVI Pro

1x Ignite Digi Tilt Cage offsets

1x Ignite Digi Accessory Mounts for MōVI Pro

2x Cinemilled 2in Counterweights (each 326g/11.5oz)

2x Cinemilled 1in Counterweights (each 159g/5.6oz)

1x Cinemilled Counterweight Mount for MōVI Pro

1x Ignite Digi Power Cable 3-pin Lemo to 4-Pin XLR

1x P-Tap to 4-pin XLR (as a backup)

1x Freefly FRX Pro

1x Freefly Pop-N-Lock 15mm Quick Release

1x Freefly Pop-N-Lock 25mm Quick Release

1x Teradek Bolt 3000 Transmitter

1x 2-pin to P-Tap Power Cable

1x Teradek RT MDR 3.1

2x Teradek RT MK3.1 Motors

2x Teradek RT MK3.1 Motor Cables

1x Teradek RT MK3.1 P-Tap Power Cable

1x Teradek RT MK3.1 3-pin Lemo Camera Control Cable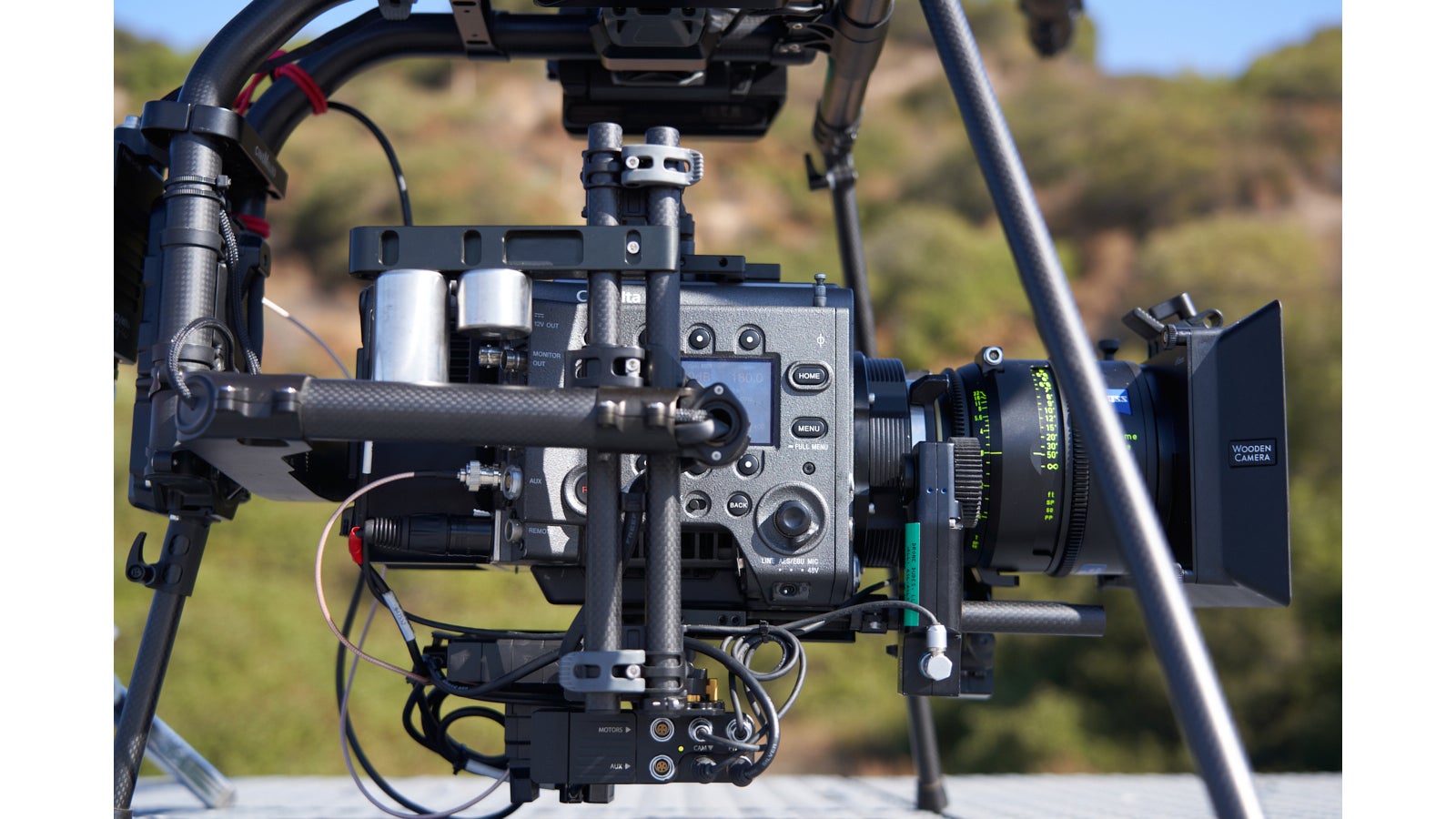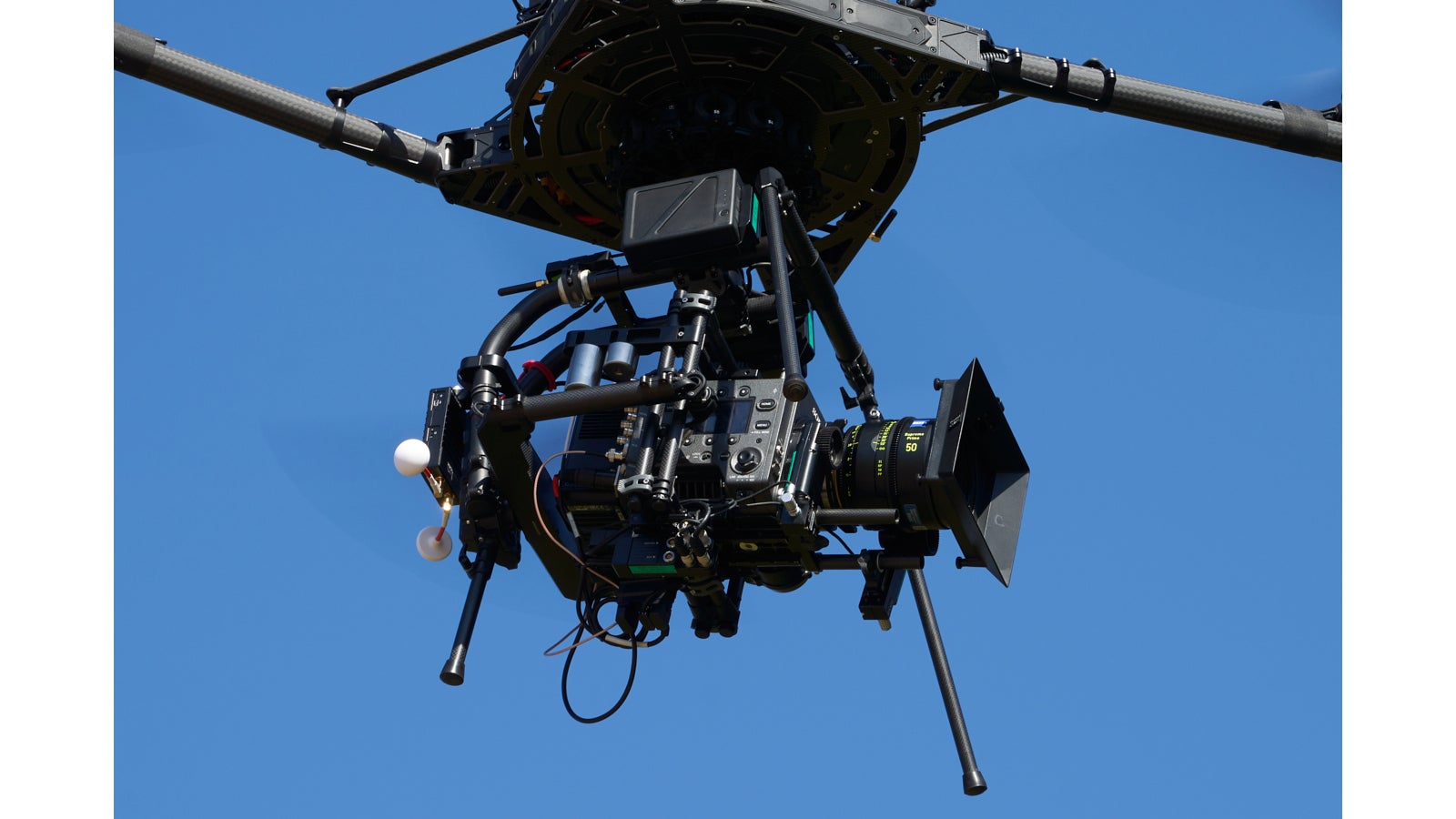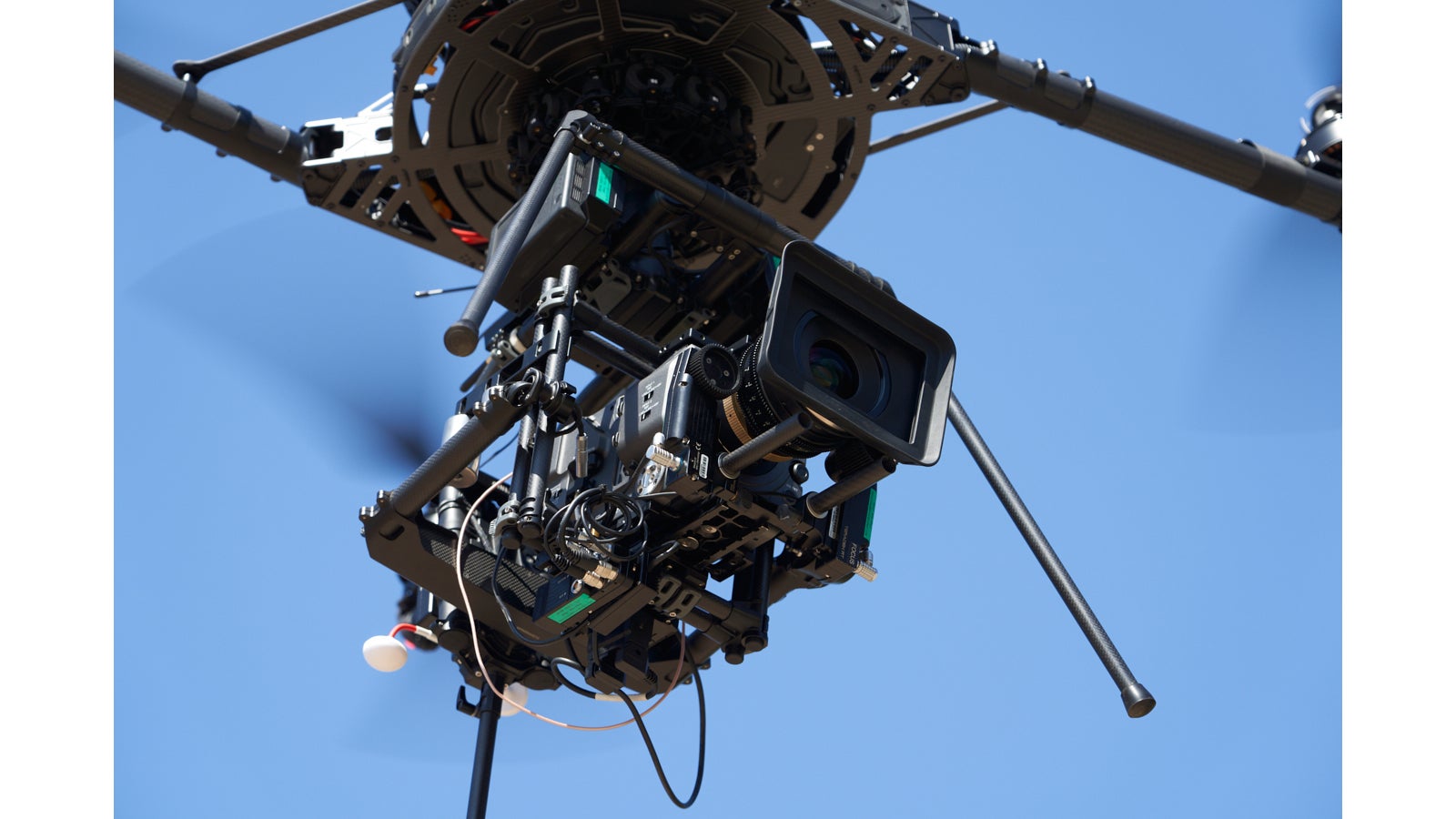 There are very many possible configurations of accessories and camera configurations. If you need a longer flight time or a heavier lens, then you still have the option of taking off the RAW recorder and having an amazing image. If getting another VENICE for D-cam is an issue with production's budget, then just use an FX9 as your drone camera. There are a couple shows now that are running Sony VENICEs, complemented by the Sony FX9. You already have a thumbs up from the DIT world, that matching these two cameras is very easy.
Oddly enough, the FX9 body is so light that the lens weight and forward mounted accessories play a large factor and using a PL adapter sets the lens even further out. The kit my friend had available only had larger third-party BP-U style batteries and inserting the onboard battery into the FX9 actually ended up making the build longer than if I were to use the 19.5V barrel connector in the back. Either option added overall length to the body. For this situation, the best gimbal solution for the FX9 would be to run it off just the barrel adapter from P-tap, and Wooden Camera makes the cable that has a voltage regulator to get 19.5V from the P-tap power source.
We changed a couple things up for the FX9's flight:
1x Sony PXW-FX9

1x Sigma 35mm T1.5 FF

1x Wooden Camera Zip box

1x Wooden Camera D-Tap Power Cable for Sony FX9

1x Teradek RT MK3.1 LANC Camera Control Cable
If you want to go bigger with larger lenses and more extreme moves, then you might want, or need, to go with a larger gimbal such as the MōVI XL, which is still a cost-effective platform. What I love about the MōVI XL is that it's a lightweight full-size remote head that can keep horizon. Also, just like its more expensive competitors, you just mount the camera, do a basic balance, and it works. Another bonus is you don't have to be nearly as careful and precise and nitpicky about aftermarket parts. Don't expect to go handheld with it though. The MōVI XL has a healthy payload limit of 22kg/48lbs, which in my experience has been plenty for nearly any package.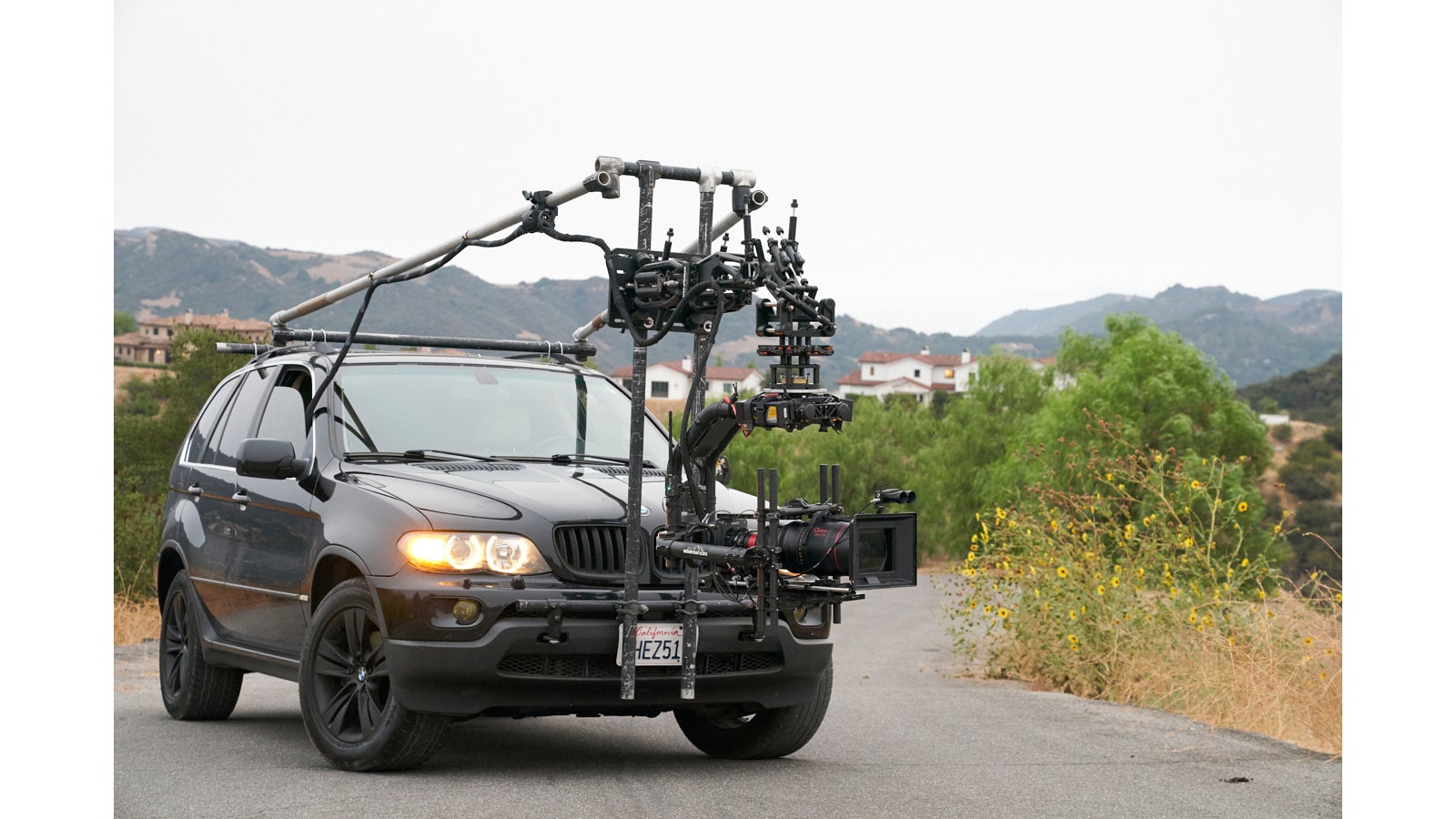 Let's meet up with Mountain Slate for the MōVI XL and put a Rialto on it instead. Why Rialto? Because the DP just called me and though they aren't planning on using the full range of the zoom, they still want to ride an Angenieux 12:1, which paired with the VENICE's sensor, you're going to want Angenieux's FF/VV 36-435mm T4.2, which is a 12.8kg/28.1lb lens on its own. On top of that, they mentioned that they'll be driving fast around corners for a chase scene. The VENICE with RAW recorder completely bare weighs in around 5.1kg/11.3lb. Without lens support or accessories added, we're already at 17.9kg/39.4lbs. Could the MōVI XL handle the weight? Absolutely. However, you have a greater chance of peak performance with the gimbal if you're not topping it out, especially with the extra inertia during high speed motion. With the Rialto, we can shave some weight and the gimbal isn't working as hard to hold the shots. There is a setback here to be aware of that can become an issue, when going back to one, or if you're on something like a racetrack. The Rialto cable can become tangled if you aren't paying attention or when switching back to majestic mode when resetting for the shot.
This scenario has the following ingredients for me:
1x Freefly MōVI XL

1x Freefly MōVI Wheel set

1x Freefly FRX Pro

1x Flowcine Dual Black Arm

1x Sony VENICE

1x Sony AXS-R7 External RAW Recorder

1x Sony Rialto

1x Rialto 8ft Extension

1x Angenieux FF/VV 36-435mm T4.2

1x Hirose 12V Power to 3-Pin Lemo (to feed power form VENICE to Rialto block's accessory port)

OnBoard Batteries of Choice

Block Battery of Choice with 4-Pin XLR

1x 4-pin XLR cable

1x ARRI LMB 6x6 Clip On

1x HD-SDI Transmitter of Choice/P-tap Power Cable/BNC

1x Focusbug Cine RT System

1x 24in 2-pin Lemo to 2-Pin Lemo

1x 3-pin Fischer to 2-pin Lemo Pigtail

2x Cameo Swivel Mounts

1x Preston MDR-3

1x Preston Power Cable, Combined Power & Run/Stop

3x Preston Motors of Choice

3x 18ft Preston Motor Cables

Loom Material (make it pretty)

1x Mafer Clamp w/male thread 1/4-20
A nifty tip that I honestly didn't find until I started work on this article - the holes on the connection between the rialto extensions are actually 1/4-20 female-threaded holes. I've always used a BongoTie or a sash around that connection point, or maybe a carabiner on the extension's little handles, but you can actually hard mount that connection so it's not flopping around or risking cosmetic rub damage from its rubbing against anything while tied up.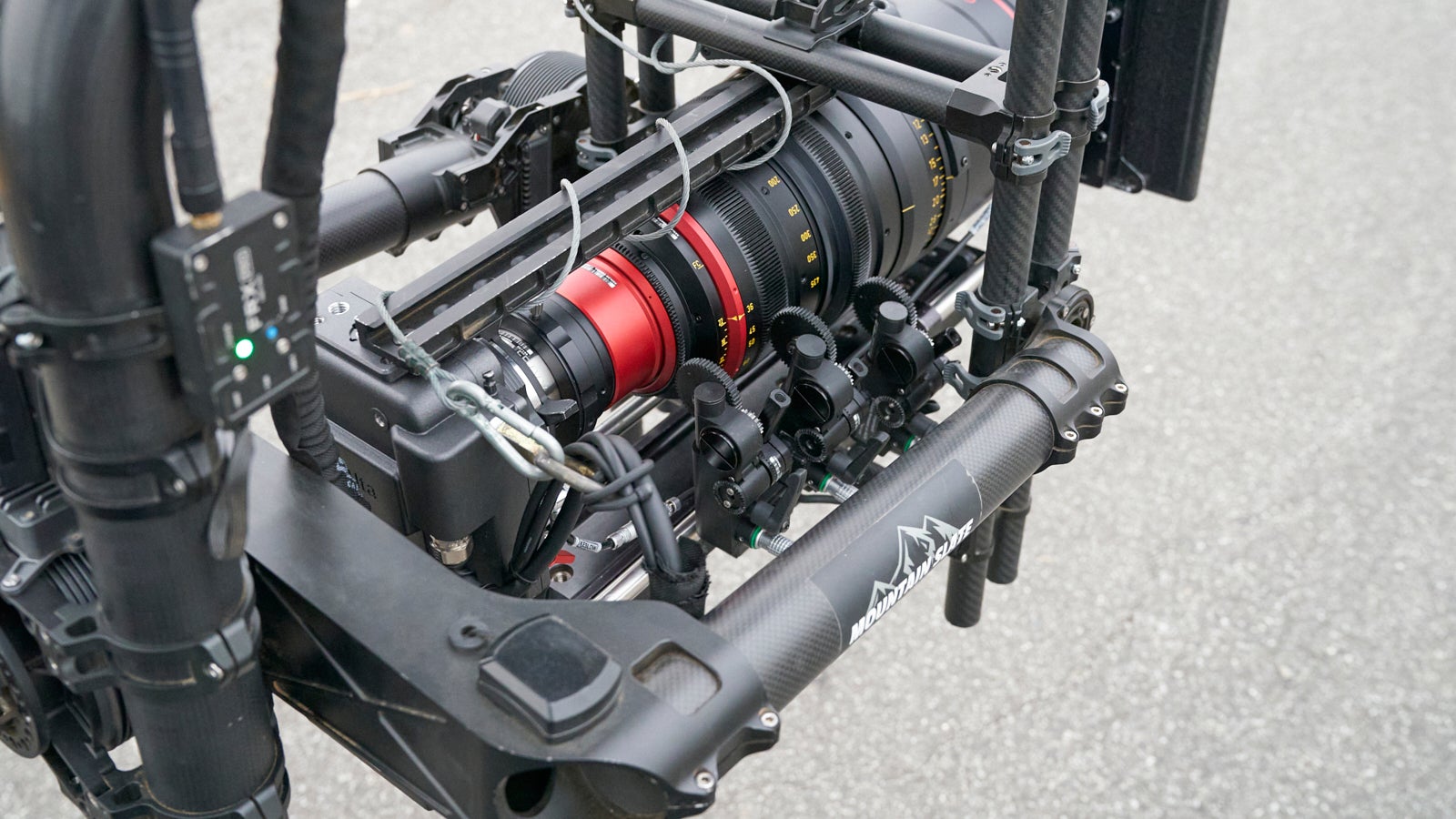 My goal with this article was to continue my answer to the often asked question, "Will a full-size VENICE fit?" In a world where your tools can make or break the job, it's good to know what your options are that would help to better communicate your vision.
Hopefully this article has helped to put you at ease and given you some inspiration for your own build. The Sony VENICE fits here too.
Special thanks to Mitch Boyce for his assistance and to Keslow Camera for gear support.
About the writer
Ryan Campbell has been working in film, and framing images, for 15 years. He's worked with the who's-who of the industry on everything from commercials, features and TV, to new media and scientific experiments. If you've had a shot or situation and your initial question was, "How should we...?" Ryan is potentially the one who, working modestly behind the scenes, provided the solution for your producers, directors, DPs, camera operators, underwater operators, drone operators, ACs, DITs, gaffers and key grips.